This easy Apple Compote will level-up your breakfast, desserts or snacks! It is flavored with cinnamon, light brown sugar and a little lemon juice for the perfect topping or filling. It cooks quickly and can be used hot or cold!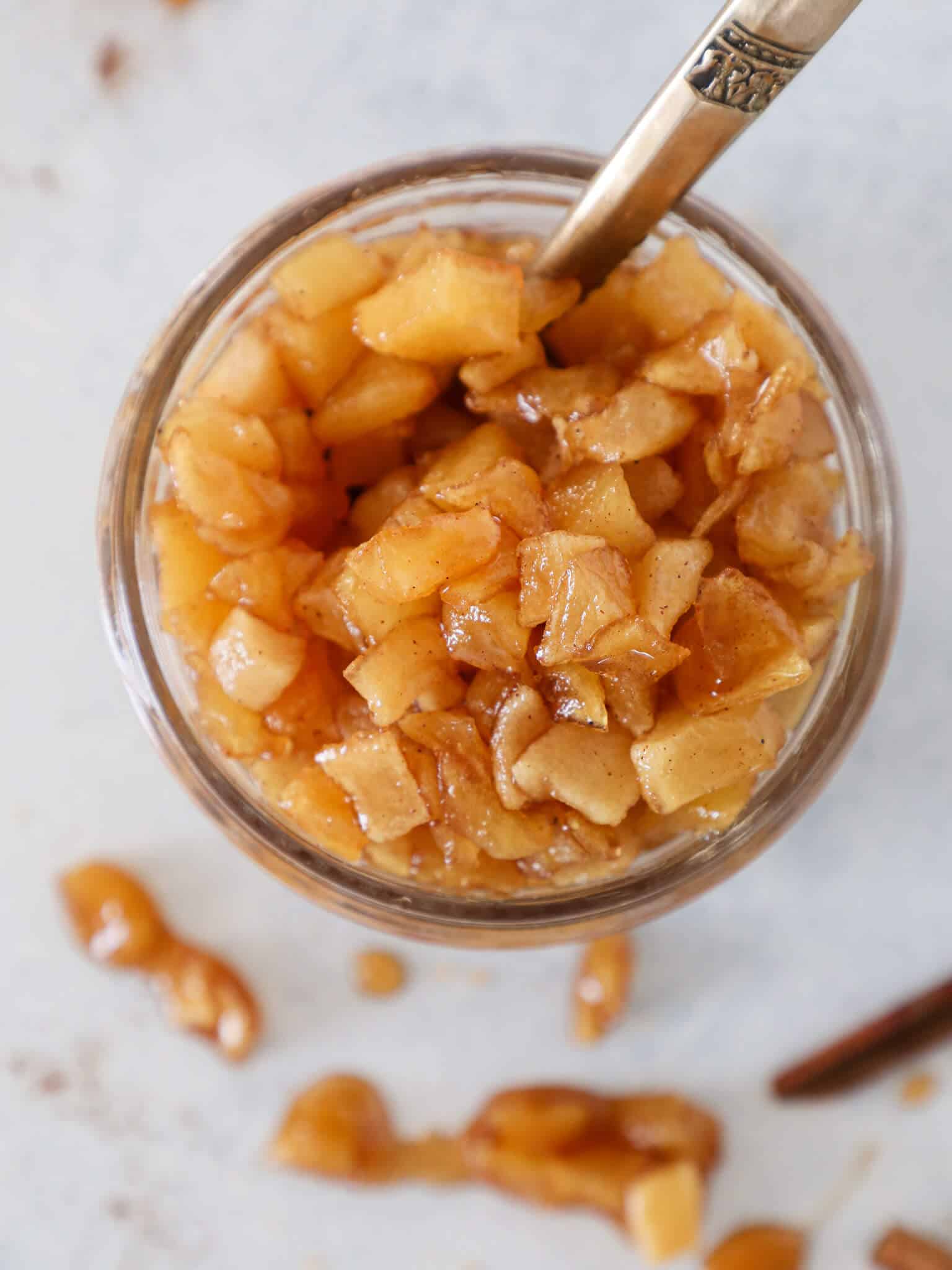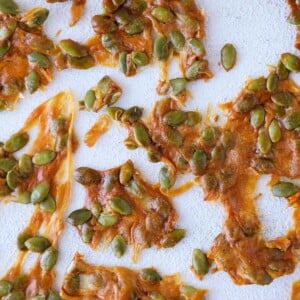 An easy apple compote is one of those recipes you want to have in your arsenal. It is so versatile it can be used in sweet or savory recipes and for pretty much any meal! Use it as an easy topping for pumpkin spice oatmeal, with maple granola in an easy yogurt parfait, or in place of maple syrup on whole wheat pancakes or buttermilk waffles.
Break out the trusty apple compote at dinnertime to top fruity pork chops or toss with roasted spiced butternut squash. Then use it to fill caramel apple cupcakes, top vanilla bean ice cream, or spoon on top of a maple pound cake. You can also put it in my spiced apple scones or these apple cinnamon rolls! The options are truly endless!
I say go apple picking and then make a large batch of my apple butter, Nana's cranberry chutney, and this easy apple compote to tide you over the Fall and Winter months!
What are the best apples for apple compote?
When choosing apples for apple compote, you want to choose apples that retain their flavor and texture when cooked like gala, honeycrisp, pink lady, or Braeburn. I like to choose a mixture of tart and sweet apples to create a balanced and complex flavor in a simple dish.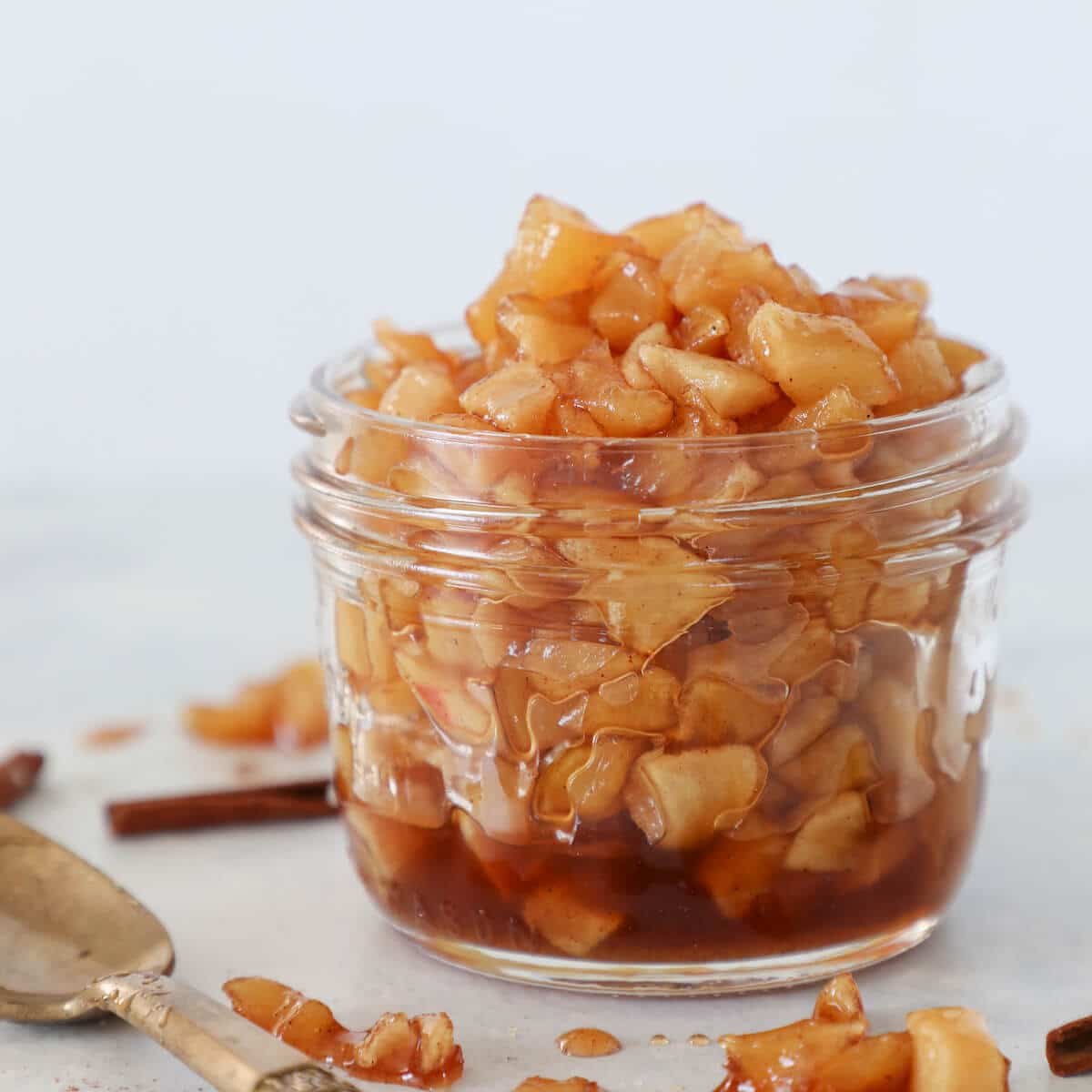 Is apple compote the same as apple sauce?
Apple compote and applesauce are two different dishes. The shape and texture of the apples are retained in apple compote and no additional water should be added. In applesauce the apples are cooked with water, sugar, and seasonings and then pureed.
Ingredients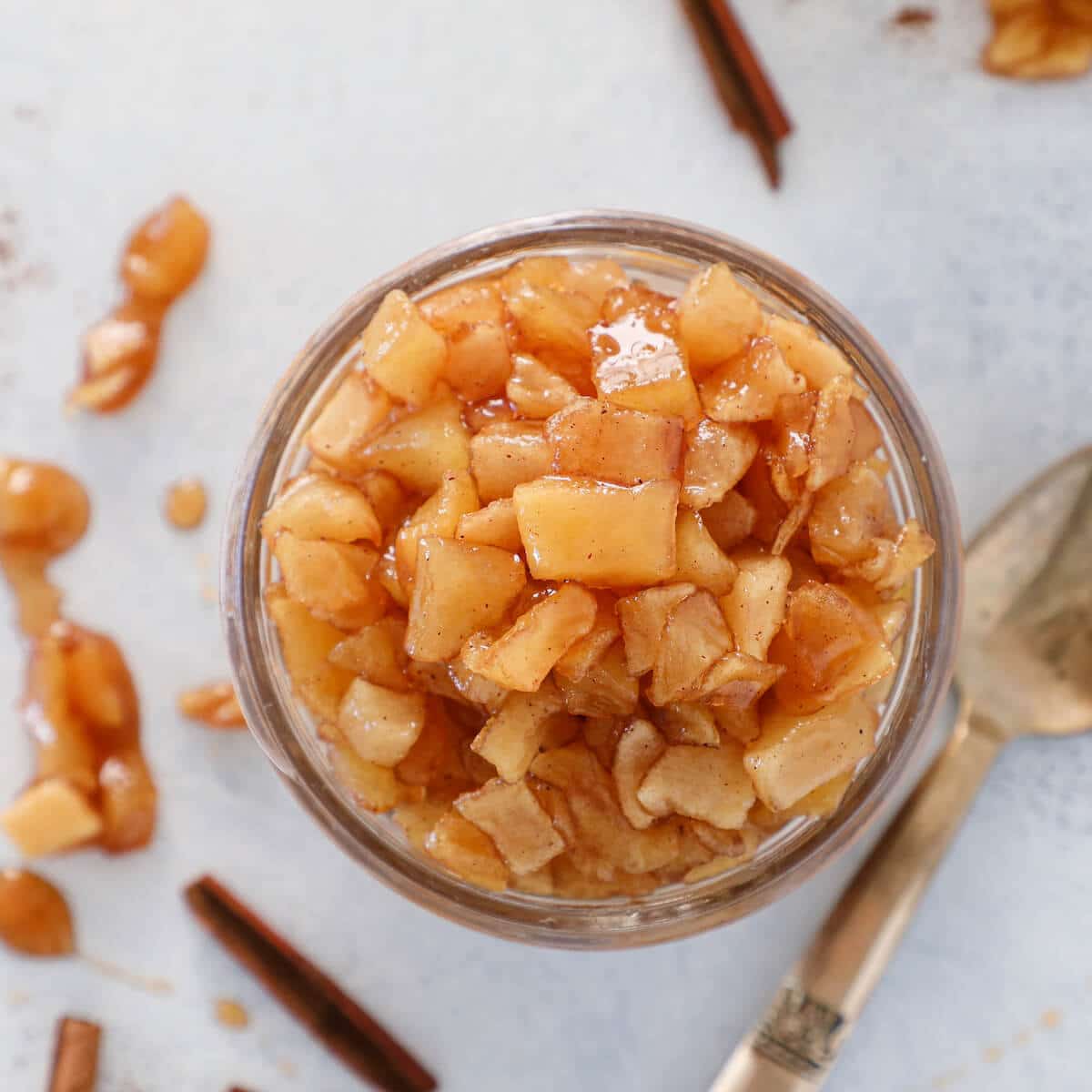 Variations
Lower Sugar: You can reduce the sugar as much as you would like. The sugar does help draw the moisture out of the apples and also thickens the syrup, but this won't matter for most applications.
Thicker Compote: You could thicken the compote by adding a cornstarch slurry towards the end of baking. Add ½ teaspoon cornstarch mixed with 1 tablespoon water to the cooking apple compote. Be sure that the mixture boils for 1 minute to cook out the raw cornstarch flavor.
Spices: Mix up the spices by using apple pie spice mix or pumpkin spice mix. Speculoos spice mix would also be delightful, but I would add more sugar.
Frequently Asked Questions
How do you store apple compote?
Cool compote completely and then store in a sealed container or jar in the refrigerator.
How long will apple compote keep?
Easy Apple Compote will keep for 3 weeks when cooled properly and refrigerated. Always remember that sauces, jams and condiments will spoil faster if contaminated with a spoon or other utensil.
Can you freeze easy apple compote?
You can freeze apple compote. Cool completely and then put in a freezer-safe container. It will keep 3 months frozen.
Will this recipe multiply?
You can make as large or as small a batch as you would like. You are only limited by the number or size of your pots! A larger batch will not be as thick because moisture does not evaporate as rapidly from a deep pot filled with apples as it does from a shallow pot with fewer apples.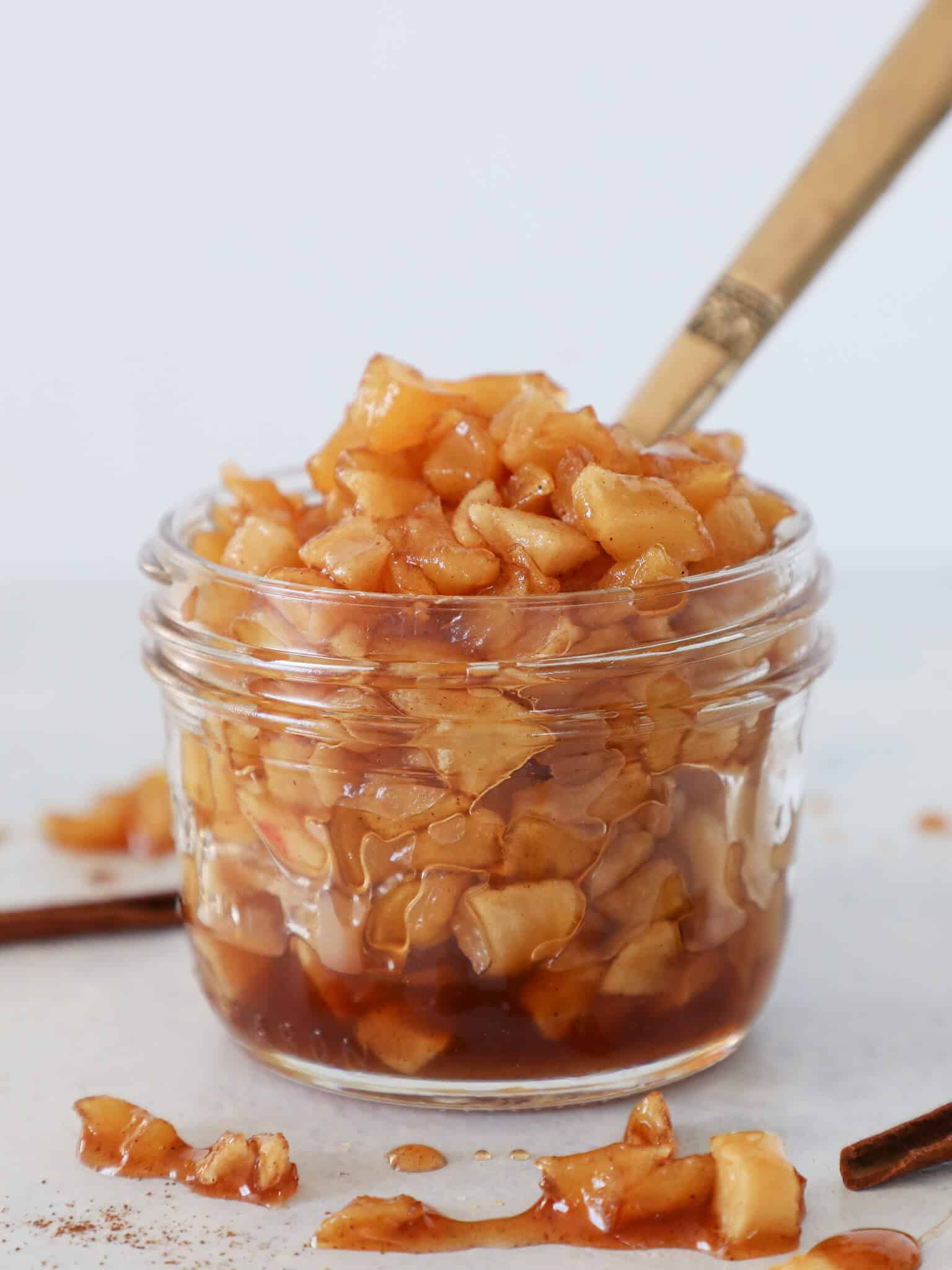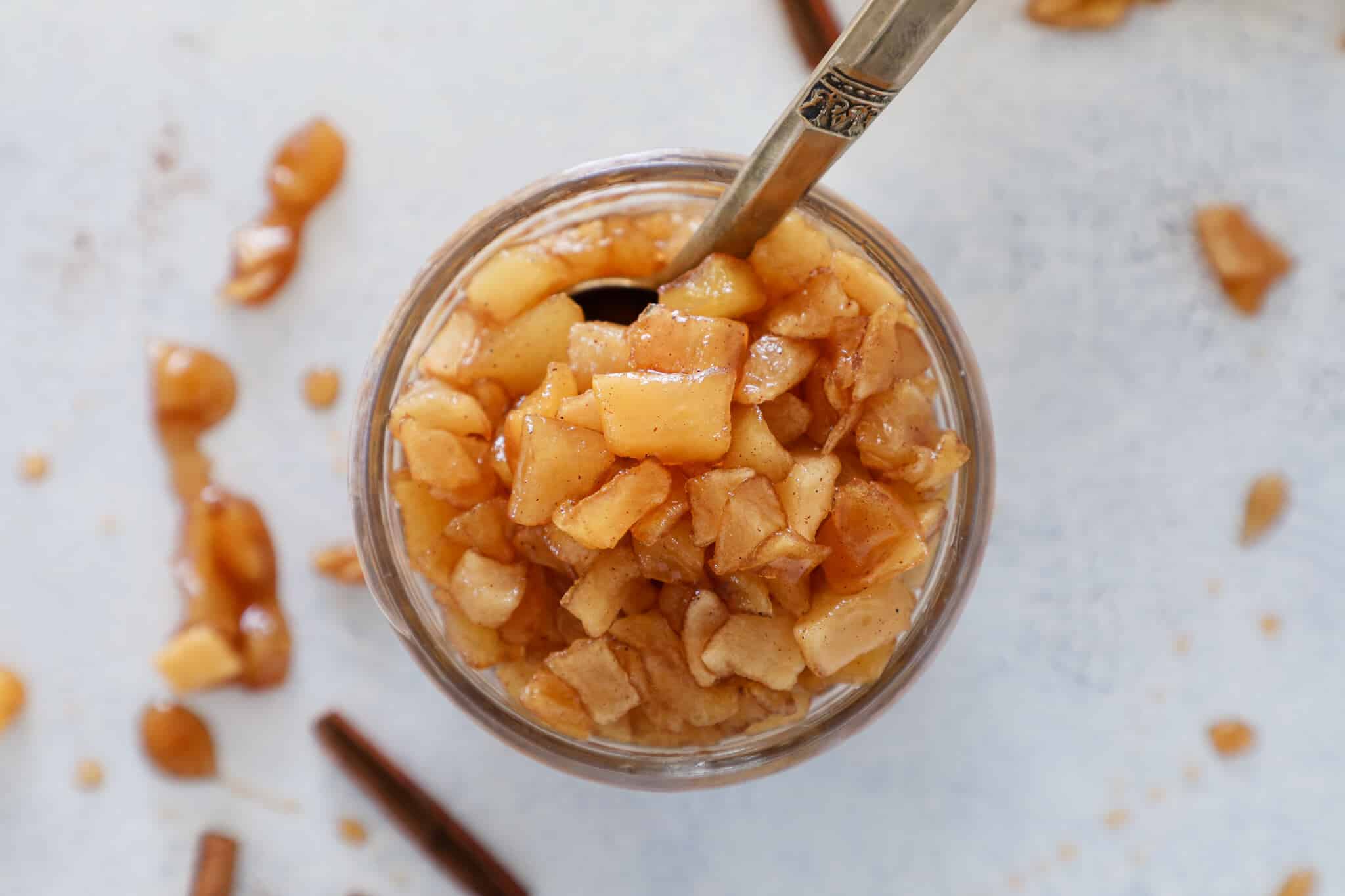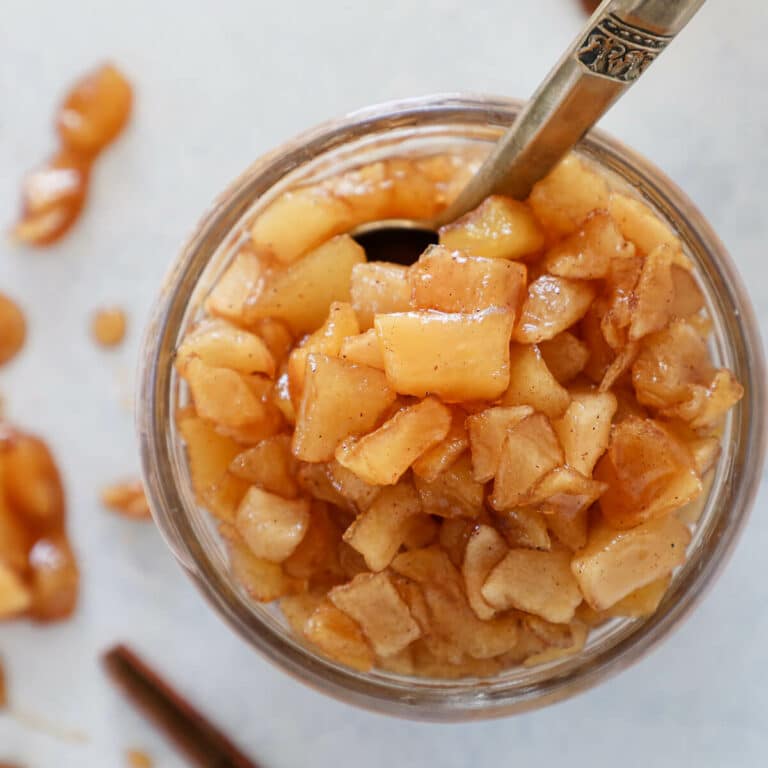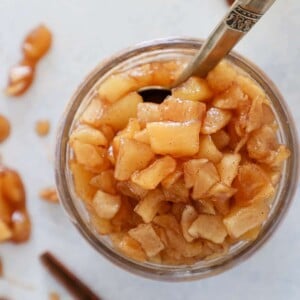 Easy Apple Compote
This easy Apple Compote will level-up your breakfast, desserts or snacks! It is flavored with cinnamon, light brown sugar and a little lemon juice for the perfect topping or filling. It cooks quickly and can be used hot or cold!
Instructions
Peel, core and dice apples. They can be in slices or in any sized dice that you feel works best for your recipe. For filling cupcakes, you might want a small dice, for example, but for topping waffles you might prefer larger slices of apples.

In a medium pot combine all ingredients. Toss apples and taste. Adjust the amount of sugar if desired. This will depend on how tart or sweet the apple varietals are.

Bring to a simmer over low heat. Cover and continue to simmer until apples have released most of their juices and some are turning translucent.

At this point the liquid should be thicker, but if it is too loose, remove the lid and continue cooking until desired consistency. You can also thicken it with a little cornstarch mixed with water, but I do not generally find this necessary unless using the apple compote as a filling for layer cakes or in hand pies.

Use warm or cool completely before storing in the refrigerator.
Notes
Notes: 2 pounds of whole apples will yield 524g peeled and cored apples. Each cup of diced apples was approximately 130 g.
Nutrition
Calories:
500
kcal
|
Carbohydrates:
131
g
|
Protein:
1
g
|
Fat:
1
g
|
Saturated Fat:
0.1
g
|
Polyunsaturated Fat:
0.2
g
|
Monounsaturated Fat:
0.03
g
|
Sodium:
14
mg
|
Potassium:
418
mg
|
Fiber:
8
g
|
Sugar:
118
g
|
Vitamin A:
182
IU
|
Vitamin C:
19
mg
|
Calcium:
55
mg
|
Iron:
1
mg
Like this? Leave a comment below!
Before You Go!
Check out our other delicious, chef-developed Jams & Jelly Recipes!