This Quinoa Kale Power Bowl is packed with vitamins, minerals, healthy fats and filling protein!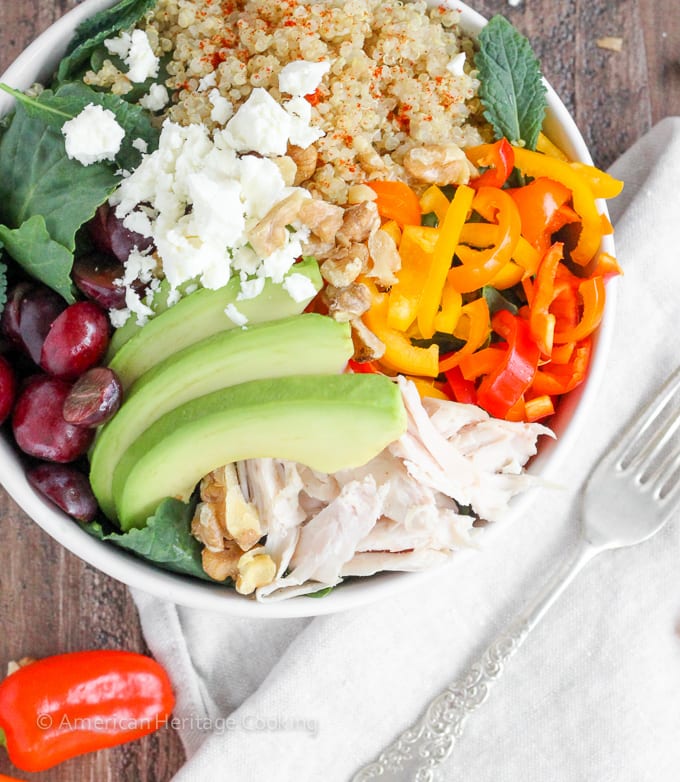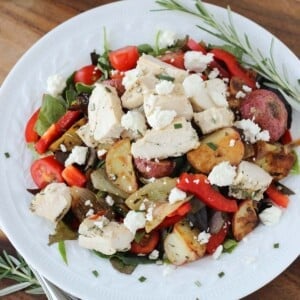 Oh hey! Culinary school has taken over my life the past few weeks, but I'll fill you in on that at another time. Today, today is about food!!! More specifically filling, healthy food!
Even I cannot live on bread alone. Yes, I can. But it's best if I don't!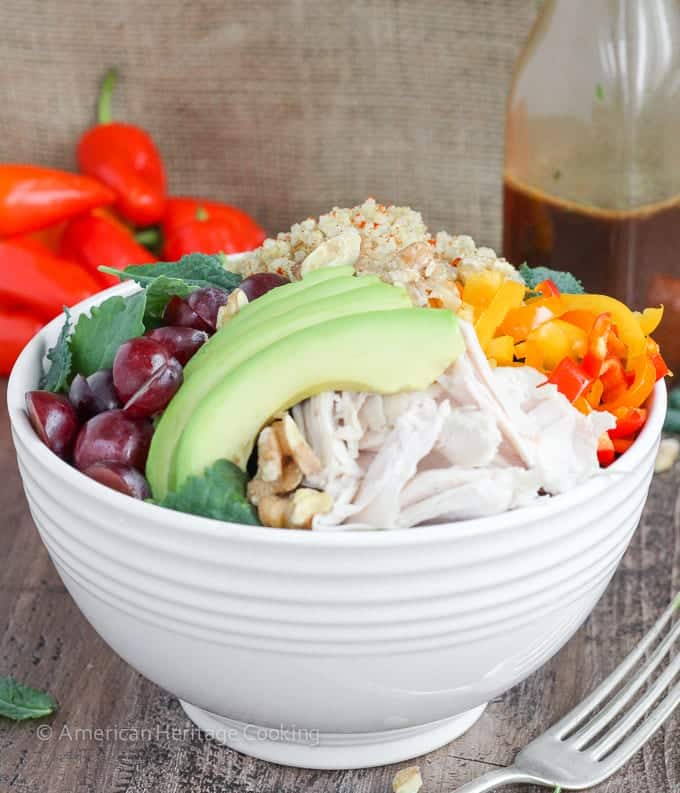 Indeed you know the ubiquitous Power Bowl that has popped up at every food establishment? The one that has a sprinkle of quinoa, a few leaves of kale and a whole lot of filler; and yet somehow they still justify charging $15 for it?
The first week of school I traded some fudge brownies for one such salad (Best trade ever, by the way!) and I decided for free it was awesome but for $15 I could do so much better!
This is my version. It is downright full of healthy, fresh vegetables, filling protein and just a hint of sweet from the grapes. It's just how I do.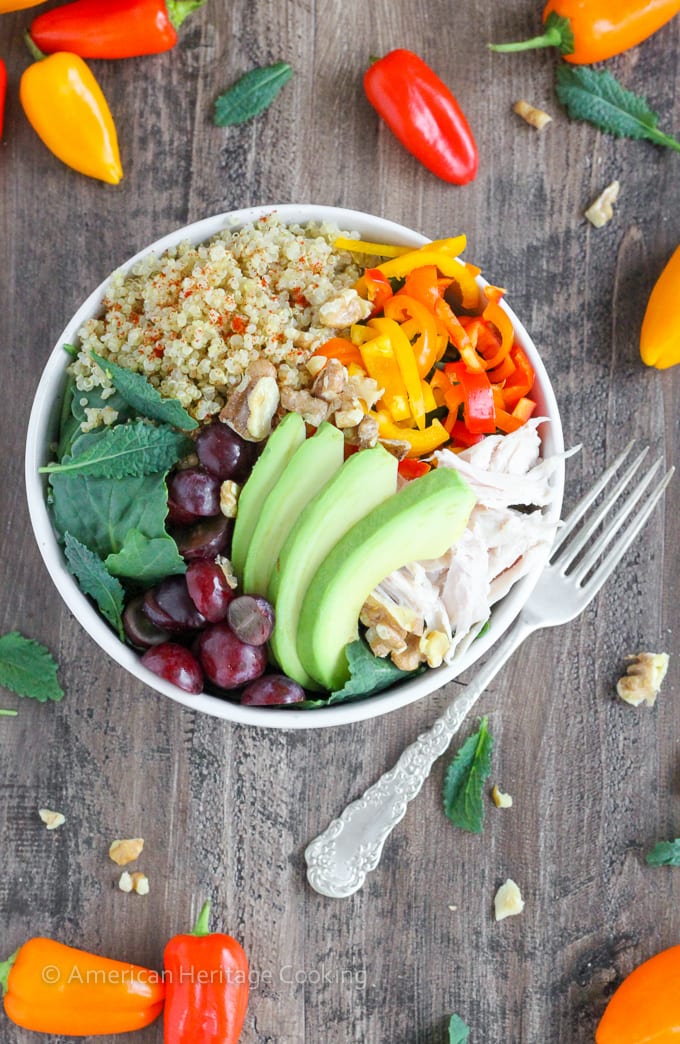 Triple protein from the quinoa, turkey and feta; healthy and filling fat from the avocado; and vitamins and minerals from the kale, peppers and grapes! It is seriously packed to the max with healthful fresh ingredients.
A good approach is to warm up the quinoa and turkey before assembling the bowl, but it tastes delicious cold packed for lunch too. I should know…I ate it everyday for over a month!
But seriously, how could you not want to dig right into a salad that looks like that?
The COLORS!!!
Makes me happy.
And when you are exhausted and starving and trying to cram both eating and resting into your 30 minute lunch break, color is everything.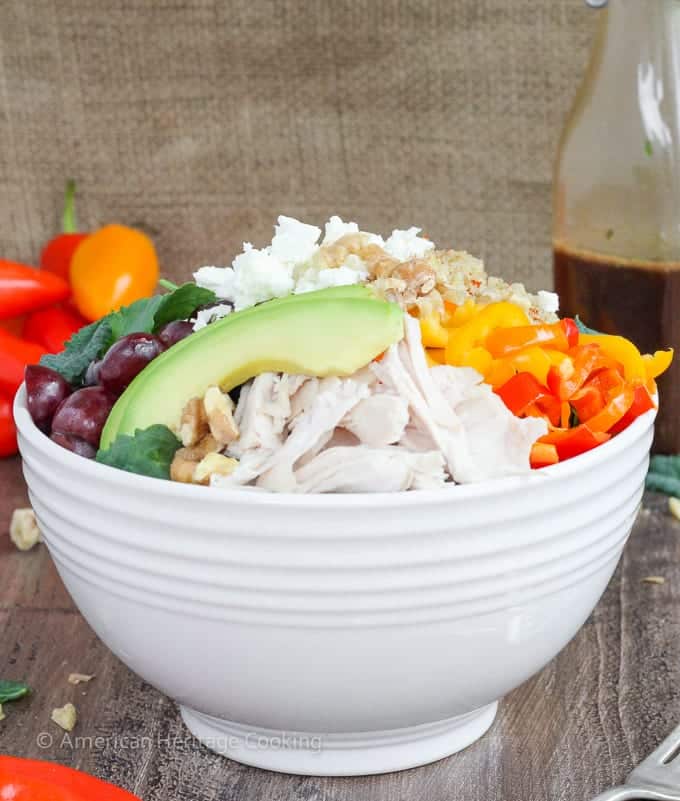 Drizzle it with a low-fat rosemary thyme balsamic vinaigrette, and you have yourself a filling meal that will power you through lunch, the afternoon crash, your workout and beyond.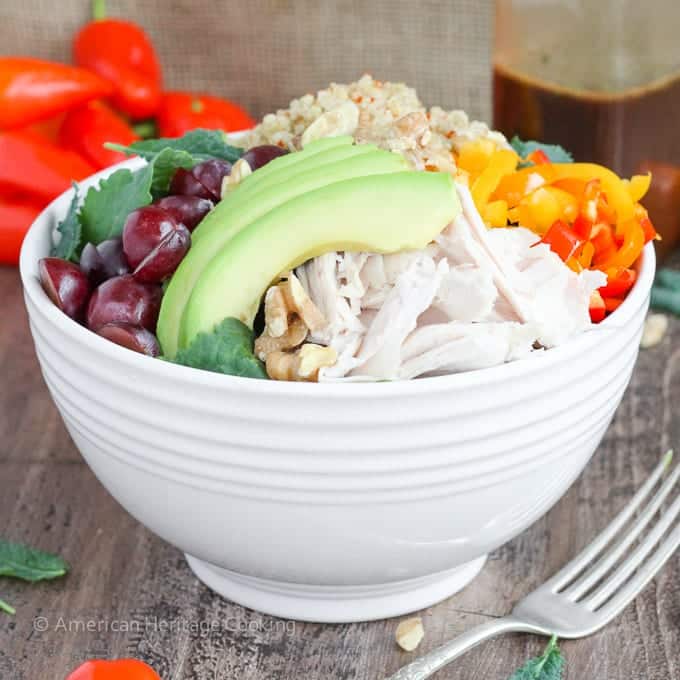 This is also quite possibly the easiest lunch or dinner ever. I've been making it with rotisserie chicken or turkey breast that I pick up on my way home from the gym.
"Hi my name is Lazy, I mean Lindsey, and I am too tired to roast my own chicken."
Whatevs. Something has to give.
If you have 10 minutes and some spare chicken breasts, I suggest my ridiculously easy, foolproof Rosemary Chicken Breasts. They are so easy it's actually embarrassing that I ever buy rotisserie chicken.
Half the time I omit the turkey or chicken and add an extra ¼ avocado and a sprinkle of toasted walnuts to make an equally filling and vegetarian salad.
Quinoa Kale Power Bowl
This Quinoa Kale Power Bowl is packed with vitamins, minerals, healthy fats and filling protein! Plus it is a super easy recipe that is perfect for lunch or dinner!
Ingredients
For the Salad:
½

cup

uncooked Quinoa

Sprinkle

paprika

Pinch

salt

4

cups

baby kale

1

avocado

1

cup

sliced sweet bell peppers

I use a mix of mini peppers. They're cute. I can't help it

4

ounces

feta

Sliced red grapes

Toasted walnuts
Low Fat Balsamic Vinaigrette:
½

cup

balsamic vinegar

¼

cup

olive oil

2

teaspoons

Dijon mustard

2

teaspoons

honey

more to taste

1

teaspoon

fresh rosemary

minced

¾

teaspoon

fresh thyme

leaves only

kosher salt

to taste

pepper

to taste
Instructions
General instructions for cooking quinoa:
I cook a huge batch of quinoa at the beginning of the week but I use a 2:1 ratio of water to quinoa, so for every 1 cup of quinoa, I use 2 cups of water. Rinse your quinoa, add to a pot with the water, several tablespoons of olive oil and several pinches of salt. Bring to a boil over medium heat, cover and reduce the heat to low; simmer on low for 10-15 minutes or until the quinoa has absorbed all the water and is tender.
For the salad:
Combine everything in a bowl. Sprinkle quinoa and turkey with paprika and a pinch of salt.

That's it. Criminally easy.
For the Balsamic:
Combine everything in a jar or salad shaker. Shake vigorously until combined. Taste an adjust honey, salt and pepper.
Nutrition
Calories:
427
kcal
|
Carbohydrates:
33
g
|
Protein:
11
g
|
Fat:
29
g
|
Saturated Fat:
7
g
|
Polyunsaturated Fat:
4
g
|
Monounsaturated Fat:
17
g
|
Cholesterol:
25
mg
|
Sodium:
400
mg
|
Potassium:
737
mg
|
Fiber:
9
g
|
Sugar:
10
g
|
Vitamin A:
8076
IU
|
Vitamin C:
116
mg
|
Calcium:
341
mg
|
Iron:
3
mg
Like this? Leave a comment below!