This easy, one pan roasted lemon chicken dinner is made in one baking dish! The vegetables are baked in chicken stock with the chicken perched right on top! Everything bakes together into one easy, delicious meal!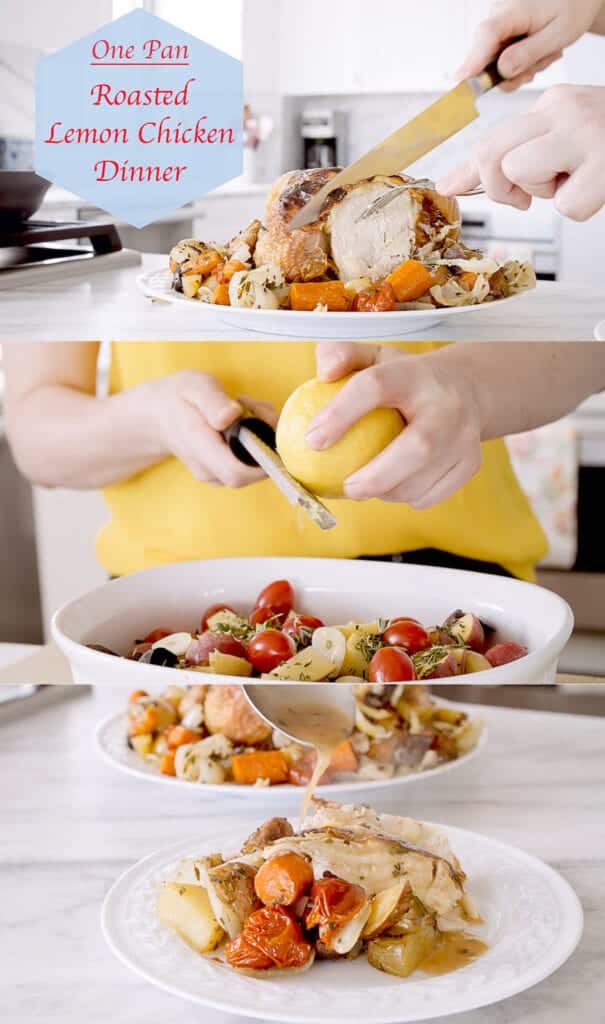 I unabashedly love chicken even though it is the least cool of all the proteins. So much so people have joked that I am a chicketarian.
This recipe is amazing. It combines all my loves in one simple dinner: chicken, roasted vegetables, and as few dishes to wash as possible! It has all the flavors of my meyer lemon chicken with half the prep!
Additionally, there are some optional flavor enhancers that will take this from "just a roasted chicken" to a weeknight dinner that feels really special. The kind of special that makes you forget that you are in quarantine. Quarantine, where wine is a life-line and working out is confined to a yoga mat and a stack of books masquerading as a "heavy weight".
That kind of special. Trust me.
Buuuut, oh yes here is the catch, that kind of special requires another step or two and another pan or two. 100% worth it and still just as easy.
Let me break down the wow-factor for you: take all the liquid from the roasting dish (stock, chicken drippings, seasonings, butter, love) pour into a pan on the stove and make a pan sauce. Oh, pan sauce, that sounds fancy. Don't let restaurants fool you! All you need to do is reduce that liquid and then add a bit of lemon juice at the end to finish it. Taste it for salt. Pour over your chicken and let the accolades roll in.

As a second second optional flavor enhancer, I sometimes dump all those beautifully cooked vegetables onto a preheated baking sheet and then pop them back in the oven, to get a bit of crunch on the outside. What is one extra dish to wash in the name of beautifully caramelized veggies?!
Just to nail home how easy this meal really is, I filmed a video. Full disclosure, I filmed this about 15 months ago and then the restaurants got really busy and time ran away from me.
It's a good thing this chicken is just as good now as it was then! I make this about once a week and it never disappoints!
Recipe
One Pan Roasted Lemon Chicken Dinner
This easy, one pan roasted lemon chicken dinner is made in one baking dish! The vegetables are baked in chicken stock with the chicken perched right on top! Everything bakes together into one easy, delicious meal!
Ingredients
For the Chicken & Vegetables
2

lemons

10

baby potatoes

(I used various colors)

1

cup

cherry tomatoes

2

onions

(I love roasted onions so I get a little crazy)

3

cloves

garlic

3

carrots

(peeled or unpeeled)

3

sprigs

rosemary

6

sprigs

thyme

(or as much as you feel like picking)

2

sprigs

oregano

1

whole chicken

(whatever size you'd like and would feed your people)

2

cups

chicken stock (bonus points for homemade)

2

tablespoons

unsalted butter

(can use olive oil instead or omit)
For the Pan Sauce:
¼

cup

lemon juice

(use the juice from one of the lemons above)

All the liquid from the roasting pan
Instructions
Preheat the oven to 375°F.

Cut up all vegetables into approximately ½ - ¾ inch pieces. As long as the potatoes are roughly the same size, all is good. Place them in a 2 ½ quart baking dish, or whatever you have. You just want it to be small enough that you have a good 2 inches of vegetables on which to place your chicken. This will keep them from cooking too fast.

Pick and chop the rosemary and oregano, toss on top of the vegetables. Add the picked thyme, black pepper and a generous three-finger pinch of salt or two.

Zest one lemon over the vegetables. Set aside to juice for the pan sauce if making.

I like to give the vegetables a stir at this point.

Thinly slice half of the other lemon into rings. Squeeze the uncut half over the vegetables and then put the squeezed lemon inside the body cavity of the chicken. Waste not, want not!

Working gently remove the skin from the breast of the chicken. Start towards the larger end of the breast and work your finger between the skin and the breast. I make a little windshield wiper motion with my finger as I slowly detach the skin all the way down. Once it has been detached, slide the lemon rings between the skin and breast.

Truss the chicken (my video can help!), place on top of the vegetables. Sprinkle salt on the chicken skin and then bake in preheated oven until the chicken registers 165°F in the thickest part of the thigh. The time will vary greatly depending on the size of your chicken but will most like be at least an hour.

In the last 15 minutes of the chicken cooking place a baking sheet in the oven to preheat if you are going to finish your veggies in the oven.

Let the chicken rest 10 minutes before serving. If you are not going to make a pan sauce, dinner is ready! If you are, then keep going. You have to let the chicken rest anyways…you might as well make a sauce while you wait!

Pour the remaining liquid from the baking dish into a medium sauté pan. Reduce liquid until it has a sauce-like consistency, approximately 2-3 minutes. It will run off your spoon and coat it rather than just pouring off like water.

While your sauce reduces, pour the vegetables onto the pre-heated baking sheet and place them back into the oven.

When your sauce is reduced, add the lemon juice and boil just 30 seconds more. Taste for salt, adding more if needed.

Slice the chicken, pull the vegetables from the oven, pour on that delectable sauce and enjoy!!
Video Instructions
Did you make this recipe? I want to hear all about it! ? Tag me on Instagram @cheflindseyfarr and use the hashtag #cheflindseyfarr
Oh so you are a chicketarian too?! Welcome to the scrumptious club! There is a lot more where this one pan roasted lemon chicken came from.
AHC is brimming with chicken recipes like this Thai Peanut Chicken Noodle Stir-fry or this easy tomato chicken bake or maybe a saucy favorite