Crispy roasted honey Brussels sprouts and leaks are tossed with wild rice, kale, feta cheese and a honey orange dressing for the perfect side dish or meal!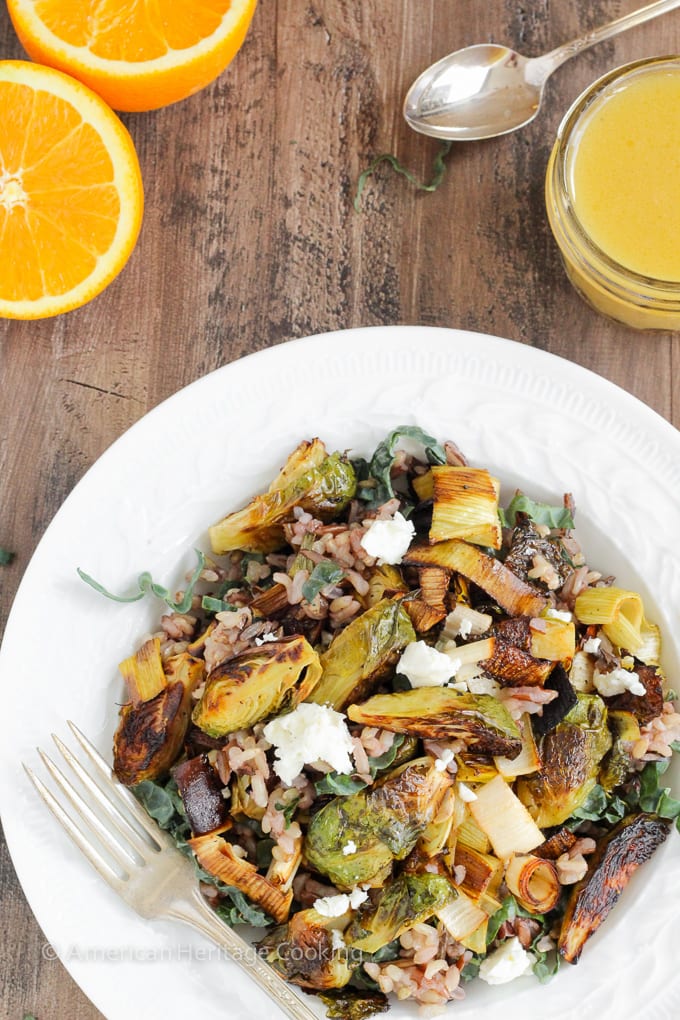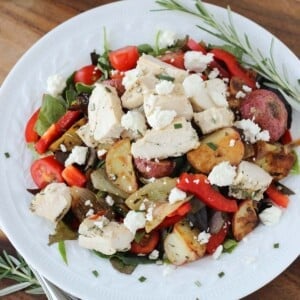 These roasted Brussels sprouts and leeks are my everything right now.
I can eat an entire pan without blinking.
The crispy pieces of honey leek and Brussels sprouts are like candy to me. A salty, sweet addicting candy.
And I don't even like Brussels sprouts.
The sad thing is that I am not exaggerating. I have to put away the extra roasted veggies or I will eat each and every last one, and then I will have no lunch for the next day.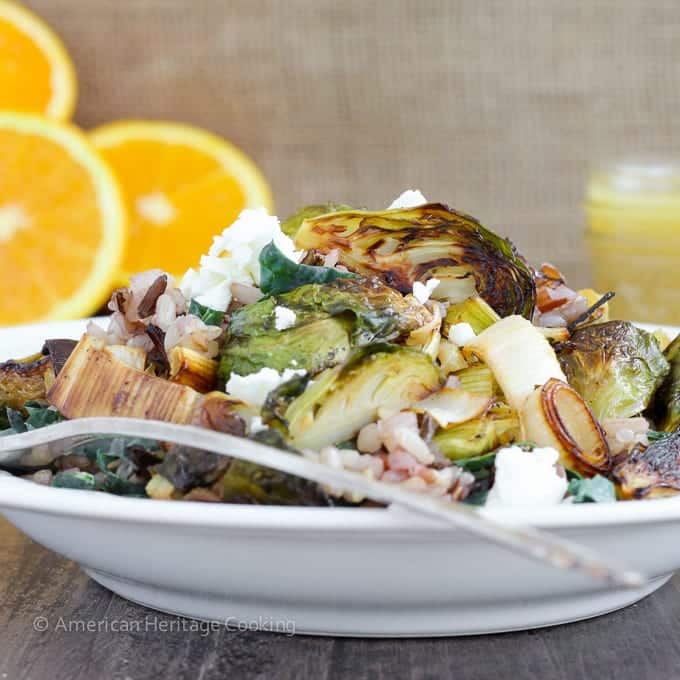 This is such an easy side dish or, if you add a layer of spinach, shredded raw cabbage, and my favorite 10-minute chicken, it becomes the most fabulous salad! And I should know…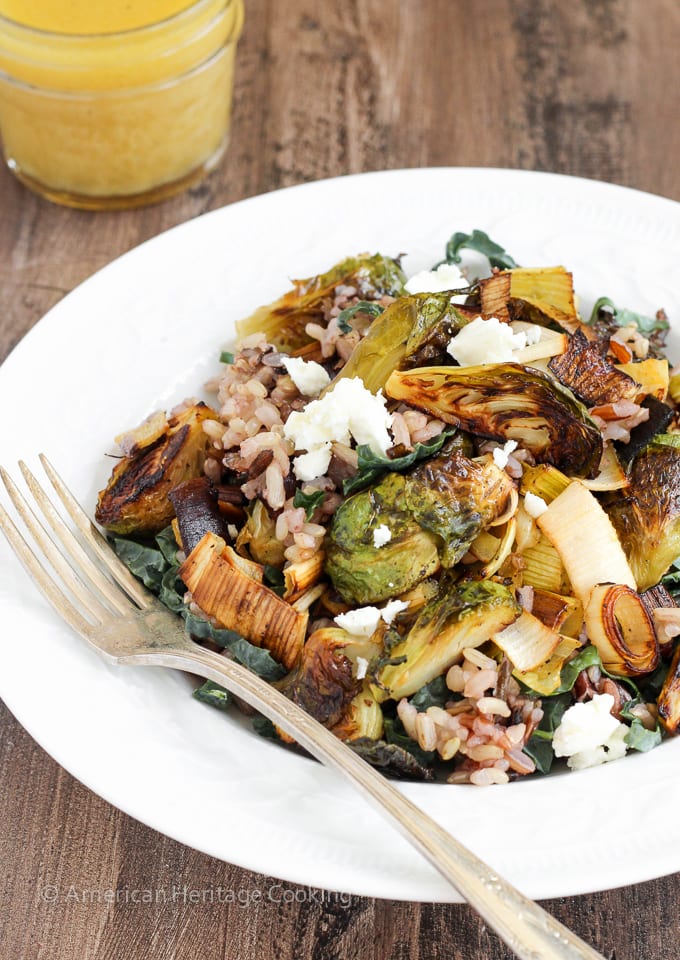 Because I've been eating this on repeat for several weeks now! I may have learned how to make unimaginable things out of sugar, but I still eat the same thing everyday for months on end. A tigress cannot change her stripes.
If you do double the recipe (and you totally should), you must use 2 sheet pans! If you over crowd your pan, you won't get that amazing caramelized crunch.
And that, my friends, is the very definition of sadness.
The keys to success here are making sure you cut the Brussels sprouts into small enough pieces so that the leeks don't burn before the sprouts cook; not over-crowding your pan, so you get those nice crispy pieces; and tossing the hot sprout mixture with honey right after removing from the oven. Mmmm honey.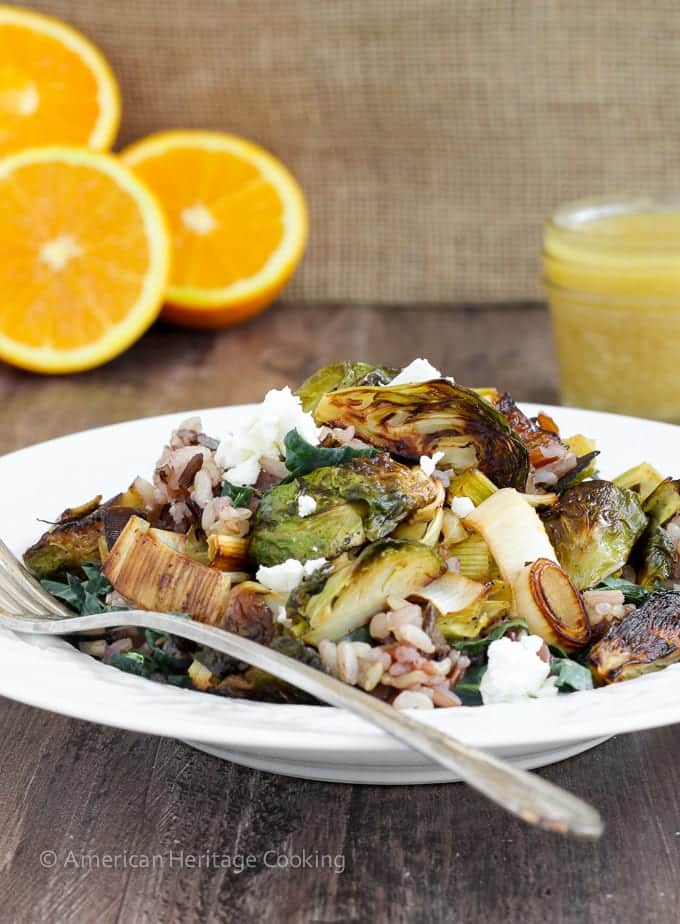 You are going to love this easy, healthy, filling meal. Promise.
Because I wouldn't eat it everyday if it weren't phenomenal. Just sayin'.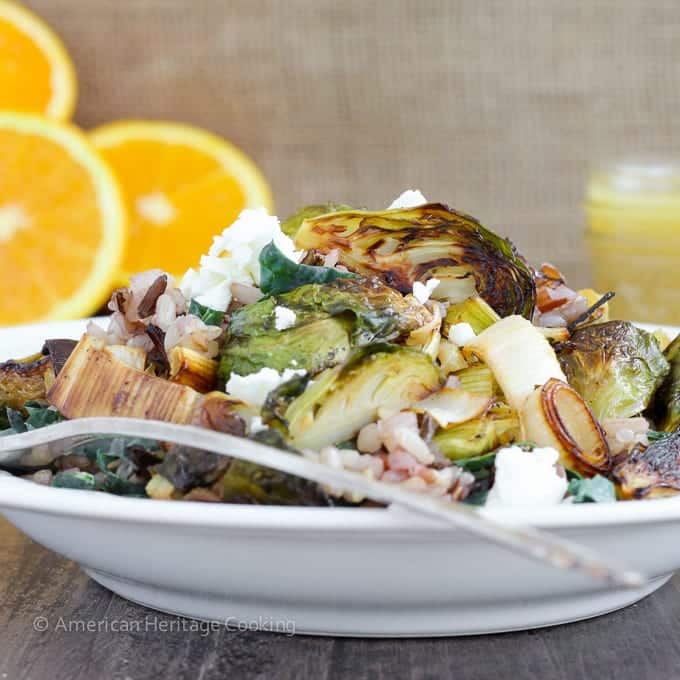 Roasted Honey Orange Brussels Sprouts Wild Rice Salad
Crispy roasted honey Brussels sprouts and leaks are tossed with wild rice, kale, feta cheese and a honey orange dressing for the perfect side dish or meal! Easy, healthy and filling!!
Ingredients
For the Salad:
For the Dressing:
¼

cup

freshly squeezed orange juice

¼

cup

champagne vinegar

¼

cup

walnut oil

3

tablespoons

honey

more to taste if desired

Pinch

kosher salt
Black pepper

to taste
Instructions
For the Salad:
Preheat your oven to 400°F with your pan inside. You want it nice and hot so that it will instantly begin to brown your veggies! Hooray!

Quarter your Brussels sprouts. Slice the leeks in half lengthwise and rinse thoroughly under cold running water. Dry them…I shake them dry; you do you. Slice each half leek into ½ inch slices so that they look like half-moons. Try to keep the moons in tact so they cook at the same rate as the sprouts.

Drizzle with olive oil and sprinkle with salt and pepper. Toss to coat. Scoop up a bit and look at them. Do they look slightly glistening with some visible salt and pepper? Good. You're perfect. If not, add a bit more. There should not be so much oil that there is residual in the bottom of the bowl.

Pour sprouts and leeks onto your blazin' hot pan, spread out into an even layer, and place back in the oven. Bake 30-40 minutes, stirring after 15. They are done when there are some nice brown pieces, some crispy pieces, and you can pierce the sprouts easily with a fork. Baking time will depend on the size of your sprouts.

Immediately after you remove your sprouts from the oven, drizzle the entire pan with some honey – not a ton, just enough to add a little sweetness. Gently stir to coat.

Combine rice, roasted vegetables, and kale in a large bowl; toss with dressing to taste. Sprinkle with feta and serve.
For the Dressing:
Combine all ingredients in a container that closes securely. Shake vigorously (i.e. as hard as you can.) until emulsified. There is no emulsifier in this dressing and there is not a lot of oil, so it will begin to separate fairly quickly. Don't worry; just shake it again before adding to the salad.

Make sure you taste it – then adjust your salt, pepper and honey.
Notes
Yield: Serves 4 – side dish
Start cooking your rice before you prep your sprouts because typical wild rice takes about 45 minutes to cook! While your sprouts and rice cook, slice your kale and make your dressing.
You can also serve this on a bed of shredded raw cabbage (so healthy) and additional kale. It's delish.
Nutrition
Calories:
573
kcal
|
Carbohydrates:
97
g
|
Protein:
18
g
|
Fat:
16
g
|
Saturated Fat:
2
g
|
Polyunsaturated Fat:
10
g
|
Monounsaturated Fat:
3
g
|
Sodium:
79
mg
|
Potassium:
1146
mg
|
Fiber:
13
g
|
Sugar:
22
g
|
Vitamin A:
7708
IU
|
Vitamin C:
166
mg
|
Calcium:
252
mg
|
Iron:
6
mg
Like this? Leave a comment below!