My Sweet Potato Casserole lightened up still has all the buttery, brown sugar flavor of a traditional casserole with half the calories!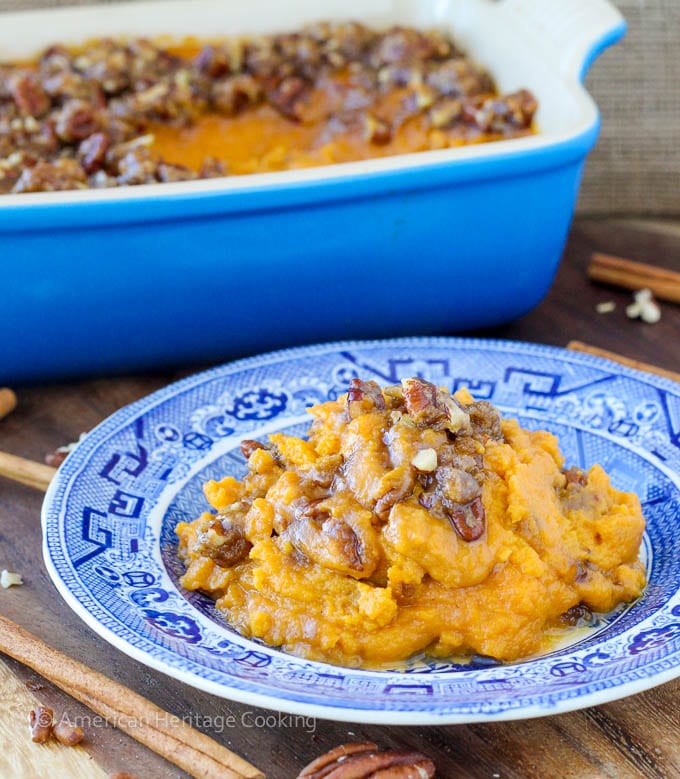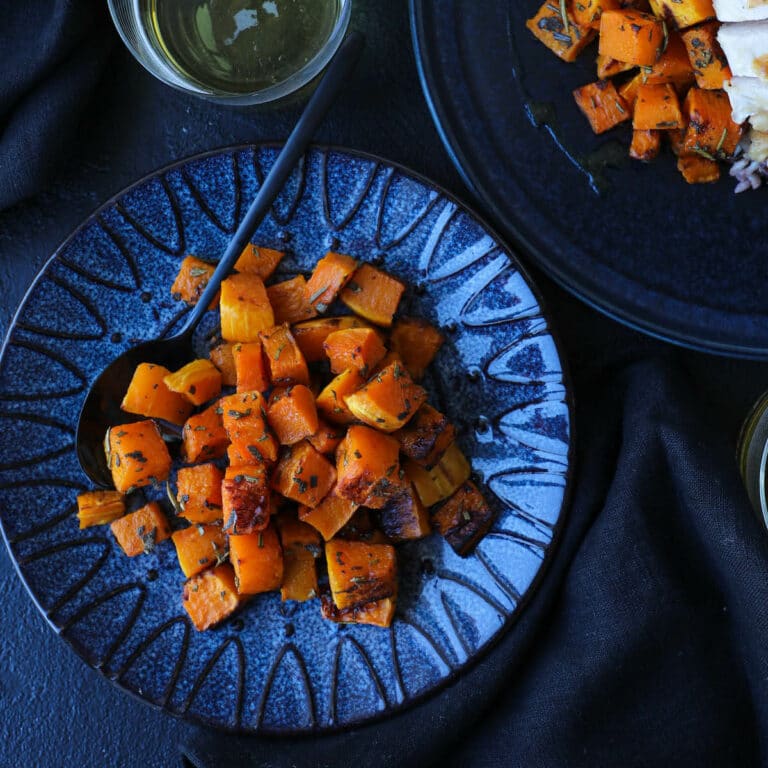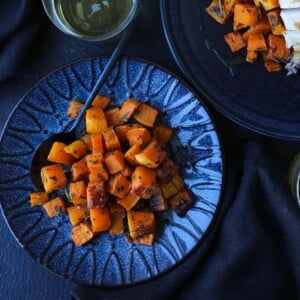 Sweet Potato Casserole is my favorite Thanksgiving side dish. It wins by a mile. Pair this dish with my vegetable casserole recipe and you have Thanksgiving Gold as far as I'm concerned. I will happily pile up my plate with gravy-free turkey, steamed green beans and a whole-wheat roll as long as I have my sweet potato casserole.
Who doesn't love eating dessert WITH dinner before getting to the real dessert…pie?!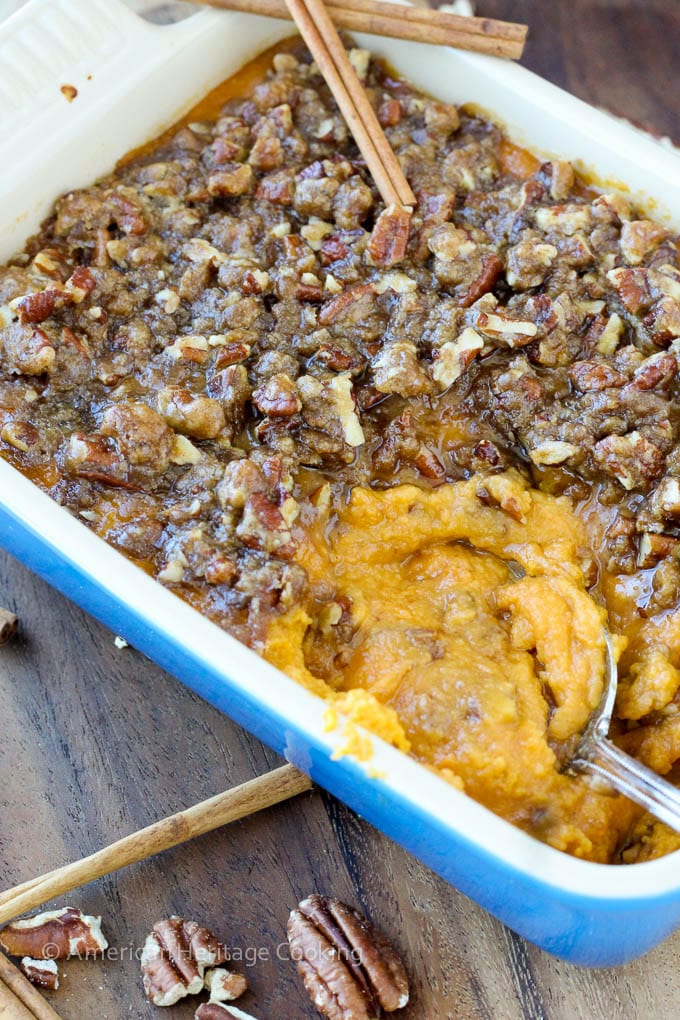 In high school and college, my best friend, Julia, regularly joined my family for Thanksgiving. She was in charge of bringing her sweet potato casserole…It was crazy good. Sweet, buttery filling topped with a toothachingly sweet brown sugar pecan topping. The good stuff.
Last year when I was planning on hosting Thanksgiving for the first time, I requested the recipe from Julia, and I almost fell out of my chair. There was more butter and sugar in the casserole than I even had in my cupboard!
So, with the help of my husband, I lightened it up.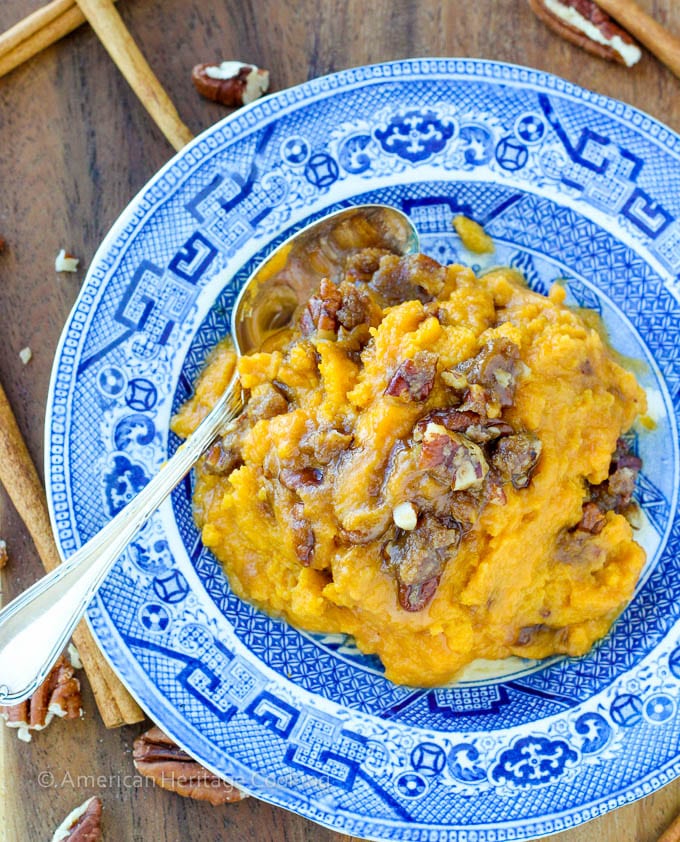 This isn't a healthy sweet potato casserole; so don't even go there. It's just not as indulgent as a traditional one!
Most of the calorie savings are from drastically reducing the butter and sugar in the filling. To me the topping is sacrosanct and shouldn't be messed with, but you could always reduce the sugar and add more flour and oats as filler. But why? It's Thanksgiving, the day of indulgence!
This casserole has brown sugar in every bite but it isn't cloyingly sweet. Toasting the pecans is calorie free flavor boost! It has the added benefit of keeping them a touch crunchier even after refrigerating. Since I reduced the amount of butter and sugar in the filling, the actual sweet potato flavor is more pronounced and you are reminded why sweet potatoes are so awesome even by themselves!
My husband likes sliced sweet potatoes in this casserole but I got distracted (shock!) and cooked the thin slivers too long and they didn't hold together in a beautiful layered form like last Thanksgiving. Immersion blender to the rescue!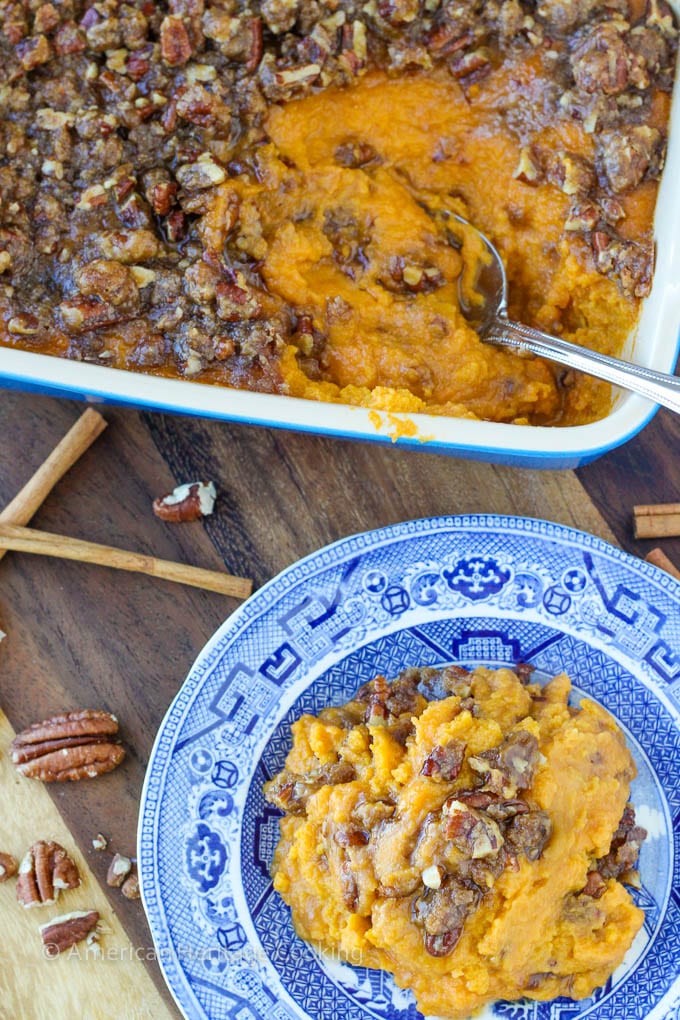 Fortunately they are just as good when the filling is mashed. It just doesn't look as classy.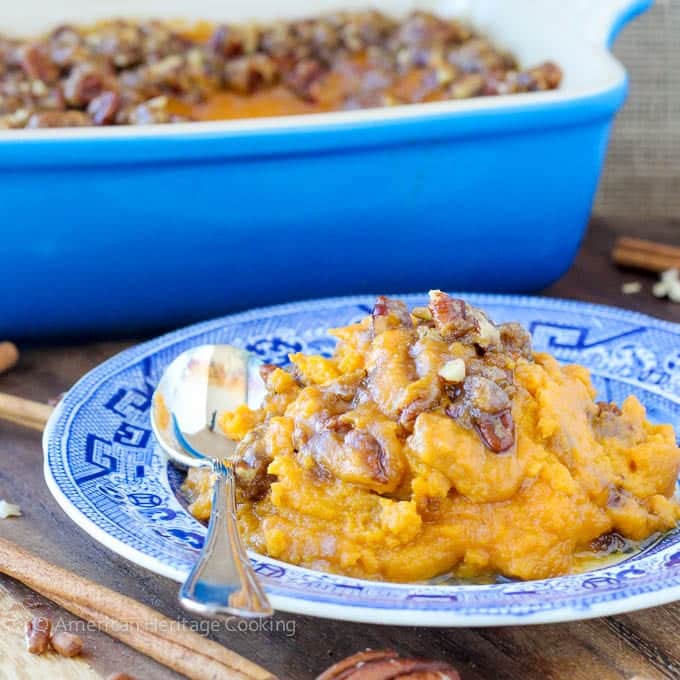 Kitchen Tip: Boiling the sweet potatoes will preserve that beautiful, bright orange color. This will provide a gorgeous color contrast in the casserole but will also keep your sweet potato pie, cakes and cupcakes orange too!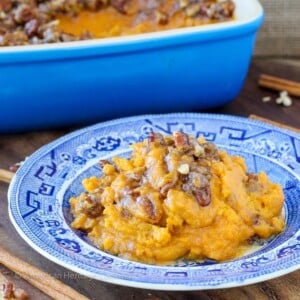 Sweet Potato Casserole Lightened Up
My lightened up Sweet Potato Casserole still has all the buttery, brown sugar flavor of a traditional casserole with half the calories!
Ingredients
For the Filling:
3

pounds

uncooked sweet potatoes

sliced 1/8 inch thick or cubed

1

cup

dark brown sugar

unpacked

2

eggs

lightly beaten

1 ½

teaspoons

vanilla

½

cup

low fat milk

½

cup

melted butter

pinch

salt
Instructions
Preheat oven to 350°

In a large bowl combine brown sugar, eggs, vanilla, milk, butter and salt. Whisk to combine.

Boil sweet potatoes in cold water, just covering, until fork tender. Drain well.

Toss sweet potatoes in the butter mixture. If you are going to puree your potatoes, you can do it at this stage or you can press the potatoes through a ricer after draining.

Pour into a 1 ½ – 2 quart casserole dish.

Mix all the topping ingredients together in a medium bowl and sprinkle over the top.

Bake 30-40 minutes until bubbling.
Notes
I did like this casserole better when it was prepared right before baking, but an overnight stay in the refrigerator wasn't the end of the world. If you do want to prepare it ahead of time, make the filling and refrigerate or freeze that, then prepare the topping right before baking.
I halved this recipe for the dish that you see in the photos.
Nutrition
Calories:
605
kcal
|
Carbohydrates:
82
g
|
Protein:
7
g
|
Fat:
30
g
|
Saturated Fat:
13
g
|
Polyunsaturated Fat:
4
g
|
Monounsaturated Fat:
11
g
|
Trans Fat:
1
g
|
Cholesterol:
91
mg
|
Sodium:
274
mg
|
Potassium:
735
mg
|
Fiber:
7
g
|
Sugar:
49
g
|
Vitamin A:
24801
IU
|
Vitamin C:
4
mg
|
Calcium:
126
mg
|
Iron:
2
mg
Like this? Leave a comment below!