You will love these healthy zucchini farro fritters! They are perfect for an easy, filling lunch or dinner!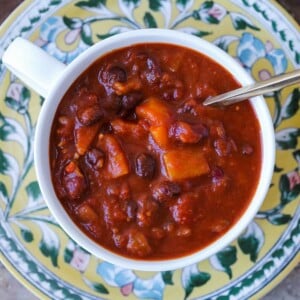 It's definitely that time of the year again when many of us find ourselves with more zucchini than we know what to do with. These delicious Zucchini Farro Fritters use a whole pound, so fear not!
I have no particular reason to have this overabundance of zucchini problem given that I live in a high-rise condo and can't be trusted to keep any plant alive! (My Mother-in-Law even adopted my African Violets. And by adopted, I mean rescued.) And yet, I find myself with several bags of zucchini in the fridge each and every week.
This zucchini problem is very similar to the aforementioned Butternut Squash Syndrome with the key difference being that I actually use them! I kicked off the season with these Zucchini Farro Fritters and slow roasted tomatoes several weeks ago but I've been too high on sugar to actually post them.
They are healthy and filling and make a perfect lunch or dinner!
Before making these cakes I had never tried farro before, but now I am hooked! It's a chewy, rich grain that I think is way better than rice! I even used it in my latest favorite salad.
I must admit that I was a tad bit skeptical of a vegetarian, zucchini based patty, but Cooking Light really came through with a win. They are delicious: a great summer alternative to veggie burgers.
And the slow-roasted tomatoes! Boy do I love roasted tomatoes! I can take or leave fresh tomatoes but once baked in the oven, I cannot resist!!! If you love them half as much as I do, I suggest you double the recipe below!
You can easily prepare the patties the day before you need them and cook them right before serving, or you can precook them and then reheat in a skillet as needed! I also froze some and have been cooking them in a skillet over low heat whenever I want an easy, vegetarian lunch or dinner!
Zucchini Farro Fritters with Slow Roasted Tomatoes
You will love these healthy zucchini farro fritters! They are perfect for an easy, filling lunch or dinner!
Ingredients
For the Cakes:
3 ½

cups

shredded zucchini

1

teaspoon

kosher salt

divided

2

cups

cooked farro

1

cup

fresh breadcrumbs

I used Italian seasoning

3

tablespoons

finely chopped green onions

3

tablespoons

whole-wheat flour

1

tablespoon

chopped fresh thyme

3

large eggs

lightly beaten

2

garlic cloves

minced

2

tablespoons

extra virgin olive oil

divided

Goat's cheese for serving
Instructions
Prepare the tomatoes:
Preheat the oven to 250° and line a baking sheet with foil. In a medium bowl combine all the ingredients for the tomatoes.

Arrange tomatoes in a single layer on baking sheet and bake for 3 hours or until very tender. Stir them occasionally. If the thought of having your oven on for 3 hours in the summer makes you want to go back to bed, you can definitely roast these for 20 minutes in a 400° oven and they will be almost as good!
Prepare the Fritters:
Line a medium bowl with cheesecloth and combine zucchini with ½ teaspoon salt in the bowl on top of the cloth. Let stand for 10 minutes. Gather up the edges of the cheesecloth and squeeze the zucchini with all your might until barely moist. This is a great way to take out some aggression or just dance around.

In a large bowl combine zucchini, ½ teaspoon salt and the next 8 ingredients in a large bowl. Let stand 5 minutes. Shape the mixture into 12 equal patties. It helps if you wet your hands first.

Heat a large skillet (I used cast iron, but you know me, I can't get enough!) over medium heat until hot, add several teaspoons of oil, and 4 patties. Cook 4 minutes on each side or until golden. Repeat with the remaining patties.

Serve with tomatoes and goats cheese.
Notes
Recipe adapted from Cooking Light Magazine, April 2014 Edition
Nutrition
Serving:
2
fritters
|
Calories:
315
kcal
|
Carbohydrates:
41
g
|
Protein:
10
g
|
Fat:
14
g
|
Saturated Fat:
2
g
|
Polyunsaturated Fat:
2
g
|
Monounsaturated Fat:
8
g
|
Trans Fat:
1
g
|
Cholesterol:
82
mg
|
Sodium:
802
mg
|
Potassium:
788
mg
|
Fiber:
6
g
|
Sugar:
8
g
|
Vitamin A:
1468
IU
|
Vitamin C:
44
mg
|
Calcium:
99
mg
|
Iron:
3
mg
Like this? Leave a comment below!