This sweet potato pie combines brandy, lemon juice and zest, and vanilla extract with sweet potatoes in a pie that is bursting with flavor! It will change the way you look at sweet potatoes forever!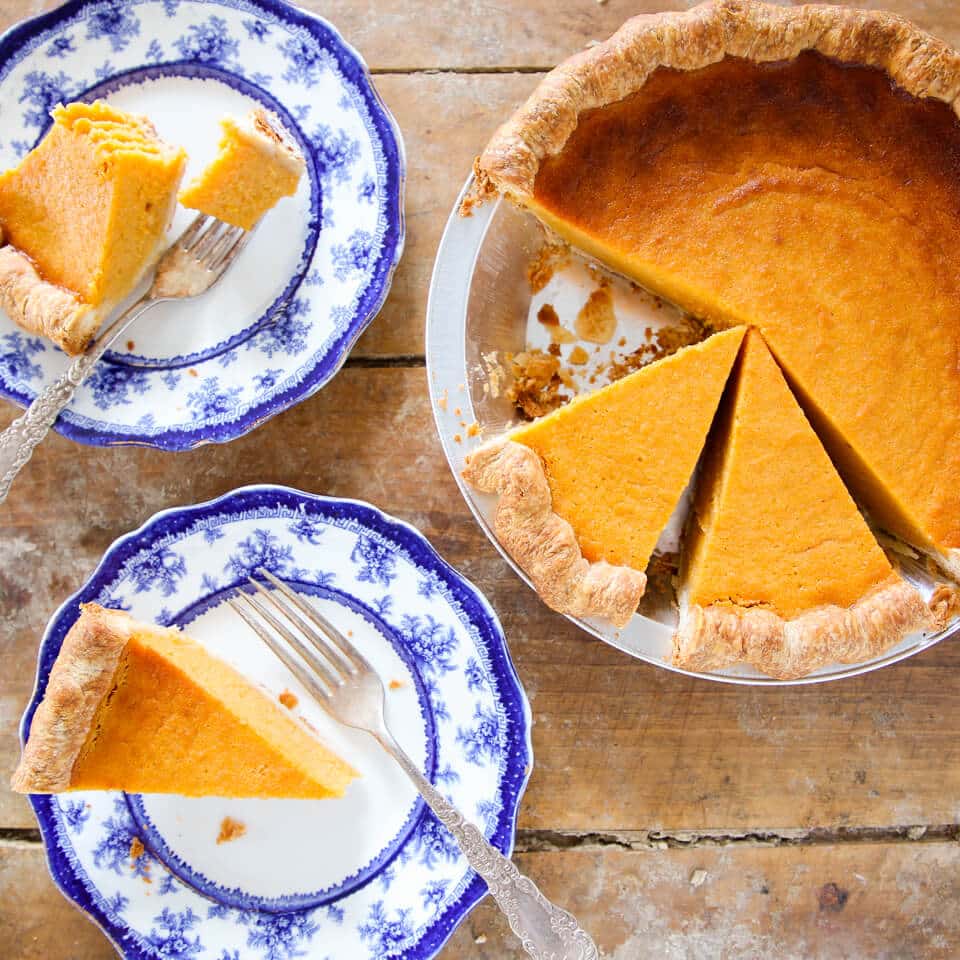 Hundreds of years ago colonists had already created and perfected an iconic Southern American dessert: The Sweet Potato Pie. They have transformed the humble sweet potato into a dessert that is absolutely sensational! I will never look at a sweet potato the same again. No longer will it be relegated to a Thanksgiving side-dish.
This is no ordinary sweet potato pie either. This is Mary Randolph's Sweet Potato Pie and it is extraordinary. She masterfully combines brandy, lemon juice, lemon zest, vanilla extract and sweet potatoes into a pie that is positively bursting with flavor.
The zing of the lemon counterbalances the sweetness from the sweet potatoes, and the brandy adds additional depth of flavor. This pie would show up even the best pumpkin pies.
And I LOVE pumpkin pie. I am the biggest fan of all things pumpkin, as is evidenced by my 25 Best Pumpkin Recipes for Fall.
Mary Randolph first published her influential cookbook The Virginia Housewife in 1824, which is generally considered to be the first Southern cookbook. This recipe is nestled in there as Sweet Potato Pudding. Mary Randolph was still in the habit of calling all desserts, pie or otherwise, puddings in the British sense of the word.
Call it what you will, the flavors blew me away.
I actually found this recipe in The Southern Heritage Pies and Pastry Cookbook (1984 Edition), which is my current obsession. You'll be seeing a lot more from this cookbook because it's ridiculous. Ridiculously Amazing.
Want. To. Make. Pie. Every. Night. Must. Resist.
I baked this pie in a cream cheese crust that will bowl you over. The crust was a botched first attempt at the pastry for Apricot Kolaches. It turns out that if you don't follow the instructions exactly, you end up with a mess (and possibly tears).
Never one to waste, I pulled together the dough with some ice water, wrapped it in plastic wrap and threw it in the freezer to deal with later. Well thank heavens I sometimes forget to follow instructions! It's now one of my favorite piecrusts and it's super easy because you don't have to cut the butter into the flour. Nope you get to use a hand mixer! Heck yes!
Instead of using the cream cheese crust as given below, you can also use my other favorite piecrust recipe, which would be equally amazing!
Paired with Lemon Whipped Cream this pie will be a hit in the Summer, Winter or a welcome addition to any Thanksgiving table.
P.S. - The secret to the bright orange color in this (and any) sweet potato pie is boiling the sweet potatoes instead of baking them.
Recipe
Mary Randolph's Sweet Potato Pie
This sweet potato pie combines brandy, lemon juice and zest, and vanilla extract with sweet potatoes in a pie that is bursting with flavor! It will change the way you look at sweet potatoes forever!
Ingredients
For the Cream Cheese Crust:
For the Sweet Potato Filling:
¼

cup

butter

(unsalted, softened)

1

cup

sugar

2

cups

cooked

(mashed sweet potatoes)

3

eggs

(room temperature)

¼

cup

brandy

2

teaspoons

lemon zest

(be careful not to get the bitter, white pith!)

2

tablespoons

lemon juice

1

teaspoon

vanilla extract

⅛

teaspoon

freshly ground nutmeg

1

9-inch pastry shell
Makes:
7
inch
7
x
7
inch
round
Instructions
To Prepare the Cream Cheese Pastry:
Sift flour and salt together in a medium bowl and set aside.

Beat the cream cheese and butter together with a stand mixer or a hand mixer until completely incorporated and creamy (3-5 minutes).

Reduce the speed of the mixer and add in the flour. Mix until the dough comes together. If the dough is not cohesive and will not stay in a ball, sprinkle ice water a tablespoon at a time over the dough and mix with a fork until it comes together in a ball.

Flatten into a circle, wrap in plastic wrap and refrigerate until hard, at least 4 hours. Overnight refrigeration is recommended.

Roll out your pastry to ⅛th inch thick and line a pie dish, trim the edges, roll them under and crimp decoratively. Cover loosely and place in the refrigerator until ready to fill.
To Prepare the Filling:
Place brandy in a small pan and heat until warm. Do not boil. Keep warm.

Cream butter in a mixing bowl with a hand mixer: gradually add sugar, beating well after each addition. Add potatoes; beat on medium speed until well blended.

Add eggs, one at a time; beating after each addition.

Add the brandy, lemon zest, lemon juice, vanilla and nutmeg to the sweet potato mixture; stir until well blended.

Pour mixture into pastry shell.

Bake at 400°F for 15 minutes. Lower the temperature to 350°F and continue baking until a knife inserted into the center comes out clean, about 25 more minutes.

Update: These days I prefer to par bake my single crust pies. It makes for an extra flakey, tender crust that is not soggy. If you blind bake your crust, the pie will bake at 350°F for 20-30 minutes.