This Tomato Goat Cheese Galette with a flaky semolina tart crust will blow your mind. A tender crust filled with creamy goat cheese filling and stacked with tomatoes and onions!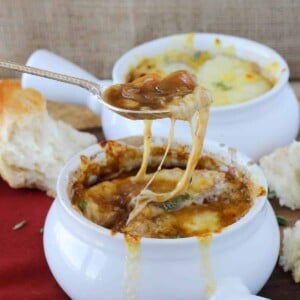 What if I told you this galette tasted a bit like pizza on a crispy, flaky crust? Oh, now you're in!?
I used my semolina tart crust, but this would be just as delightful with my vodka pie crust or my all-butter pie crust. However, they will all create the flaky, buttery vessel for the creamy goat cheese filling and jammy, roasted tomatoes.
Most people settle for crumbled goat cheese as the base, and that is fine in a pinch, but this filling is silky, light and creamy with all the punch of tangy goat cheese. I've also seasoned it with fresh thyme and a bit of pepper. In truth, it took all my self-control not to just eat it on a spoon.
Which you totally shouldn't do because there is an egg in there as a binder! After all, it is the glue that holds it all together to make one happy, light family. You don't want a loosey-goosey base for your tomatoes.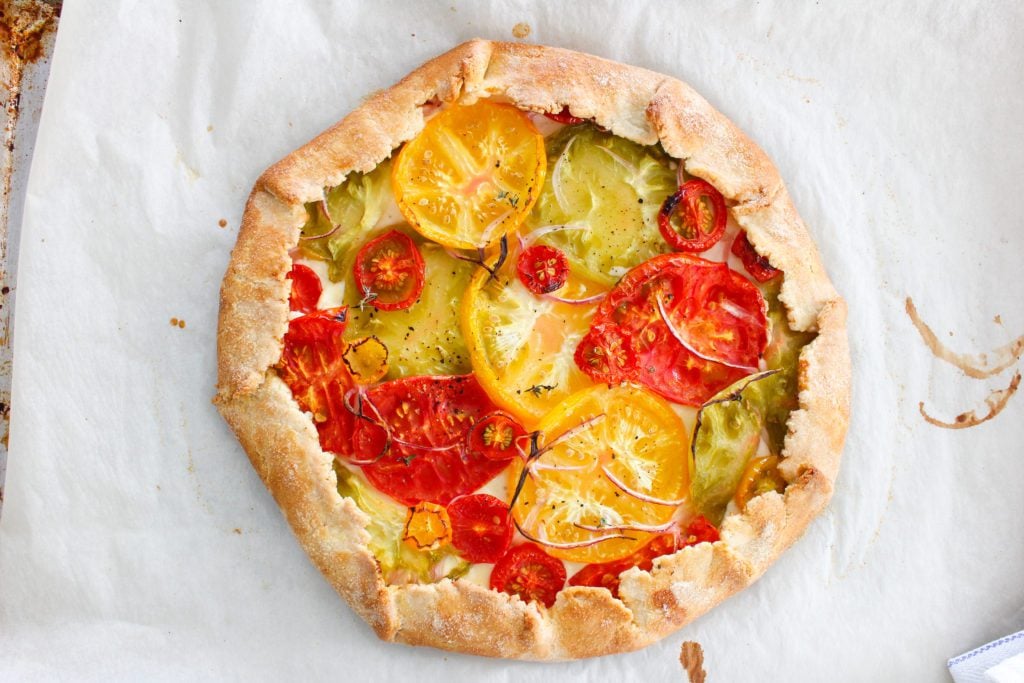 Why this is the best Tomato Goat Cheese Galette
The Crust: The crust is key here. It plays textural contrast to the filling and tomatoes. It is also unabashedly buttery and flakey. The pâte brisée is key because it provides a structurally sound savory base for all the fillings. The semolina gives it a little extra texture and is reminiscent of pizza, and who doesn't want that?
The Filling: Mmmm goat cheese, my only love. Oops, just kidding, fiancé. Goat cheese is a close second. We don't settle around here so only the silkiest, creamiest cheese filling is permitted. Thus, I present you with "Better Than Goat Cheese" Goat Cheese Filling. Just trust me. It's bomb.
Salt Thy Tomatoes: This is the most crucial step of the whole shebang, because nobody wants a soggy galette. Nobody. Not even that weird coworker who used to sneak pieces of raw pie and bread dough from my workstation. [True story, btw. I can't make this 'ish up.]
Baking: Speaking of no soggy bottoms, baking the galette long enough is critical. The crust needs time to fully crisp and bake on the bottom; the filling needs to be fully baked (don't forget about that egg!); and the tomatoes need time to roast completely. Roasting the tomatoes concentrates the flavor and makes them almost a bit sweet.
Let's review our tomato prep situation, shall we? Mostly because I took some pretty pictures and I want to share them with you! ?
Not only are we going to pre-salt them and let the salt pull out some of the extra moisture, but I like to salt them in layers. This way each tomato gets its fair shake…of salt. [See what I did there? ? I crack myself up!]
Then lay them all out on paper towels just as cheap insurance.
Layer up! I overlap a bit because they shrink as they bake. Don't forget to take that filling all the way out! Think of it as the OG stuffed crust pizza. Mmm pizza…
Bake 'em down! All the way to jammy perfection.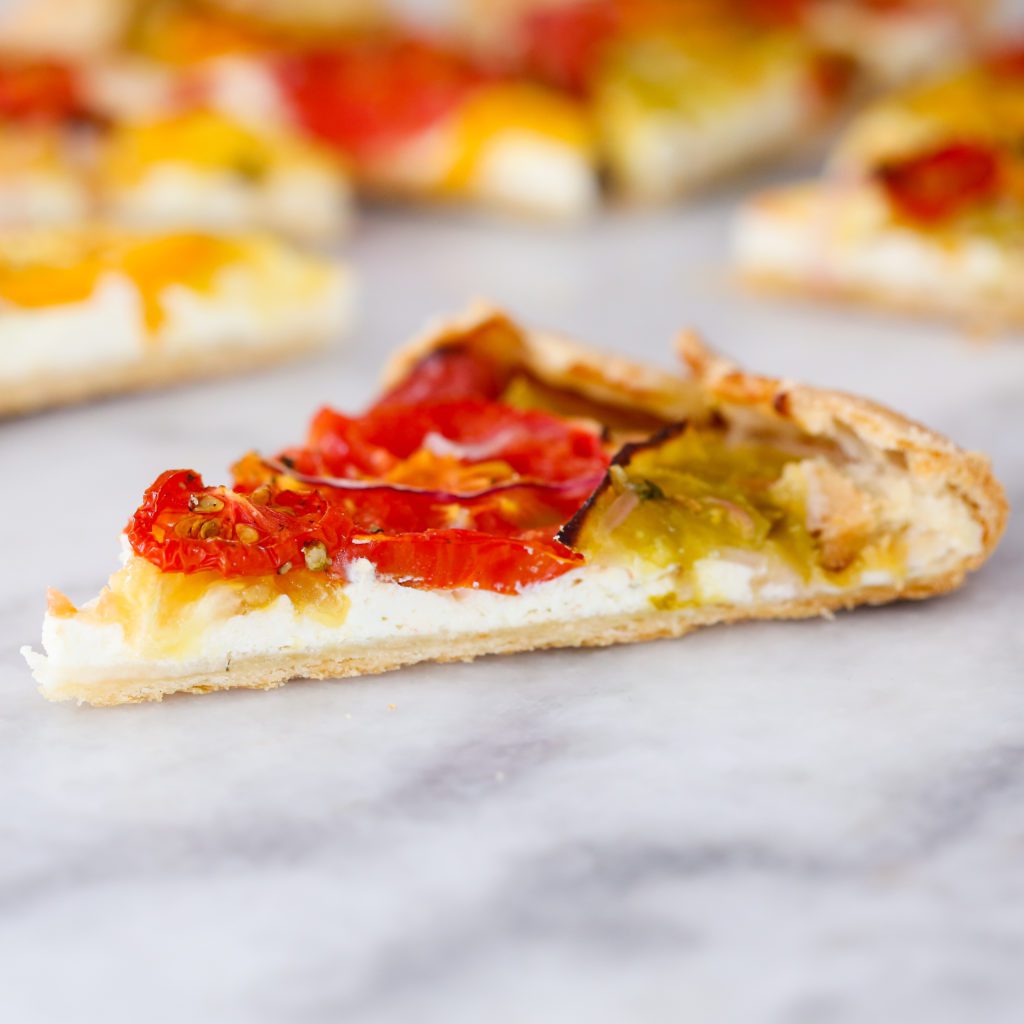 Enjoy! This Tomato Goat Cheese Galette is perfect for a casual picnic, a not-so-casual dinner party, a buffet, a light lunch, or snacking. You will forever be, "the one who brought that amazing tomato galette."
Tomato Goat Cheese Galette
This Tomato Goat Cheese Galette with a flaky semolina crust will blow your mind. ? A tender crust filled with creamy goat cheese filling and stacked with tomatoes and onions!
Ingredients
4

oz

Plain Goat Cheese

2

tablespoon

Heavy Cream

½

Egg

4

sprigs Thyme

1 ½

lbs

Heirloom tomatoes

any color, any shape, any size!

½

teaspoon

Kosher salt

¼

Small red onion

Fresh cracked black pepper

1

Egg for egg wash

or just use the other half of your egg from the filling!
Instructions
Prepare your dough. While that is chilling start on the fillings.

Slice the tomatoes about ¼ inch thick. Measure out ½ teaspoon kosher salt. Begin layering tomatoes in a bowl and salting between the layers. Don't use more than the allotted amount of salt or you run the risk that the final galette topping is salty.

Finely slice onions with a knife or on a mandoline. Mine were around 1/16th inch thick. Place with tomatoes. Cover with plastic wrap and allow to sit at room temperature for 30 minutes.

Meanwhile prepare the goat cheese filling. This is best made in a food processor, but you could also use a Nutribullet or similar. To make it by hand, soften the goat cheese with the back of a wooden spoon in a bowl, then proceed either with the spoon or with a hand mixer.

Pulse the goat cheese to break it up then add the egg and run until smooth. With the machine running, add the heavy cream through the feeder tube and process until smooth and light. Add the fresh thyme leaves and a few cracks of black pepper. Pulse to combine.

Transfer to a bowl and set aside until the tart is ready to assemble.

Preheat the oven to 375°F convection or regular.

When the tart dough has chilled at least 2 hours, roll it out into a circle about an 1/8th inch thick. I rolled mine out in a mixture of semolina and all-purpose flour. Place on a parchment lined baking sheet and chill if it is too warm. It will only need about 10 minutes: you want it to feel cold to the touch but still be pliable so it doesn't crack when you fold it over.

Remove the tomatoes from the bowl and place on a baking sheet lined with two layers of paper towels. Blot the top with another paper towel.

Spread the goat cheese filling over the crust leaving about an inch of buffer. Layer tomatoes and onions, overlapping slightly. Cut some of the tomatoes in half to get them all the way to the edge of the filling. No bite without tomatoes!

Make egg wash: whisk or shake the remaining half egg from your filling until loose and fully homogeneous.

Fold the edges over the filling, crimping slightly to keep the circle. I seal the folded over parts with the egg wash but this isn't necessary. Brush the edges with egg wash, sprinkle with semolina.

Bake in preheated oven for 35-45 minutes or until the crust is a deep golden brown, the tops of the tomatoes have begun to brown, and the tomatoes look shrunken and slightly darker in color.

Serve at room temperature or straight from the oven! Your call.
Notes
How to divide an egg. Whisk an egg like you're beating it for scrambled eggs. Eye-ball half or measure 25g on a kitchen scale. It's not that serious here, so just eye-ball it.
Nutrition
Calories:
176
kcal
|
Carbohydrates:
14
g
|
Protein:
6
g
|
Fat:
11
g
|
Saturated Fat:
5
g
|
Polyunsaturated Fat:
1
g
|
Monounsaturated Fat:
4
g
|
Trans Fat:
1
g
|
Cholesterol:
41
mg
|
Sodium:
302
mg
|
Potassium:
249
mg
|
Fiber:
2
g
|
Sugar:
3
g
|
Vitamin A:
979
IU
|
Vitamin C:
13
mg
|
Calcium:
42
mg
|
Iron:
1
mg
Like this? Leave a comment below!