These are the best Potato Dinner Rolls. They are easy enough for a beginner baker but are soft, tender and buttery! They use real mashed potatoes for a rich flavor!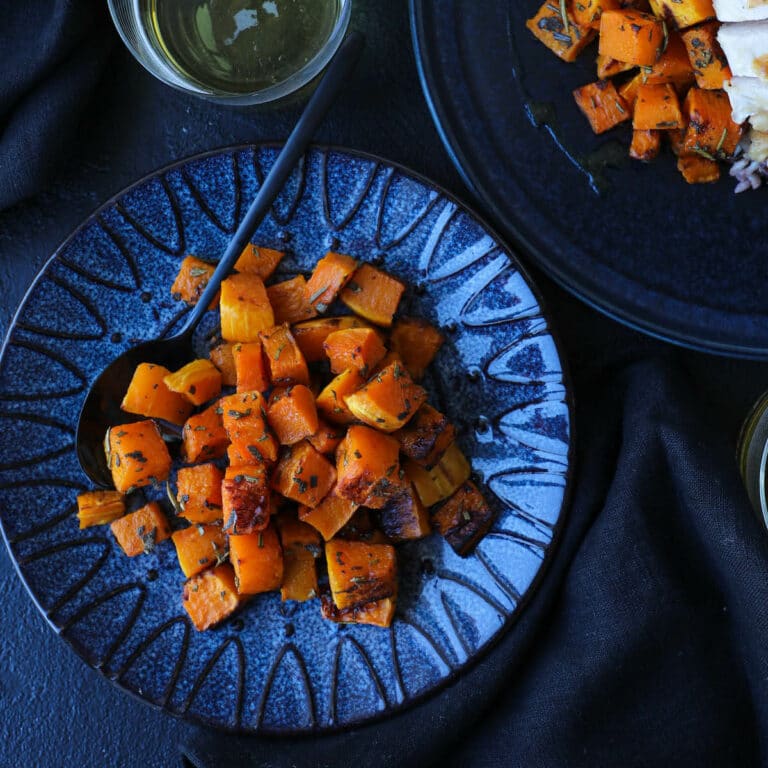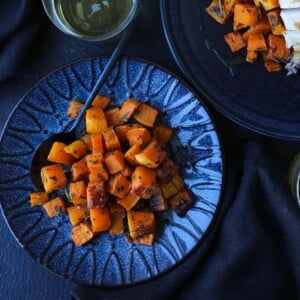 I have made hundreds of thousands of these potato rolls (true fact), and I have taught over twenty people to make them. Truth be told, I used to time myself to see just how fast I could shape them perfectly. I got my time down to under 3 seconds per roll shaping with both hands.
So trust me when I promise you that, you too, can make perfect potato rolls. This dough is easy to work with and forgiving! So simple that the recipe is based on time. No window-pane test needed.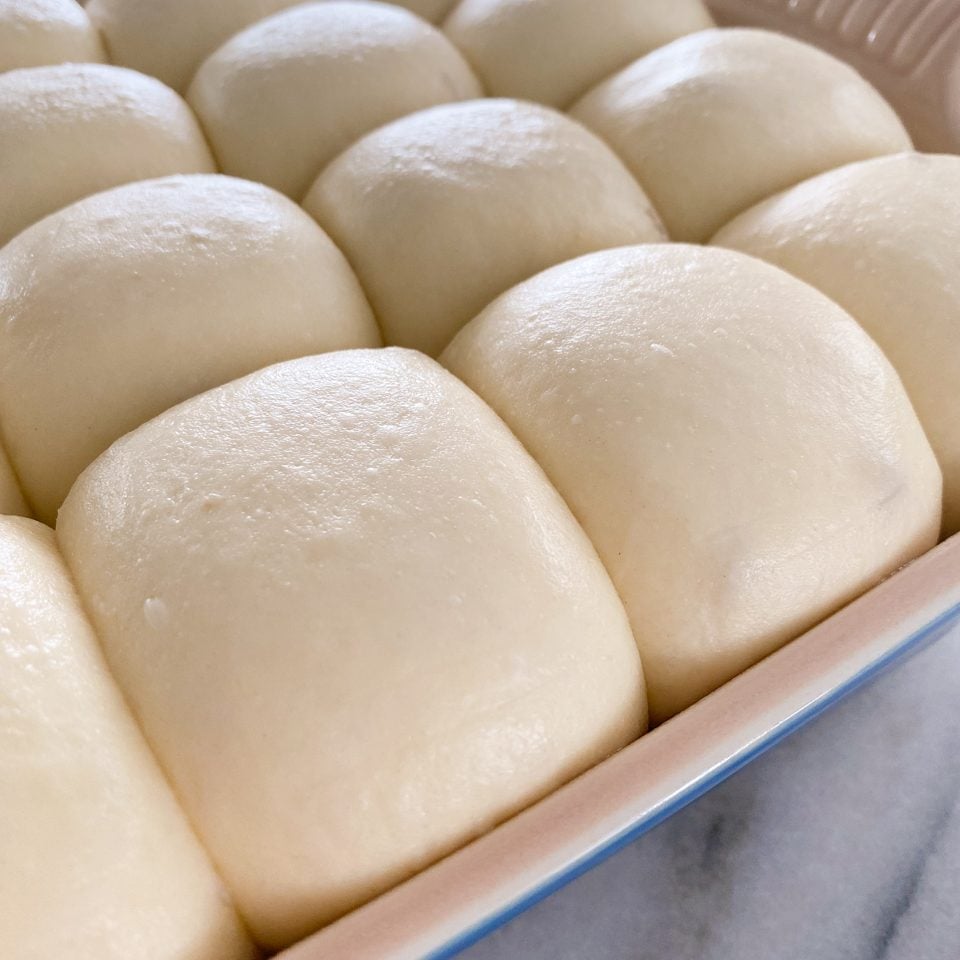 These roll are not only an enriched potato roll but they are a BRIOCHE like these brioche hamburger buns! That's right, an epic amount of butter is worked into the dough to finish. They are basically everything you love about decadent mashed potatoes in bread form.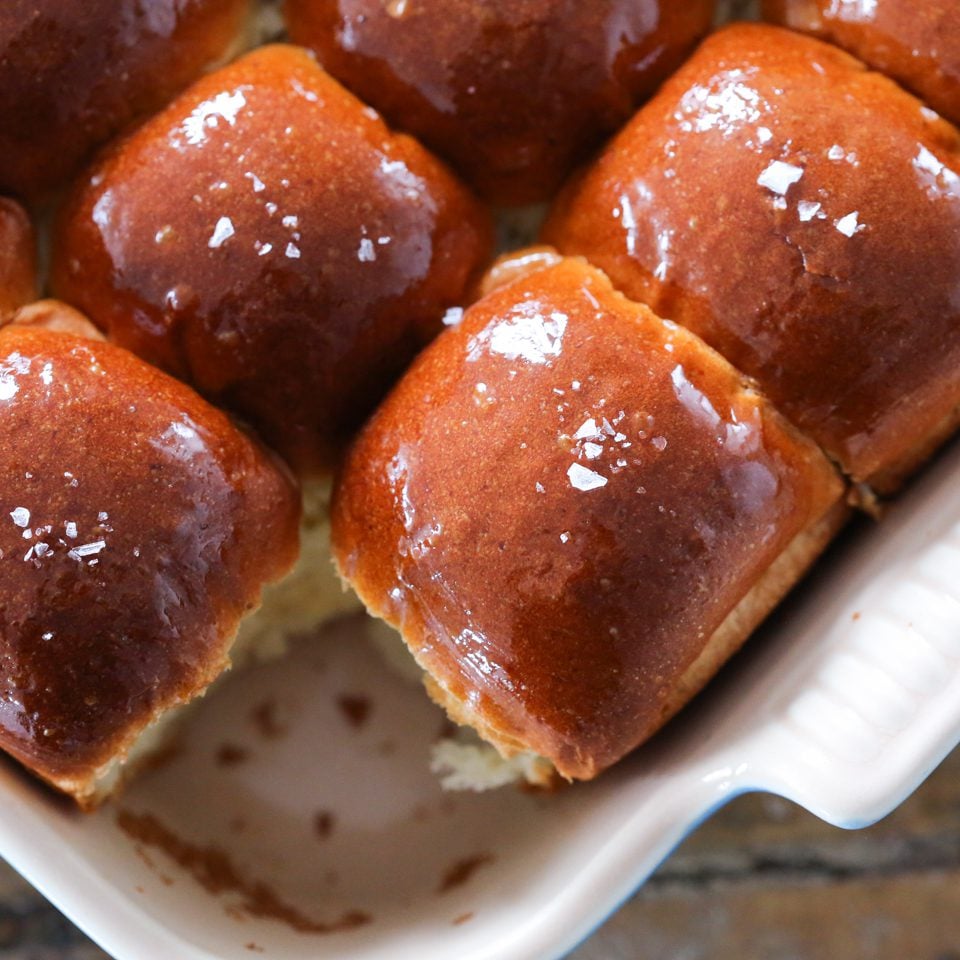 I brushed them with plain melted butter but you could use brown butter or throw in some herbs like rosemary and sage while melted to add even more flavor. Pair these with my quick vegetable casserole recipe and your side dish game will be on point!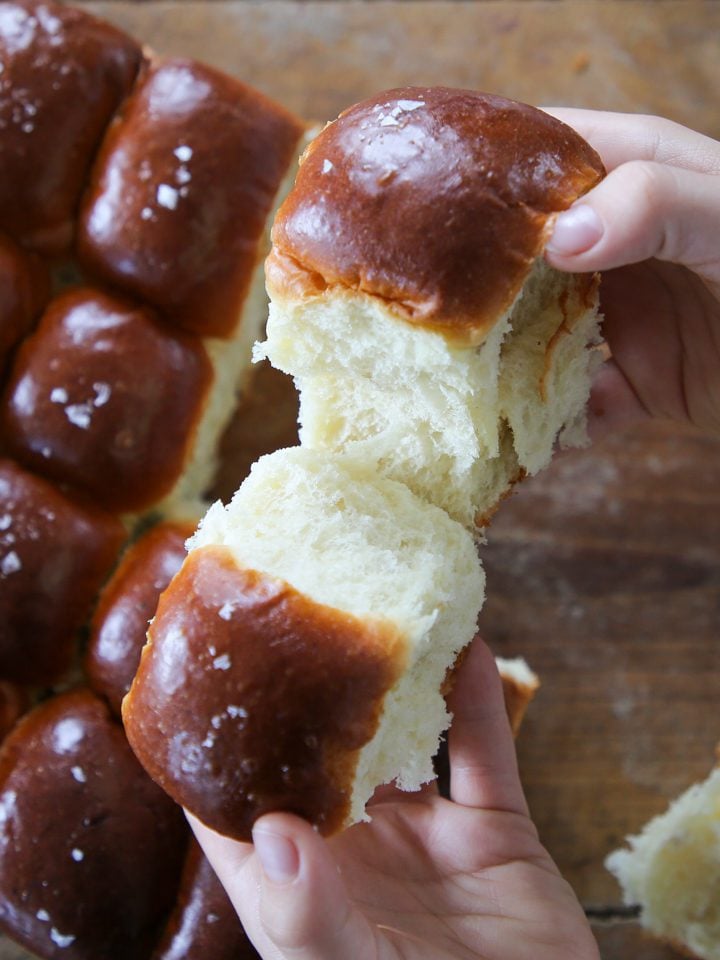 Keys To Potato Dinner Roll Success:
Plain Boiled Potatoes: You could boil the potatoes with herbs if you're feeling fancy, just don't salt the potato water. Salted potatoes + salt in the dough = too salty rolls. I asked a line cook to do me a favor one time by cooking my bread potatoes and he salted the water and threw in some herbs. Annoying, yes. But we had mashed potatoes for the family meal that day, so all wasn't lost.
Mashed Potatoes Done Right: Mash those potatoes while they're HOT! You want them to break apart and start cooling immediately. If you let them cool you will have extra chunky potatoes and they will retain all that moisture trapped in the skins from cooking and your dough will be sticky. You can add a bit of flour to the dough until it is tacky but not wet. This isn't ideal because your flavor and texture will be slightly off, but many-a-rolls have been saved at the restaurant this way. Trust me.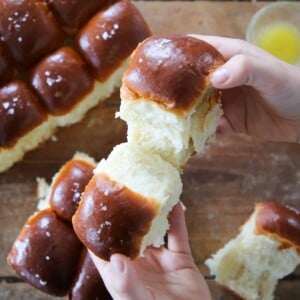 Potato Dinner Rolls
These are the best Potato Dinner Rolls. They are easy enough for a beginner baker but are soft, tender and buttery! They use real mashed potatoes for a rich flavor!
Instructions
In a small mixing bowl, dissolve the yeast in warm milk (approximately 110°); allow to bloom for 10 minutes.

In the bowl of a stand mixer fitted with the dough hook combine the eggs, potatoes, and milk-yeast mixture. Mix on low speed until combined.

Add the flour, sugar and salt to the mixing bowl and continue to mix on low speed for 15 minutes.

Add your cubed butter all at once and mix on medium-high speed for 10 minutes.

Portion rolls into 65 gram pieces, or divide into 16 equal portions. Spray the counter with non-stick spray and shape each portion into boules (rounds) using your thumb as a guide. Place in greased baking dish for tall rolls or on a parchment-lined baking sheet for flatter, but still delicious, rolls.

Final proof until tripled in size and light and fluffy. Bake in preheated oven at 350°F for approximately 20-25 minutes or until a dark golden brown. Before serving, brush the tops with melted butter and sprinkle with a little fleur de sel.
Notes
Yield: 16 Rolls
Adapted from Larry Forgione's potato rolls at An American Place.
Nutrition
Calories:
251
kcal
|
Carbohydrates:
44
g
|
Protein:
6
g
|
Fat:
6
g
|
Saturated Fat:
3
g
|
Polyunsaturated Fat:
1
g
|
Monounsaturated Fat:
1
g
|
Trans Fat:
1
g
|
Cholesterol:
33
mg
|
Sodium:
507
mg
|
Potassium:
306
mg
|
Fiber:
3
g
|
Sugar:
4
g
|
Vitamin A:
179
IU
|
Vitamin C:
19
mg
|
Calcium:
18
mg
|
Iron:
2
mg
Like this? Leave a comment below!