This Baked Halibut with Champagne Vinaigrette is an easy weeknight dinner. Simple ingredients highlight the rich, buttery flavor of halibut!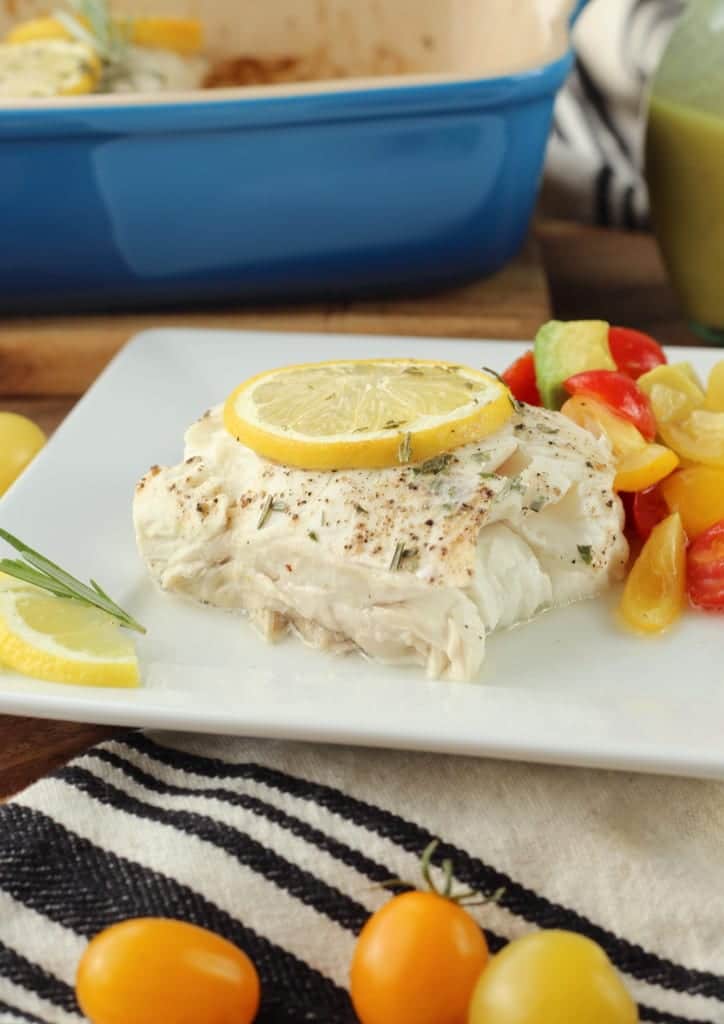 This easy baked halibut recipe will knock your socks off! I served it with a simple avocado and fresh tomato salad with a champagne vinaigrette, but it would be equally delicious with quinoa pilaf, tomato and mozzarella salad or even this kale and cabbage slaw salad.
You could prepare it like this pan seared turbot recipe or even season it like this ginger lime salmon recipe.
In case you're new around here (welcome!!), the Wedding Fairy is that nagging voice in my head that tells me that I need to stop eating so many sweets or I won't fit in my wedding dress! Irritating at best. Usually I ignore her but yesterday I freaked out.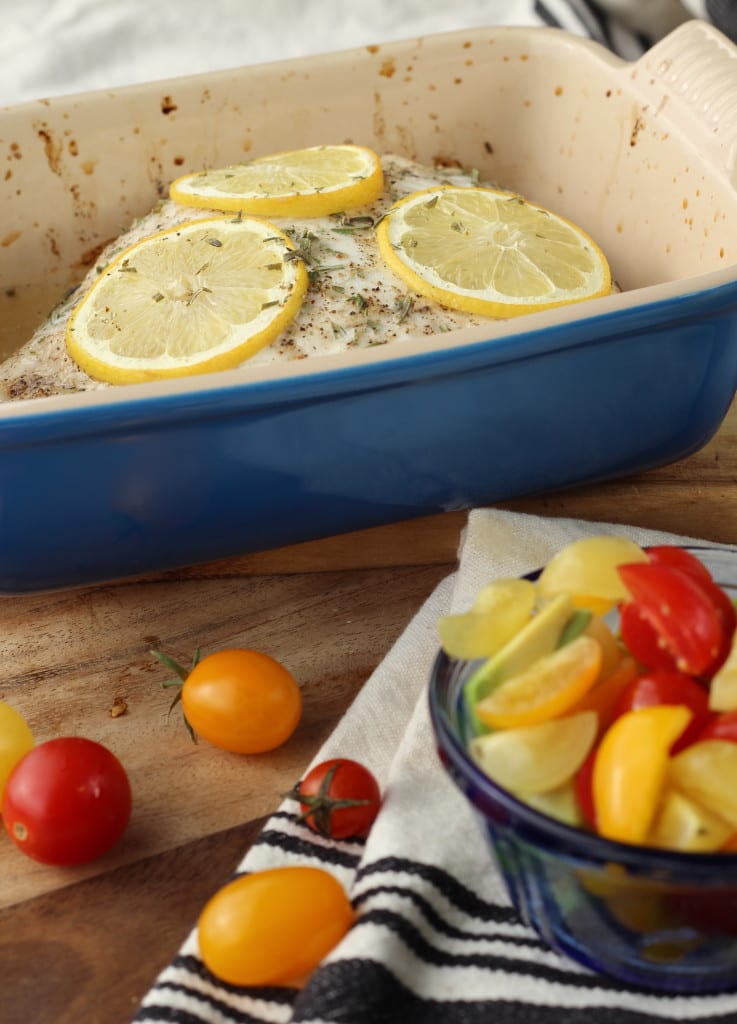 I went into the Mecca of Healthy, Whole Foods, and breathed a sigh of relief. Whole Foods is one of my loves. I don't know if it is the colors or just that I find the freshest, locally sourced produce there, but it makes me smile. The halibut looked out of this world! And, these local cherry tomatoes were so delicious that I actually ate some right out of the container. That never happens. I tolerate cherry tomatoes. Barely. But these?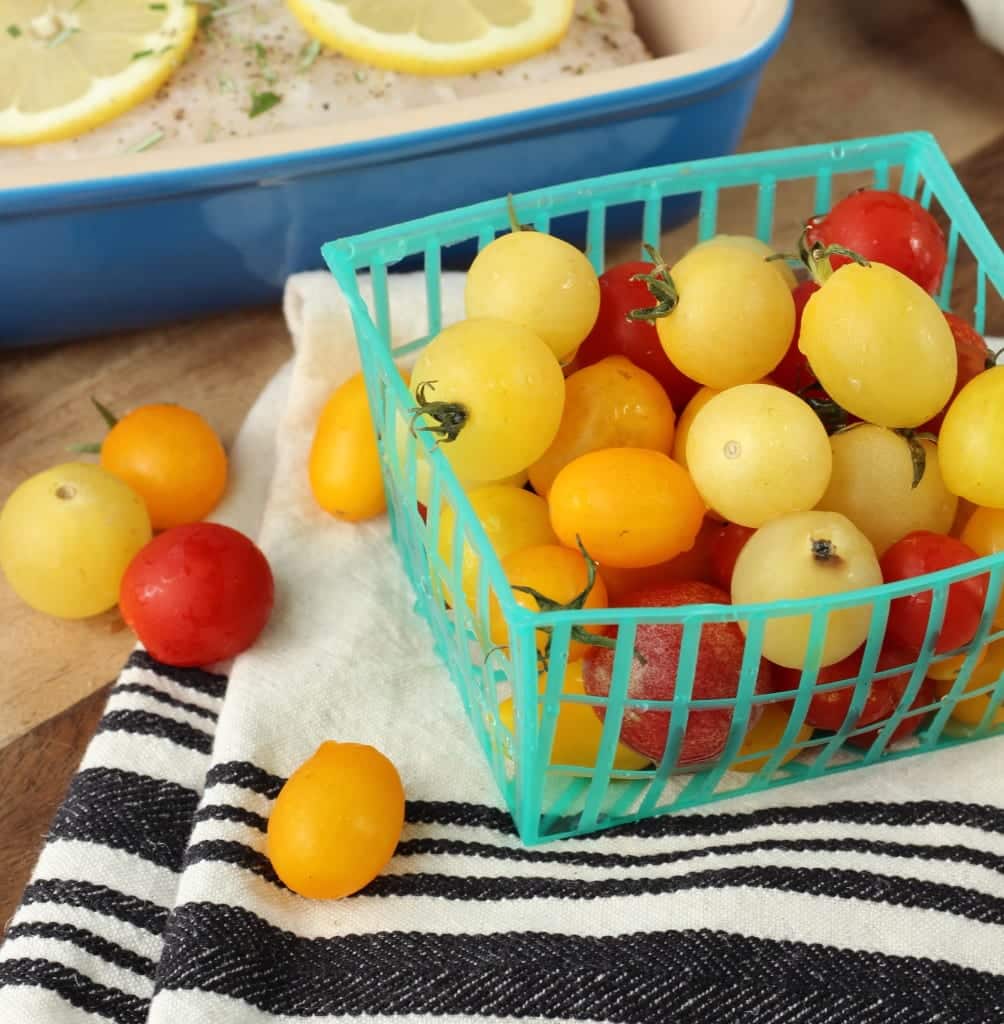 These were begging to be simply dressed and eaten with my baked halibut.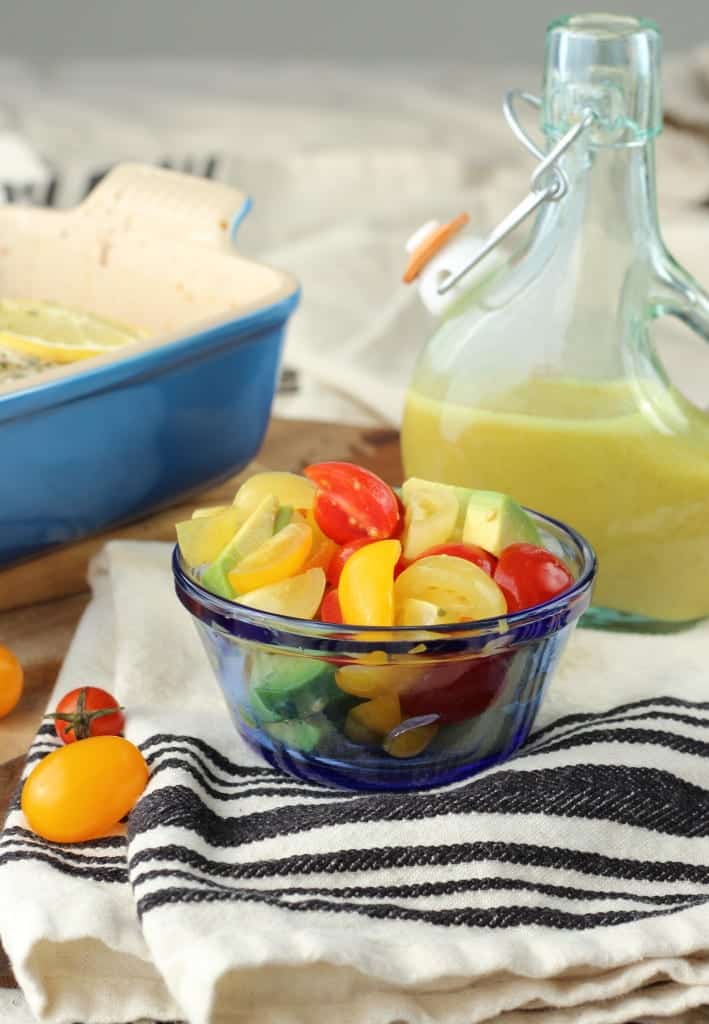 Oh and this Champagne Vinaigrette! Delish. It will absolutely be added to my regular rotation. Even though the Baked Halibut can absolutely stand on it's own, it was very refreshing served chilled over a bed of healthy greens. And spoon the tomato and avocado salad on top!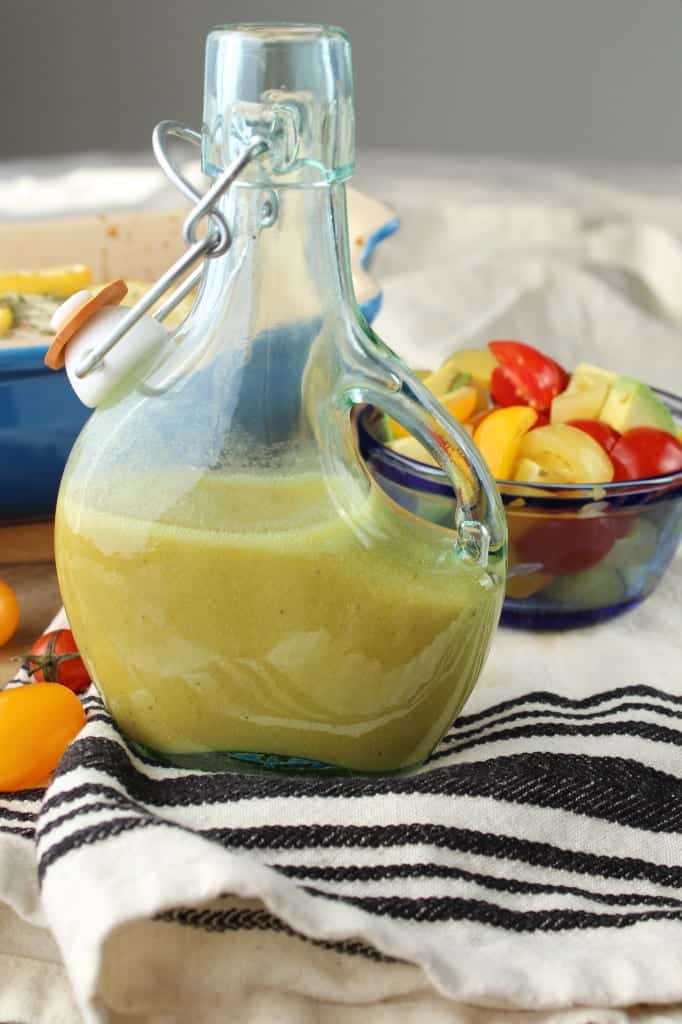 Don't worry about the new dessert-free me. I promise everything will be just as tasty at American Heritage Cooking Light and that we'll be back to indulgence before I can say, "I do"! [Plus anyone who knows me will tell you that "being-good" is only eating one dessert a day…]
Recipe
Baked Halibut with Champagne Vinaigrette
This Baked Halibut with Champagne Vinaigrette is an easy weeknight dinner. Simple ingredients highlight the rich, buttery flavor of halibut!
Ingredients
For the Halibut
1

lb

Halibut

1

tablespoon

freshly squeezed lemon juice

2

pinches

salt

¼ - ½

teaspoon

freshly ground pepper

2

teaspoons

Moscato wine

(or another sweet wine)

3

lemon slices

1

teaspoon

fresh rosemary

(chopped)
Instructions
Prepare the Halibut:
Preheat oven to 350F

Place halibut in a baking dish only slightly larger than your fillet. Squeeze lemon juice over top and add salt and pepper. Garnish with lemon slices and drizzle wine over the surface of the fillet. Sprinkle chopped rosemary on top.

Bake halibut in preheated oven for 20-35 minutes until it flakes with a fork. I abhor over cooked fish, so I usually bake mine until the edges flake easily but the middle is only slightly firm. My thick fillet took 25 minutes.
Make the Vinaigrette:
Whisk together all ingredients through pepper. While continuously whisking, slowly add the olive oil until it is completely emulsified.

Store in sealed container in refrigerator. I think it actually got better overnight. Fact.