These soft, tender Chocolate Orange Shortbread Cookies are flavored with orange zest and orange juice! They can be easily rolled and cut with cookie cutters into any shape, or sliced and baked.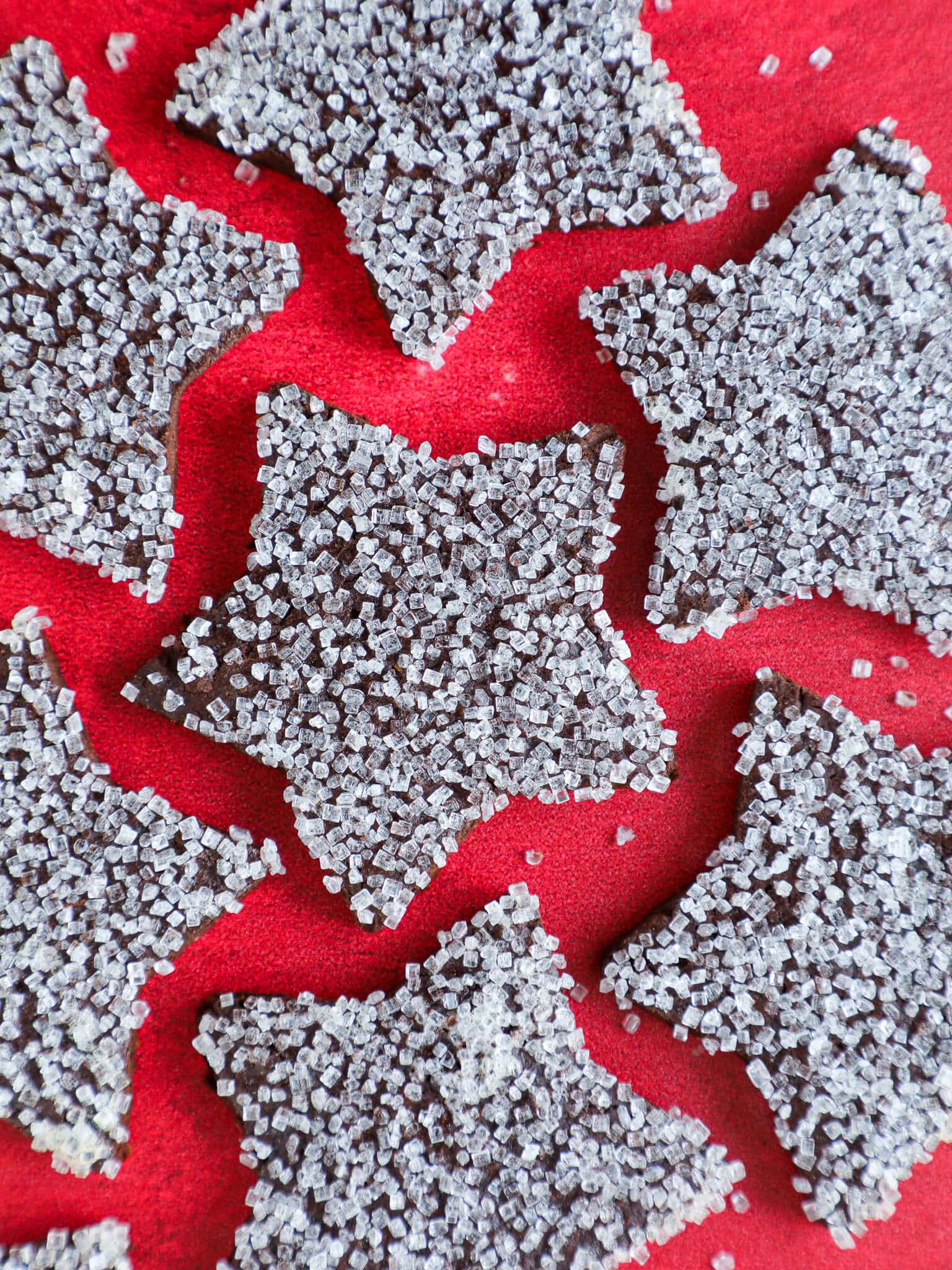 These are the most flavorful, tender Chocolate Orange Shortbread Cookies ever! They are perfectly sweetened, richly chocolate, and flavored with both orange zest and orange juice. The cookie is tender and crispy. I have topped them with sparkling sugar but they are also delicious with a simple orange glaze made with confectioner's sugar and orange juice. The glaze softens the cookies over time for a delightful bite!
These cookies are foolproof. They are easy to pull together, the dough freezes beautifully, and they ship phenomenally, especially when iced. They are the perfect addition to a Holiday cookie tin, or cut them into black cats and pumpkins for Halloween. Pair them with Raspberry Linzer Cookies, Orange Pecan Chocolate Chip Cookies, and Rum Refrigerator Cookies for the perfect assortment!
How do you get sparkles to stick to cookies?
The easiest way to get sparkles to stick to cookies is to brush a little egg white or egg wash before baking. Small sprinkles or colored sugar will stick to the outside of cookie dough without additional help, but larger sparkles or sprinkles will need a light brush of egg to adhere them.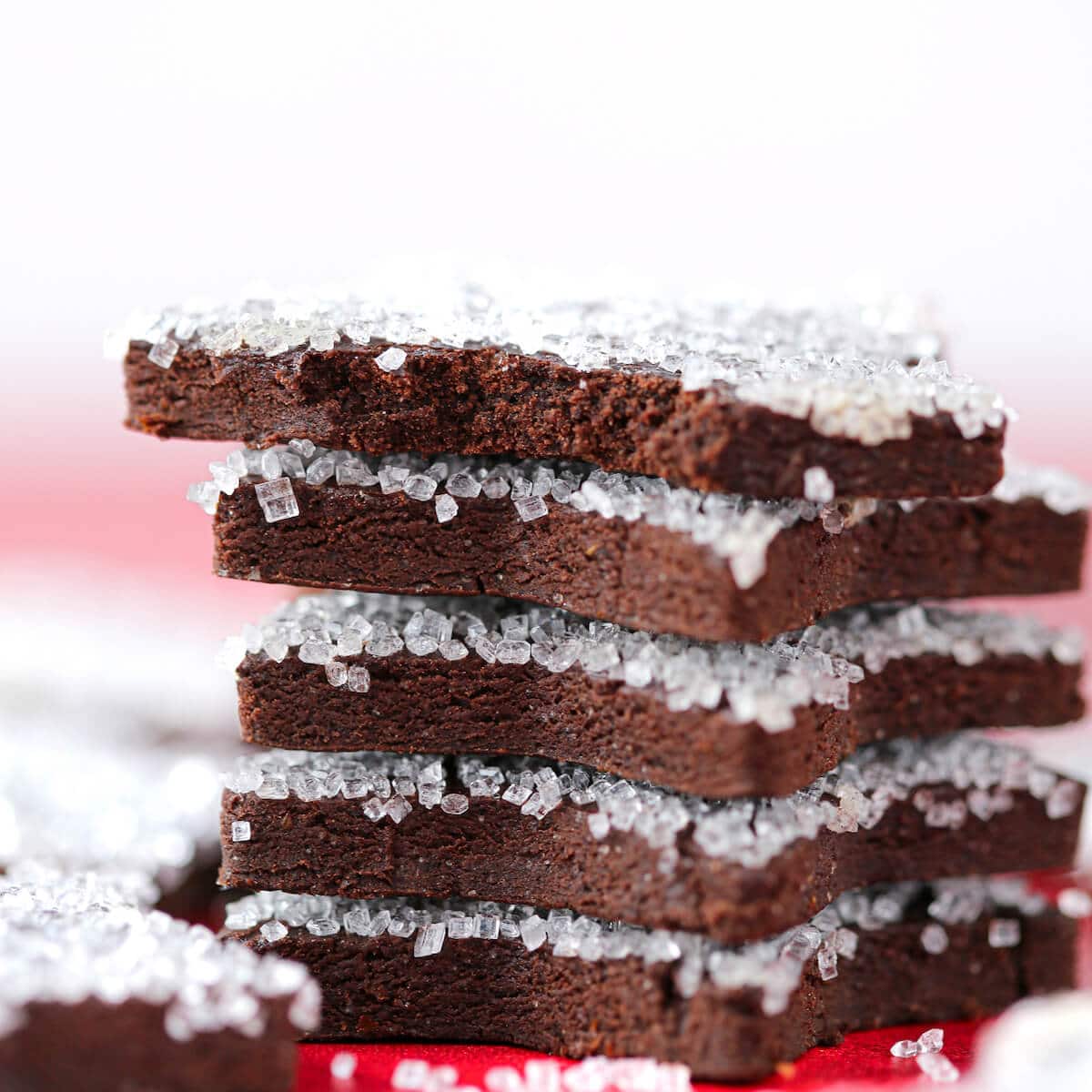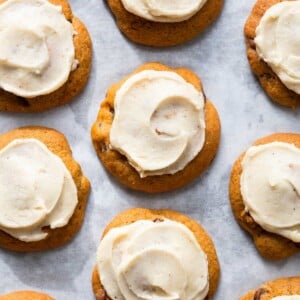 Chocolate Orange Shortbread Cookies Ingredients
Butter: I use unsalted butter for baking, because you want to control the amount of salt you are adding. Every brand is different and it makes adjusting the recipe a challenge.
Granulated Sugar: Granulated sugar is obviously here for sweetness, but if you add too much in proportion to the butter and flour, the cookies will spread. The sugar also shortens the gluten strands in the flour creating that tender, crunchy texture.
Orange Zest: Be sure to zest only the dark orange parts of the orange peel for the most concentrated flavor. It is also helpful to zest before you juice!
All-purpose flour: Be sure to measure your all-purpose flour by fluffing up the flour in the bag then spooning it into a measuring cup. Level it off with a knife. Be careful not to tap or compress the flour. Not measuring correctly, will lead to dry cookies.
Cocoa Powder: I use Dutch processed cocoa powder, which just means it has been treated with an alkaline solution. This neutralizes the acidity, which means it will not react with baking soda or baking powder. It has a rich, deep flavor and a darker color.
Kosher Salt: Kosher salt is lass salty than table salt and a teaspoon weighs less than other finer ground varieties. It heightens the flavor here and will keep your chocolate orange shortbread cookies from tasting dull or flat.
Espresso Powder: Espresso powder amplifies the chocolate flavor in this recipe. You can omit it, if desired. I only use Medaglia D'Oro instant espresso when baking. Flavor and quality varies greatly between brands and I prefer this one. It isn't bitter and it dissolves easily even in cold liquid.
Orange Juice: I use fresh-squeezed orange juice in this recipe because I was already zesting the orange. You could also use store-bought pulp-free orange juice instead.
Sparkling Sugar: Sparkling sugar has large crystals which really give extra sparkle and depth for decorating. This is not a sugar you would use for making cookie dough or pastries, but it is perfect for topping cookies! I usually adhere them to the dough with just a light brushing of beaten egg white or egg wash. (If you need help with egg wash, I made a short tutorial just for you!). I do suggest egg white only for these cookies to eliminate any discoloration of the sugar.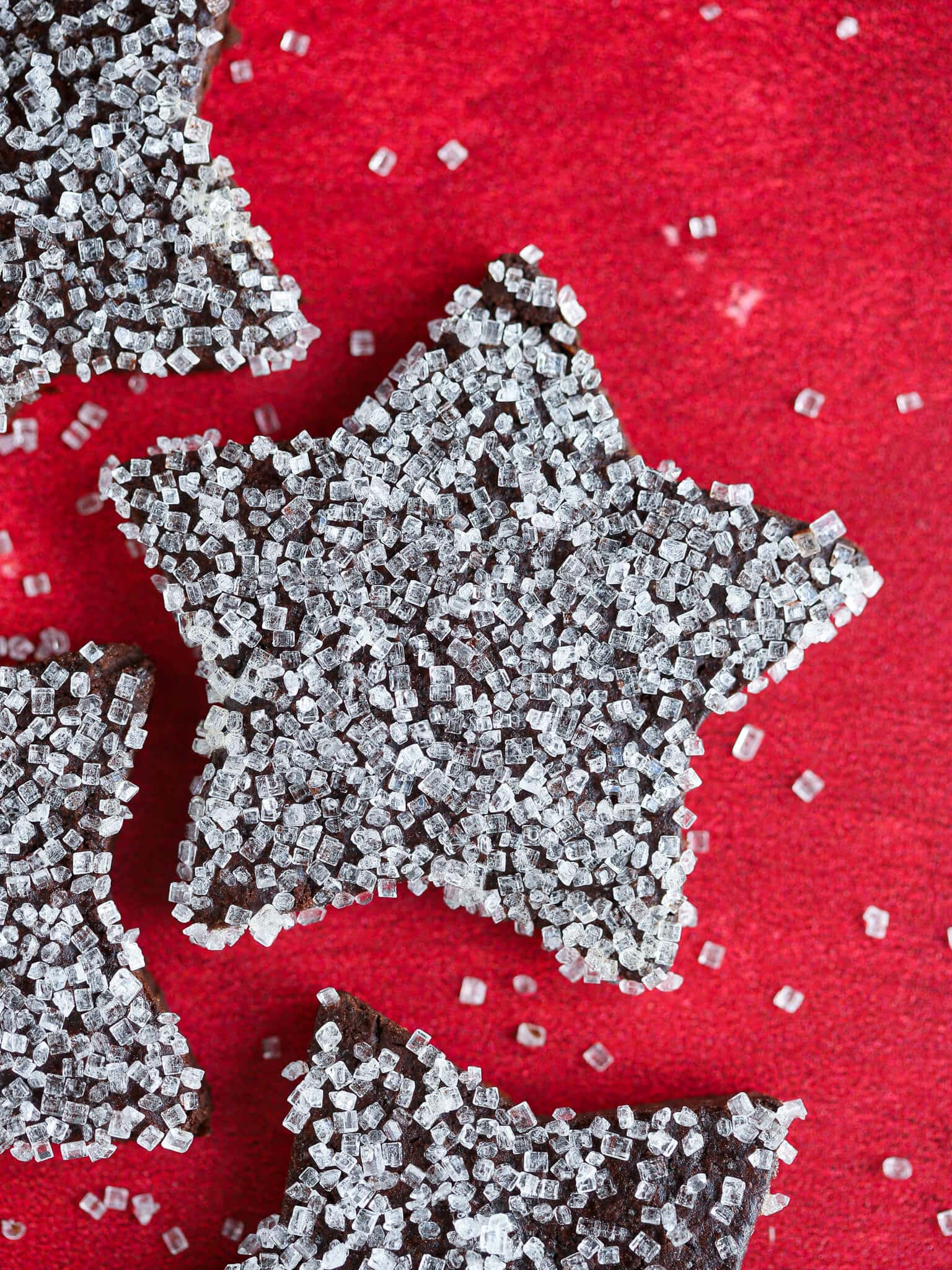 Variations
Shapes: You can use any shaped cookie cutter that you wish! Try cats and pumpkins for Halloween, stars for July 4th, or ornaments for Christmas. The only thing that will vary is the bake time. Look for small cracks all over the surface of the chocolate orange shortbread cookies to tell you they are done!
Icing: Use a simple confectioner's sugar glaze or chocolate American buttercream frosting instead of the sparkling sugar. You can also use an easy royal icing to make more precise designs.
Flavors: Use lemon zest and lemon juice in place of the orange, or omit the zest and add an extract instead! Coffee extract or peppermint would be delightful here!
Slice & Bake: Instead of rolling into a sheet and cutting shapes, you can roll the dough into a log. Refrigerate the log and then slice and bake for the easiest chocolate orange shortbread cookie! You can either brush the top with egg white and dip in sparkling sugar or you can brush the outside of the log with egg whites and roll in sugar so that the edge is sparkly. I did this in the Pistachio Cranberry Sablee Cookies.
Chocolate Orange Shortbread Cookies Substitutions
Espresso Powder: The espresso is only here to enhance the chocolate flavor. Feel free to omit it, if desired.
Orange Juice: Use milk or water in place of the orange juice, if desired.
Chef Lindsey's Recipe Tip
Combine the orange zest and sugar together for the most impactful flavor. The sugar draws out the moisture and oils in the zest. The longer they sit, the bigger the flavor! You can even do this step the night before.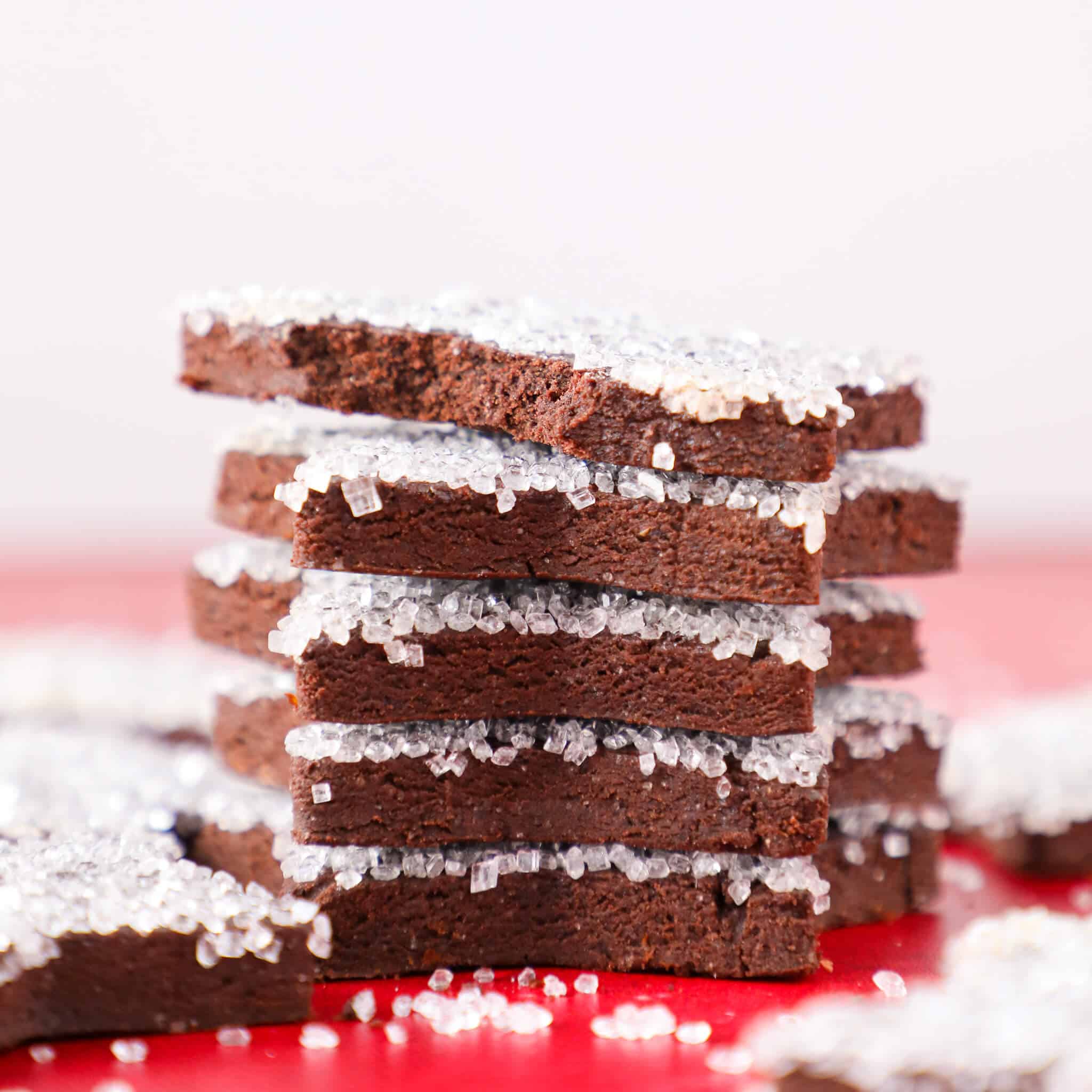 Frequently Asked Questions
How do you store Chocolate Orange Shortbread cookies?
Store baked cookies in an airtight container at room temperature. Layer the cookies between pieces of parchment or waxed paper. They can also be stored in a zip-top baggie.
How long will these cookies stay fresh?
Chocolate Orange Shortbread cookies will keep at room temperature for one week or frozen for up to 3 months.
Can you freeze chocolate shortbread cookies?
I prefer to freeze the dough so that the chocolate orange shortbread cookies are as fresh as possible. Freeze cut-out cookies in a single layer on parchment paper lined baking sheets, then, once frozen, place in airtight containers or zip-top bags. Bake as needed.
Can you bake these cookies from frozen?
You can bake these cookies directly from frozen. They will keep their shape even better! Just bake until you see small cracks on the surface and they are slightly puffed in the center.
Can I make these chocolate orange shortbread cookies in advance?
You can make the dough up to 2 weeks in advance and store refrigerated or freeze for up to 2 months.
Will the recipe multiply well?
I have tested this cookie recipe in a professional commercial bakery setting, and have made hundreds of batches. You are only limited by the capacity of your particular mixer. I would strongly suggest measuring by weight when multiplying recipes.
Can I ship these chocolate orange shortbread cookies?
These cookies ship wonderfully. Package them will with tissue paper as padding so they don't crash about in the tin.
Do I need to chill the cookie dough before baking?
For perfect cut-out cookies, I always chill the dough prior to baking. This helps ensure sharp edges and the best shape!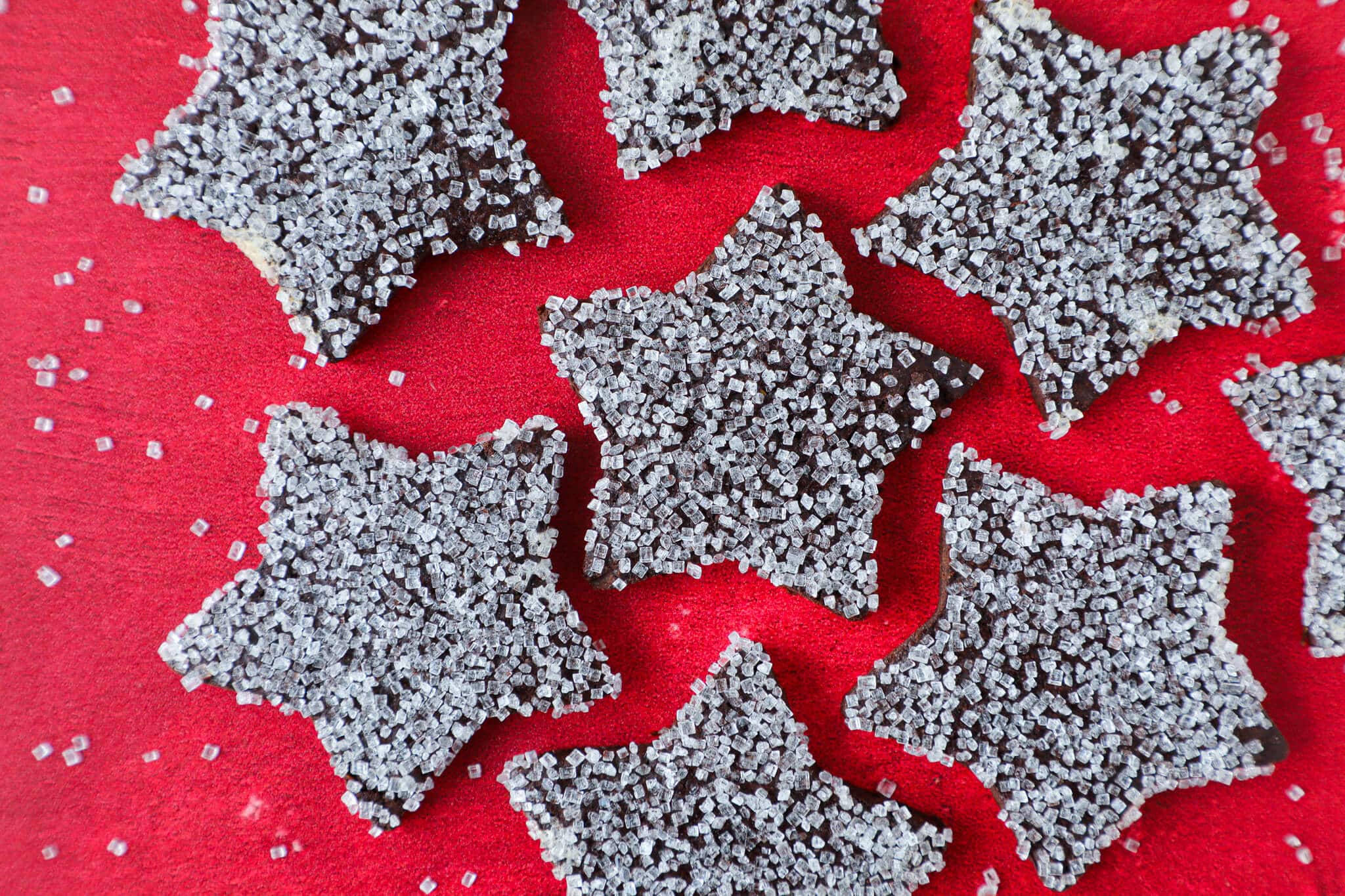 Chocolate Orange Shortbread
These soft, tender Chocolate Orange Shortbread Cookies are flavored with orange zest and orange juice! They can be easily rolled and cut with cookie cutters into any shape, or sliced and baked.
Instructions
Combine the orange zest and sugar and let sit while you measure the remaining ingredients. The longer the zest sits in the sugar, the better the flavor. You can even do this the night before.

In a medium bowl whisk together flour, cocoa powder, salt and espresso powder. Set aside.

In the bowl of a stand mixer fitted with the paddle attachment, cream the butter and the sugar until light and fluffy.

Add the orange juice and beat in well.

Reduce the mixer speed to low and slowly add the dry ingredients.

Mix until the dough comes together.

Transfer dough to a piece of parchment or plastic wrap, press flat, and refrigerate at least 2 hours.

Roll dough to about ¼ inch thick with a rolling pin. Cut desired shapes with cookie cutters or cut squares or diamonds with a pie-wheel.

Chill dough 30 minutes or until cold.

Preheat oven to 325°F. Convection or regular is fine.

Brush the top of each cookie with beaten egg white. Too much egg white will discolor the sugar and brown in the oven. Dip each cookie in a bowl or dish filled with sparkling sugar. Place about 1 inch apart on a baking sheet lined with parchment paper.

Bake at 325°F until the centers have puffed slightly and have small cracks.

Cool on the baking sheets or remove to wire racks.
Nutrition
Calories:
51
kcal
|
Carbohydrates:
6
g
|
Protein:
1
g
|
Fat:
3
g
|
Saturated Fat:
2
g
|
Polyunsaturated Fat:
0.1
g
|
Monounsaturated Fat:
1
g
|
Trans Fat:
0.1
g
|
Cholesterol:
8
mg
|
Sodium:
63
mg
|
Potassium:
22
mg
|
Fiber:
0.5
g
|
Sugar:
2
g
|
Vitamin A:
96
IU
|
Vitamin C:
0.5
mg
|
Calcium:
3
mg
|
Iron:
0.3
mg
Like this? Leave a comment below!