These easy Rum Refrigerator Cookies are soft, chewy and moist. They are a classic slice and bake cookie with cardamom and citrus notes. I've drizzled the top with a simple rum glaze for even more flavor.
The second day of my 12 Days of Christmas Cookies 2015.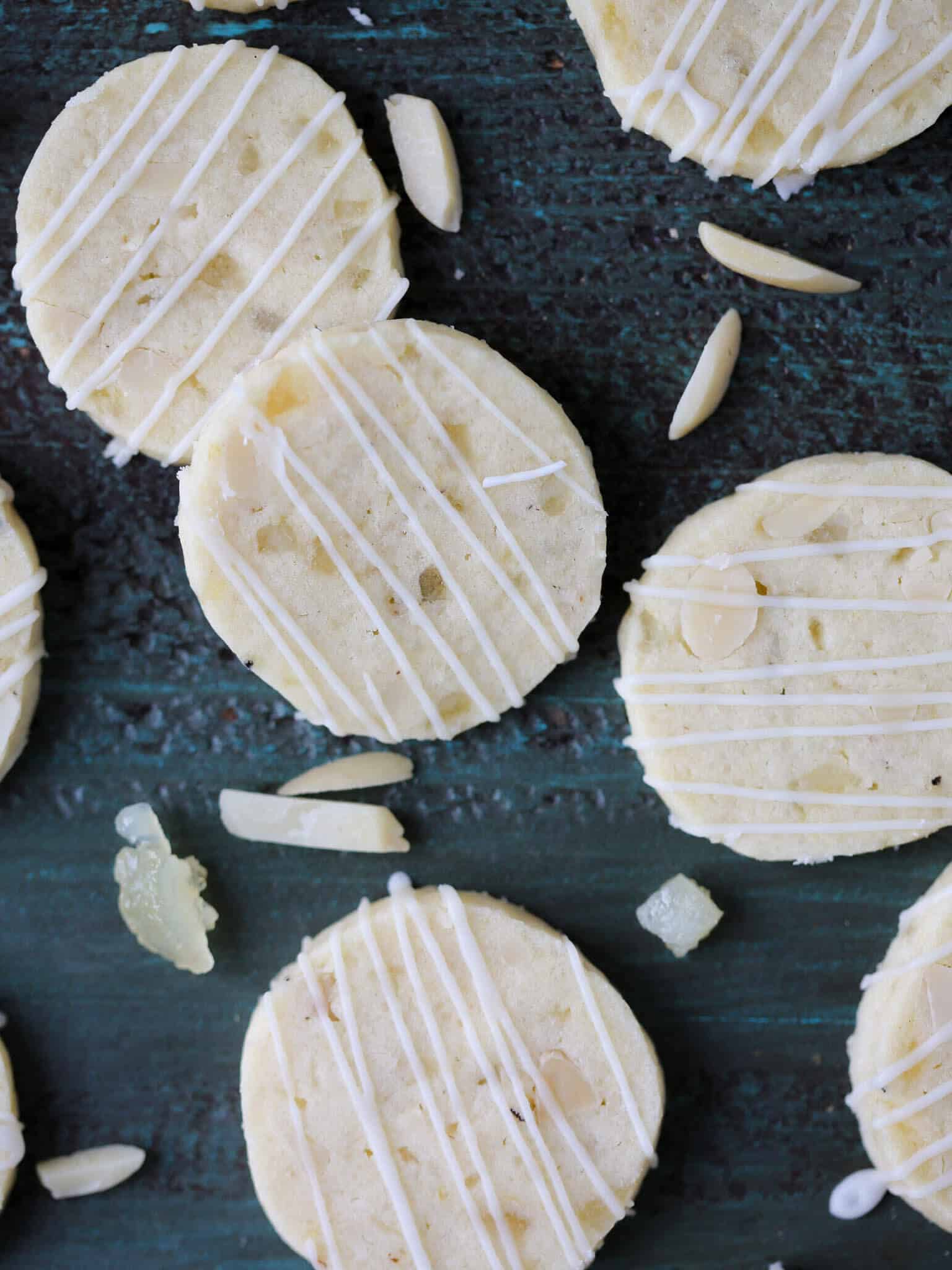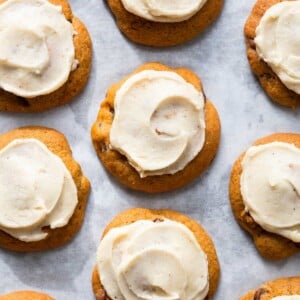 I found this Rum Refrigerator Cookies recipe in the Wisconsin Electric Company's Christmas Cookie Book from 1957. Not every vintage cookbook is worth its weight in salt, but this one is a gem. The flavors are well-balanced and the cookies are soft and chewy with a little crunch from the almonds. I made my own candied lemon zest but you could absolutely use store bought.
I don't like to pick favorites but these cookies were not only my favorite cookie that I made this year but are also one of my favorite Christmas cookies of all time. They are right up there with Mom's Gingerbread Boys, Cherry Pecan Cookies, and Moravian Christmas Cookies. These are elite cookie ranks.
What are Refrigerator Cookies?
Refrigerator cookies are slice and bake cookies that are also called icebox cookies. The dough is formed into a log and then refrigerated until solid. Cookies are sliced from the log and then baked!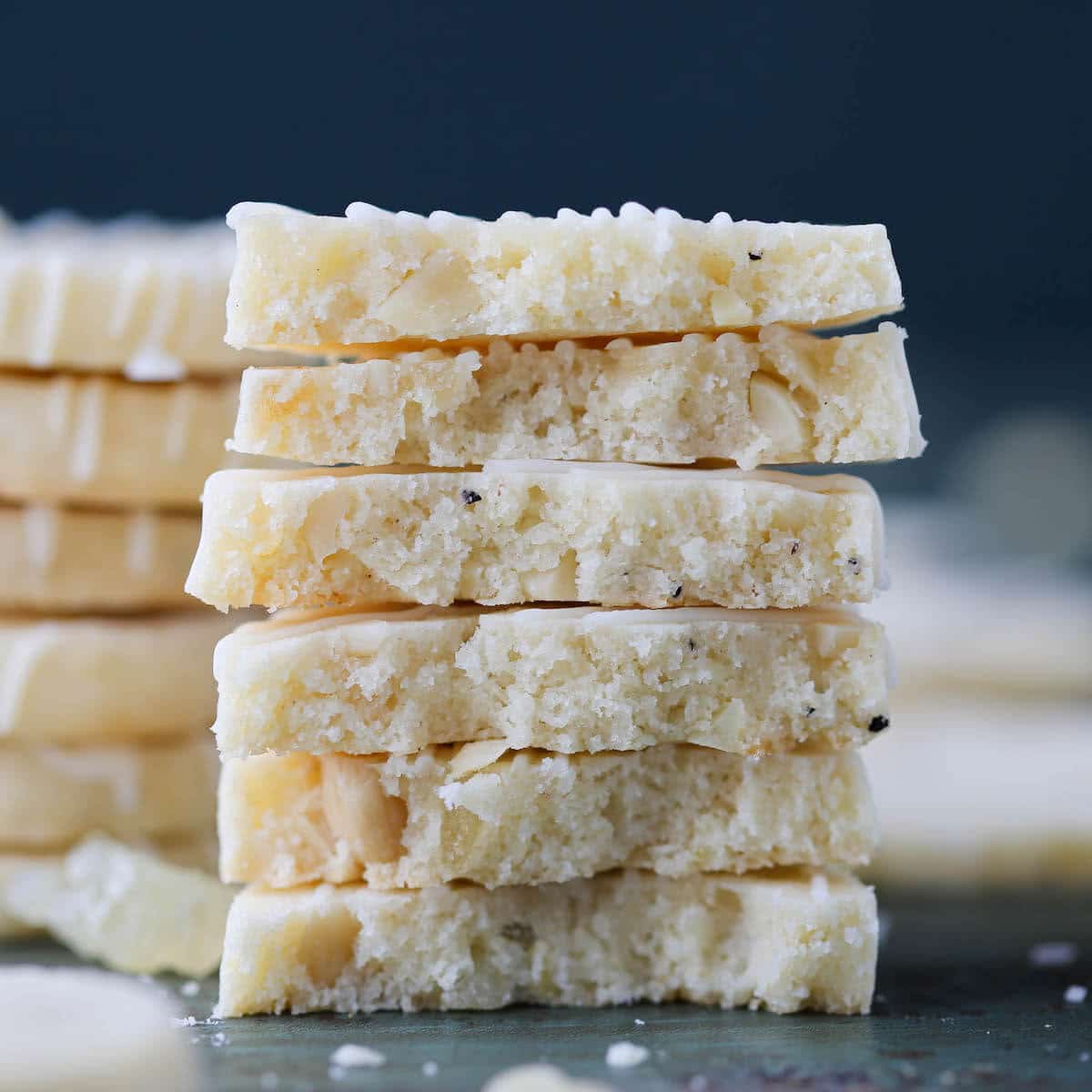 How long can you refrigerate cookie dough?
Cookie dough can be refrigerated for about 7 days. For longer storage, freeze cookie dough for up to 2 months.
Ingredients
Butter: I use unsalted butter for baking, because you want to control the amount of salt you are adding.
Whole Egg: The eggs are here to add fat, moisture and leavening. Beating in the eggs just enough will add a little or a lot of leavening depending on the desired texture. Eggs also emulsify the batter and keep everything texturally perfect.
Granulated Sugar: Granulated sugar is here for sweetness, but if you add too much in proportion to the butter and flour, the cookies will spread rather than stay tall and chewy.
Ground Cardamom: I prefer to purchase cardamom seeds and grind them in smaller batches]. Recipes typically call for small amounts and pre-ground cardamom will lose its unique aroma and flavor over time. Sometimes pre-ground cardamom smells a little soapy whereas freshly ground cardamom is floral with citrus notes.
All-purpose flour: All-purpose flour has just the right amount of gluten to make soft, chewy cookies.
Lemon Zest: Be sure to zest only the bright yellow parts of the lemon peel for the most concentrated flavor and to avoid the bitter white pith.
Rum: The rum is here for moisture as well as flavor. You can taste it in the final rum refrigerator cookies, so be sure to choose a brand that you like! The surest way to tell is by smell. If it smells good to you, it will taste nice in the cookies. I use dark rum for both the cookie and the glaze because I prefer the flavor.
Baking Powder: Double acting baking powder will react instantly when you mix it with an acid and then again when you heat it.
Candied Lemon Peel: I used store-bought candied lemon peel for these cookies but, if you have the time, homemade candied lemon peel would be even better! The flavor of store-bought is rarely as good because they use the whole rind rather than just the flavorful peel.
Almonds: I used blanched, slivered almonds in this recipe for rum refrigerator cookies but it is also good with chopped whole almonds. Whatever you have, that is what you should use!
Powdered Sugar: Powdered sugar or confectioner's sugar adds sweetness but incorporates easily into the glaze here for a silky, smooth texture. Powdered sugar is sweeter by volume and weight than granulated, so use a light hand.
Variations
Citrus: Substitute orange zest and candied orange zest for a quick and easy flavor change-up.
Nuts: Use any chopped nut you love. I've tried walnuts and pecans in these rum refrigerator cookies, and both are excellent.
Cardamom: If you aren't a member of the Cardamom-is-life Fan Club, then substitute cinnamon, pumpkin pie spice or another spice you do love. I think cloves would be a fun twist but I would start with a ¼ teaspoon.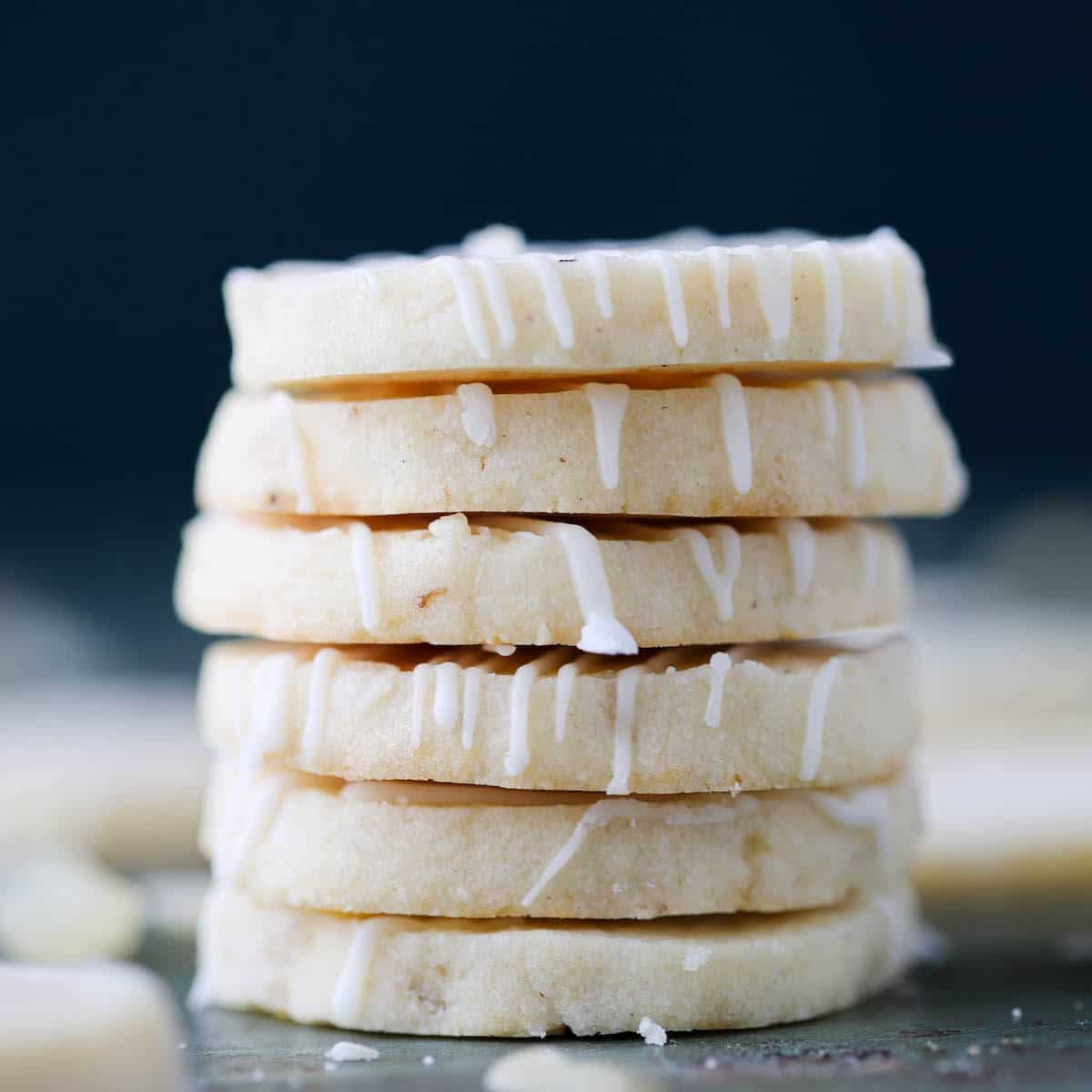 Frequently Asked Questions about Rum Refrigerator Cookies
How do you store Rum Refrigerator Cookies?
Store baked cookies in an airtight container at room temperature. Layer the cookies between pieces of parchment or waxed paper. They can also be stored in a zip-top baggie.
How long will Rum Refrigerator Cookies keep?
These Rum Refrigerator cookies will keep up to 10 days at room temperature or several months frozen.
Can you freeze these cookies?
You can freeze the baked cookies for up to 2 months, or freeze the rum refrigerator cookie dough logs. I prefer the latter option because you can slice and bake them fresh any time.
How do you bake Rum Refrigerator Cookies from frozen?
You can bake these cookies directly from frozen. They will keep their shape even better! Just bake until you see small cracks on the surface and they are slightly puffed in the center.
Will the recipe multiply?
You can make as large a batch of these rum refrigerator cookies as you would like. These were in the first Christmas Cookie Tin that my online pastry shop sold back in 2019, so I have made batches of thousands. You are only limited by the size of your mixer.
Will Rum Refrigerator cookies ship?
These cookies ship wonderfully. Package in a decorative tin or just place in a zip-top bag in a mailer box. They keep for 10 days and stay chewy for almost as long. The larger the cookie, the longer they stay chewy!
Do I need to chill the cookie dough before baking?
You do need to chill rum refrigerator cookies before slicing and baking. This will give the dough time to relax but also to firm up. This preserves the shape when slicing. They should be chilled before baking for the best results.
Rum Refrigerator Cookies
These easy Rum Refrigerator Cookies are soft, chewy and moist. They are a classic slice and bake cookie with cardamom and citrus notes. I've drizzled the top with a simple rum glaze for even more flavor.
Instructions
To Make the Cookies:
Add lemon zest to the sugar and toss to mix and distribute the lemon throughout. This helps bring out the lemon flavor and break up any clumps of zest. I usually do this first and then measure everything else out. The longer it sits, the better the flavor!

In the bowl of a stand mixer (or you can use a hand mixer) cream butter and sugar on medium speed until light and fluffy. If your butter is actually room temperature, and you don't live in an igloo, this should only take 1-2 minutes maximum!

Add egg and beat until fluffy. Add rum and beat to combine.

Sift dry ingredients directly into the bowl all at once; mix on low speed until just combined.

Fold in almonds and candied lemon peal. I do this in the mixer on low. Just be careful not to overmix.

In parchment paper, shape into two 2-inch rolls. Wrap and chill until firm – several hours or overnight.

Preheat oven to 350°F (176°C). Cut ¼ inch slices, place on parchment lined baking sheets.

Bake 7-8 minutes. Seriously, take them out. They're done.

Cool 2 minutes on the baking sheet and then remove to a wire rack to cool completely.
To Make the Rum Glaze:
In a small bowl whisk together the rum and powdered sugar until smooth. Check the taste and consistency of your glaze. Add an additional teaspoon if desired. It is too thick if it doesn't run smoothly from the tip of the whisk and too thin if it is not white or just slightly off-white in color. If your glaze gets to thin, just add powdered sugar.

Transfer to a disposable piping bag or ziplock baggie. Cut a small hole in the bag or in the corner of the baggie.

Delicately drizzle the glaze over the cookies while on the rack or you can flood the cookies with glaze. To flood simply draw a circle with the glaze about ¼ inch inside the edge and then squeeze the bag to fill the circle you drew.

Let dry before stacking. Not eating. You can eat anytime. I know I did…
Notes
Yield: 40 Cookies
If you are going to flood your cookies with glaze, double the recipe above. Obviously it takes a lot more glaze to do that.
The dough with keep for a week in the refrigerator, and the cookies stay soft for up to 4 days stored in an airtight container.
Nutrition
Calories:
108
kcal
|
Carbohydrates:
14
g
|
Protein:
1
g
|
Fat:
5
g
|
Saturated Fat:
3
g
|
Polyunsaturated Fat:
0.3
g
|
Monounsaturated Fat:
2
g
|
Trans Fat:
0.2
g
|
Cholesterol:
16
mg
|
Sodium:
50
mg
|
Potassium:
19
mg
|
Fiber:
0.4
g
|
Sugar:
8
g
|
Vitamin A:
148
IU
|
Vitamin C:
0.1
mg
|
Calcium:
12
mg
|
Iron:
0.5
mg
Like this? Leave a comment below!
Before You Go!
Check out our other delicious, chef-developed recipes for Cookies!