These Fruity Pebble Cereal Milk Baked Donuts are soft, baked vanilla cake donuts that are made using Fruity Pebble infused milk, so you get that delicious Fruity Pebble taste in every bite!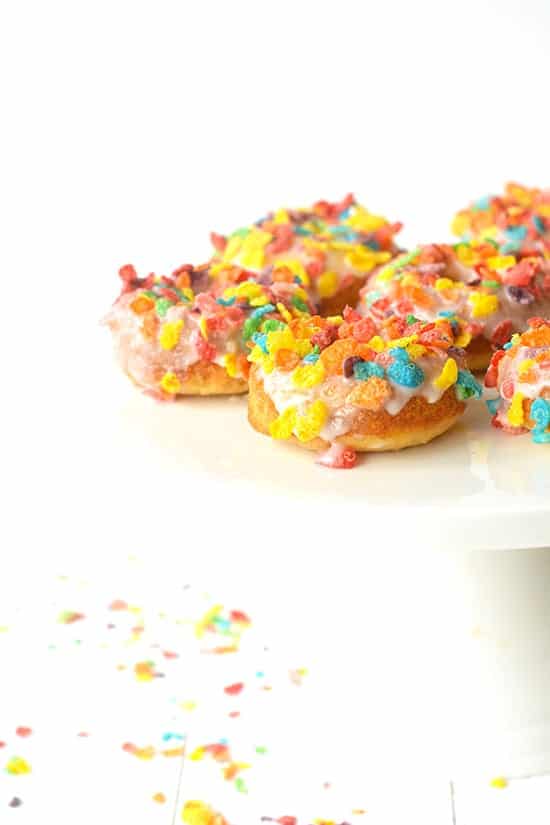 Several months ago I discovered a new blog with bright, beautiful pictures of the most tempting confectionary creations! I had found Sweet Menu and its creator, Jessica, whose bright, energetic personality fit her bold, colorful pictures! I am overjoyed to share her (and these donuts) with you today!
Jess is the kind of girl that you want to live right down the street so you can hang out all the time. If she lived State-side I would practically force her to be my BFF. Last month I got to meet her for coffee in NYC and she is every bit as awesome in person as I imagined! And. AND she brought me a whole bag of Australian treats! (See. Adorable. I told you.)
I wait with baited breath for Jessica's post each week. I practically drooled on my computer over these Twix Cookie Cups! And I am smitten with her photography — how badly do you want to snatch this Chocolate Peanut Butter Ice Cream Cone out of her hand? And her latest Fruit Loop Layer Cake creation is absolutely stunning. There are no other words…
Like I said. I want to be her neighbor. Maybe we could trade cakes and gossip 😉
Come back, Jess! Come back!
Anyways! I'll stop chitchatting about how much I love her and let her introduce herself and the most gorgeous donuts that I've ever seen. Ever.
Hi! My name is Jess and I blog over at Sweet Menu. I am an Australian food blogger but I specialise in baking American-inspired sweets. I recently returned from a four week adventure across the USA where Lindsey and I met face to face in New York. The time flew by as we chatted about food, blogging and everything in between while I ate freshly baked cookies from her culinary class and she munched on Tim Tams I had brought over from Aus. I am beyond excited to have the chance to guest blog on American Heritage Cooking today. And boy, do I have a treat for you!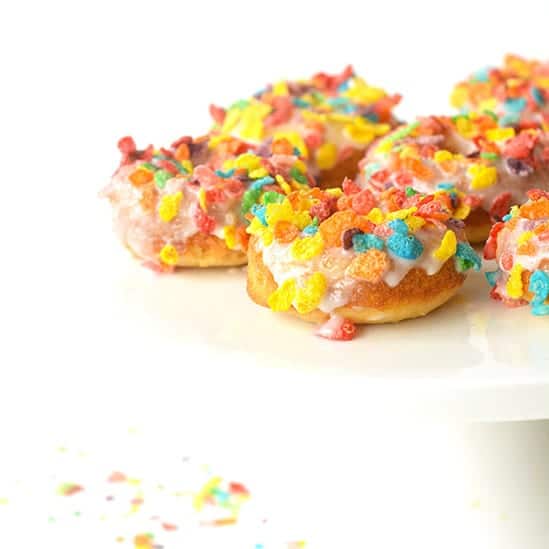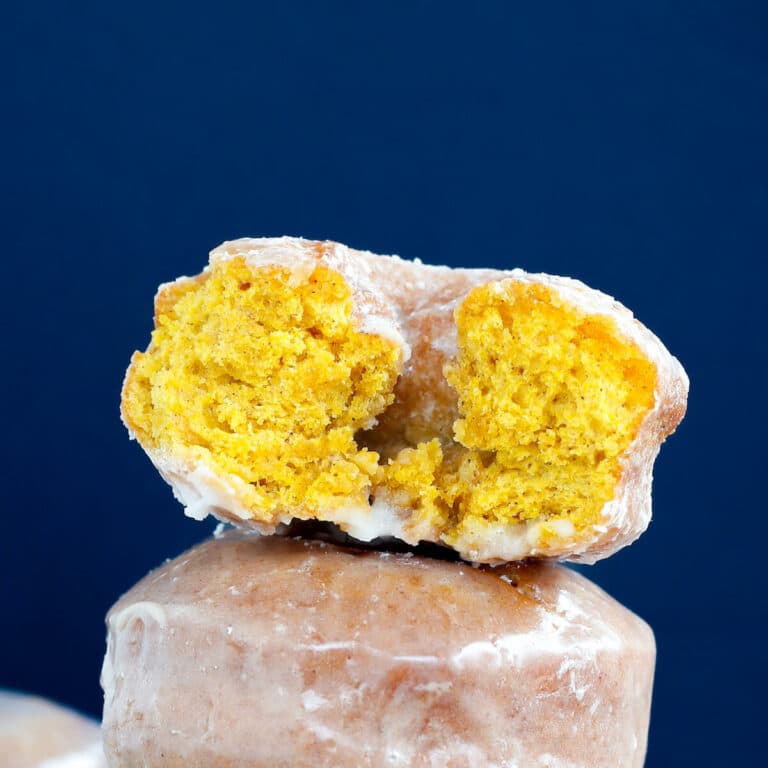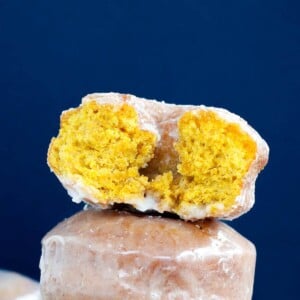 When I was in New York, I visited Momofuku Milk Bar and tried their famous Cereal Milk. Have you heard of it before? It was delicious! And yes, it did taste like the milk at the bottom of your cereal bowl. I was so taken with their creations, that I bought their cookbook. Inspired by their clever use of cereal, I decided to come up with my own sweet cereal treat. Using a box of Fruity Pebbles that I stuffed into my suitcase (we don't have that cereal in Australia), I created Fruity Pebble Cereal Milk Baked Donuts.
These beauties are baked not fried, so they are almost healthy. Ok, maybe not healthy but they are super fast to put together. Using a donut pan, these little vanilla cake donuts are baked in the oven and ready in just 10 minutes. The glaze is made using Fruity Pebble-infused milk, which makes for a sweet tutti-fruity topping before adding a generous layer of Fruity Pebble flakes to each one. Aren't they fun? And they taste delish. So grab your box of Fruity Pebbles and give these baked donuts a go! The kids will love them!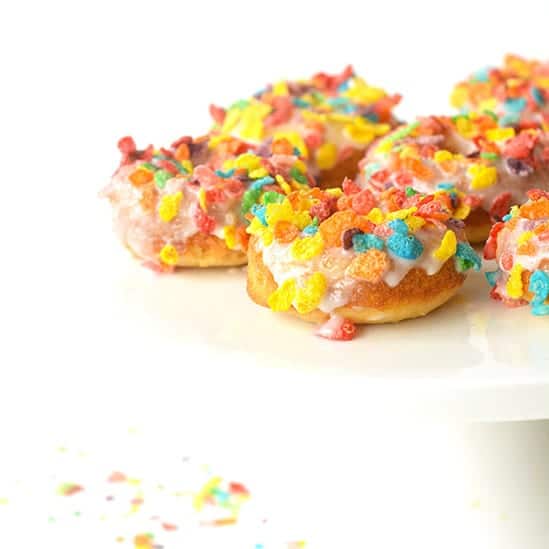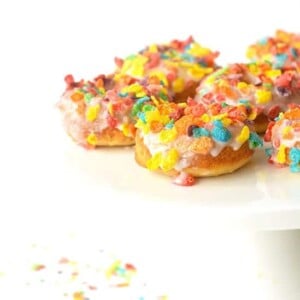 Fruity Pebble Cereal Milk Baked Donuts
These Fruity Pebble Cereal Milk Baked Donuts are soft, baked vanilla cake donuts that are made using Fruity Pebble infused milk, so you get that delicious Fruity Pebble taste in every bite!
Instructions
Prepare the Donuts:
Preheat the oven to 360 F (180 degrees). Lightly grease your donut pan with a bit of butter or non-stick spray.

In a large mixing bowl, sift the flour, baking powder and baking soda.

In a separate bowl, beat the butter, sugar and vanilla with an electric mixer until combined, then add the egg and beat for another minute or so. Add the flour mixture and the milk and gently stir until combined.

Spoon out the mixture evenly into the donut pan. Place in the oven and bake for 10 minutes. Once the donuts are golden, remove from the oven and place on a wire rack to cool.
Prepare the Glaze:
In a small bowl, add the milk and 1/2 cup of Fruity Pebbles and gently stir. Set aside for 10 minutes. Strain the milk into a small bowl and discard the soggy flakes.

In a separate bowl, add the extra cup of Fruity Pebble cereal.

Sift the icing sugar in a large mixing bowl and add three tablespoons of the cereal-infused milk and stir until combined.

Gently dip each donut into the glaze before dunking into the bowl of Fruity Pebble flakes. Continue until all the donuts are glazed and topped with Fruit Pebble flakes.
Nutrition
Calories:
292
kcal
|
Carbohydrates:
52
g
|
Protein:
3
g
|
Fat:
8
g
|
Saturated Fat:
5
g
|
Polyunsaturated Fat:
1
g
|
Monounsaturated Fat:
2
g
|
Trans Fat:
1
g
|
Cholesterol:
39
mg
|
Sodium:
130
mg
|
Potassium:
64
mg
|
Fiber:
1
g
|
Sugar:
37
g
|
Vitamin A:
440
IU
|
Vitamin C:
1
mg
|
Calcium:
62
mg
|
Iron:
1
mg
Like this? Leave a comment below!