These Stuffed Donuts are a soft, tender yeasted doughnut that is rolled in sugar and then stuffed with a variety of jams, jellies and Nutella!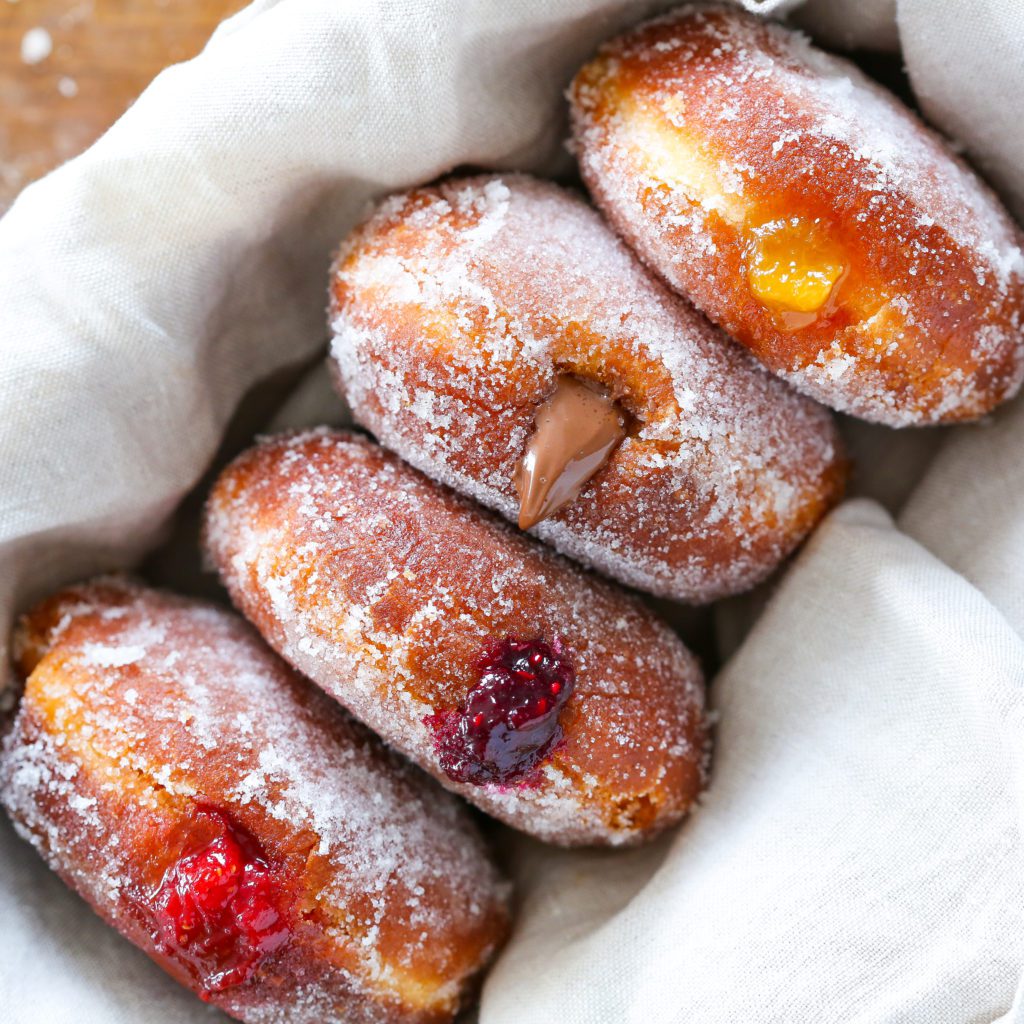 Why settle for one filling in your stuffed donuts when you can have four?! Why indeed!
If you know me, then you know this is just a cheap excuse to try all of them!
This is my go-to yeasted donut recipe. You can stuff it or leave it unstuffed, because the donut itself is to die for! It is light and ever so slightly sweet. Trust me you'll want any excuse to tear into a second one!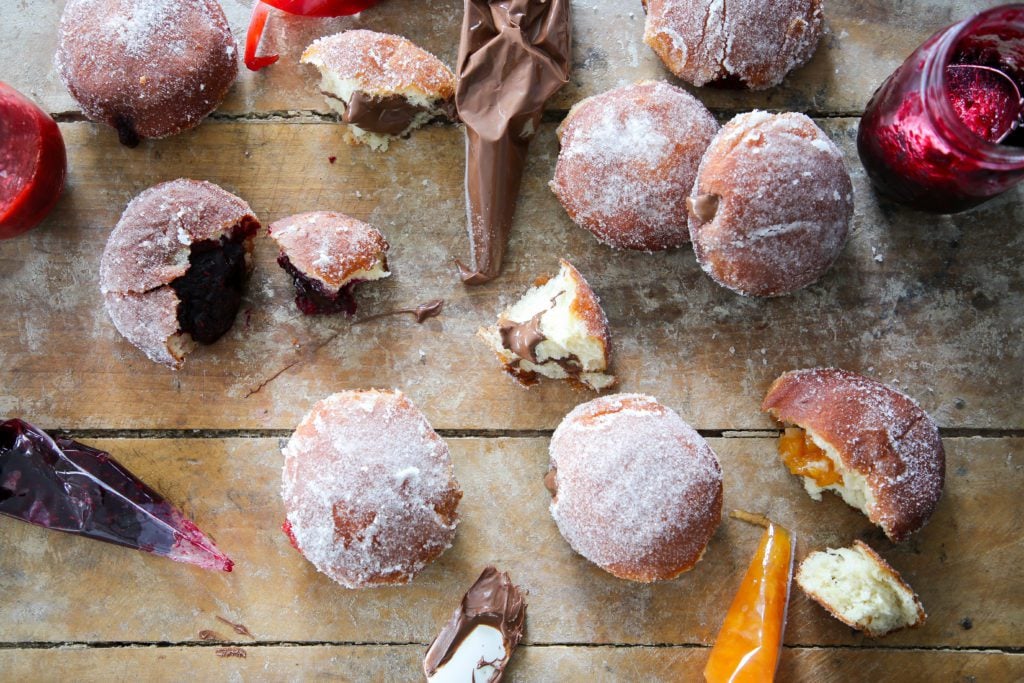 Ideas for Stuffing Your Stuffed Donuts:
Nutella. Always and forever.
Quick Strawberry Jam: This is a perfect use for this slightly looser jam! All that strawberry juice just soaks right into the donut!
Peach Preserves: I actually wasn't intending to put these in the donuts but it was in my fridge from earlier this summer and they were calling my name!
Mixed Berry Jam:All the berries in one thick filling. Classic.
I tossed my donuts in plain sugar but cinnamon sugar or my Classic Donut Glaze would not be unwelcome!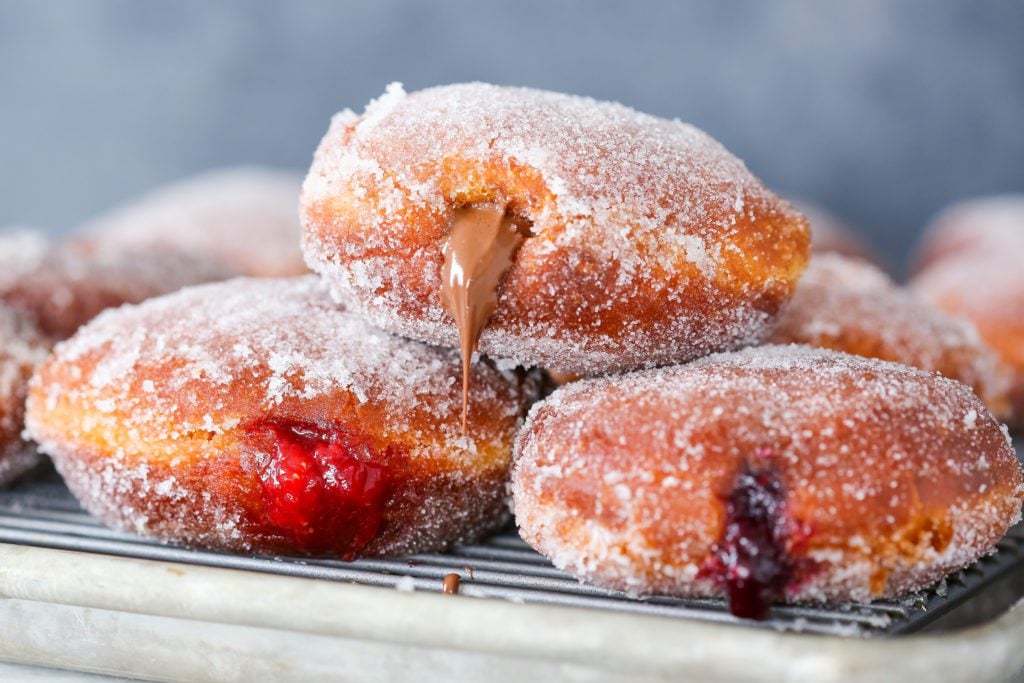 Why is this the BEST Stuffed Donut Recipe?
I thought you'd never ask! Let's get into the nerdy deets, shall we?
All Purpose Flour: Controlling the gluten development is part of what makes this doughnut so light and airy. The first step is using all-purpose flour, which controls how much gluten is available from the get-go. The second step is controlling how much gluten is activated. This is mostly done by working with it gently. Gently rolling out the dough and gently handling will keep the donuts tender. If you see them starting to shrink back at any point, cover them with plastic wrap and let them have a little siesta.
Moisture: A high moisture content will also add to the light texture of these donuts. It also adds to the challenge of working with the dough. Resist the temptation to add more flour to make it more easily workable. Spray your hands and tools with nonstick spray instead!
Enrichment: This dough is highly enriched. There is butter, oil, milk, sugar and eggs in it! All of these additions add flavor (hey? welcome!) and fat. This will add to a soft, moist and tender dough. The fat also hinders gluten development, which makes it harder for the included gluten to form tight strands.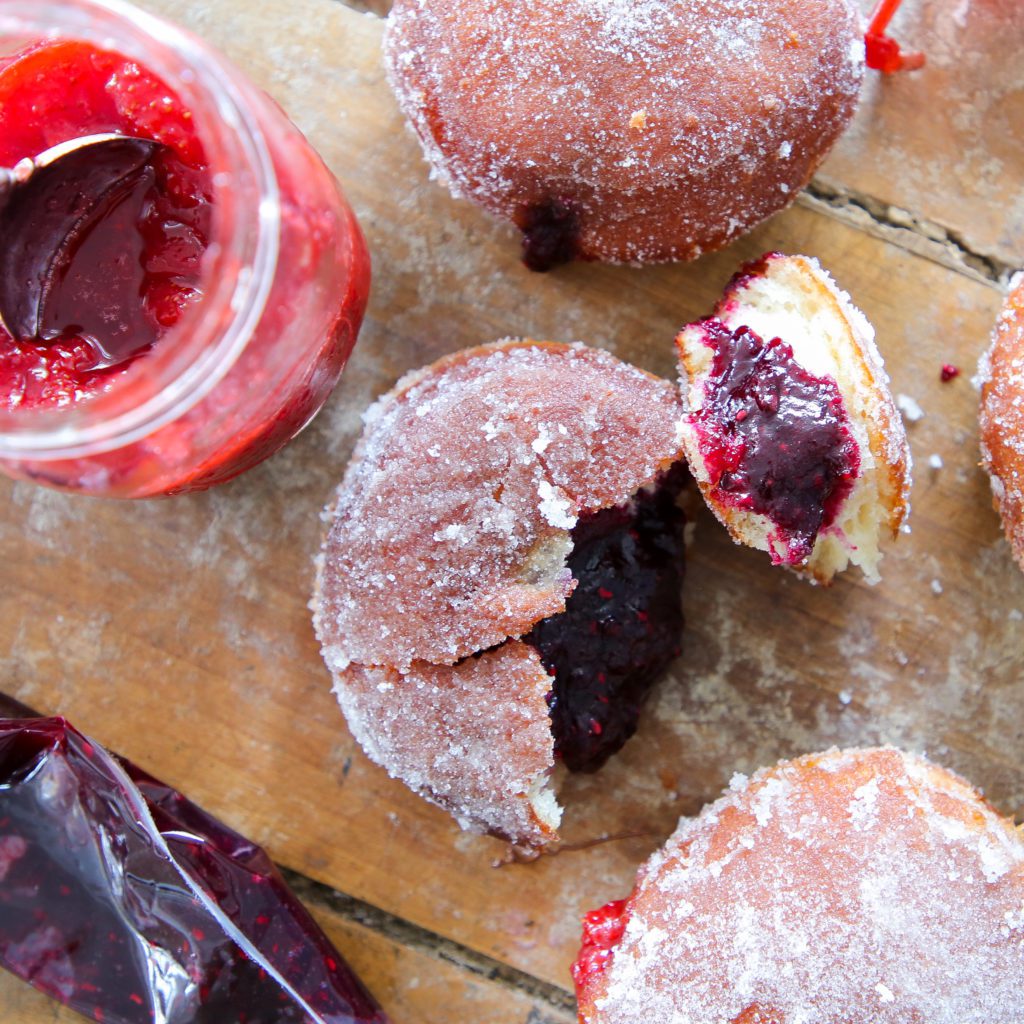 Tips for frying
Keep the dough cold. Roll and cut it quickly to keep the baking powder from starting to react with the sour cream. Double-acting baking powder will react again when fried, but let's save all the expansion power for later, shall we.
Use canola oil or some other neutral-tasting oil that has a high smoke point.
Monitor your oil temperature. 340° F is too cold – that is to say your donuts will be greasy. 380° F is too damn hot. The outside will be dark and awful while the inside is still gooey. In summary, gross. 350°-360° F is your target range. Adjust your heat as it approaches the boundaries. In reality don't be afraid to turn off the stove. This is the great thing about frying. If the oil temperature isn't where you want it, just wait. So liberating.
Do be careful. The oil looks so happy and peaceful in there, but I can assure you that 350° F oil is VERY hot. I have the scars from work to prove it. Carefully use the slotted spoon to place the donut in the oil and to remove it. I gently drop it in the oil with my hand so that it slips inside, but I have been trained to have no fear. And the burns to prove it….
May I remind you that oil and water do not mix. When water gets into hot oil, it splatters violently. If this happens, back away. Quickly. This is easily avoidable if you dry all your utensils after rinsing them off. If there is any water collected on the top of your dough, which there shouldn't be if you properly wrapped them, then blot it off before putting it in the oil.
Place your fried donuts on a wire rack over a baking sheet or towels to catch the extra oil. This will keep the bottoms crispy. There will be no soggy bottoms on our donuts!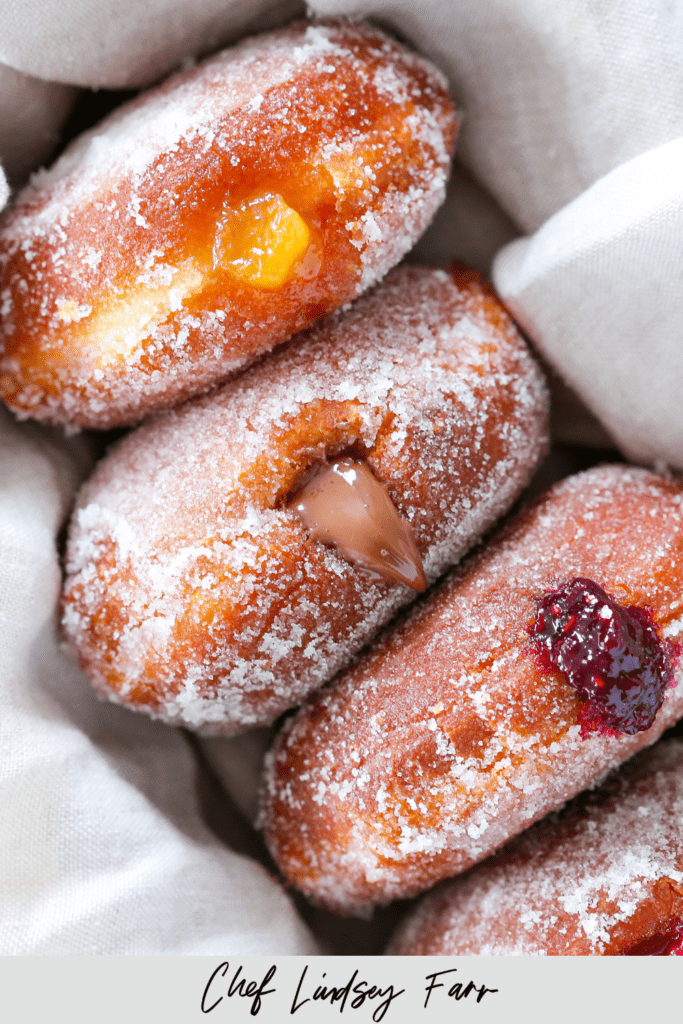 Stuffed Donuts
These Stuffed Donuts are a soft, tender yeasted doughnut that is rolled in sugar and then stuffed with a variety of jams, jellies and Nutella!
Instructions
Combine flours, sugar and salt in bain and set aside. 

In a small pot, melt butter and shortening over low heat. Whisk in oil then milk and finally your egg and vanilla. Cook over low heat, stirring constantly, until 106°F. Pour into bowl of a stand mixer. 

Whisk yeast into milk mixture and set aside for 10 minutes. 

Fit mixer with paddle attachment and add half the flour to the bowl with the yeast/milk mixture. Mix on low to combine, then add the remaining flour and mix on low until flour is incorporated. 

Switch to the dough hook and turn speed to medium high and continue to mix until you can see strands pulling from the sides of the bowl into the center when it is mixing, approximately 12 minutes.  It will not completely form a smooth dough ball. 

Spray hands and bowl scraper and form into a ball and place in oiled bowl. Do one fold in the bowl: grab one side with both hands and pull up and then fold over to the other side. Rotate the bowl and then repeat with all four sides. Cover with plastic wrap and bulk proof in the refrigerator for 30 minutes.

Gently roll out on a lightly floured surface to approximately ½ inch thick. Cut with ring mold (3") and place on parchment lined baking sheet lightly sprayed with non-stick spray. Cut out the holes with a 1" cutter while they are on the baking sheet. This will keep them from misshaping. Spray surface of doughnuts, wrap with plastic wrap and refrigerate 2 hours. 

Temp dough 6 minutes before frying. 

Alternatively to cook immediately: instead of retarding doughnuts in the refrigerator a second time, allow to sit out 30 minutes until doubled in size and then fry. 

Fry at 355°F. 60 seconds on one side; 45 seconds on the second side and then an additional 10-30 seconds as needed. Doughnuts should be a dark golden brown on both sides. You can poke one with a cake tester through the center to check for doneness. It should come out clean. The fry time is not only dependent on oil temperature but also the temperature of the dough and how well proofed. 

Allow oil to drip off doughnut 10 seconds then roll in granulated sugar or dip in glaze. Place desired fillings in a piping bag or a zip-top bag. Cut off the corner of the bag or the tip just large enough for the filling to come out. Poke a hold in the donut with a chopstick, skewer or piping tip. Insert the bag into the hole and squeeze! I like to fill my donuts until the filling flows a little out of the hole once you stop. You could always test one to see if there is enough filling…it's a tough job but someone has to do it!
Video Instructions
Notes
Can re-roll scraps one time with at least 20 minutes of bench rest. Knead the scraps together into a ball, cover with plastic wrap and allow to sit 20 minutes before trying to roll them out again. If they shrink back, give them a little more time to rest!