This Krispy Kreme Doughnut Copycat recipe makes doughnuts that are light and airy! Little fried pillows that melt in your mouth!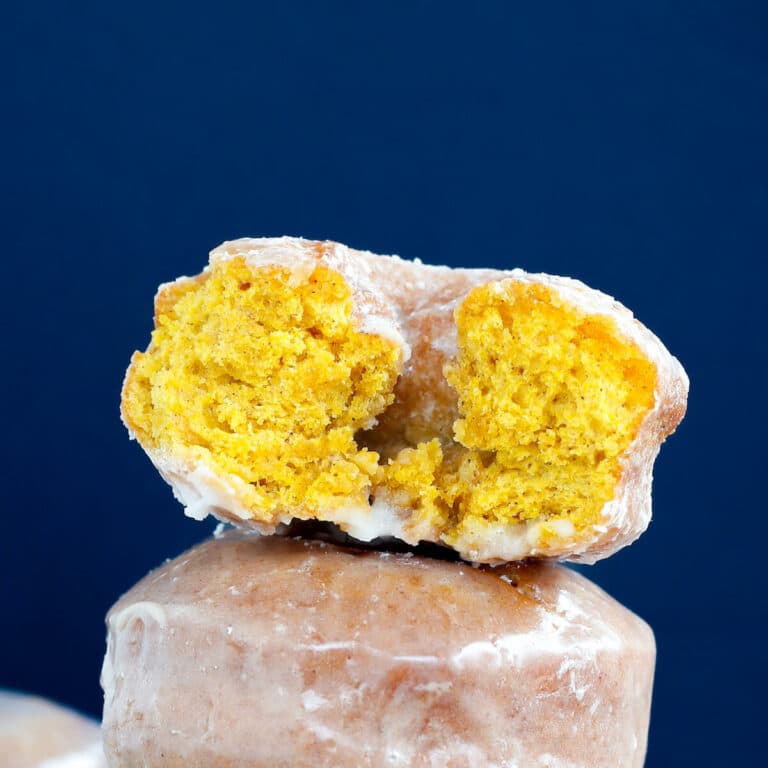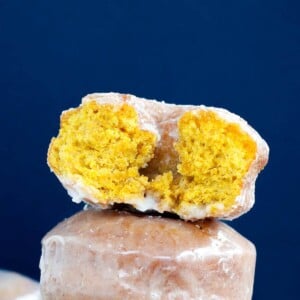 Like I was telling you in my recent Classic Donut Glaze post, I developed more donut recipes than is altogether normal. How else would I land on magnificent donut options, like my sour cream donut recipe? These Krispy Kreme donuts were one of the recipes that was constantly under development. 
Every now and again I would revisit the last iteration and tweak it. I had been testing it for over a year before it made it to being the Donut of the Day. Even my current recipe still says "Work in Progress," because I am still improving. That is not to say that it isn't a phenomenal copycat! Because it is! 
This is not a beginner's dough. That doesn't mean you should shy away from attempting it. Just don't get frustrated. Be patient with yourself and the dough. Accept that she is going to be sticky and not form a smooth dough. Accept and then work with her.
I highly suggest you watch my video on making it because nothing beats showing someone how to handle a yeasted dough.
Why these are the BEST Krispy Kreme Doughnut Copycat:
Gluten: Controlling the gluten development is part of what makes this doughnut so light and airy. The first step is using a combination of cake flour and all-purpose flour, which controls how much gluten is available from the get-go. The second step is controlling how much gluten is activated. This is mostly done by working with it gently. Gently rolling out the dough and gently handling will keep the donuts tender.
Moisture: A high moisture content will also add to the light texture of these donuts. It also adds to the challenge of working with the dough. Resist the temptation to add more flour to make it more easily workable. Spray your hands and tools with nonstick spray instead!
Enrichment: This dough is highly enriched. There is butter, oil, milk, and eggs in it! All of these additions add flavor (hey? welcome!) and fat. This will add to a soft, moist and tender dough. The fat also hinders gluten development, which makes it harder for the included gluten to form tight strands.
Sugar: Technically this is also an enrichment, but there is such a significant amount of it, that I wanted to highlight it separately. Sugar is there for flavor but also to hinder gluten development. I know! It's a theme!
The Fryer Rules
Keep the dough cold. Roll and cut it quickly to keep the baking powder from starting to react with the sour cream. Double-acting baking powder will react again when fried, but let's save all the expansion power for later, shall we.
Use canola oil or some other neutral-tasting oil that has a high smoke point.
Monitor your oil temperature. 340° F is too cold – that is to say your donuts will be greasy. 380° F is too damn hot. The outside will be dark and awful while the inside is still gooey. In summary, gross. 350°-360° F is your target range. Adjust your heat as it approaches the boundaries. In reality don't be afraid to turn off the stove. This is the great thing about frying. If the oil temperature isn't where you want it, just wait. So liberating.
Do be careful. The oil looks so happy and peaceful in there, but I can assure you that 350° F oil is VERY hot. I have the scars from work to prove it. Carefully use the slotted spoon to place the donut in the oil and to remove it. I gently drop it in the oil with my hand so that it slips inside, but I have been trained to have no fear. And the burns to prove it….
May I remind you that oil and water do not mix. When water gets into hot oil, it splatters violently. If this happens, back away. Quickly. This is easily avoidable if you dry all your utensils after rinsing them off. If there is any water collected on the top of your dough, which there shouldn't be if you properly wrapped them, then blot it off before putting it in the oil.
Place your fried donuts on a wire rack over a baking sheet or towels to catch the extra oil. This will keep the bottoms crispy. There will be no soggy bottoms on our donuts!
Dip the donuts in the glaze while they are still warm so you don't need to heat up your glaze and this will keep the donuts moist. People say to use chopsticks. Come on. Isn't life hard enough? Just use your fingers. It'll toughen them up. It's good for you. My Dad taught me that.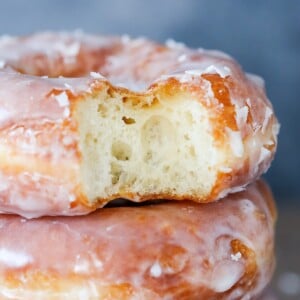 Krispy Kreme Copycat
These Krispy Kreme Doughnut Copycats are light and airy! Little fried pillows that melt in your mouth!
Instructions
Combine flours, sugar and salt in bain and set aside.

In a small pot, melt butter over low heat. Whisk in oil then milk and finally eggs and vanilla. Cook over low heat, stirring constantly, until 106°F. Pour into bowl of a stand mixer.

Whisk yeast into milk mixture and set aside for 10 minutes.

Fit mixer with paddle attachment and add half the flour to the bowl with the yeast/milk mixture. Mix on low to combine, then add the remaining flour and mix on low until flour is incorporated.

Switch to the dough hook and turn speed to medium high and continue to mix until you can see strands pulling from the sides of the bowl into the center when it is mixing, approximately 12 minutes. It will not make a cohesive, smooth dough. There isn't enough gluten for that!

Spray hands and bowl scraper and form into a ball and place in oiled bowl. Cover with plastic wrap and bulk proof in the refrigerator for 30 minutes.

Gently roll out on a lightly floured surface to approximately ½ inch thick. Cut with ring mold (3") and place on parchment lined baking sheet lightly sprayed with non-stick spray. Cut out the holes with a 1" cutter while they are on the baking sheet. This will keep them from misshaping. Spray surface of doughnuts, wrap with plastic wrap and refrigerate 2 hours.

Temp dough 6 minutes before frying.

Alternatively to cook immediately: instead of retarding doughnuts in the refrigerator a second time, allow to sit out 30 minutes until doubled in size and then fry.

Fry at 355°F. 60 seconds on one side; 45 seconds on the second side and then an additional 10-30 seconds as needed. Doughnuts should be a dark golden brown on both sides. This donut is so light and airy that the only indicator you need for doneness is the color. You can poke one with a cake tester though, if you are a nervous Nellie.

Allow oil to drip off doughnut 10 seconds then roll in granulated sugar or dip in glaze.
Notes
Can re-roll scraps one time with at least 20 minutes of bench rest. Knead the scraps together into a ball, cover with plastic wrap and allow to sit 20 minutes before trying to roll them out again. If they shrink back, give them a little more time to rest!
For the most authentic taste, fry in shortening. I used canola oil, but they still taste soooo close!
Nutrition
Calories:
244
kcal
|
Carbohydrates:
38
g
|
Protein:
6
g
|
Fat:
8
g
|
Saturated Fat:
3
g
|
Polyunsaturated Fat:
2
g
|
Monounsaturated Fat:
2
g
|
Trans Fat:
1
g
|
Cholesterol:
23
mg
|
Sodium:
217
mg
|
Potassium:
92
mg
|
Fiber:
1
g
|
Sugar:
11
g
|
Vitamin A:
144
IU
|
Vitamin C:
1
mg
|
Calcium:
39
mg
|
Iron:
1
mg
Like this? Leave a comment below!