This Homemade Peanut Butter Ice Cream Pie has a rich, from scratch peanut butter ice cream folded with chopped Reese's all pressed into an easy, no-bake Nutter Butter cookie crust.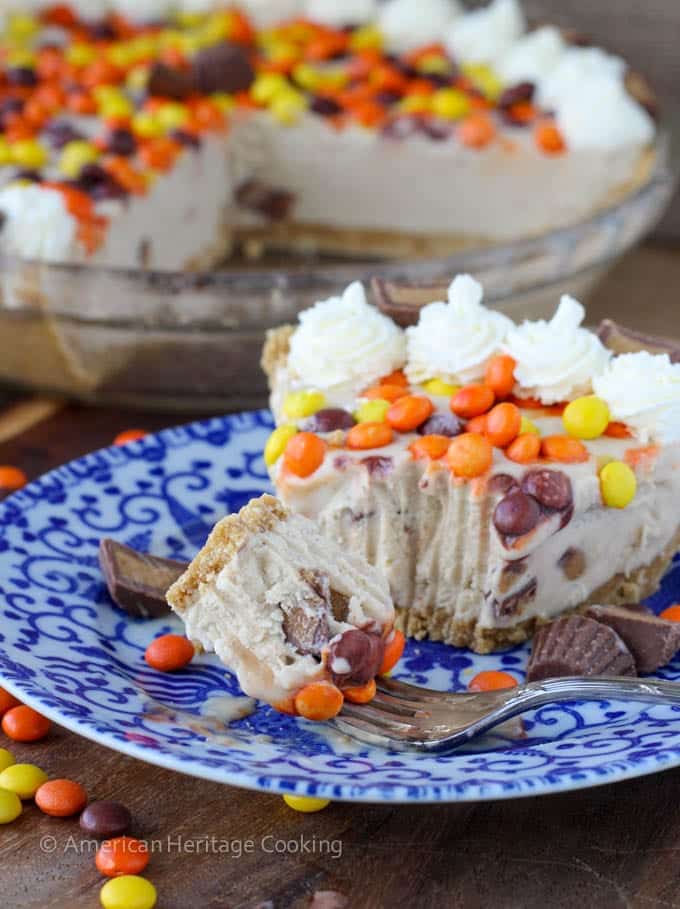 We are celebrating the last vestiges of summer with this decadent, no-bake Peanut Butter Reeses Ice Cream pie in a Nutter Butter crust.
This pie.
It will be my diet's downfall.
I don't really like the word "dieting" but all that ice cream recently has lingered a bit too long on my hips. My version of dieting is curbing my sweet intake, curbing my cheese intake (mmm cheese), and reducing my portions. Easy right?
Unfortunately just because I am not supposed to be eating desserts doesn't mean I don't get yummy, sweet vision in my head that I just have to make. Like this pie.
#whycantidreamofsalads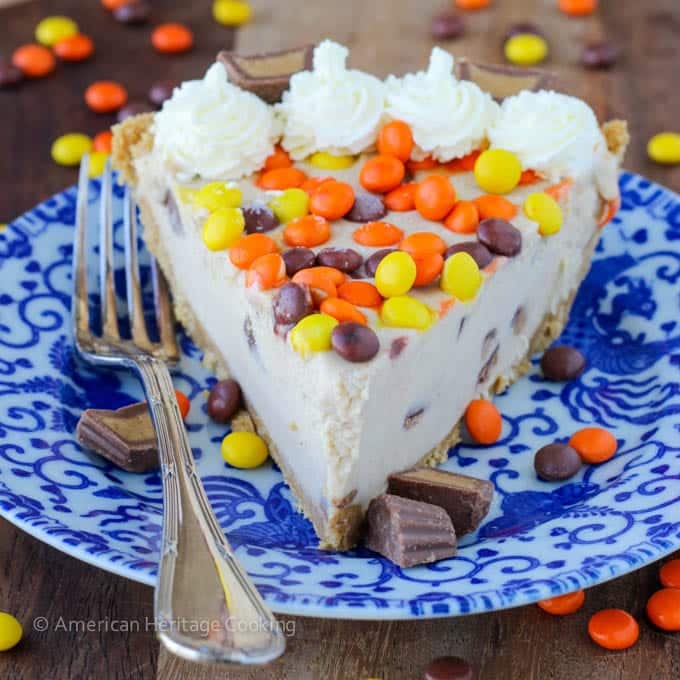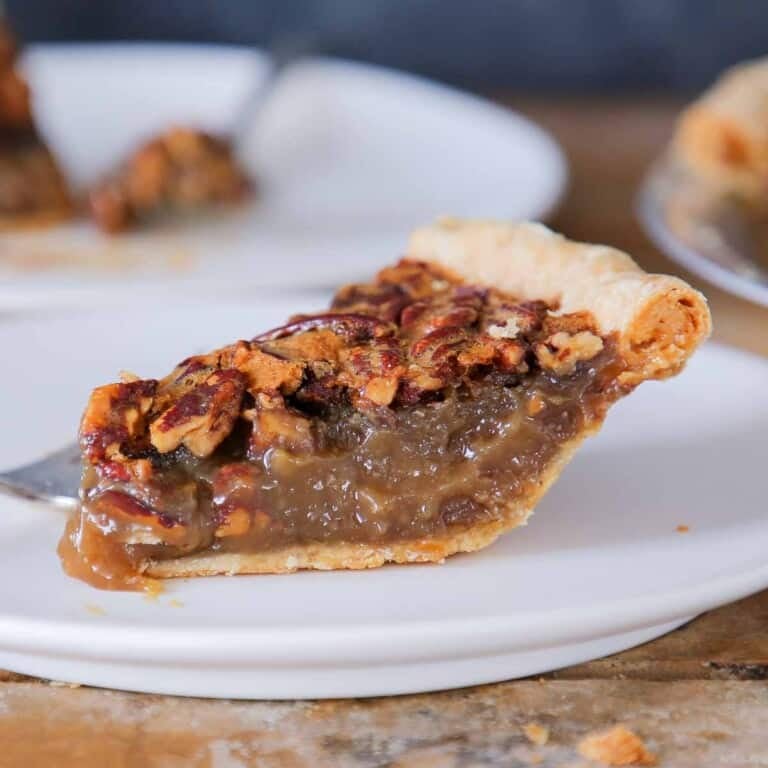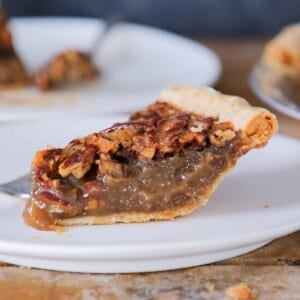 I had 5 egg yolks left from my last batch of Swiss Meringue Buttercream, which could only mean one thing, ICE CREAM!! I don't like to play favorites but right now this peanut butter custard ice cream with Reese's throughout is my favorite!
It's so rich and creamy and it tastes just like Reese's peanut butter cup filling, which we all know is my favorite part! I love a good chocolate and peanut butter combo, as you very well know from my peanut butter chocolate chip cookies!
And this no-bake Nutter Butter crust is just the right amount of soft and the perfect compliment to the peanut butter ice cream. And to think it almost didn't happen because I ate the majority of the bag of Nutter Butters…what was I saying about needing to diet?…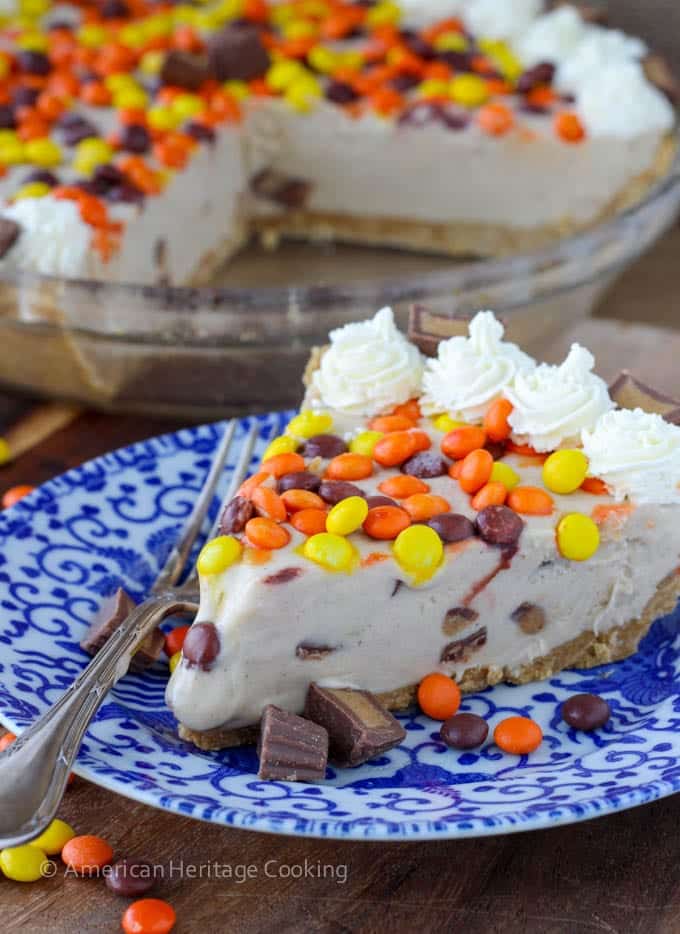 The mini Reese's pieces on top give it a needed burst of color and a little crunch. They are totally optional but I find them irresistibly cute! My husband was in Walmart with me when I found them, and I think he was a little embarrassed by my enthusiasm.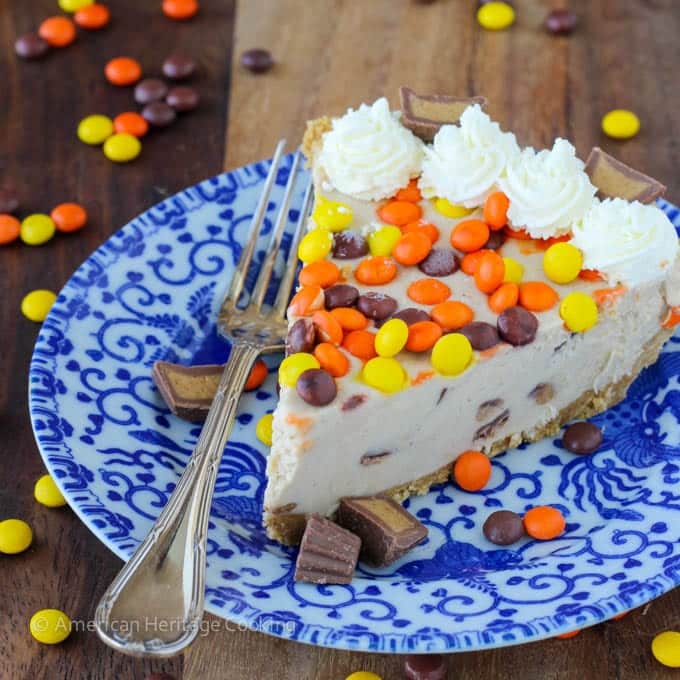 If you are, like me, still living somewhere that is still unbearably hot, don't give in to the temptation to start making warm Fall comfort foods just yet. Make this peanut butter ice cream pie instead! It's cold but its decadent taste and Fall colors (thank you, Reese's pieces) will still remind you that cooler temperatures and warm comfort food are on the way!
No Bake Peanut Butter Reese's Ice Cream Pie in a Nutter Butter Crust
This Homemade Peanut Butter Ice Cream Pie has a rich, from scratch peanut butter ice cream folded with chopped Reese's all pressed into an easy, no-bake Nutter Butter cookie crust.
Ingredients
For the Peanut Butter Reese's Ice Cream:
For the Nutter Butter Crust:
19

Nutter Butter Cookies

why 19? I ate the rest…it's all I had. You can use 20

5

tablespoons

unsalted butter

melted
Makes:
9
inch
9
x
9
inch
round
Instructions
Make your Ice Cream:
Put your ice cream maker's freezer bowl in the freezer at least 24 hours ahead of when you will be making it.

In a large, heavy gauge saucepan, whisk together milk, cream, peanut butter and 1/3 cup sugar until the peanut butter has disbursed. Heat over medium heat just until it comes to a boil.

Whisk together egg yolks and all the remaining fsugar until thick.

Temper your egg yolks by slowly adding a third cup of the hot cream mixture to the egg mixture while whisking constantly. Repeat once more then add the egg mixture to the remaining cream mixture in the sauce pan, stirring with a spatula as your pour.

Add the vanilla and cook over medium heat, stirring constantly with a spatula, until the mixture has thickened and will coat the back of a wooden spoon, 15-20 minutes.

Allow to cool several hours in the refrigerator, stirring occasionally. Optionally cover and refrigerate overnight.

Pour into running ice cream maker and let churn for 15-20 minutes. When you have a few minutes left, add the chopped Reese's through the pour spout and watch them be incorporated with glee! While it is churning make sure your crust is ready!
Make the Nutter Butter Crust:
Process cookies in a food processor until they are all very fine grain crumbs.

Melt butter in a medium, microwave safe bowl. Add Nutter Butter crumbs and mix until all crumbs are coated. Press into a 9 ½ inch pie dish with the back of a spoon, a mixing cup or your hand. Whatever works for you.
Assemble your Pie:
Scoop ice cream from ice cream maker into pie crust. Level out with a spoon or an offset spatula if you want it too be perfectly flat. Sprinkle with Reese's pieces. Just know that if you add them before you freeze the pie, they will bleed. It tastes just as good and I like the way they were embedded into the top of the ice cream.

Cover with plastic wrap and make sure the plastic is touching the ice cream or it will ice and not be as pretty. Freeze several hours or overnight.
Whipped Cream:
Whisk together heavy cream, confectioner's sugar, and vanilla extract.

Whisk until stiff peaks.

Decorate with whipped cream if desired. You could also just serve each piece with a dollop.

Let pie sit at room temperature 10 minutes prior to cutting. It will be rock hard!
Notes
You could make this pie with store-bought peanut butter ice cream if you so desire. You need 1 ½ quarts of ice cream for the filling. You can either soften the ice cream enough to spread into your piecrust, and sprinkle with chopped Reese's or you can mix them in Coldstone style and then spread it in the piecrust. You're call!
Nutrition
Calories:
571
kcal
|
Carbohydrates:
39
g
|
Protein:
9
g
|
Fat:
43
g
|
Saturated Fat:
20
g
|
Polyunsaturated Fat:
5
g
|
Monounsaturated Fat:
15
g
|
Trans Fat:
1
g
|
Cholesterol:
155
mg
|
Sodium:
225
mg
|
Potassium:
260
mg
|
Fiber:
1
g
|
Sugar:
28
g
|
Vitamin A:
1052
IU
|
Vitamin C:
1
mg
|
Calcium:
109
mg
|
Iron:
1
mg
Like this? Leave a comment below!