This easy chocolate pie recipe is thick, fudgy and rich! The silky chocolate filling is made in one bowl and then baked in a flaky all butter pie crust!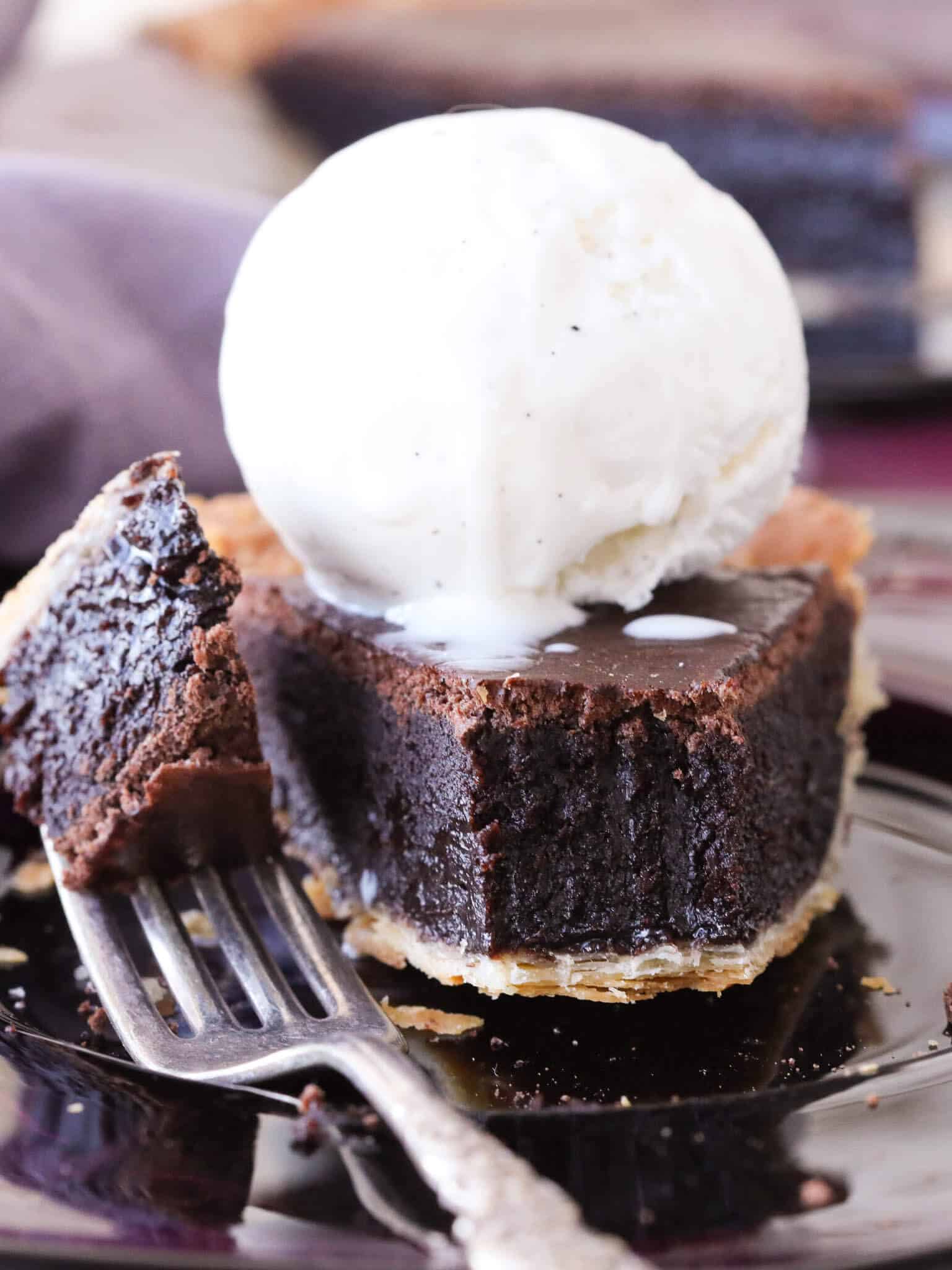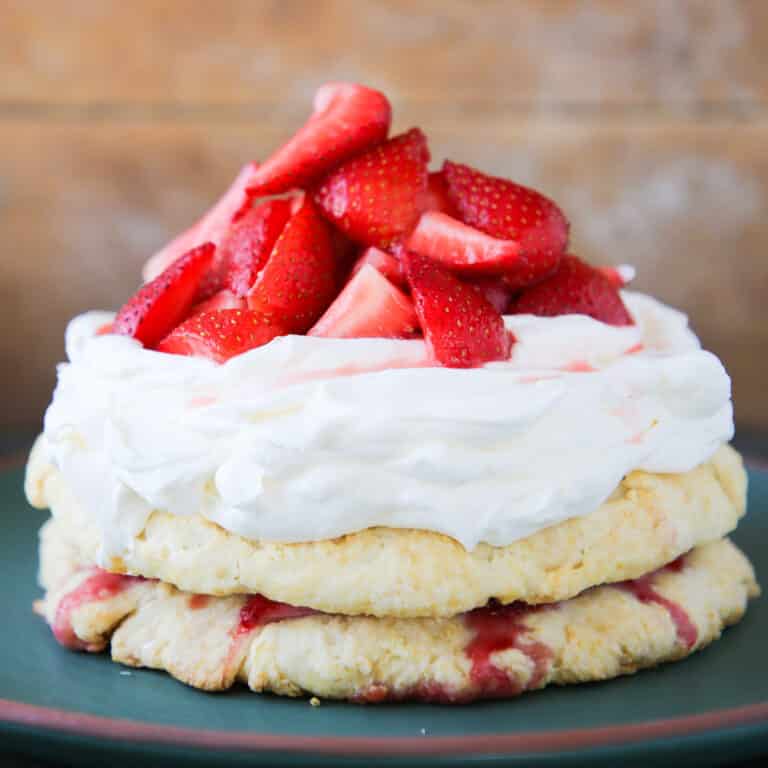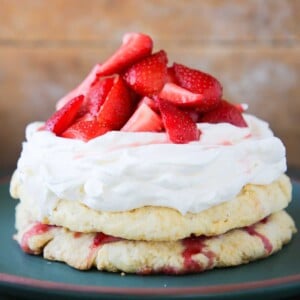 Satiate even the most intense chocolate craving with this fudgy chocolate pie! It has a fudge brownie-like texture and a crackly top. Whisking together the eggs and sugar make the texture light and airy almost like this Fudgy Brownie Recipe! It joins the ranks of chocolate perfection with this French silk pie.
The sweetness is balanced by dark chocolate, cocoa powder and a little salt! A little espresso powder along with the salt enhances the flavor of the chocolate, making this decadent pie taste even more chocolaty! Serve a slice with a generous scoop of vanilla bean ice cream or lean into the chocolate and dish out the best chocolate ice cream instead. Who is that over there with a drizzle of homemade hot fudge sauce? I see you and I love you already!
Ingredients
Substitutions
Dark Brown Sugar: If you don't have light brown sugar on hand, you can absolutely substitute dark brown sugar in equal amounts. The flavor will just be a bit more robust but you will still get all the benefits of the added moisture and caramel notes.
Pie Crust: This Chocolate Pie would also be delicious in a pâte sablée pie crust, in a baked graham cracker crust or in an Oreo pie crust.
Variations
Nuts: Love nuts with your chocolate?! Go crazy and add up to 2 cups of roasted, chopped nuts. Pecans or walnuts would be my choice, but you use whatever variety you love.
Caramel Chocolate Pie: Pour about a cup of my salted caramel sauce on top after the pie has cooled. Chill thoroughly before slicing and serving. As it warms up the sauce will loosen and sauce the pie! You could also add up to ½ cup of the sauce in the pie filling before baking.
Peanut Butter Chocolate Pie: We invited chocolate's best friend peanut butter to this party! Add ½ cup of your favorite brand of peanut butter and make it a chocolate peanut butter pie! Yes, I did!
Chocolate Pie Frequently Asked Questions
How do you store easy chocolate pie?
Store chocolate pie at room temperature for 2 days or refrigerated for 1 week. It can also be frozen for up to 2 months. Wrap the cooled pie in plastic wrap before storing.
How long will chocolate pie keep?
Chocolate pie will keep 2 days at room temperature, a week refrigerated or up to 2 months frozen.
How to get perfect slices of chocolate pie?
Perfect slices in three steps: cool completely, wrap and refrigerate pie until cold throughout, and then slice with a sharp knife dipped in hot water. Dip and wipe the knife between each cut for perfect slices every time!
Can you freeze chocolate pie?
Chocolate pie freezes brilliantly. Cool pie completely at room temperature, then wrap well and refrigerate until cold. Place wrapped pie in the freezer for up to 2 months.
Can you make chocolate pie ahead of time?
Prepare the par-baked pie crust up to a week in advance. I usually wrap and store it in the freezer. You can prepare and bake the pie up to one week in advance, if you are storing it in the refrigerator or up to three months in advance if storing it frozen! I would not suggest preparing and assembling the pie more than a few hours in advance of baking.
Will this chocolate recipe multiply?
This pie recipe will easily multiply. As always when making larger batches, I suggest using the weight measurements rather than volume. Even small errors in measuring by volume can compound in a larger batch.
Should I dock the pie crust for a chocolate pie?
You do not need to dock the crust for chocolate pie. The baked custard filling is very loose and could seep into the holes created by docking. This could cause the filling to leave the pie crust and burn on the pie tin or just make the bottom soggy.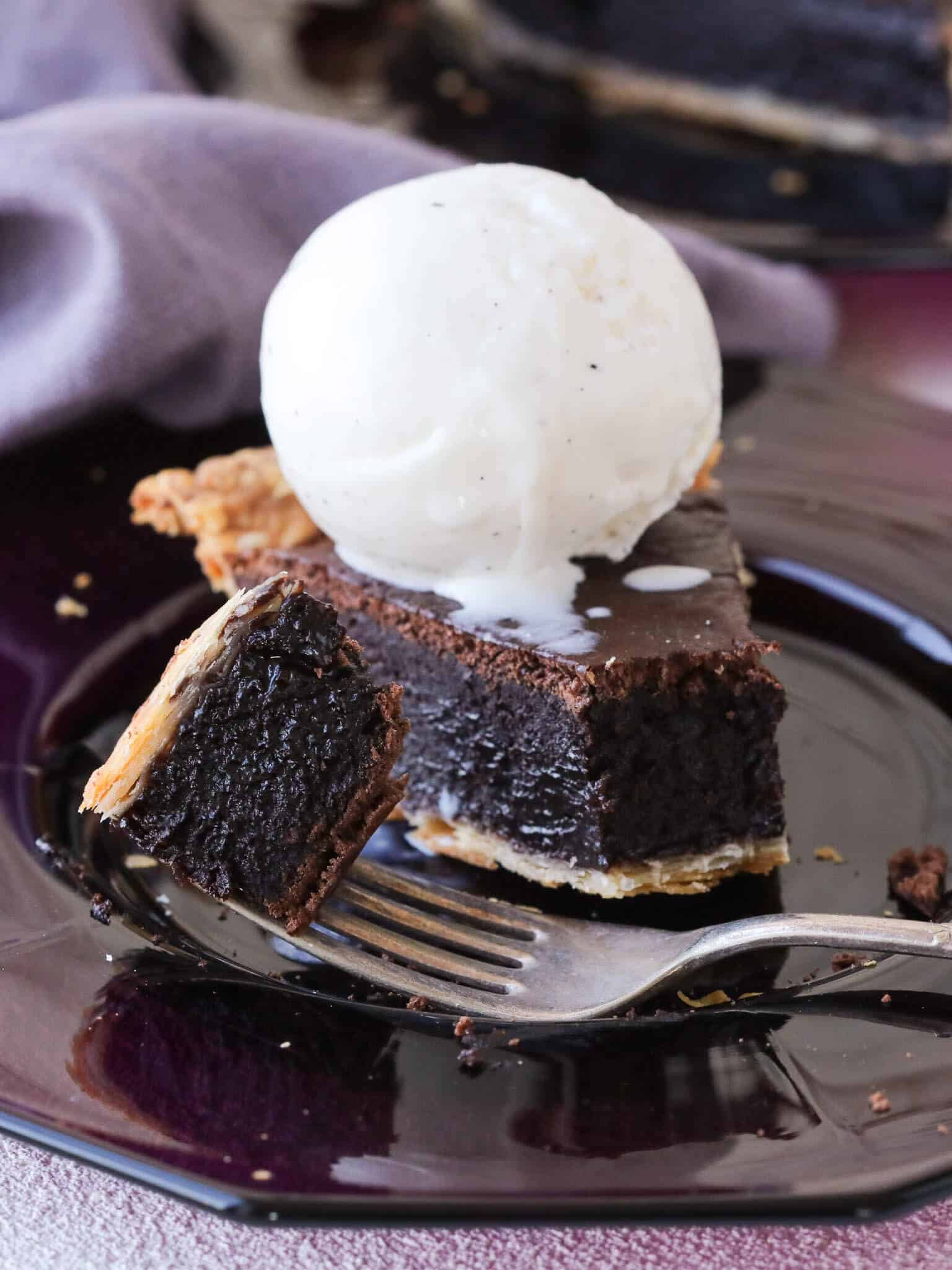 How to serve chocolate pie?
Serve chocolate pie cold, room temperature or warmed in the oven. I like to serve each slice with a scoop of vanilla bean ice cream or a spoonful of Vanilla Bean Crème Anglaise, which is basically melted ice cream! The vanilla compliments the chocolate flavor and the cream balances the rich chocolate pie filling. For a quick and easy option, this would be delightful with lightly sweetened homemade whipped cream or even crème fraiche whipped cream for an unexpected treat! Add a savory crunch with toasted nuts or cocoa nibs.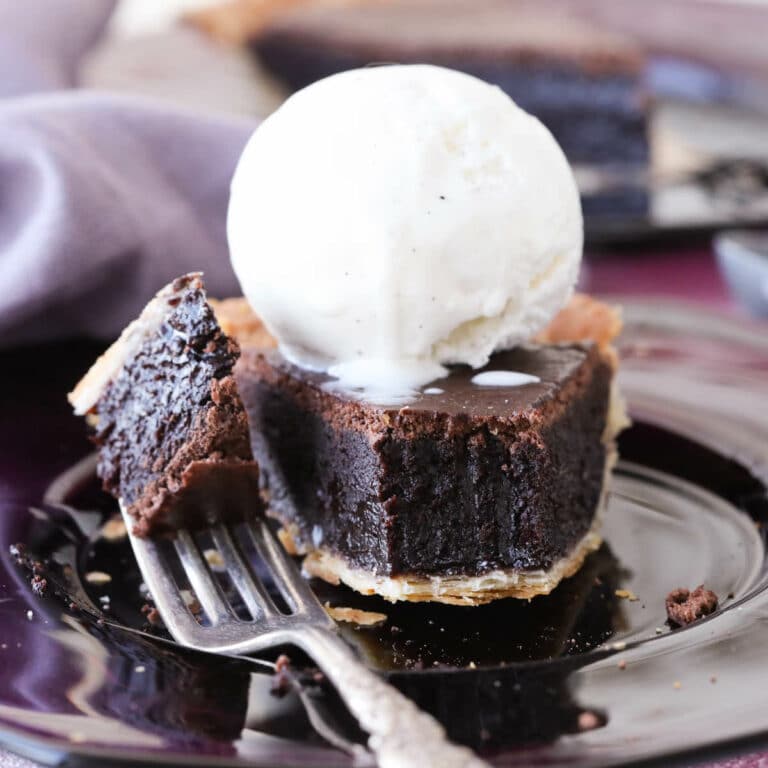 Easy Chocolate Pie
This easy chocolate pie recipe is thick, fudgy and rich! The silky chocolate filling is made in one bowl and then baked in a flaky all butter pie crust!
Instructions
Preheat the oven to 350°F convection or 375°F conventional (no fan).
Par-bake the pie crust:
Line a pie tin with your favorite pie crust. I prefer to use an all-butter pie crust. Do not dock the dough.

Chill the dough thoroughly before baking.

When ready to bake, line the inside of the crust with parchment paper and then fill with pie weights or beans. Bake 20 minutes with the weight and then remove the weight and continue baking until the bottom crust has started to brown but is not yet fully baked. Par-baking is like blind baking but only part of the way. You want the edges to begin to brown and the bottom of the pie crust to not look like dough, but you don't want it to be completely baked. It will bake again with the chocolate filling.

While the pie crust cools, prepare the filling.

Reduce the oven temperature to 325°F convection or 350°F conventional (no fan).
Prepare the Chocolate Pie Filling:
On the stovetop, cover the bottom of a medium saucepot with about an inch of water.

Choose a large bowl that will fit on top of the pot. The bottom of the bowl should not touch the water. In this bowl, place butter, dark chocolate, cocoa powder, espresso powder and kosher salt. Bring the water in the pot to a simmer and melt all the ingredients together, stirring occasionally.

Meanwhile in another bowl, whisk the whole eggs and egg yolks together until they are slightly lightened and no visible whites remain. Whisk in the granulated sugar and light brown sugar until the eggs are light and fluffy.

Remove the chocolate mixture from the stove as soon as it melts. You want it to be melted but not hot. Stir or whisk all the ingredients together.

Pour the chocolate into the egg mixture at one time. Work quickly to keep the chocolate from cooling and seizing or the eggs from cooking prematurely in the warm chocolate. Whisk together thoroughly.

Pour into prepared pie crust. If your pie crust is not ready for any reason, don't fret. This completely mixed filling can sit for up to two hours waiting for you! It can also be poured into a pie crust still warm from the oven. No waiting required.

Bake assembled pie in preheated oven for about 40 minutes or until it puffs in the center and jiggles like Jell-O or like a baked cheesecake.

Allow to cool completely at room temperature before wrapping and refrigerating. This pie slices best when cold.
Nutrition
Calories:
3042
kcal
|
Carbohydrates:
394
g
|
Protein:
46
g
|
Fat:
153
g
|
Saturated Fat:
74
g
|
Polyunsaturated Fat:
12
g
|
Monounsaturated Fat:
54
g
|
Trans Fat:
2
g
|
Cholesterol:
1004
mg
|
Sodium:
1528
mg
|
Potassium:
1530
mg
|
Fiber:
24
g
|
Sugar:
275
g
|
Vitamin A:
2685
IU
|
Calcium:
313
mg
|
Iron:
22
mg
Like this? Leave a comment below!
Before You Go!
Check out our other delicious, chef-developed Pie Recipes!