These homemade brioche hamburger buns are soft and buttery! They are the perfect bun for any hamburger or sandwich and easier to make than you think!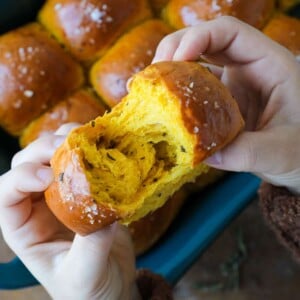 Everybody focuses on the hamburger patty but the bun is just as, if not more, important as what is between them. Nothing can turn a regular burger into something extraordinary quite like an exceptional hamburger bun.
It is literally my day job to make sure that each component of every dish is perfectly balanced with the others. Each element needs to compliment but not outshine its companions on the plate. I like to call this "playing nicely together". No one wants to hang out with the kid that tramples on your feelings or runs over your sandcastles with their bulldozer, and, in the same way, no one wants to eat a dish that is overpowered by one particular ingredient.
When you look at dishes in this way even the supporting actors have a main role. The humble hamburger bun is one such character. The easiest way to make restaurant quality hamburgers in your very own backyard (or tiny NYC kitchen, ahem) is to break out the yeast and make your own buns! I promise it is easier than you think!

I don't eat hamburgers often but when I do I want a soft, buttery brioche bun that is going to sop up all the juices and compliment whatever I decide to stack on top of the meat. These brioche hamburger buns are exactly that. They taste exactly like they came out of a restaurant kitchen…because they did. ?
Now I'm not going to mention any names, but we made these same brioche hamburger buns every single day at a certain NYC steakhouse. I started working there as a pastry intern while I was in culinary school. I used to sneak a bun off the tray in the grill station when mid-service hunger pangs hit! They were my guilty pleasure. Well, until my waistline told me to find a new, less guilty pleasure! Lol
Ever since I sneaked my first one off the tray, they have been my favorite hamburger bun. This is the bun to which I compare all other buns.
And I made a video to show you exactly how to make it. So stop dillydallying and get to baking!
Brioche Hamburger Buns
These homemade brioche hamburger buns are soft and buttery! They are the perfect bun for any hamburger or sandwich and easier to make than you think!
Instructions
In the bowl of a stand mixer combine yeast, milk and sugar. Allow to bloom and sit for about 10 minutes until bubbly.

Add flour, butter and salt. Mix with paddle attachment to combine. Switch to hook and mix on medium to develop gluten. Mix until smooth dough forms.

Finish kneading on the table (no flour) if necessary.

Place in oiled bowl, cover with plastic wrap and proof until double in size, 1 -1.5 hours

Divide into 110 – 115 g pieces, or just eye-ball eight pieces.

Shape into a round and place on parchment lined sheetpan.

Cover with plastic wrap sprayed with non-stick spray.

Proof until they feel light and airy when gently squeezed. They will be a bit more than doubled, approximately 30-45 minutes depending on the heat of your kitchen.

Brush the tops with egg wash or melted butter. Sprinkle with sesame seeds (optional)

Bake in preheated 350°F oven until golden brown, approximately 12-15 minutes.
Nutrition
Calories:
293
kcal
|
Carbohydrates:
37
g
|
Protein:
7
g
|
Fat:
13
g
|
Saturated Fat:
7
g
|
Polyunsaturated Fat:
2
g
|
Monounsaturated Fat:
3
g
|
Trans Fat:
0.3
g
|
Cholesterol:
23
mg
|
Sodium:
1103
mg
|
Potassium:
148
mg
|
Fiber:
3
g
|
Sugar:
8
g
|
Vitamin A:
276
IU
|
Vitamin C:
0.01
mg
|
Calcium:
136
mg
|
Iron:
2
mg
Like this? Leave a comment below!