These easy Red Wine Poached Pears are a simple, delightful way to serve pears! They are subtly sweet and brilliantly red!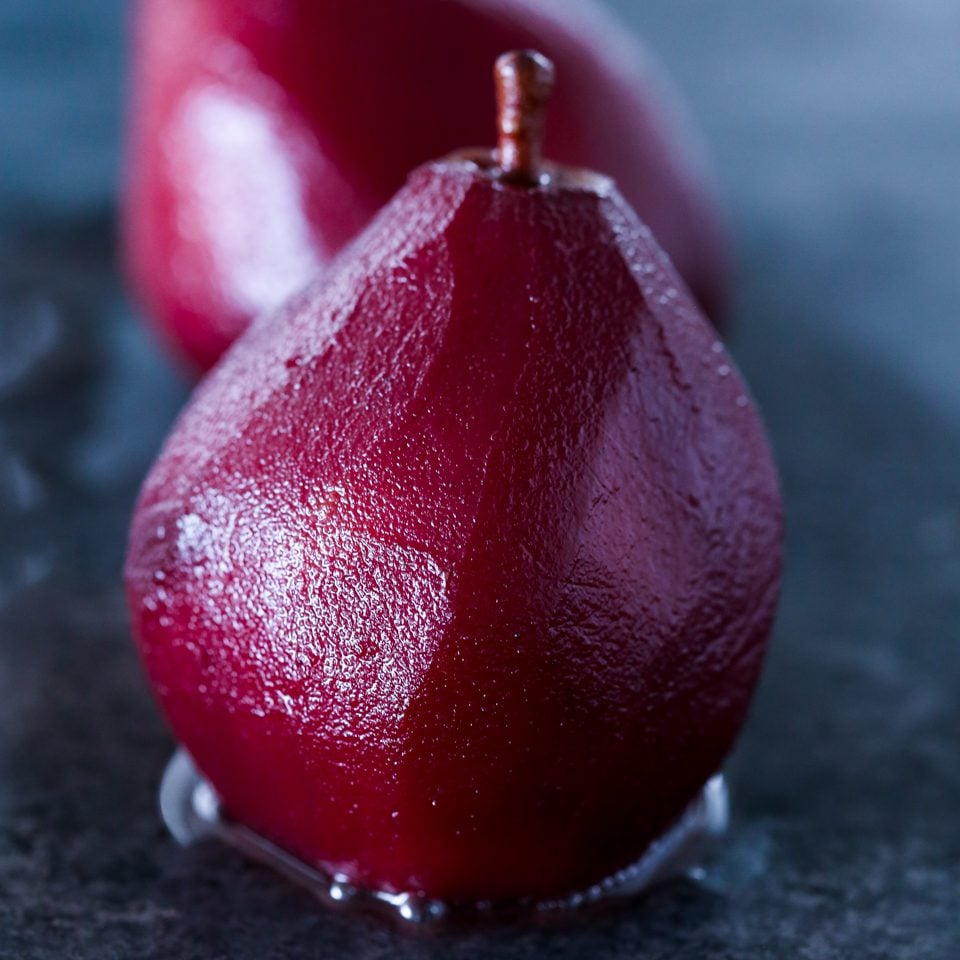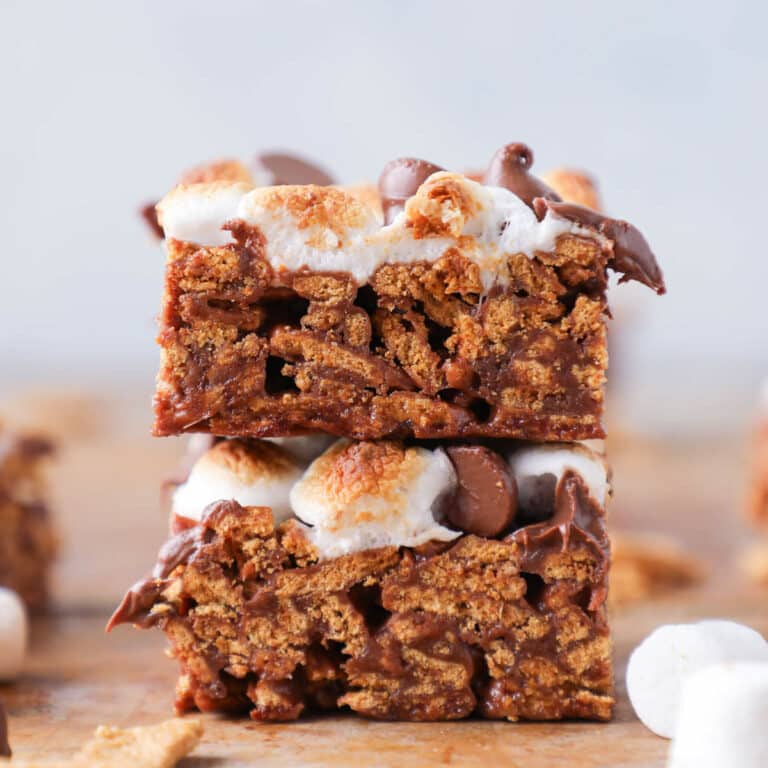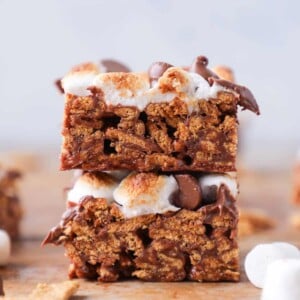 When people hear that I am a pastry chef, the first thing they ask is, "what is your favorite dessert to make?" I blunder this question every single time. My husband tells me just to have a canned answer so I don't sound like a moron (my words, not his!). But it is actually a really hard question. The more appropriate question would be, "what dessert are you obsessed with right now?"
The answer right now is Red Wine Poached Pears.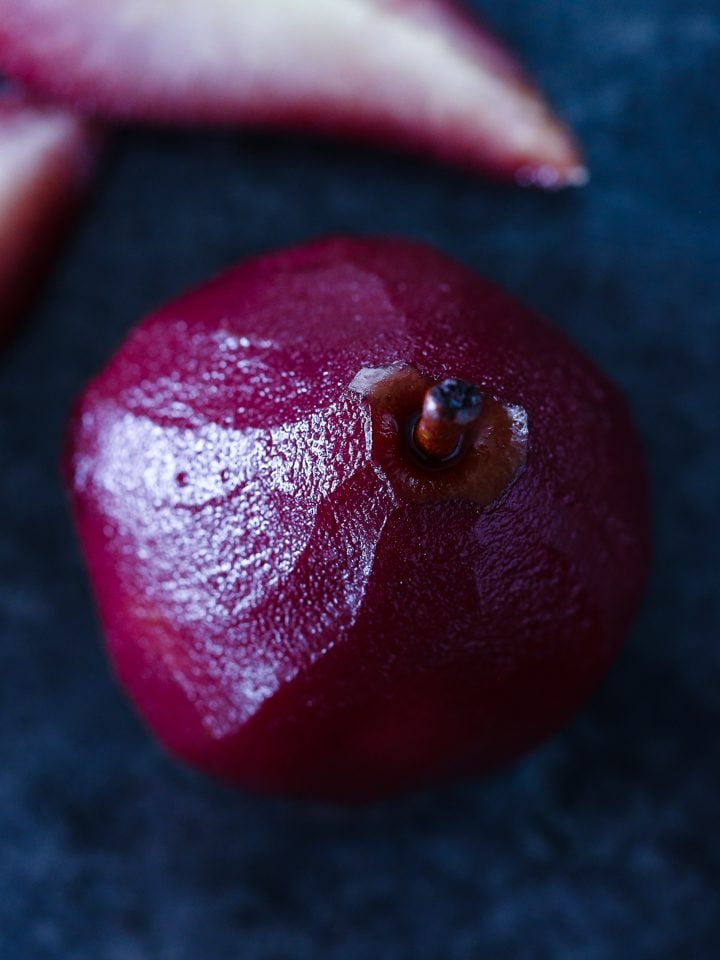 I have been certifiably obsessed with them this year. There is a pomegranate version that is dropping on two of the restaurant's dessert menus this winter (one with a buttermilk panna cotta and one with a mascarpone honey cloud and homemade honey granola). I just can't get enough!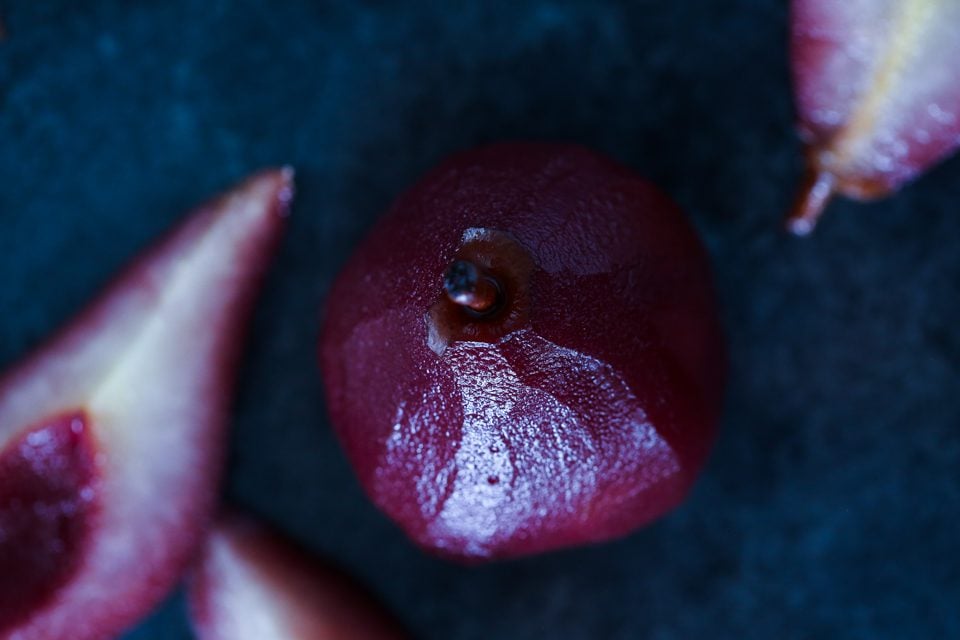 How to use poached pears?
Poached pears are delightful on their own but there is a myriad of ways to use them in both savory and sweet dishes!
Slice them thinly and serve on yogurt with some honey granola for breakfast.
Serve them instead of regular pears on a pear and gorganzola salad.
Serve them simply with whipped cream and a poaching liquid reduction like I do in this red wine poached pear dessert
Mound them on top of a pavlova for a gluten free and show-stopping treat like in this poached pear pavlova recipe
Bake them into a tart like this hazelnut pear tart or use them in place of the cherries in this cherry almond tart. Don't be afraid to be artful with the slicing and arranging!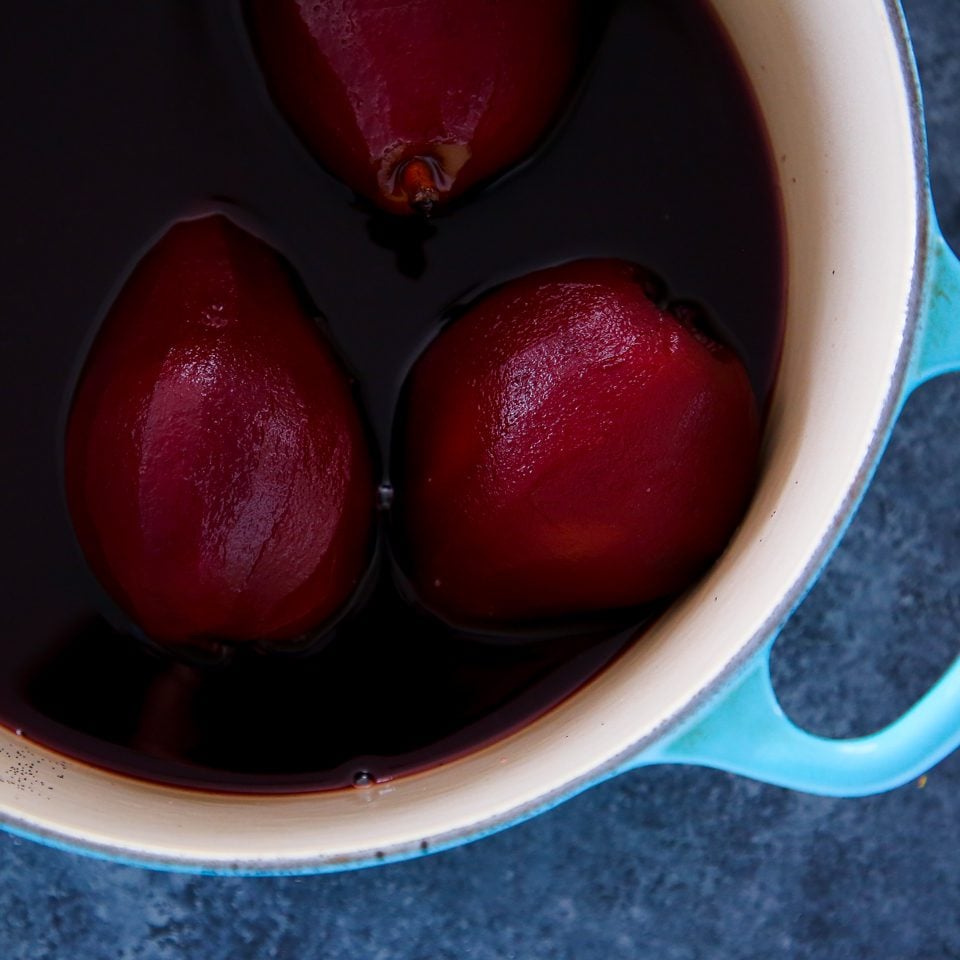 Tips for Red Wine Poached Pear Success?:
Choose the right pear: Eeep! You mean not all pears are created equal?! I prefer D'anjou, bartlett, or comice pears because they have a subtle sweetness and crisp tender texture that lends itself nicely to poaching. The flavors pair beautifully with the red wine and vanilla.
Choose the right ripeness: If the pears are too ripe, then they will turn to mush when you poach them. You should be able to peel the pears easily without them squishing under your fingers. Alternatively, if they are hard enough that throwing them against a wall would dent the wall, then they are not ripe enough, and, sadly, they will never become tender with poaching. Trust me I've tried when testing desserts out of seasons. You *can* be too ahead!
How to Cool Poached Pears Properly: They must be cooled separately from the poaching liquid. Remove the pears from the hot liquid and transfer to a baking sheet or dish, cool in the refrigerator to stop the cooking process. Cool the liquid.
How to store poached pears: So am I supposed to have random poached pears chilling in my fridge? No!! Once everyone is cool, drop those pears back in the poaching liquid to store them. They will keep longer this way, the flavors will permeate even deeper AND that brilliant red color will reach the center. Sexy dessert achieved!
Wait! What can I do with all this leftover poaching liquid?!: The pastry chef is me is like, "ALL THE THINGS!" My number one favorite thing to do is to reduce it down until it is a syrup and use it as a sauce. Just a little professional secret from me to you.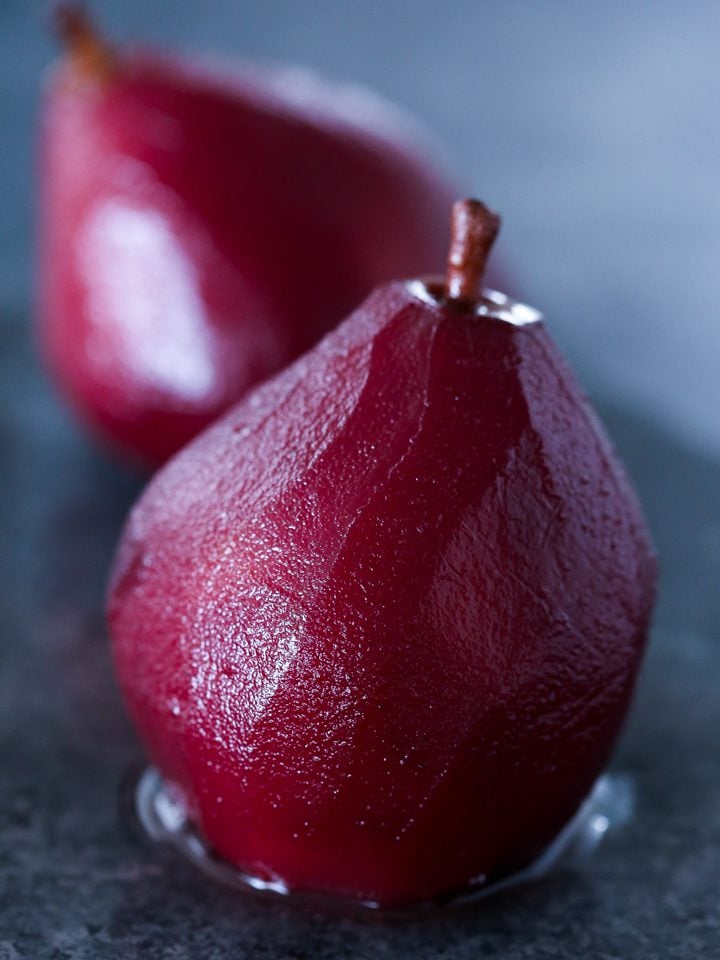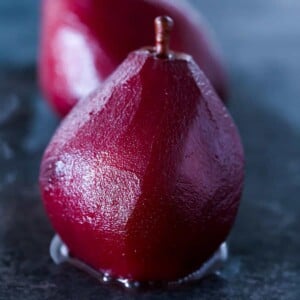 Red Wine Poached Pears
These easy Red Wine Poached Pears are a simple, delightful way to serve pears! They are subtly sweet and brilliantly red!
Ingredients
1-10

pears

that are ripe but still firm, I prefer D'anjou, bartlett, or comice

1

Bottle

Red Wine of choice

pinot noir, malbec, chianti, whatever you have

175

g

Sugar

3

cups

Water

½

Vanilla bean

spent or freshly split and scraped

30

g

Lemon Juice
Instructions
Combine wine, sugar, water, vanilla bean and lemon juice in a pot that it is deep enough to hold all the pears but doesn't have too wide of a base. You want the liquid to cover the pears.

Bring to a boil, stirring occasionally. You can do this ahead of time, cool and reheat the liquid to a simmer if desired.

Peel and core pears using a melon baller or rounded teaspoon.

Place pears in warmed poaching liquid and simmer, uncovered, until tender, approximately 1-2 hours. The time will depend on the ripeness of your pears.

To test for doneness, slide a paring knife or a cake tester into the stem end of the pear. It should glide easily through and pull out will no resistance.

Remove pears from poaching liquid and cool liquid and pears separately.

Once cool, store pears in poaching liquid. They are delightful and ready to serve immediately, but it will take 2-4 days for the red to reach the core of the pear. The longer they sit, the redder they get!
Nutrition
Calories:
233
kcal
|
Carbohydrates:
47
g
|
Protein:
1
g
|
Fat:
1
g
|
Saturated Fat:
1
g
|
Polyunsaturated Fat:
1
g
|
Monounsaturated Fat:
1
g
|
Sodium:
9
mg
|
Potassium:
305
mg
|
Fiber:
6
g
|
Sugar:
35
g
|
Vitamin A:
46
IU
|
Vitamin C:
9
mg
|
Calcium:
25
mg
|
Iron:
1
mg
Like this? Leave a comment below!