This Old Fashioned Buttermilk Pie uses full-fat buttermilk for a thick, rich custard filling! The flakey, butter pie crust balances the flavors and texture of the creamy, slightly tart filling.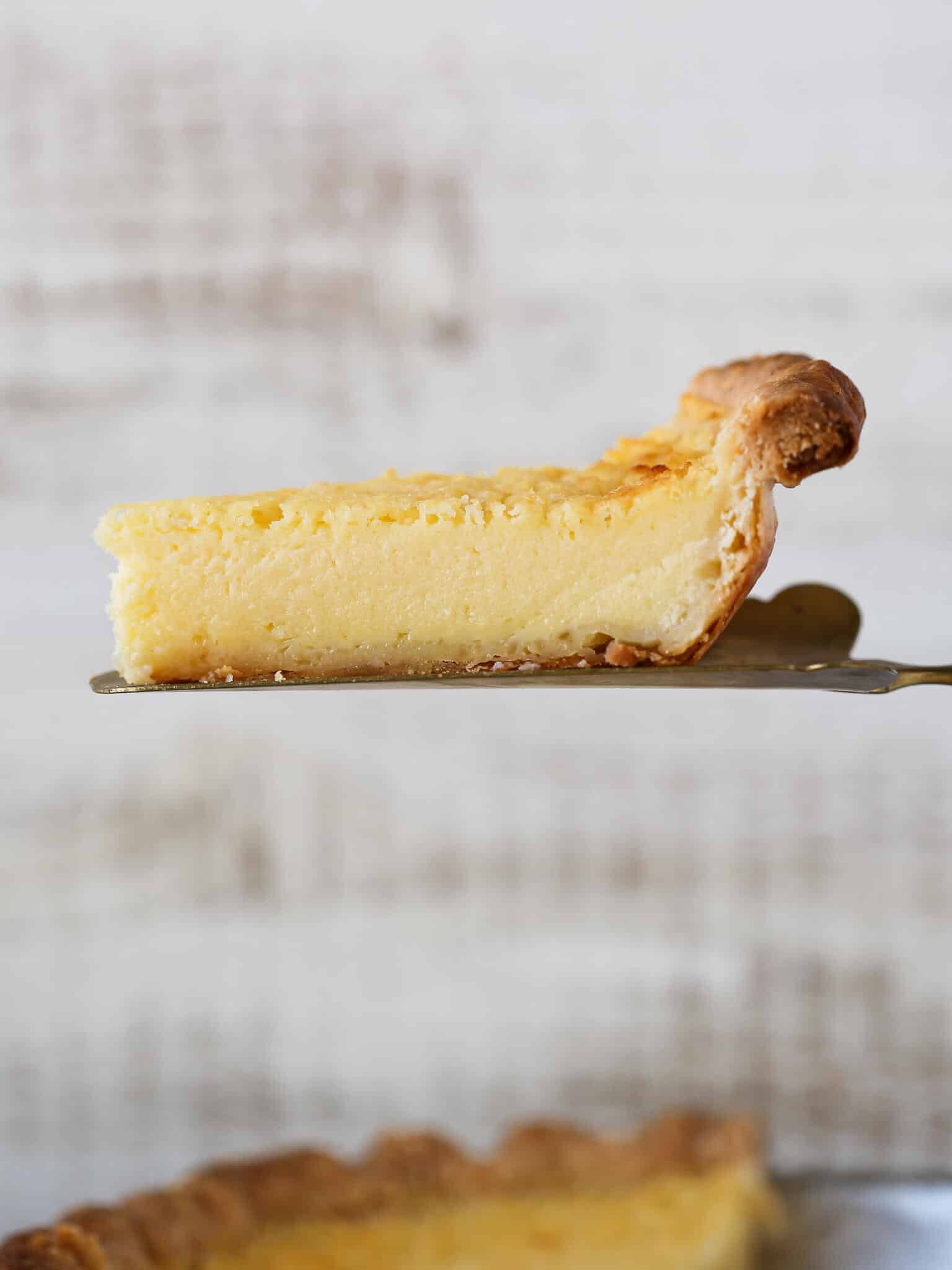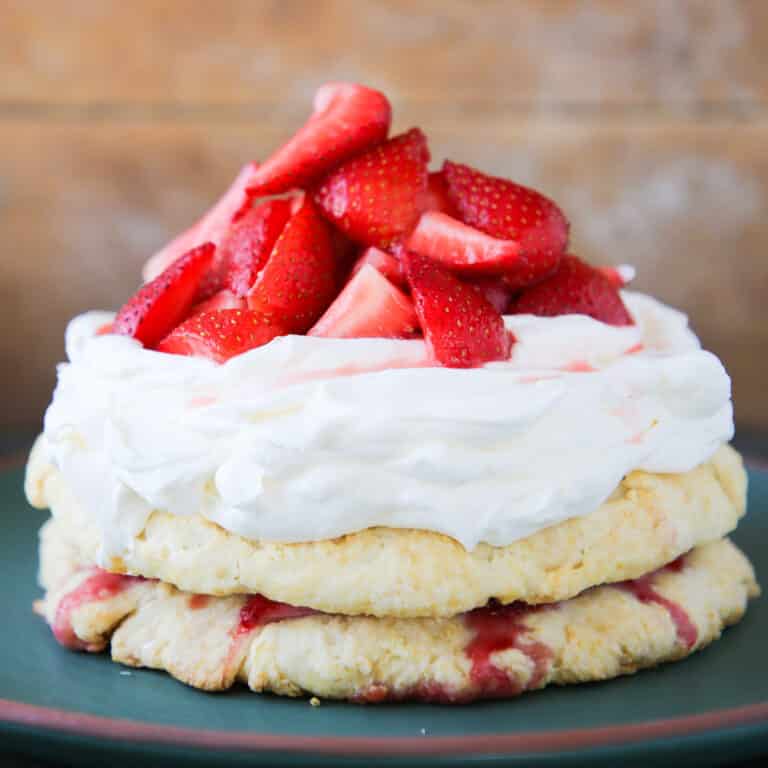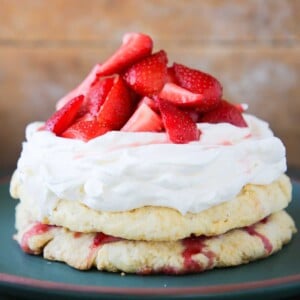 If you know me IRL, then you know I can never have too many cookbooks. I love modern cookbooks, classics like Joy of Cooking (in several editions!), and as many vintage cookbooks as I can justify buying. For a classic like buttermilk pie, I turned to those old cookbooks like The Southern Heritage Pies & Pastries. I tried a few and really wasn't in love. They were all fairly sweet and light in buttermilk flavor.

A few tests later, I bring you my Old Fashioned Buttermilk Pie recipe. It uses full-fat buttermilk for its thick consistency and rich flavor. The added lemon juice augments the acidity of the buttermilk, and there is just enough sugar to make a perfectly sweetened, thick custard. I promise you won't be disappointed by this simple, easy, old-fashioned pie. It is the perfect pie to balance out the classic pumpkin pie and the sweet pecan pie on your Thanksgiving Table. Though a buttermilk pie is phenomenal in the summer with all the fresh berries!
What is Old Fashioned Buttermilk Pie?
Old Fashioned Buttermilk Pie is a baked custard pie. The flavorful custard is whisked together in one bowl and then baked inside a flakey, vodka pie crust. It is an easy, no-fuss dessert.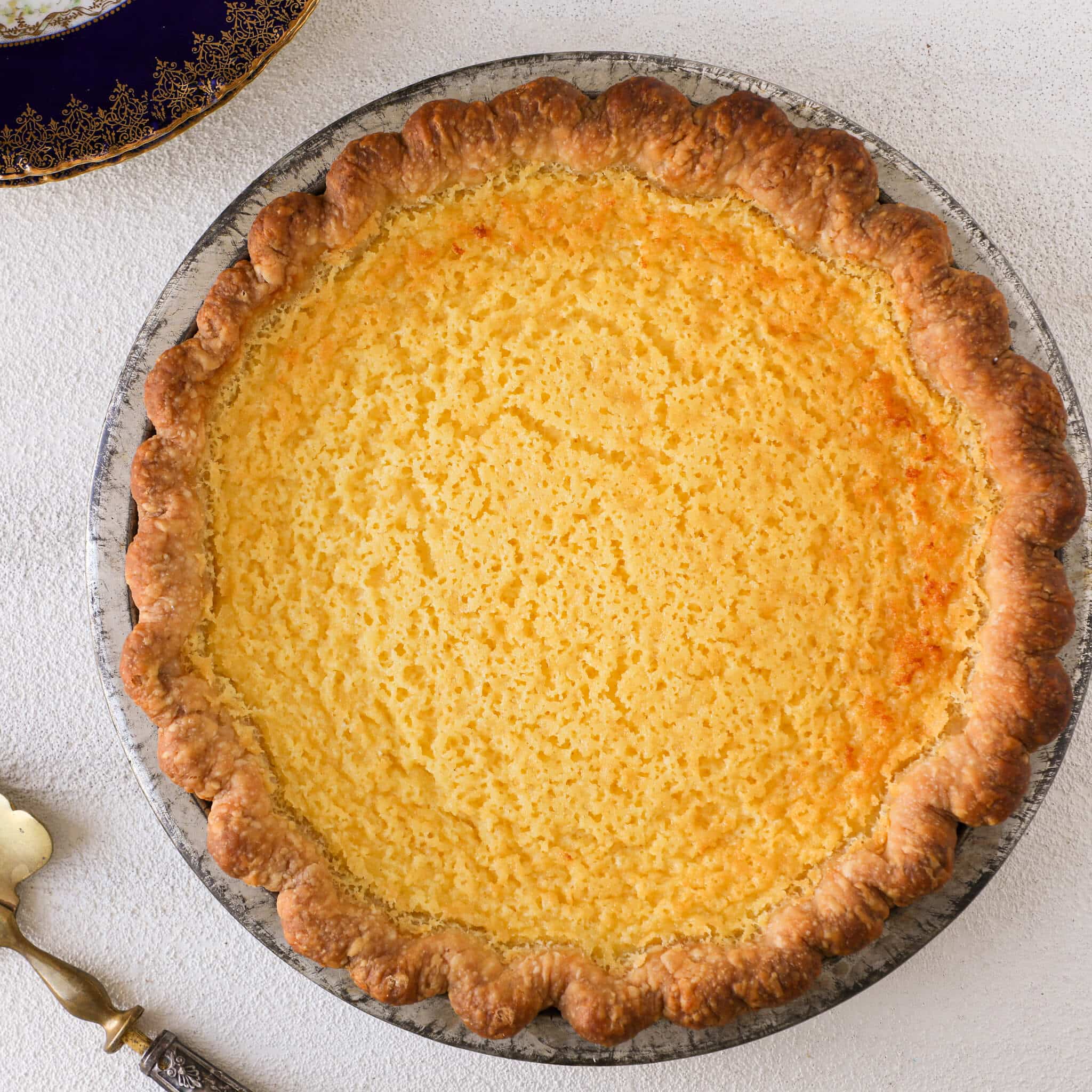 Ingredients
Lemon Juice: Lemon juice augments the acidity in buttermilk here! My motto for citrus juices is that fresh is always best. If you must use store-bought, try to find a frozen option that is frozen fresh juice.
All-Purpose Flour: I use All-Purpose flour in this baked custard as a thickener. It has a lighter hold than cornstarch or tapioca. It will absorb some moisture and thicken the filling without changing the flavor.
Butter: I use unsalted butter for baking because you want to control the amount of salt you are adding. The fat and dairy in the butter will round out the flavor and create a smoothness in this baked custard.
Granulated Sugar: Sugar is here for sweetness and to add a little leavening when beaten with the eggs. Granulated sugar protects the eggs from the heat of baking and additional acidic ingredients like lemon juice.
Whole Egg: The egg in a baked custard is integral to thickening the custard. Whisking it first with the sugar protects it from the heat and also acidic ingredients like lemon juice.
Full Fat Buttermilk: Whole Buttermilk is thicker and richer than 1.5% or 2% buttermilk. It is not as prevalent in grocery stores, but the extra fat and thick texture really make this pie special.
Water: Water loosens the custard just enough.
Vanilla Extract: Vanilla Extract adds a gentle and beautiful flavor.
Possible Substitutions
All-Purpose Flour: All-purpose flour acts as a thickening agent, so you could substitute any flour you choose. You can also use gluten-free all-purpose flour.
Buttermilk: The old-fashioned buttermilk pie recipe calls for full-fat buttermilk, but you could substitute low-fat buttermilk. Correspondingly, eliminate the water if you do use a lower-fat variety.
Pie Crust: This pie would also be delicious in a pâte sucrée pie crust, this old-fashioned almond flour pie crust, Crisco pie crust, or in a graham cracker crust.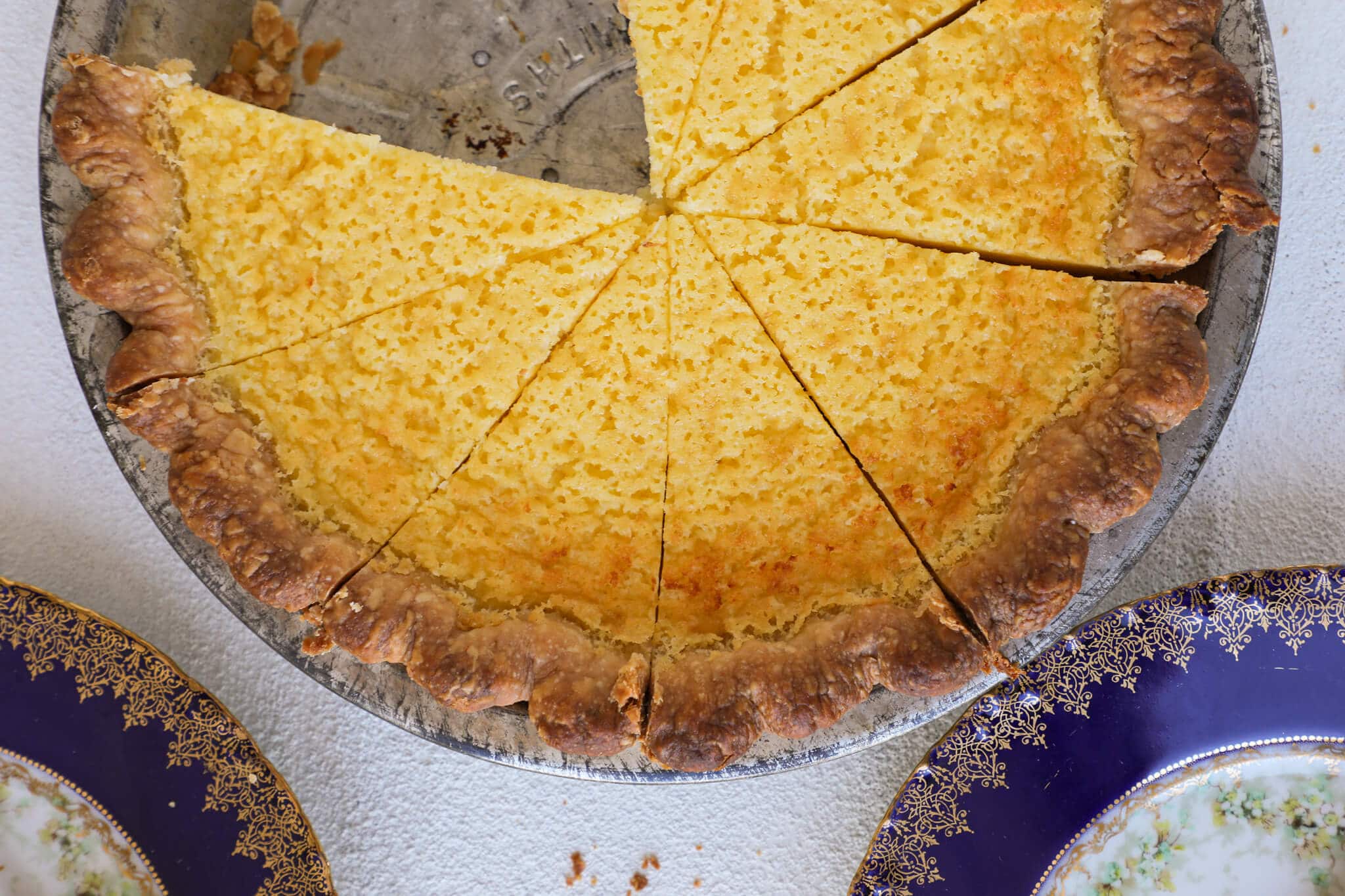 Frequently Asked Questions
How do you store buttermilk pie?
Store old-fashioned buttermilk pie at room temperature for 2 days or refrigerate for 1 week. It can also be frozen for up to 2 months. Wrap the cooled pie in plastic wrap before storing it.
How long will old-fashioned buttermilk pie keep?
Buttermilk pie will keep 2 days at room temperature, a week refrigerated or up to 2 months frozen.
Can you freeze buttermilk pie?
Buttermilk pie freezes brilliantly. Cool pie completely at room temperature, then wrap well and refrigerate until cold. Place wrapped pie in the freezer for up to 2 months.
Can you make this pie ahead?
Prepare the par-baked pie crust up to a week in advance. I usually wrap and store these in the freezer. You can prepare and bake the pie up to one week in advance.
Will this pie recipe multiply?
This pie recipe will easily multiply. As always, I suggest using weight measurements rather than volume when making larger batches. Even small errors in measuring by volume can compound in a larger batch.
Do I need to Dock old-fashioned buttermilk pie?
You do not need to dock the crust for buttermilk pie. (I wrote a whole blog post on when to dock pie crusts, for the curious!) The baked custard filling is very loose and could seep into the holes created by docking. This could cause the filling to leave the pie crust and burn on the pie tin or just make the bottom soggy.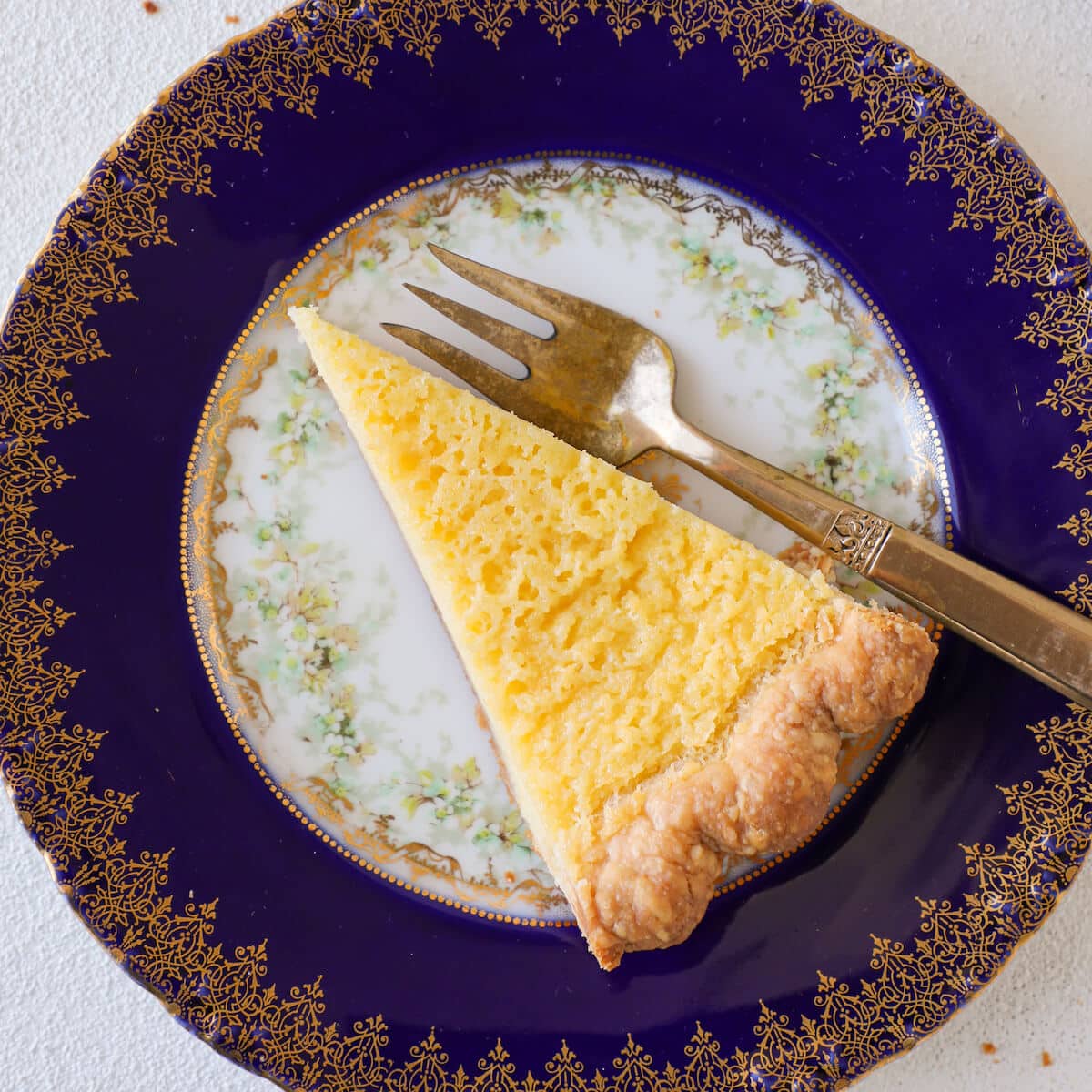 How to serve Old Fashioned Buttermilk Pie?
Old Fashioned Buttermilk Pie is best served cold or at room temperature. It is delightful with a generous dollop of homemade whipped cream and a large spoonful of Salted Caramel Sauce. The luscious caramel sauce brings a little extra sweetness and decadence to this otherwise simple dessert. In the Summer, I love serving buttermilk pie with lemon whipped cream and fresh berries or my quick strawberry jam. The sweetness of the jam and the strawberry flavor make the buttermilk custard shine!
Old Fashioned Buttermilk Pie
This Old Fashioned Buttermilk Pie uses full-fat buttermilk for a thick, rich custard filling! The flakey, all-butter pie crust balances the flavors and texture of the creamy, slightly tart filling.
Ingredients
1 All-Butter Pie Crust, par baked
Instructions
Make the all-butter pie crust:
Whisk together pastry flour, salt and sugar. Using your preferred method cut in the butter until you have pea sized pieces. If you are using a bench scraper, pastry blender or two knives, you will chop the butter into the flour using an up and down motion, corralling the flour back into the center occasionally. If you are using the stand mixer or food processor, leave slightly larger pieces. When using a food processor to cut in butter use the pulse option and watch it like a hawk. Like a HAWK!

Slowly begin to add your ice water a tablespoon at a time. If making it by hand, pour into the center of the flour and gently toss the flour into the water with the bench scraper, knife or a fork until you have a crumbly mixture. At this point be very careful with the amount of water that you add because it only needs a few teaspoons more.

When your dough is shaggy, which means it looks like shards or strands of pastry, and there is still some loose flour, turn out your dough from the mixer or food processor and work the dough together by gathering it and pressing away from you with the heal of your hand. Do this JUST until it comes together. If it is crumbling, then dip your hand in a little ice water and pat it on the pastry dough. Seriously, that's it. Remember the gluten!

Press into a disk. Wrap in plastic wrap and chill for 2 hours or overnight. If you chill your dough overnight, you will need to let it rest a bit before rolling or it will be too cold and it will crack.

Roll the dough out.
Par bake the pie crust:
Preheat the oven to 350°F convection or 375°F conventional (no fan).

Line a pie tin with your favorite pie crust. I prefer to use an all-butter pie crust. Do not dock the dough.

Chill the dough thoroughly before baking.

When ready to bake line the inside of the crust with parchment paper and then fill with pie weights or beans. Bake 20 minutes with the weight and then remove the weight and continue baking until the bottom crust has started to brown but is not yet fully baked.

While the pie crust cools, prepare the filling.
Prepare the Buttermilk Filling:
In a medium bowl, whisk all the ingredients together. This will reduce the number of bubbles in the filling and the top of the custard will be smooth after baking. I whisked the ingredients individually when preparing the pie in the photos and you can see the bubbles that rose to the surface while baking. The texture is the same but it is prettier when smooth.

Pour into prepared crust and bake in preheated oven for 35-45 minutes or until the filling has puffed and jiggles cohesively like Jell-O when gently shaken. The top may brown a bit, which I think improves the flavor.

Cool completely before slicing. The pie slices best when well chilled.

Serve room temperature or cold.
Nutrition
Calories:
338
kcal
|
Carbohydrates:
34
g
|
Protein:
6
g
|
Fat:
21
g
|
Saturated Fat:
12
g
|
Polyunsaturated Fat:
1
g
|
Monounsaturated Fat:
6
g
|
Trans Fat:
1
g
|
Cholesterol:
112
mg
|
Sodium:
343
mg
|
Potassium:
130
mg
|
Fiber:
2
g
|
Sugar:
21
g
|
Vitamin A:
691
IU
|
Vitamin C:
0.2
mg
|
Calcium:
55
mg
|
Iron:
1
mg
Like this? Leave a comment below!
Before You Go!
Check out our other delicious, chef-developed recipes for Pies!