This Homemade Tomato Pasta Sauce is bursting with flavor! Rich, thick and hearty. Make extra to freeze it for when those lazy cooking days strike!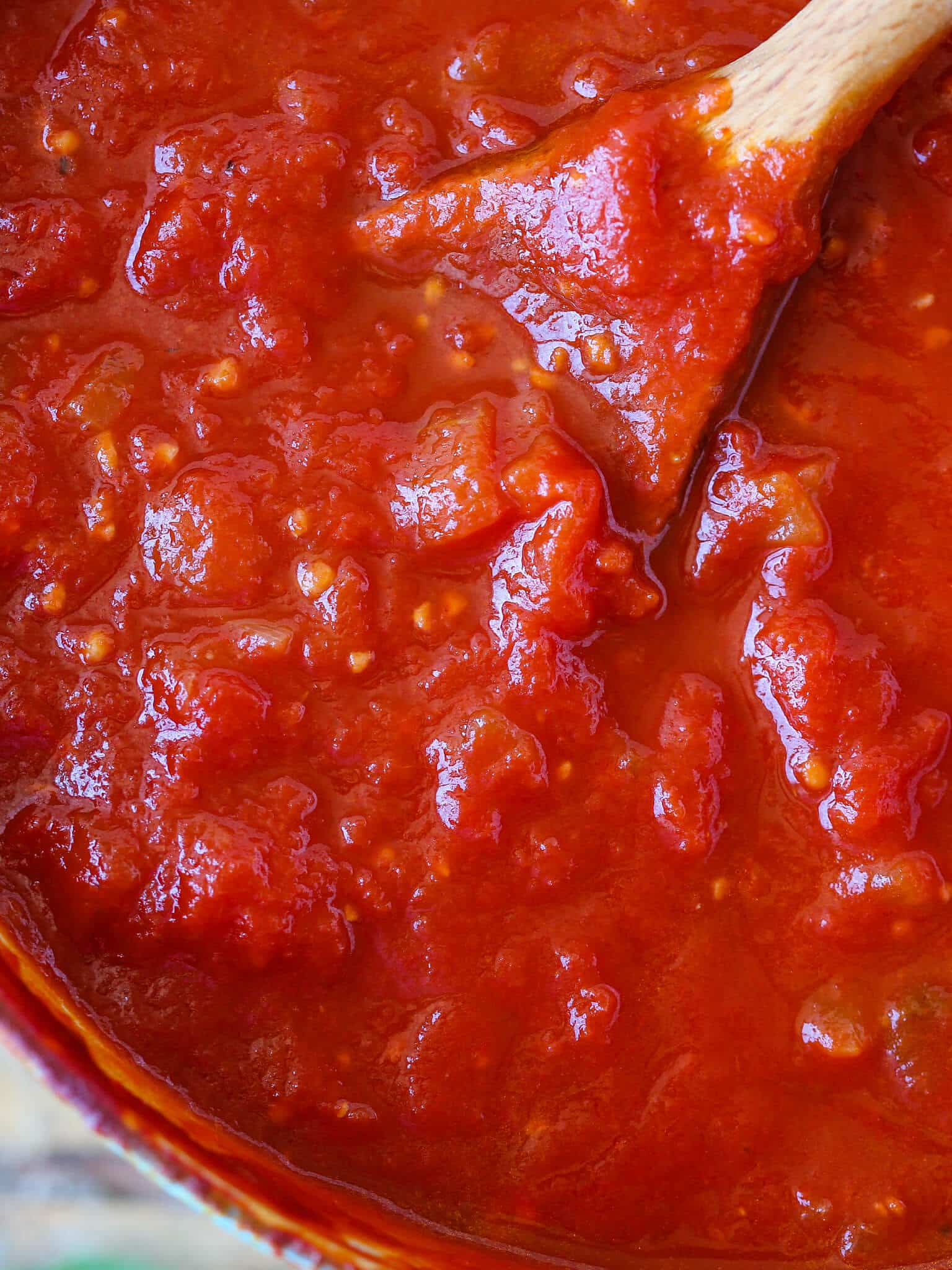 This may come as a shock to you but there are nights when I just don't feel like cooking. [Gasp!!!] I don't feel like chopping or washing dishes. Boiling water seems like too much effort. What do I make every time the laziness hits? Homemade Tomato Pasta with meat sauce. Mmm pasta sauce.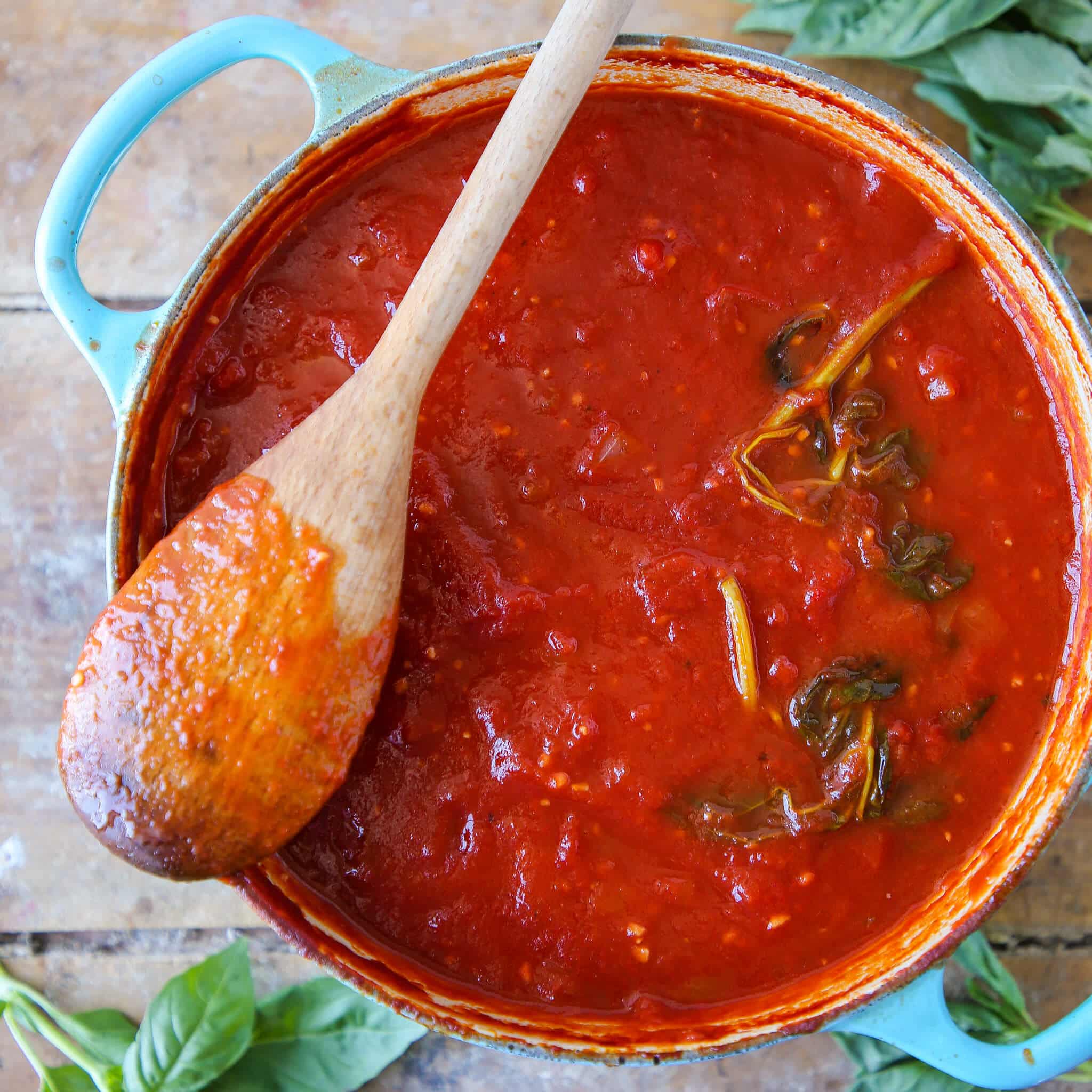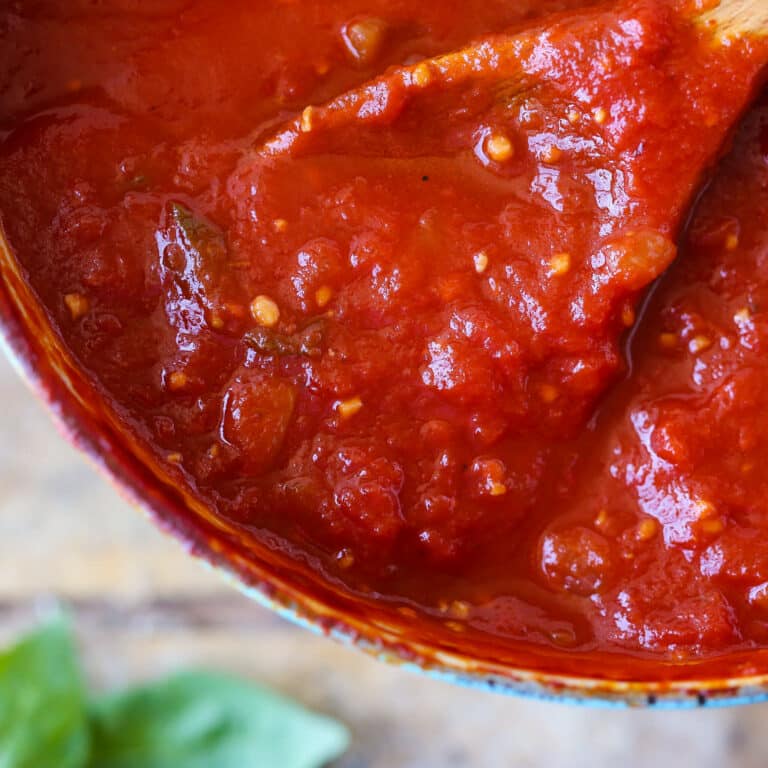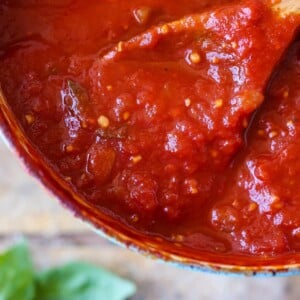 I used to just crack open a bottle of my favorite brand of pasta sauce and dump it in a pot, but have you looked at those ingredients lately?! It's horrifying. Is all that sugar and salt really necessary? And don't get me started on "natural flavoring". So several weeks ago (back in 2012 – can you believe how old we are getting?!) I made it my mission to create my perfect homemade pasta sauce: a little sweet, bursting with flavor and super tomatoey!
The Origins of this Homemade Tomato Pasta Sauce
I started with the recipe from The New York Times Cookbook (1961 Edition) that I picked up from The Strand Bookstore in NYC. The Strand is certainly heaven here on Earth.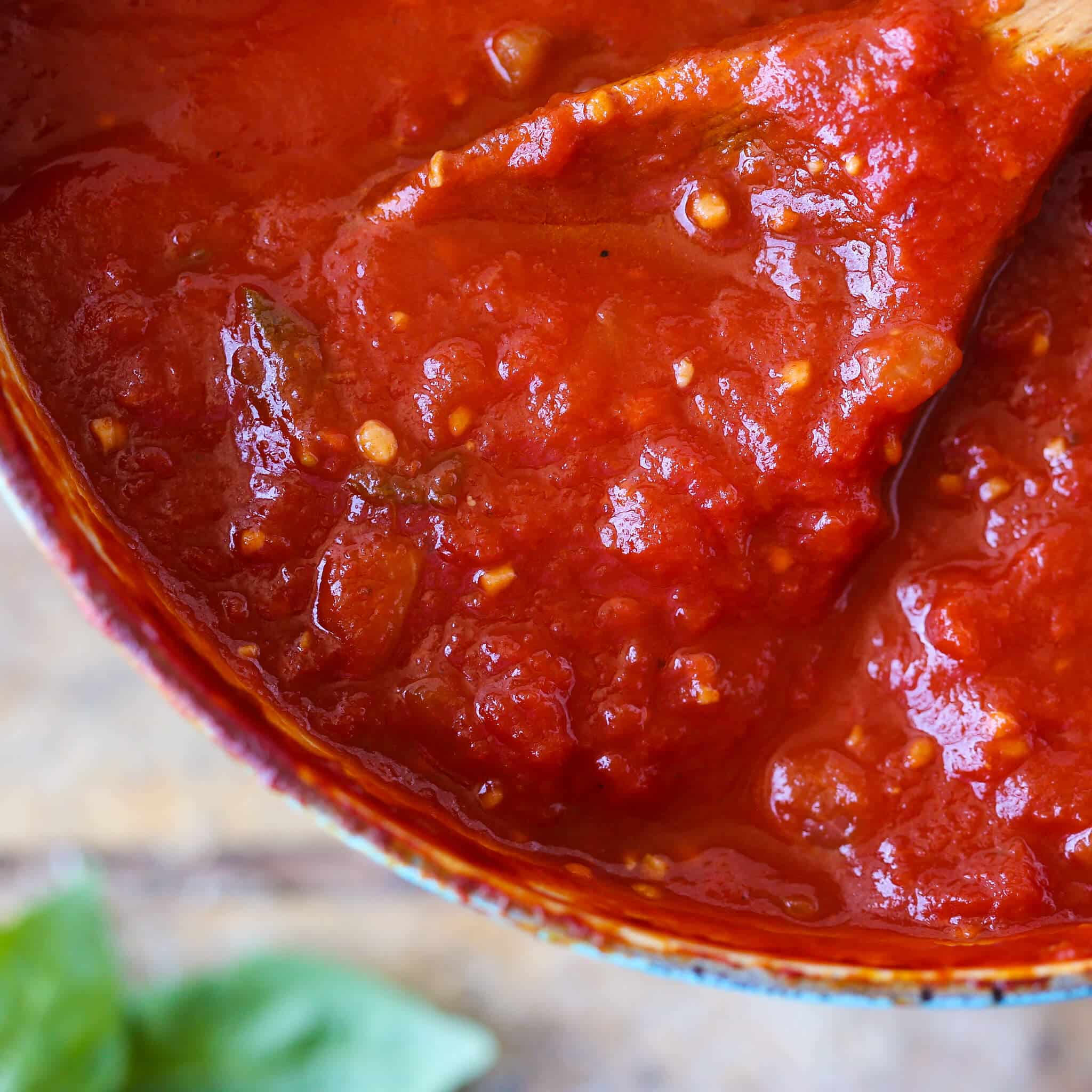 Want to know another true story? When I was younger (like last week) I used to eat pasta sauce straight from the pot. In High School my mom particularly caught on to this penchant for pasta sauce and she would make a pot of pasta sauce with ground sirloin just for me! No noodles, just sauce. Isn't she the greatest?!
I do feel like this is more socially acceptable than it sounds. Just call it gazpacho and surprisingly suddenly it's normal.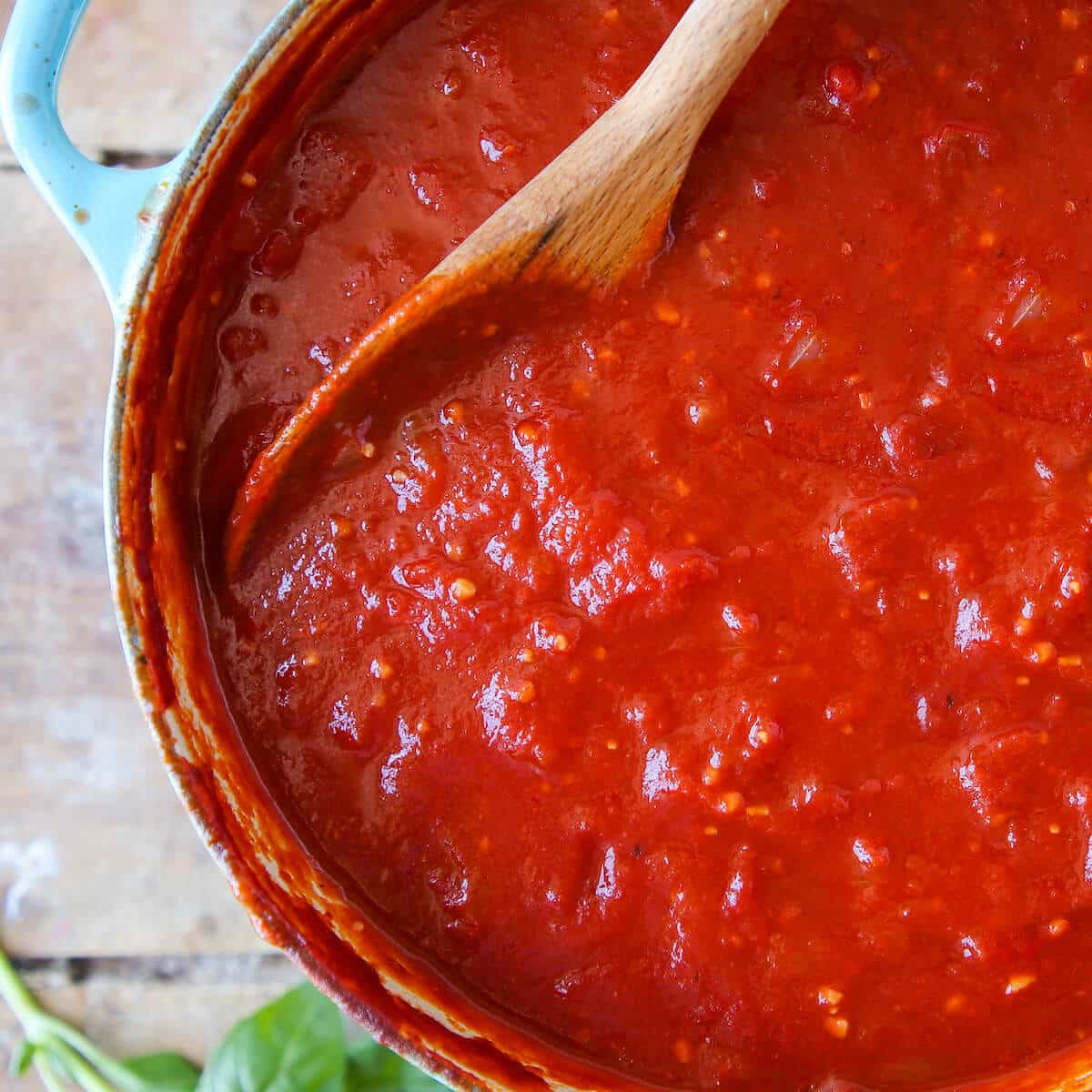 As we were! I know you're here for the sauce. This sauce is darn good. It is rich from the tomato paste, chicken stock and all the herbs. The chicken stock is optional and, without it, it is more like my 15 Minute Pasta Sauce. I do love the additional flavor from the stock and that it bumps up the yield, so I get more sauce from the same amount of tomatoes. A little extra stove-time is all she needs to make it extra thick and luscious.
I make a large batch and then freeze the rest, so I always have it on hand for when those lazy days strike. Or just, you know, Tuesday.
You can (and should absolutely) try my ultimate lasagna recipe or this whole wheat vegetarian lasagna or pour it over homemade ricotta meatballs for a hearty meal! You know I won't judge if you eat it straight out of the pot though!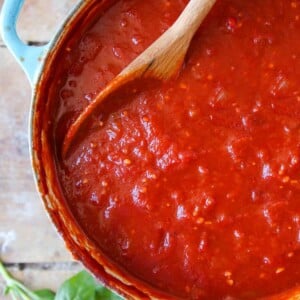 Homemade Tomato Pasta Sauce
This Tomato Pasta Sauce is bursting with flavor! Rich, thick and hearty. Make extra to freeze it for when those lazy cooking days strike!
Ingredients
2 ½

cups

onion

chopped

6

cloves

garlic

minced

3 ½

tablespoons

olive oil

52

oz

whole Italian tomatoes

San Marzano, 2, 28 oz cans

12

oz

tomato paste

2, 6oz cans

2 ½

cups

chicken broth

1

bay leaf

½

teaspoon

salt

½

teaspoon

freshly ground black pepper

5

sprigs

basil

on the stem

2

sprigs

oregano

on the stem

3

sprigs

thyme

on the stem

¼

teaspoon

dried sage
Instructions
Gently sauté the onion and garlic in the olive oil until onion is transluscent, stirring often. Add the tomatoes and crush by hand. Add the tomato paste, broth, herbs, bay leaf, salt and pepper.

Simmer uncovered about two hours, stirring occasionally.

Remove the bay leaf. The sauce should be thick. Continue to cook if you would like it thicker.

Add browned meat of choice, pour over pasta, use in lasagna or chicken parmesan, or just eat it with a spoon!
Notes
The original recipe has the same herbs but they were all chopped. I don't have the patience for that these days, so I updated it for my current version. Still just as flavorful, but with half the work! 
Nutrition
Calories:
234
kcal
|
Carbohydrates:
28
g
|
Protein:
6
g
|
Fat:
13
g
|
Saturated Fat:
2
g
|
Polyunsaturated Fat:
2
g
|
Monounsaturated Fat:
9
g
|
Cholesterol:
3
mg
|
Sodium:
1124
mg
|
Potassium:
828
mg
|
Fiber:
6
g
|
Sugar:
14
g
|
Vitamin A:
495
IU
|
Vitamin C:
29
mg
|
Calcium:
120
mg
|
Iron:
3
mg
Like this? Leave a comment below!