This is the Ultimate Lasagna Recipe! It has all the expected layers of cheese, pasta sauce and noodles, but I've built extra flavor into every single layer for the most mind-blowingly delicious lasagna EVER.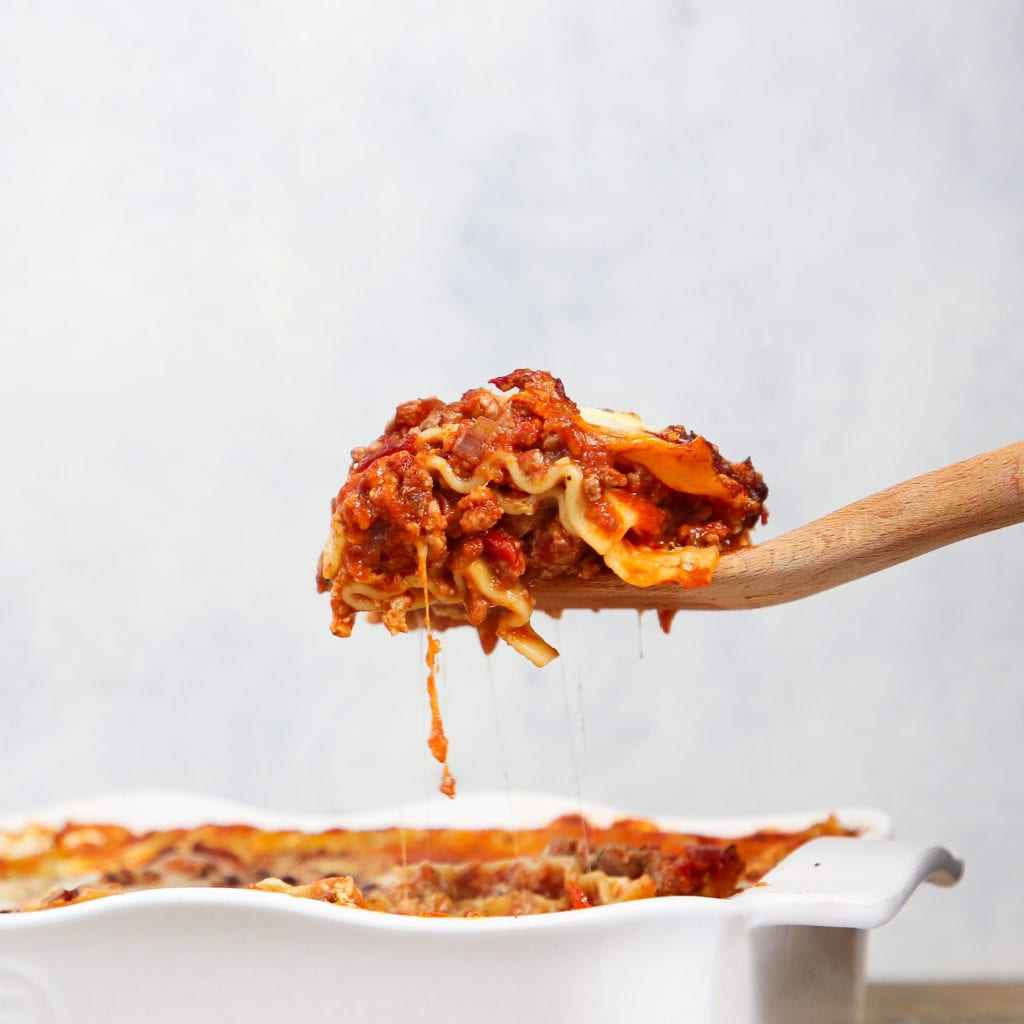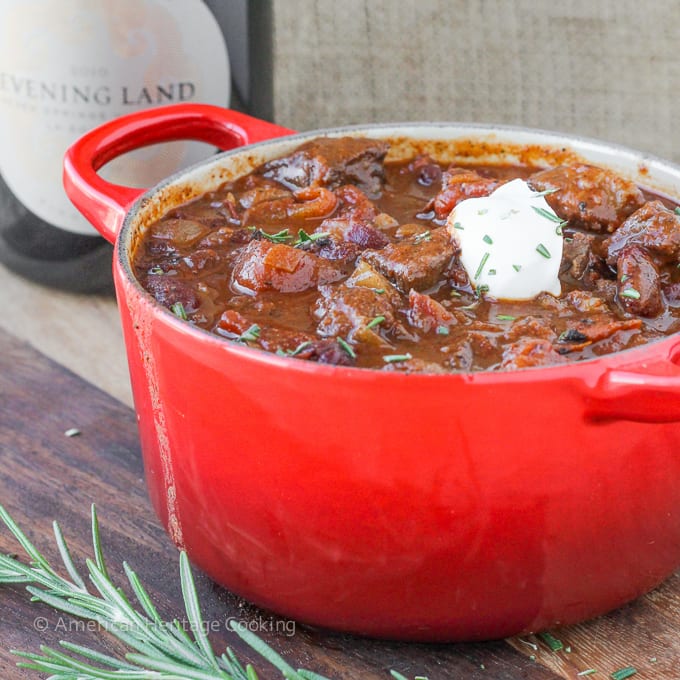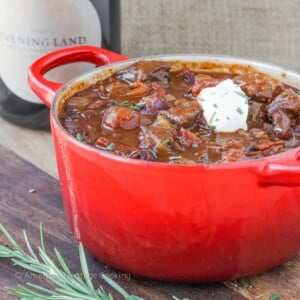 In addition to blowing your mind with the best lasagna recipe ever, I am also going to right lasagna's bad reputation. Well, one part of that rep anyways. It is still the cheesy, decadent dish that we all know and love. That should never change.
However, I think lasagna gets a reputation for being hard or laborious, when, in reality, the hardest part is cooking the noodles. If you use fresh noodles, then you don't even have to do that!  You can even assemble several at one time with very little extra effort: one for now, one for your neighbors (wow, you're nice!), and one extra one for the freezer. Just stick it next to your stock of frozen chicken broth for a cold day! And if you don't have any yet, head over to my how to make chicken broth post to make some!
Lindsey, you promised extra flavor in each layer! Get to the good stuff!
What makes this the Ultimate Lasagna Recipe?
So glad you asked!
Noodles: Noods are noods. My cardinal rule with noodles is generously salt your cooking water. It should taste like the Ocean. [Don't know what the Ocean tastes like…Florida is calling your name.] I also immediately rinse the al dente noodles with cold water and then toss with olive oil so that they don't stick together. Such a pain to have a giant glob of lasagna noodles when you are trying to layer like a pro.
Sauce: I use my red wine basil pasta sauce, and if you are really short on time, you can use a double recipe of my 15 Minute Pasta Sauce. Start the sauce when you start your noodles and you'll be good to go! I use a mixture of different types of meat but you can use all ground sirloin if you'd prefer. A little spicy Italian sausage will change your life though. Just saying.
Sauce Part Two: I like a really meaty-sauce! If you want to go vegetarian, grind or fine chop mushrooms, and then cook them like ground beef. Make sure they get all caramelized. Bonus points for some thyme. You could also use this mushroom marinara sauce recipe.
Ricotta: Here is the biggest flavor boost! I mince fresh oregano and basil and fold it into the ricotta. ?I've been doing this little trick since college and it has never disappointed.
Parmesan: I don't stress too much about the age or quality of the parm that gets layered into the lasagna, but I do go big for the grated parmesan on the top layer. Get a nice aged parmesan and you'll be amazed at the difference just one layer can make! You can use that Kraft stuff that comes in a bottle if you must, but, honestly, I don't think that is even real parmesan cheese. Sadness.
Mozzarella: Mozz is the unsung hero of the ultimate lasagna. It gives you all the cheese-pull goodness. It is the reason lasagna is who it is. Most people use low-moisture mozzarella in lasagna, and I am no exception. Fresh mozzarella tastes phenomenal in lasagna; however, the extra moisture will make the lasagna a bit watery. Sometimes I'll use bagged, shredded mozz in the layers but then will splurge for the good stuff on top. The moisture doesn't bother me! I'm expecting a messy plate of awesomeness anyways.
Even though that was a lot of words, the dish itself couldn't be simpler. She's just as easy as my Baked Chicken Marinara, but the noodles are baked right in instead! Noodles, ricotta, meat sauce, cheese, cheese, repeat. It is a lot like all the components of another favorite, meaty cheese stuffed shells! And it's even easier!
It should be noted that the lasagna I made in the video is HUGE. She was a monster! I just really wanted to use that Emile Henry baking dish ? I ended up with 9 (yes, NINE) cheesy layers of goodness. In my normal 9 x 13 x 2 inch baking dish I would only get 3-4 layers with the ruffled edged noodles. I am going to write the recipe for my normal size dish. If you have a large and in charge deep dish, double it.
Ultimate Lasagna
This is the Ultimate Lasagna Recipe! It has all the expected layers of cheese, pasta sauce and noodles, but I've built extra flavor into every single layer for the most mind-blowingly delicious lasagna EVER.
Ingredients
12

ruffled lasagna noodles

or 8 large fresh sheets of pasta

1 ½

quarts

pasta sauce

1 ½

lbs

ground meat

I use ½ lb sirloin, ½ lb pork, ½ lb spicy Italian sausage

1

C

Shredded parmesan cheese

2

C

Ricotta

I use whole milk

12

oz

Shredded low-moisture mozzarella

1

T

Fresh chopped basil

1

T

Fresh chopped oregano

or use ½ teaspoon dried
Instructions
Preheat oven to 350°F.

Cook noodles: Bring a large pot of salted water to a boil. Add lasagna noodles one at a time to keep them from sticking. Boil until al dente: they should still be a little firm in the middle but not hard. Drain and rinse with cold water to stop the cooking process, and toss with a drizzle of olive oil. This will keep them from sticking together as they sit.

While your pasta water is coming to a boil, brown your meat and drain if there is a lot of fat. Add to your pasta sauce of choice. At this point make my 15 minute sauce if you want a fresh sauce! If you are using jarred sauce or sauce that you made in advance, there is no need to reheat that sauce. Just mix in the ground meat.

Mince your fresh herbs and mix them into the ricotta.

Assemble lasagna: I add a little bit of sauce to the bottom of the dish to keep the noodles from sticking. I try to just get sauce and not meat. Start with noodles and cover the bottom of the dish, overlapping a little bit if necessary. I usually get 3 across. Then spread about ½ cup of the ricotta mixture over the noodles, holding them in place with your hand while you spread. Add about a quarter of the sauce and then sprinkle with mozzarella and parmesan. Repeat until you have filled your dish! Top with extra mozzarella and parmesan.

Bake in preheated oven for approximately 45 minutes or until the top browns and the sauce bubbly. I suggest letting it cool 15-20 minutes before serving, but if it is dinner time, DIG IN!
Nutrition
Calories:
559
kcal
|
Carbohydrates:
36
g
|
Protein:
35
g
|
Fat:
30
g
|
Saturated Fat:
15
g
|
Polyunsaturated Fat:
1
g
|
Monounsaturated Fat:
10
g
|
Trans Fat:
1
g
|
Cholesterol:
102
mg
|
Sodium:
1160
mg
|
Potassium:
787
mg
|
Fiber:
3
g
|
Sugar:
7
g
|
Vitamin A:
1137
IU
|
Vitamin C:
10
mg
|
Calcium:
504
mg
|
Iron:
4
mg
Like this? Leave a comment below!