These Meaty Cheesy Stuffed Shells are a lightened up version of a familiar favorite! Only 80 calories per shell! Giant pasta shells are stuffed with a ground beef and cheese mixture, topped with an easy, fresh pasta sauce and mozzarella cheese and then baked to melty, cheesy perfection!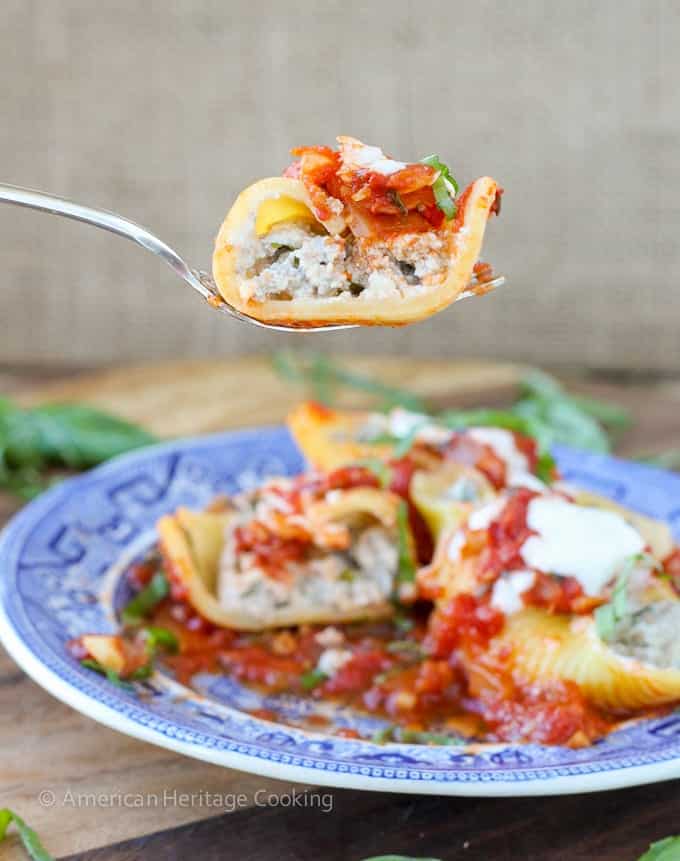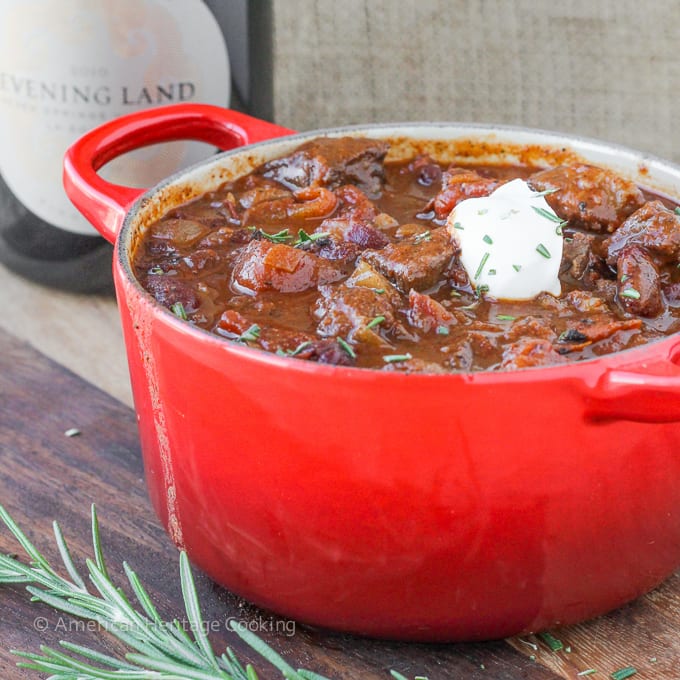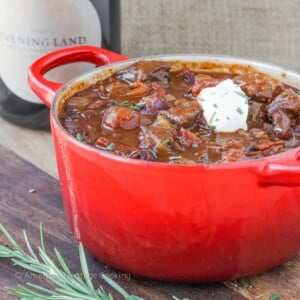 If you've been following me on Instagram for, oh about 4 months (thank you!), then you probably saw these adorable little guys already as my leftovers made their way to the freezer!
The recipe makes about 50 shells, which is kind of a lot for two people, but if you are going to go to the "trouble" of stuffing shells, you should definitely freeze the unbaked leftovers.
That way one night, months down the road, your husband can get super excited about some meaty cheesy baked goodness with zero effort on your part. It's the very definition of a win-win. (I'll bet you $20 mine is on his way to the freezer now just to see if there are any left…)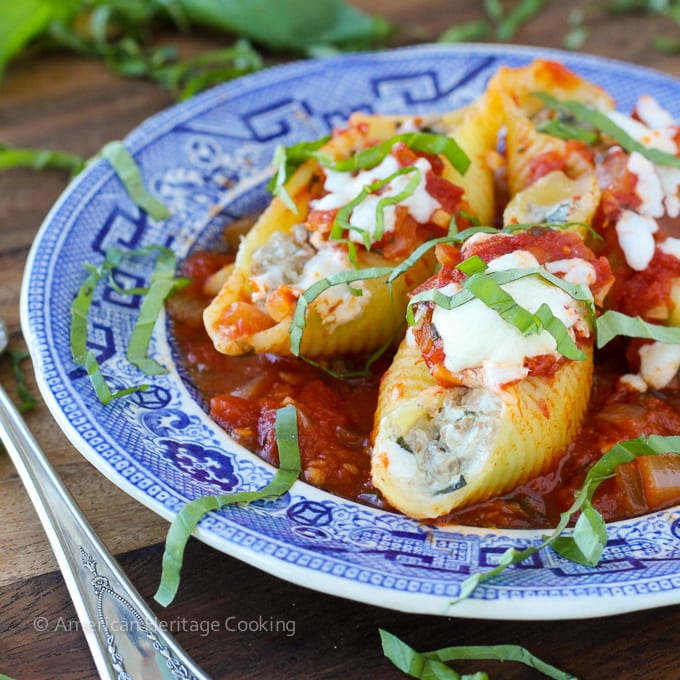 Spoiler Alert: There aren't!
I say "trouble" because, while stuffed shells may look difficult to your guests or family, piping the filling from a gallon plastic baggie makes filling these adorable shells quick and easy. Just make sure to cut the hole large enough to allow the meaty, cheesy filling to squeeze out easily. You don't want to lose any of those bits of ground beef or herbs!
Umm and don't lose track of the plastic corner you cut off…no one wants that in their stuffed shell. (It sounds obvious but…well, never mind)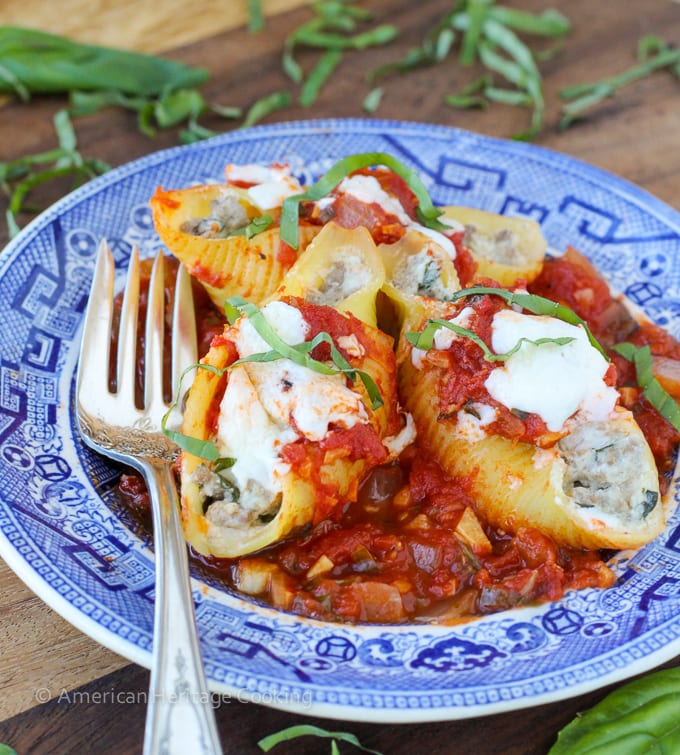 In this classic Italian dish, I reduced the fat without sacrificing any flavor by using a mixture of low fat cottage cheese and part skim ricotta and adding handfuls of fresh herbs. The fresh herbs and ground beef add so much flavor, you don't even miss the extra cheese.
Traditionally stuffed shells are vegetarian but the addition of ground beef will fill you up without expanding the waistline: each serving of 6 shells has over 28 grams of protein!
You can also leave the ground beef out to make these vegetarian again…no love will be lost! 🙂
With this recipe, as with all my recipes, fresh is best. A recipe is only as good as the ingredients you put into it. I always use fresh herbs, fresh mozzarella, and real Parmesan. No, not that stuff that comes in a jar and miraculously doesn't need to be refrigerated. Think about that for a second…eww.
I also like to make my own quick red sauce. It takes less than 10 minutes to pull together and will be healthier and fresher than store bought.
If you are a planner and you have the time to cook your sauce ahead of time, you can also use one of my other red sauce recipes like this tomato pasta sauce or this red wine basil pasta sauce. If you aren't, don't despair! You can make my 15 minute pasta sauce instead!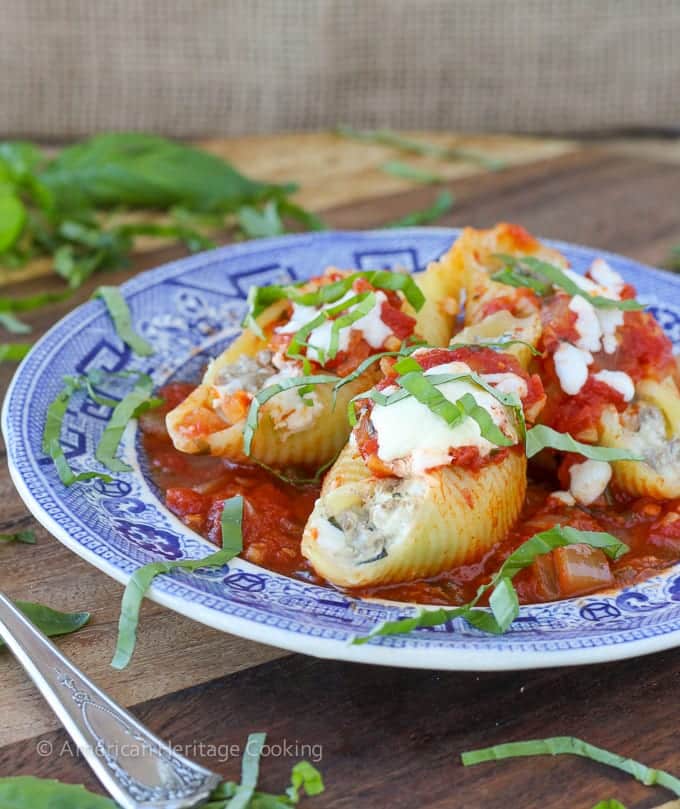 How to make the best Stuffed Shells:
Please, please, please do not substitute regular canned tomatoes for the San Marzano tomatoes. They are a little more expensive, but worth every penny. Promise.
Fresh herbs are really what bring the flavor here. Dried just aren't going to cut it. You can try but consider yourselves warned.
Lastly, there is less flavor in the preshredded mozzarella cheese. If you use that, just know that it won't taste as good or you will need to use more (read: more calories) than fresh.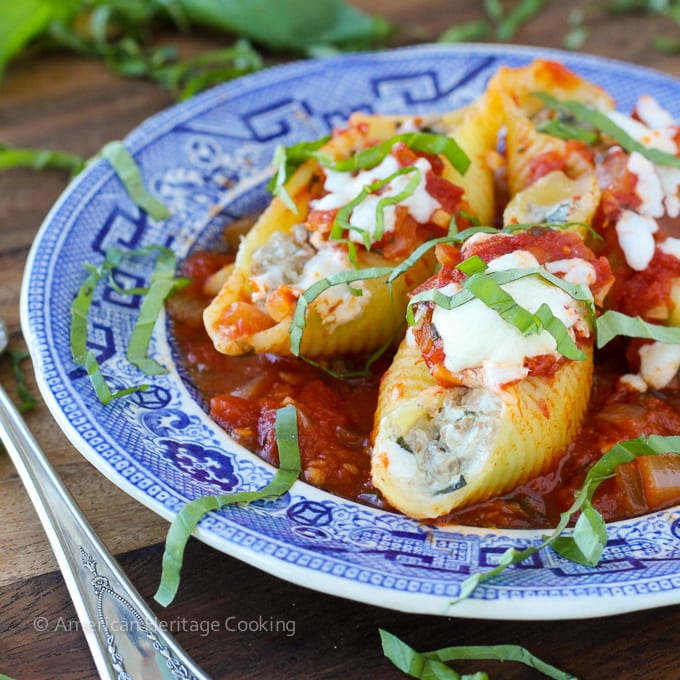 Meaty Cheese Stuffed Shells
These Meaty Cheesy Stuffed Shells are a lightened up version of a familiar favorite! Only 80 calories per shell! Giant pasta shells are stuffed with a ground beef and cheese mixture, topped with an easy, fresh pasta sauce and mozzarella cheese and then baked to melty, cheesy perfection!
Ingredients
For the Stuffed Shells:
48

Jumbo pasta shells

2

cups

part skim ricotta cheese

1 ½

cups

2% cottage cheese

large curd

1 ½

cup

fresh mozzarella cheese

shredded and divided [1 cup is for the topping.]

¼

cup

Parmesan cheese

freshly grated

¼

cup

fresh cilantro

chopped

¼

cup

fresh basil

chopped & packed into the measuring cup

¾

pound

ground beef

I used 96% lean
Instructions
Cook your shells according to the package directions but reduce the cooking time by 2 minutes. Pour out the boiling water and fill the pot with cold water. I like to rinse them twice with cold water just to make sure the cooking process has stopped. Drain and set aside.

Brown the ground beef and pour into a paper towel lined bowl, and set aside.

Make your sauce: To a medium pan or Dutch oven over medium heat add 2 tablespoons olive oil and swirl to coat. [I just use the same pan I used for browning the meat. The fewer dishes, the better!]

Sauté onions, stirring frequently until they begin to release their juices. Add garlic and continue to sauté until the onions are translucent. Be careful not to burn your garlic, reducing heat if necessary. Add tomatoes to pan and stir to mix. Stir in the basil, thyme, 2 large pinches of kosher salt and 3-4 grinds of black pepper.

Bring to a boil over medium heat and then reduce down to a simmer. Simmer over low heat until ready to use. Be sure to taste for salt and pepper.

When you are ready to begin filling your shells, spread a little sauce in the bottom a large baking dish.

Preheat your oven to 350° with the rack in the middle.

Make the Filling: In a large bowl add the ricotta and cottage cheese. Mix will. I used an immersion blender to smooth out the filling a bit, but this is not necessary. You can certainly just blend it with the back of a wooden spoon.

Add the ½ cup mozzarella, Parmesan, cilantro, basil and cooked Laura's Lean Beef to the ricotta mixture. Stir to evenly distribute all ingredients throughout the filling. Spoon into a gallon plastic baggie and cut a hole in one corner about the size of a nickel.

Holding the filling baggie in one hand, grab a shell in the other and open it with your pointer finger and thumb. Starting at one end, gently squeeze the filling into the shell until it is full. Set in the baking dish with the filling facing up. Continue until all of the shells have been filled and they are nestled in your baking dish. They actually bake better when they are tightly packed.

Spoon some sauce over the top of all the shells. Sprinkle with reserved 1 cup mozzarella cheese. Bake, covered, for 30 minutes. Removed the cover and continue baking for an additional 10 minutes or until the filling is bubbling and the cheese is melted.

Serve and enjoy!
Notes
I always cook a few extra noodles just in case some shells tear.
You may also substitute 1 jar of your favorite pasta sauce for quick sauce! Easy Freezing Instructions: Arrange filled shells in a baking dish as written above without any sauce. Place the dish in the freezer for 30-45 minutes. I like to use a metal baking dish because the shells will freeze faster! Once partially frozen, place the shells in a labeled plastic baggie, seal, and freeze. The sauce may also be frozen separately in a container. I use Pyrex.
To Bake from Frozen: Spread a thin layer of pasta sauce on the bottom of a baking dish, arrange the desired number of shells in the dish, top with sauce and cheese, and bake in a preheated oven. Bake covered for 40 minutes and then finish cooking, uncovered, until the filling is bubbling and the cheese has melted.
Nutrition
Calories:
321
kcal
|
Carbohydrates:
31
g
|
Protein:
23
g
|
Fat:
12
g
|
Saturated Fat:
5
g
|
Polyunsaturated Fat:
1
g
|
Monounsaturated Fat:
4
g
|
Trans Fat:
1
g
|
Cholesterol:
44
mg
|
Sodium:
403
mg
|
Potassium:
400
mg
|
Fiber:
2
g
|
Sugar:
4
g
|
Vitamin A:
441
IU
|
Vitamin C:
7
mg
|
Calcium:
259
mg
|
Iron:
2
mg
Like this? Leave a comment below!