This Brown Butter Rum Raisin Banana Bread is a sinfully delicious combination of nutty brown butter, rum soaked raisins and incredibly moist banana bread! So delicious, you won't want the loaf to end!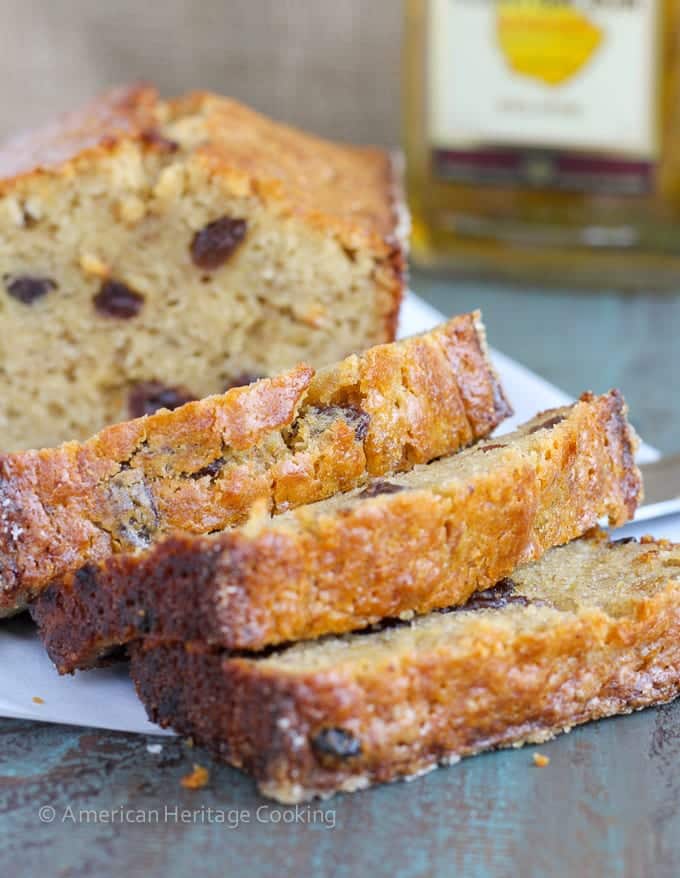 You should know you have been missed! I miss my regular chats with you and sharing random Lindsey Anecdotes. I miss cooking, baking (outside of class) and bringing you my absolute favorites.
Culinary school and this move have been quite the adjustment, and I am, honestly, just trying to keep up while maintaining my sanity. (Y'all want me to be sane, right?)
I promise a more regular post schedule in the future, but to tide you over, I'm sharing this banana bread. It's the first thing I've baked in my new kitchen. And it's EPIC.
The brown butter and four bananas makes for a delightfully moist quick bread with a crispy, crunchy exterior. Each bite offers up sweet, nutty banana flavor with little bursts of extra sweetness and a hint of rum from the raisins. You know by now from my best oatmeal raisin cookies that I love a good raisin treat!
This easy recipe doesn't require a mixer, a blender, or any other fancy contraption; just good old-fashioned elbow grease, and, honestly, it doesn't even take much of that!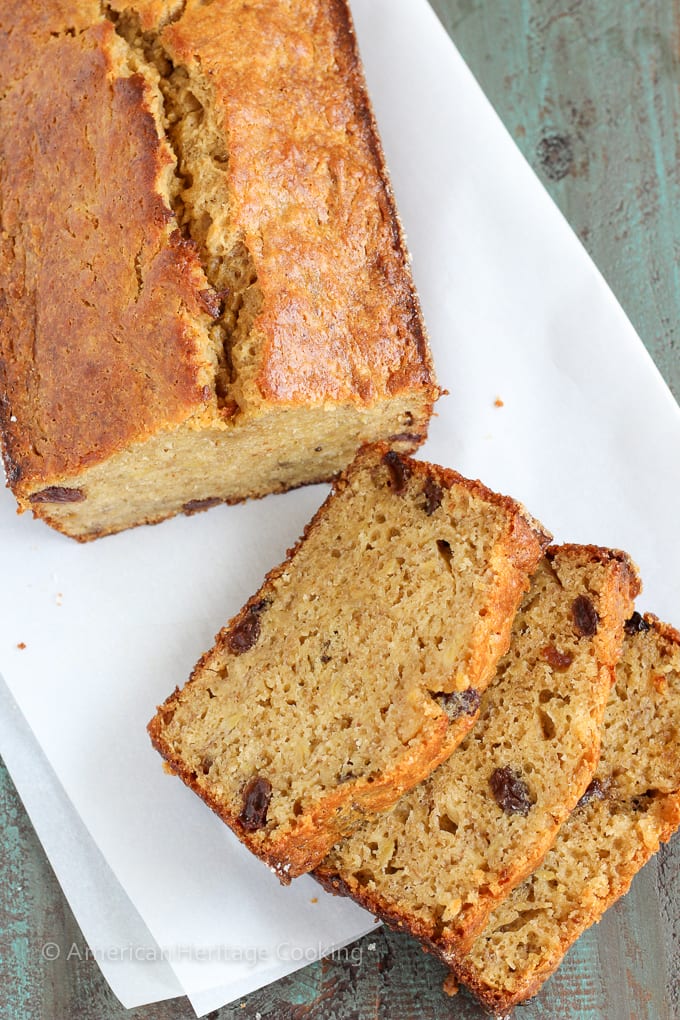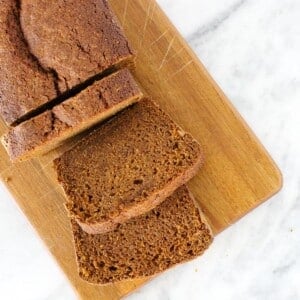 My bananas were on death's door, but as long as they are at least spotted you will have great banana flavor that won't be overpowered by the brown butter.
For the love of all things decadent, and for that crunchy exterior, I butter and sugar my loaf pan. Sure it adds a few extra calories, but it tastes soooo good, and, let's be honest, this bread isn't exactly healthy.
It's a little trick I learned from Dorothy that makes for a extra crunchy and sweet exterior that highlights how soft and moist the bread is on the inside.
I realized 30 minutes into baking this Brown Butter Rum Raisin Banana Bread that I had no toothpicks, no bamboo skewers and, thus, no means of testing for doneness. I went by sight and, while it was fully baked, it could have used another 5-8 minutes in the oven. You, of course, will not have this problem because you are always 100% prepared.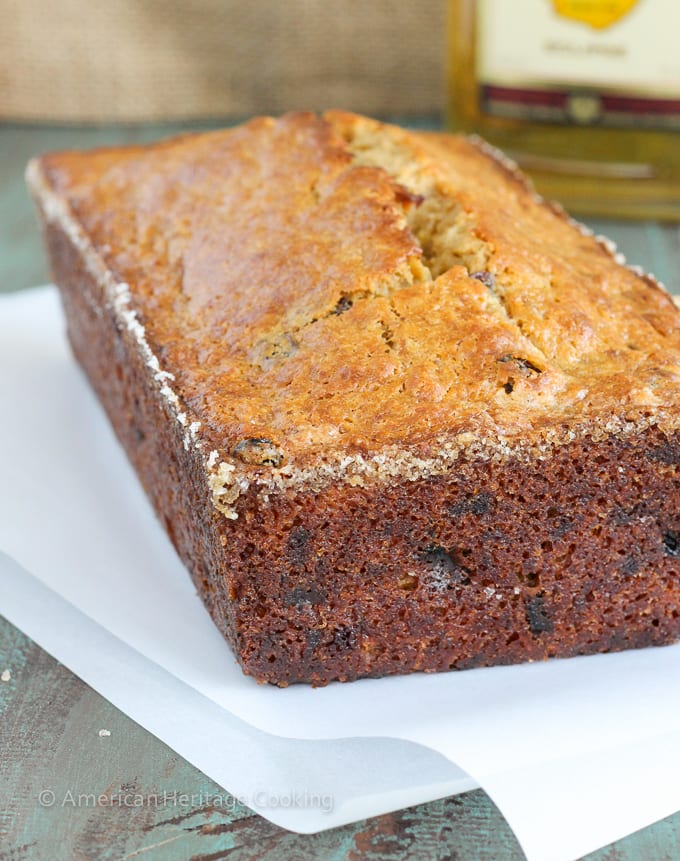 This bread will have you buying extra bananas just so you "have to make it". I know; I've been there.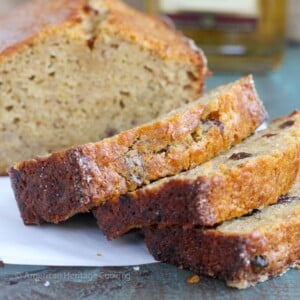 Brown Butter Rum Raisin Banana Bread
This Brown Butter Rum Raisin Banana Bread is a sinfully delicious combination of nutty brown butter, rum soaked raisins and incredibly moist banana bread! So delicious, you won't want the loaf to end!
Instructions
Preheat oven to 350°.

In a small bowl place raisins and rum; soak until the raisins are plump and the rum is almost completely absorbed. You can speed up this process by placing the raisin and rum in a small saucepan over low heat. If you choose to use the heating method, add an extra tablespoon of rum. You don't want to boil them and make sure they are cool before adding to the batter!

Coat a standard loaf pan with butter; sprinkle the pan with some granulated sugar, and tap the pan on each side to completely coat in sugar. You can also use flour instead

In another small saucepan melt butter over medium heat and cook, swirling occasionally, until it begins to brown. Remove from heat and pour into a small bowl when it takes on a nutty aroma and little brown bits get stuck to the bottom of the pan. Make sure you scrape out all the brown bits!!! That is flavor! Allow it to cool slightly before mixing the rest of the batter.

In a medium bowl whisk together the flour, baking powder and salt; set aside.

In a large bowl mash the bananas with a fork until there are no large visible pieces left; add the raisins, vanilla, brown sugar, and browned butter; whisk to combine. Add the eggs and whisk until there are no visible streaks of egg and you have a homogeneous mixture.

Add the flour mixture and fold in until just mixed. Be careful not to over mix or the bread will be tough and chewy.

Bake in preheated oven 45-60 minutes. This time will vary greatly by oven – start checking on it after about 40 minutes. The bread is done when a toothpick inserted into the center comes out with only a few clinging crumbs. There should be no wet streaks .
Nutrition
Calories:
160
kcal
|
Carbohydrates:
23
g
|
Protein:
2
g
|
Fat:
6
g
|
Saturated Fat:
4
g
|
Polyunsaturated Fat:
1
g
|
Monounsaturated Fat:
2
g
|
Trans Fat:
1
g
|
Cholesterol:
36
mg
|
Sodium:
112
mg
|
Potassium:
74
mg
|
Fiber:
1
g
|
Sugar:
10
g
|
Vitamin A:
207
IU
|
Vitamin C:
1
mg
|
Calcium:
31
mg
|
Iron:
1
mg
Like this? Leave a comment below!