This molasses raisin bread is soft, chewy and moist with just a hint of molasses flavor. Perfect for French toast, bread pudding, or just toasted with butter!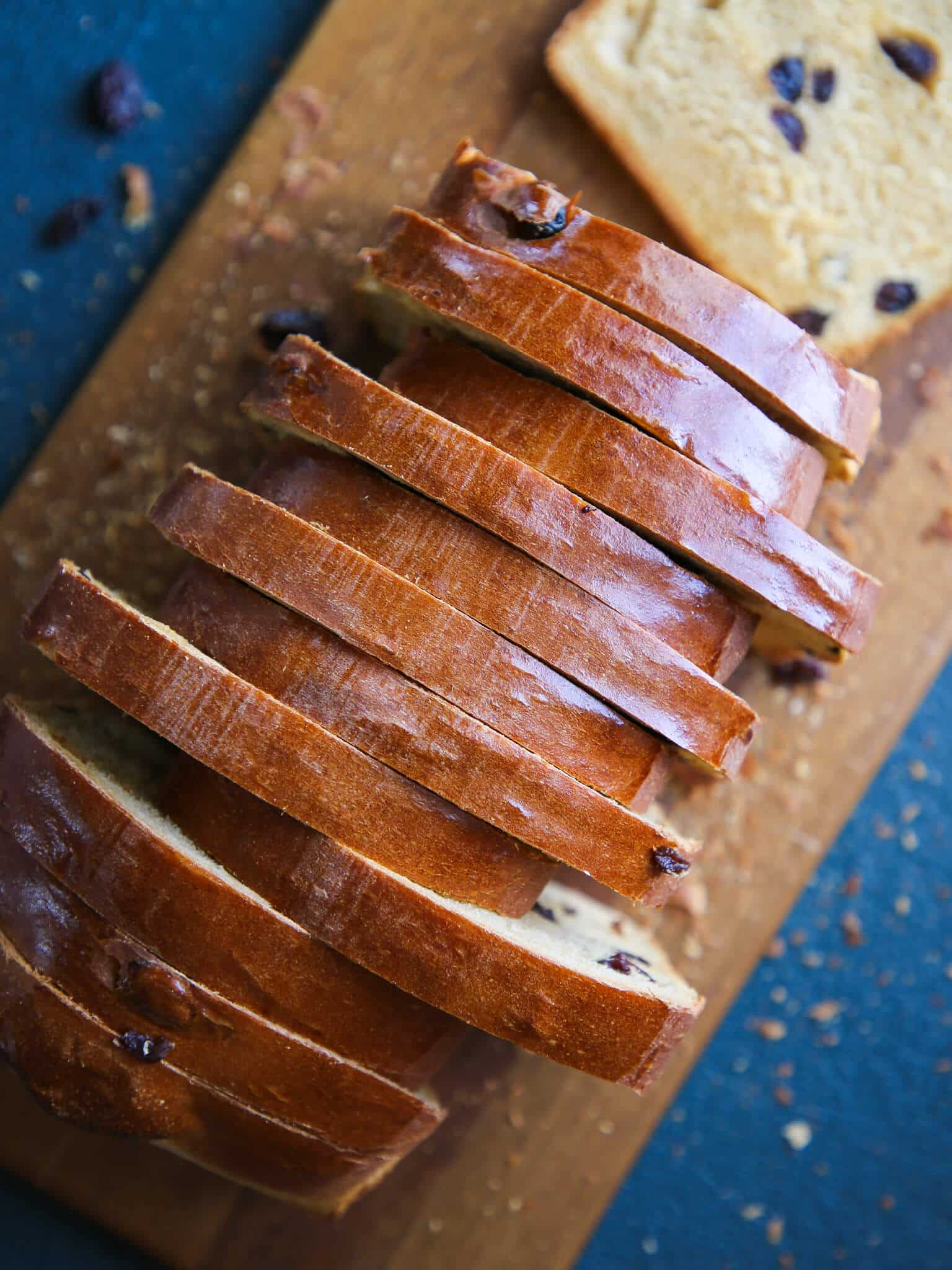 I've been on a carb kick recently (hence the Raisin Bread), which has been so delicious but so against the pre-wedding "diet". My "diet" is more like a mantra: Don't eat so much bread and so many sweets! It isn't working. Obviously.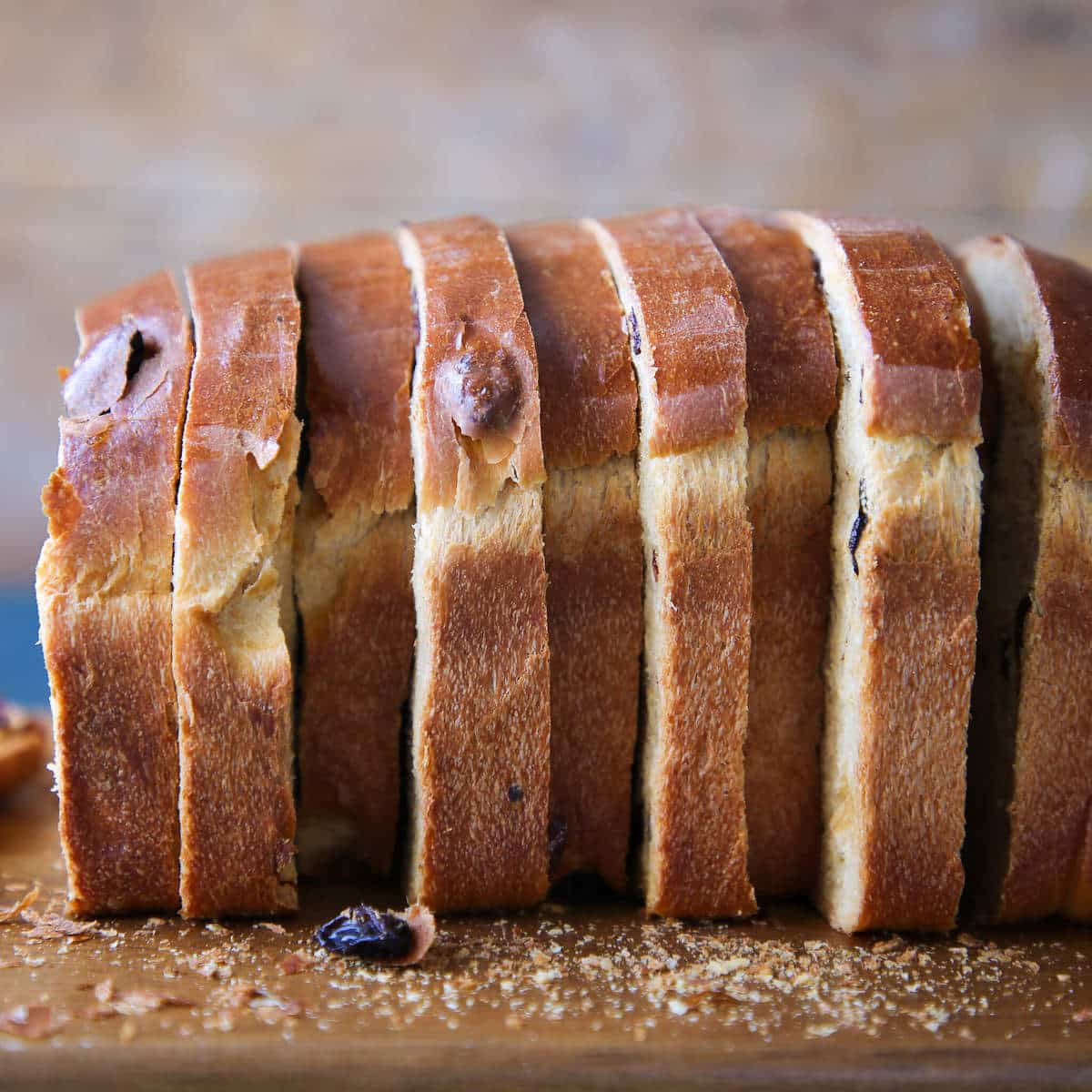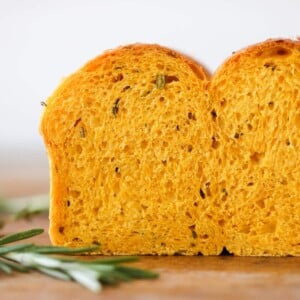 When I was younger and my metabolism and I were still on friendly terms, I used to eat entire loaves of Sun maid Raisin Bread. I was a girl obsessed! I am fairly certain that my Mom thought I was a just a little crazy, but who can eat just one (or three) slices of moist, cinnamony raisin bread? Not this girl.
I found this recipe in the American Woman's Cookbook and I knew it was no use fighting the urge – I had to make it! It was every bit as moist, chewy and flavorful as I hoped it would be!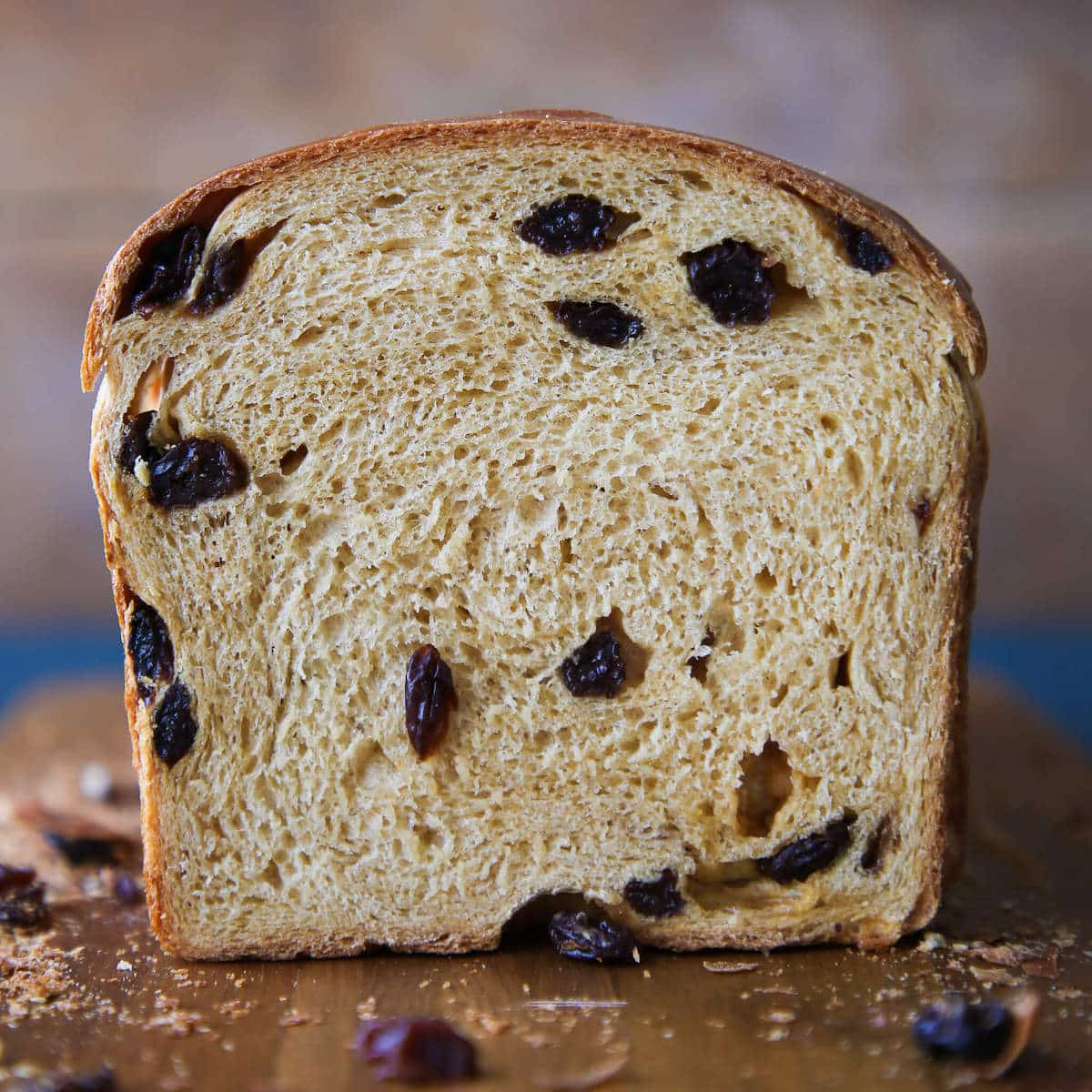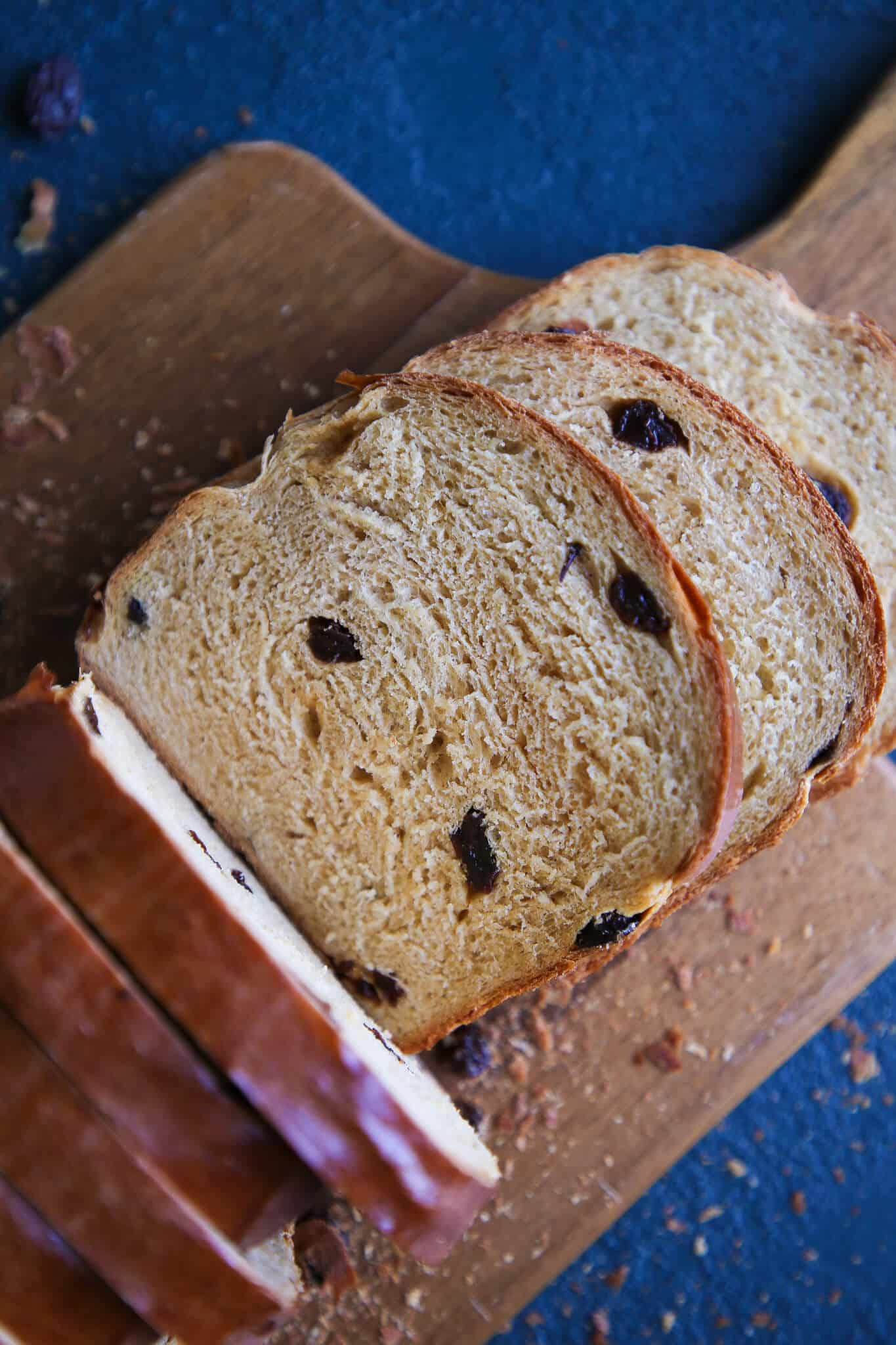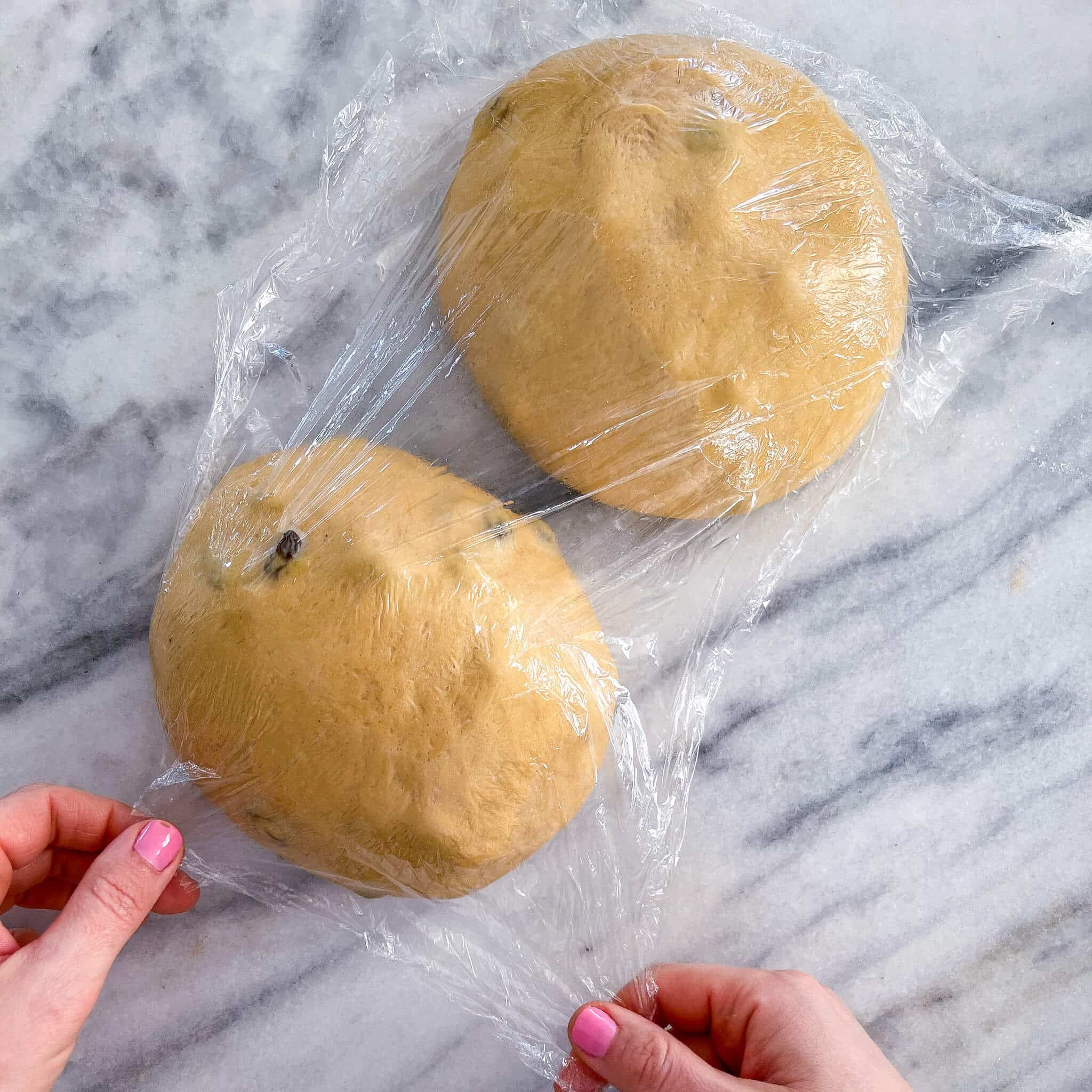 The best part is that this bread will take the shining roll in a dessert later this week!! I can hardly wait!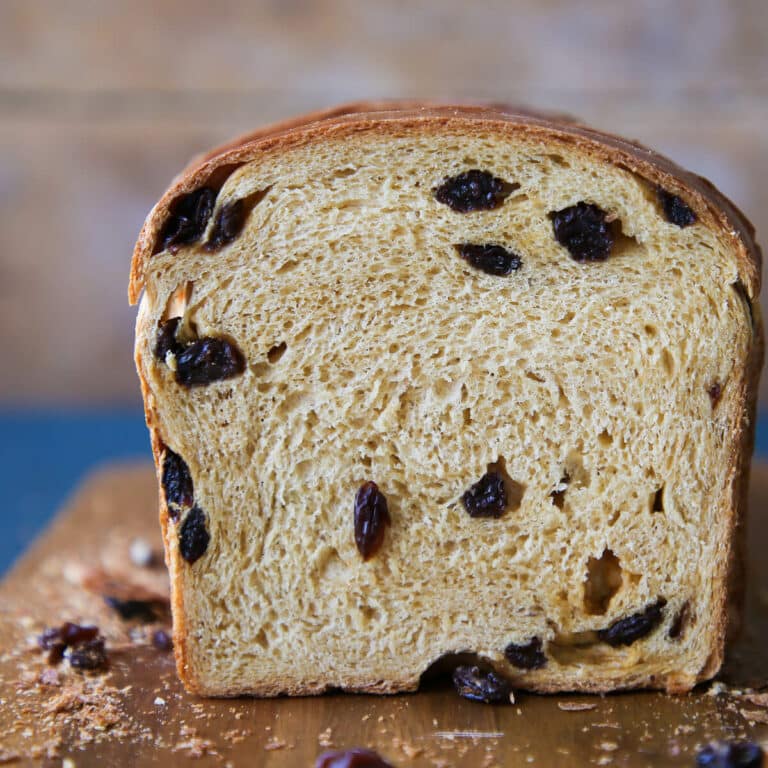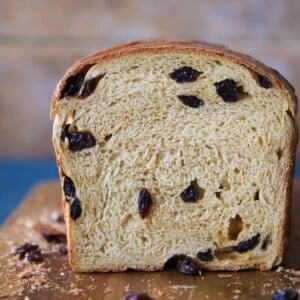 Old Fashioned Raisin Bread
This molasses old fashioned raisin bread is soft, tender and moist with just a hint of molasses flavor. Perfect for French toast, bread pudding, or just toasted with butter!
Ingredients
Makes:
5
inch
5
x
5
inch
rectangle
Instructions
Add shortening and molasses to hot milk and stir until all shortening has melted. Let this mixture cool until it is lukewarm (100 ° – 110°).

Whisk yeast into mixture and allow to sit, undisturbed, for 10-15 minutes, or until yeast has bubbled and looks frothy.

In the bowl of a stand mixer fitted with the paddle attachment combine wet mixture with salt and flour. Mix on low until incorporated.

Switch to the dough hook attachment and mix on medium until a smooth dough has formed. You will be able to take a portion of the dough and gently stretch it so thin that you can see through it. Grab the dough on either side and gently stretch a little, turn 90 degrees and repeat. Continue working around the square until the dough it thin enough. If it tears before you can get a smooth "window pane", then it is not done and needs more time mixing. Sometimes trying to pull a window pane from a piece of dough that is too small or pulling too aggressively will also cause it to tear. If in doubt, grab a new and larger piece (no larger than a golf ball) and try again.

Once the desired amount of gluten development has occurred, add the raisins and mix in on low. Make sure to give the raisins enough time to work all the way throughout the dough.

Oil a large bowl with cooking spray or vegetable oil.

Place dough in oiled bowl. Cover with a damp towel or plastic wrap.

Allow to proof in a warm spot until doubled, this took me an hour.

Turn dough out onto a countertop and divide into two equal portions (730g)

Preheat oven to 350°F and spray two 9×5 inch loaf pans with cooking spray or butter.

Preshape into a boule (round). Fold each of the four sides towards the center, then flip over (seam side down). Gently pull it towards yourself using two hands, allowing the dough to stretch over the top and pull underneath. Turn a quarter turn and repeat until you have a round dough ball with a smooth, tight surface. Cover with plastic wrap. Bench rest (allow to sit undisturbed)10 minutes.

Final shape into a log and place in greased baking dish. Flip the dough over so the seam is facing up. Grab two corners, pick it up and allow gravity to pull the dough down, stretching it into a rectangle. Place on the bench (seam still face up). Fold the top third towards the center, pressing down. Rotate 180 degrees then repeat with the other side. Folding the top third down towards the center. Using the heal of your right hand and the thumb on your left, grab the top part of the dough starting on the right side and fold it over your thumb. Seal it down by pressing the heal of your right hand on the seam you just created. Repeat until you have gone the full length of the loaf. Keep in mind the length of your loaf pan. You do not want the dough to be longer or shorter than the pan. Repeat the thumb folding process if the dough log is not tight or is not long enough.

Place seam-side down in the prepared loaf pans. Cover with plastic wrap.

Proof in a warm, humid place until they have doubled in size and feel light and airy to touch.

If you would like shiny tops like mine, brush with a beaten egg. Just a light coating will do the trick.

Bake in preheated oven until a thermometer reads 186°F. You can also insert a toothpick into the center; the loaves are done when it comes out clean.

Cool 10 minutes in the pan before turning out onto a cooling rack. Cool completely.
Notes
American Woman's Cookbook
Yield: 2, 9×5 inch loaves
Nutrition
Calories:
163
kcal
|
Carbohydrates:
31
g
|
Protein:
4
g
|
Fat:
2
g
|
Saturated Fat:
1
g
|
Polyunsaturated Fat:
1
g
|
Monounsaturated Fat:
1
g
|
Trans Fat:
1
g
|
Cholesterol:
2
mg
|
Sodium:
157
mg
|
Potassium:
163
mg
|
Fiber:
1
g
|
Sugar:
4
g
|
Vitamin A:
33
IU
|
Vitamin C:
1
mg
|
Calcium:
39
mg
|
Iron:
2
mg
Like this? Leave a comment below!