This Chicken in Wine Sauce is rich and flavorful. It will make any dinner feel like a special occasion. Don't be dissuaded by the ingredient list! You've got this!
It's time for our monthly Cooking Light recipe! I've decided, because I'm in charge here after all, that once a month we can break our bonds to old American cookbooks and heritage recipes. We will do this in honor of one of my favorite cooking magazines. Last month it was the Meyer Lemon Chicken! This month I bring you Chicken in Wine Sauce from the Jan/Feb 2013 Cooking Light Magazine.
I know dinner has been a hit when there is already a request for me to make it again before the dishes have even been cleared from the table.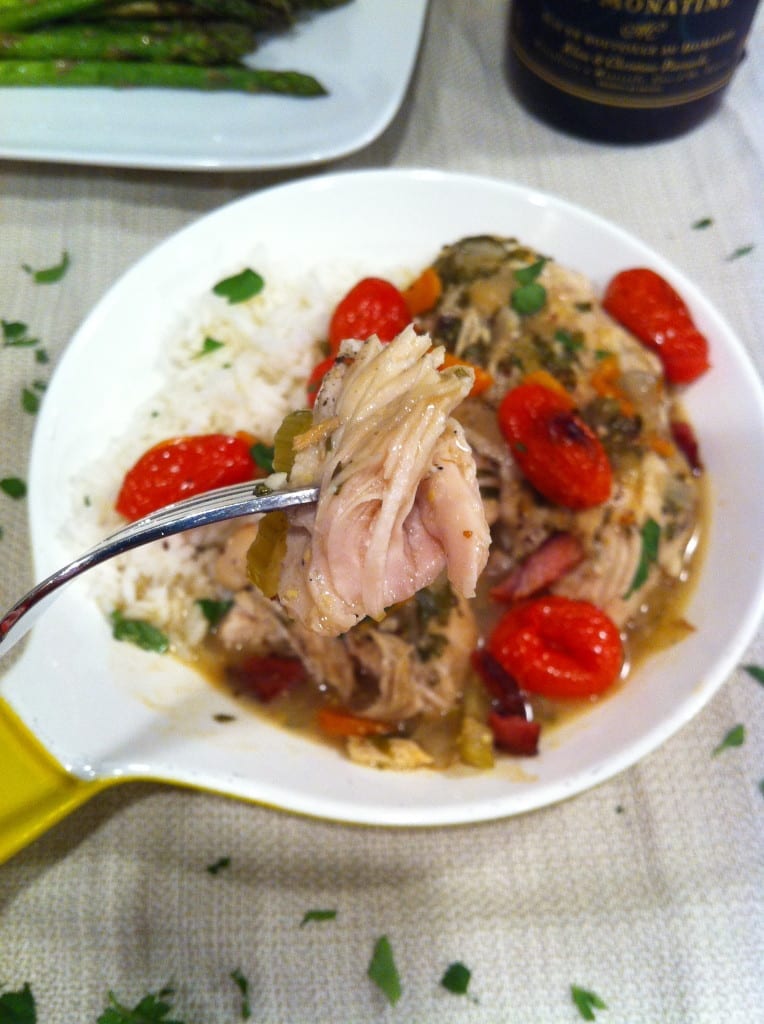 I personally think it is a necessity when a recipe calls for a "dry white wine" for the blogger or chef to mention which specific wine they used to make it. Don't they know that the wine aisle or store is an incredibly big and intimidating place? Wine is one of the main components of this dish. It is always true that the better the quality of the wine you use, the better the flavor of the finished dish! And it is especially true with this Chicken in Wine Sauce recipe.

Recently my Dad has gotten me into White Burgundy wines! These are are simply white wines from the Burgundy region in France. This type of dish benefits from these wines, as they are flavorful yet not overpowering. For this recipe I used Domaine Maroslavac - Leger "La Combe" 2010, a wine which is reasonably priced but bursting with flavor. (I know that there is a different wine in the pictures. Ignore it. I liked the bottle better.) If you live in Atlanta, then I highly recommend that you visit Highland Fine Wine and Crystal. Nick, the owner, is knowledgeable, friendly and incredibly helpful!
Recipe
Chicken in Wine Sauce
This Chicken in Wine Sauce is rich and flavorful. It will make any dinner feel like a special occasion. Don't be dissuaded by the ingredient list! You've got this!
Ingredients
4

bone-in chicken thighs

(skinned )

2

bone-in chicken breasts

(skinned)

½

teaspoon

kosher salt

(divided)

½

teaspoon

freshly ground balck pepper

(divided)

2

teaspoons

canola oil

1

cup

chopped onion

½

cup

carrot

(thinly sliced )

½

cup

celery

(thinly sliced )

1

tablespoon

garlic

(minced)

2

cup

dry white wine

1

cup

low sodium chicken stock

(bonus points for homemade)

2

tablespoons

all-purpose flour

3

tablespoons

fresh tarragon

(chopped )

3

tablespoons

flat-leaf parsley

(chopped, divided)

1

tablespoon

whole-grain Dijon mustard

1

bay leaf

1

tablespoon

butter

(unsalted)

2

cups

cherry tomatoes
Instructions
Heat a Dutch Oven or large oven-safe pan with a lid over medium heat. [I made mine in a 5QT Calphalon Stainless Steel Lidded Pan; it wasn't ideal but it worked.] Pat chicken dry and sprinkle evenly with ¼ teaspoon salt and ¼ teaspoon pepper. Add oil to pan; swirl to coat. Brown chicken on both sides. In a large pan you can do all the chicken at one time but in a Dutch Oven you will need to brown the chicken in two batches. Set chicken aside.

Add onion, carrot, celery, and garlic to pan; cook for 6 minutes, stirring occasionally. Add wine; cook for 2 minutes, scraping pan to loosen brown bits. Return chicken to pan. Combine stock and flour in a bowl, stirring with a whisk until smooth. Add stock mixture to pan.

Stir in tarragon, 2 tablespoons parsley, mustard, and bay leaf and bring to boil. Cover and bake at 325°F for 45 minutes or until chicken is done and very tender.

Remove dish from oven and remove chicken from pan and top with ¼ cup cooking liquid. Keep warm. Heat pan over medium-high heat, and bring to boil. Boil 5 minutes or until mixture is reduced to 3 cups. Whisk in butter, remaining ¼ teaspoon salt and remaining ¼ teaspoon pepper. Discard bay leaf.

While the sauce is reducing, preheat broiler on high. Toss tomatoes with a teaspoon of olive oil and arrange in a single layer on a jelly-roll pan. Broil 6 minutes or until blistered. Sprinkle chicken with tomatoes, crumbled bacon, and remaining 1 tablespoon chopped parsley. Serve with sauce. I also served it with rice to soak up the amazing wine sauce!
Notes
Adapted from Cooking Light Jan/Feb 2013
Using boneless chicken breasts and thighs will drastically reduce the baking time to under 20 minutes. 
You can find my instructions for the Roasted Asparagus pictured here! I actually didn't broil my tomatoes because I roasted both the asparagus and tomatoes at the same time. Place tomatoes on top rack closest to coils!