The wine adds an extra depth of flavor and a complexity to this sensational red wine basil pasta sauce!!
Am I the only one who is undoubtedly nostalgic for the days when you could make a last minute run to Blockbuster? Remember how you could grab a dozen random movies for a basically spur of the moment movie binge? Don't get me wrong, I have a Netflix subscription and in fact am as addicted to "on demand" as the worst of them. But sometimes on a random Tuesday, I want to have a Sex And The City throwback marathon, and since it's not on Netflix Instant then I'm totally SOL.
Who am I kidding? Of course I have Every Single Episode of Sex And The City on DVD. Don't you?
What does this have to do with Red Wine Basil Pasta Sauce? Absolutely nothing. I'm not even going to try to come up with some logical link between the two, because there isn't one.
But I am going to apologize for not posting this superb pasta sauce several weeks ago when I first made it. On the whole, it was cruel keeping you from making my new favorite pasta sauce!!! And you know how much I specifically love pasta sauce.
I love my go-to pasta sauce recipe, but sometime I get bored and I want something different. And subsequently sometimes I have a partial bottle of red wine left over staring at me. This bottle was begging me to do something with it. I obviously gave in, and the result was sensational!!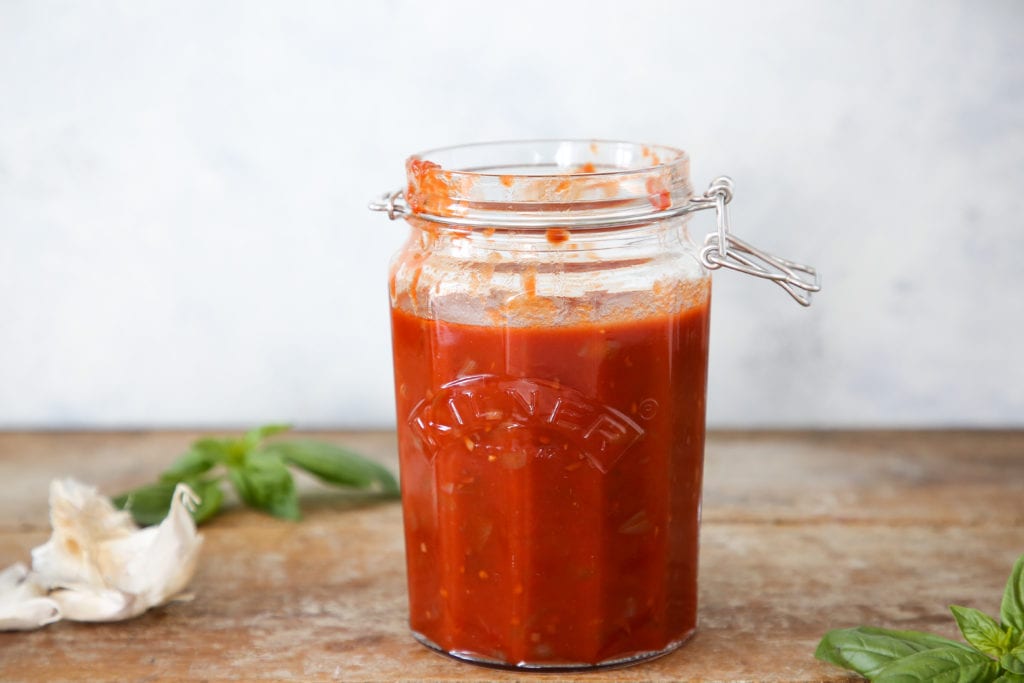 The rich, red wine adds an extra depth of flavor and a complexity to the sauce that I LOVED! This is a nice, thick, rich sauce that is bursting with fresh Italian herb flavors!
Use it in a robust, meaty lasagna or in a lighter, waist-friendly vegetable lasagna, or pour a healthy scoop over pasta with meatballs, or eat it with a spoon straight from the pot (what?! You don't do that too?). On the whole whatever you do with it, I know it will be fabulous!
By the way, doesn't it seem cruel and unusual that Sex And The City isn't on Netflix Instant?
Red Wine Basil Pasta Sauce
The red wine adds an extra depth of flavor and a complexity to this sensational red pasta sauce!!
Ingredients
3

cups

onion

(finely diced)

4

tablespoons

garlic

(minced)

3

tablespoons

olive oil

½

cup

dry red wine

(I used a reasonably priced Cabernet Sauvignon)

2

28-oz cans

San Marzano tomatoes

2

6-oz cans

tomato paste

2

cups

chicken stock

¼

cup + 1 tablespoon

fresh basil

(minced)

3

teaspoons

fresh thyme

3

large pinches

Kosher salt

1

teaspoon

freshly ground black pepper

2

teaspoons

dried oregano

1

teaspoon

dried sage
Instructions
Heat a 5 ½ to 7 quart Dutch oven over medium heat until hot. Add olive oil, swirling to coat. Sauté onions and garlic until the onions are translucent. You don't want to brown them.

Add the red wine and stir with a flat wooden spatula until the wine has reduced slightly, about 2 minutes.

Add all of your remaining ingredients, bring to a slow boil then reduce heat to low and simmer sauce, covered, for 4 to 8 hours; stirring occasionally. You can add more chicken stock if the sauce gets too thick. I like a thicker sauce, so I allow mine to reduced for the last hour with the top off.

After about 2 hours, I like to taste the sauce to make sure it doesn't need any additional seasoning.

Towards the end of your cook time, taste the sauce again to see if it is too acidic. If it is and that isn't your thing, you can add 1 tablespoon granulated sugar to counterbalance that acid. I find it really varies by batch.
Video Instructions
Notes
Yield: Approximately 8 cups
I like my pasta sauces thick, but if you don't, just add more chicken stock to your liking and omit the step where I take the lid off the pot to cook it down. I do think thicker sauces are better for lasagna.
Recipe by American Heritage Cooking