These Loaded Mashed Potatoes are bursting with bacon, sour cream, chives and cheddar cheese. Everything you love about loaded potatoes but mixed into smooth, creamy mashed potatoes!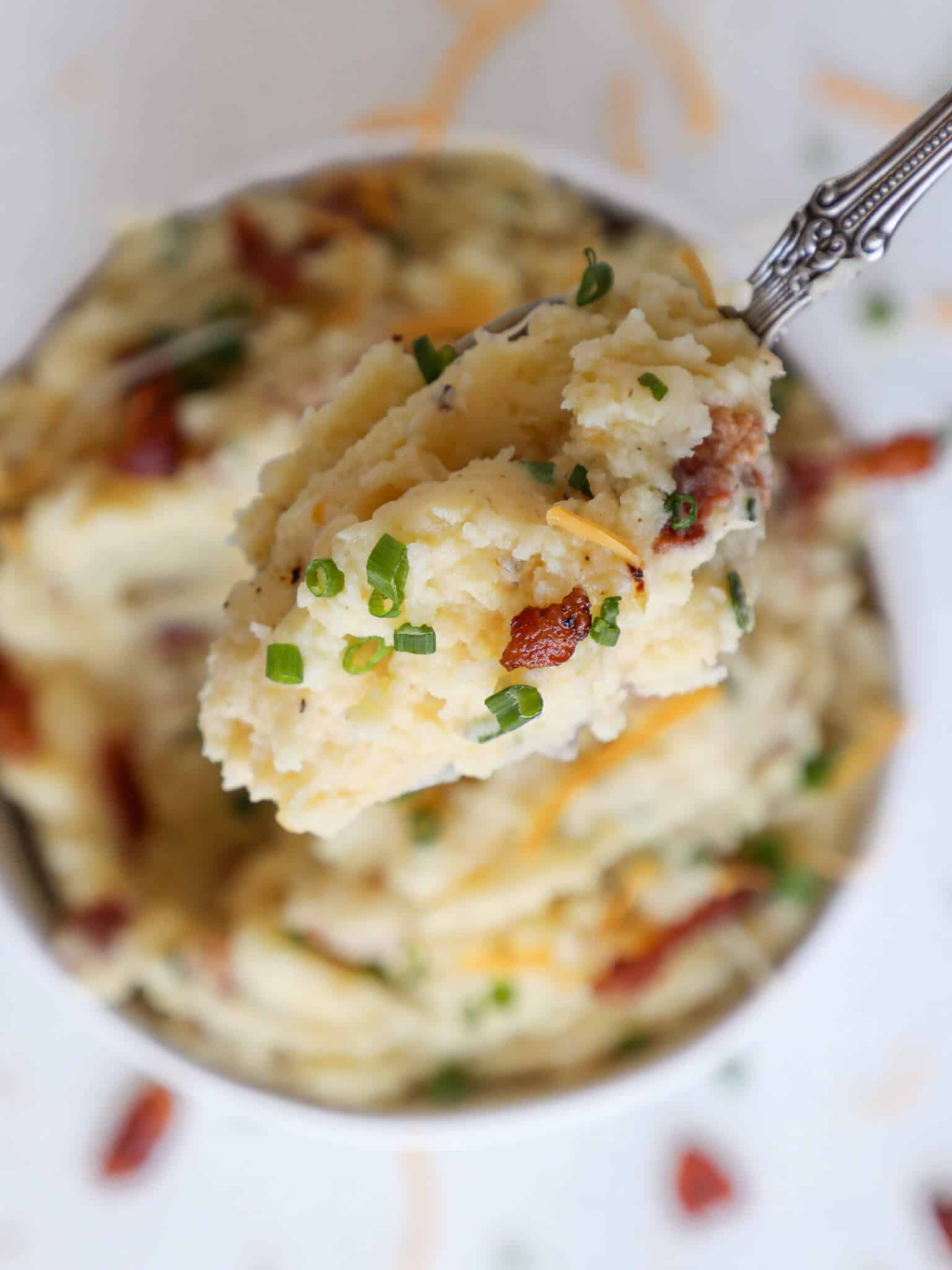 Sure creamy mashed potatoes are fabulous, but these loaded mashed potatoes are pure bliss! We start with a smooth mashed potato puree and add as much butter as is socially acceptable plus a little bit more. Stirring in sour cream transforms the buttery purée into a creamy, tangy potato base, and finally we add fresh chives, crispy bacon and cheddar cheese!
They are delightful with roasted chicken, mustard crusted pork or my foolproof rosemary chicken.
How to make smooth mashed potatoes?
Cook the potatoes perfectly. Sounds like a tall order but all you need to do is boil them until the largest potato is pierced easily with a cake tester, paring knife or fork.
Puree the potatoes while they are hot. Press them through a ricer, mash them in a stand mixer fitted with the paddle attachment, or mash them by hand in a bowl (go you!). This allows the steam to escape, and plus they mash easier while hot.
Add the butter to the hot puree. While you are mashing the potatoes, throw in the cubed butter. This will make it easier to get a smooth puree.
Pass through a strainer, if you want to get all the lumps out. I did not for these loaded mashed potatoes but you could.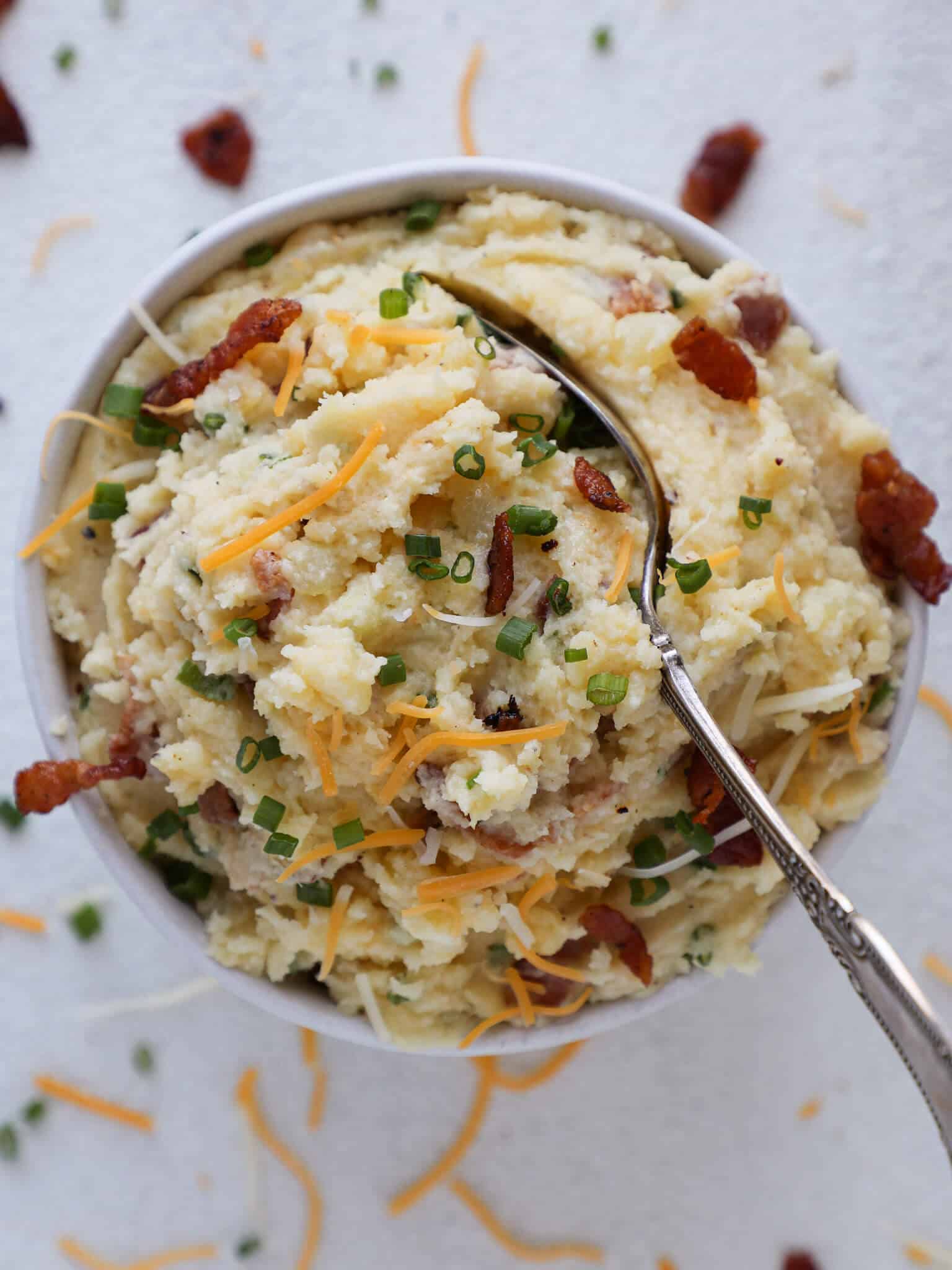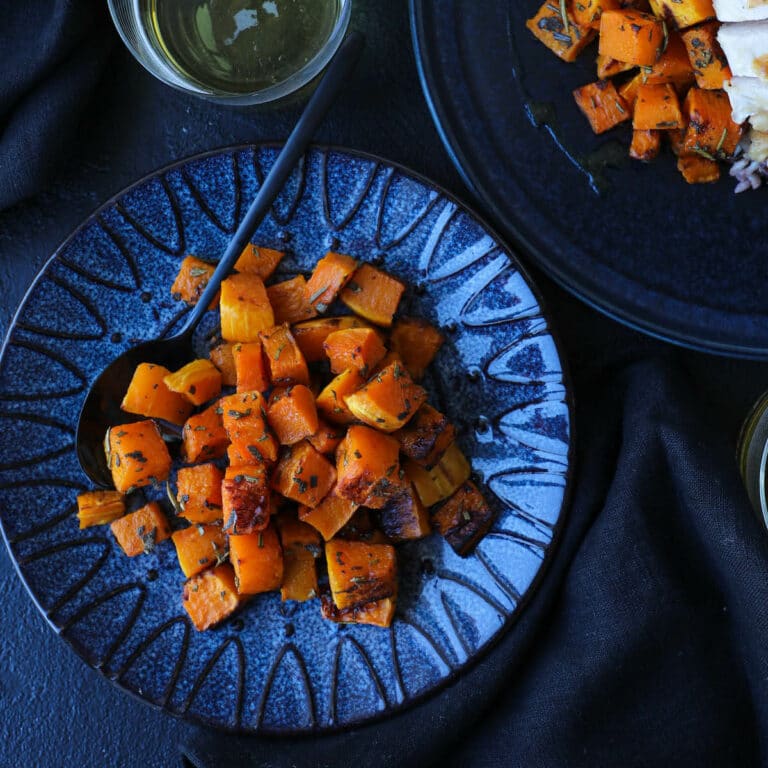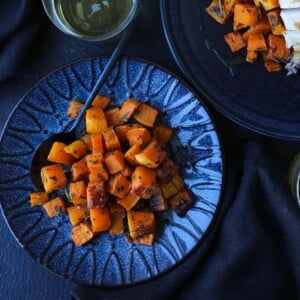 Ingredients for Loaded Mashed Potatoes
Yukon Gold Potatoes: I use Yukon Gold Potatoes for mashed potatoes but you can also use red potatoes. I find the flavor is richer and the resulting dish more complex.
Butter: Unsalted butter allows you to control how much salt is going into the loaded mashed potatoes while still giving you the buttery-ness this dish desires. Use unsalted so you can salt it just how you like it.
Sour Cream: I use full fat sour cream but low fat could also be used. Sour cream adds the creaminess in these loaded mashed potatoes with a little added tang.
Chives: Fresh chives add a bright, herbaceous flavor. To prepare, gather in little bunches and slice with a rocking motion. Never press straight down with your knife. That will bruise the delicate herb. It will also smash them and they can then stain whatever you are making green.
Bacon: I always slice and cook my own bacon for lardons or bacon bits. I buy thick cut smoked bacon but you can use any variety you choose.
Shredded Sharp Cheddar Cheese: For ease, I buy pre-shredded cheddar cheese for these loaded mashed potatoes. Get the brand you prefer. I think the sharper the better! Use the rest of it when you whip up a batch of white cheddar mac and cheese!
Kosher Salt: Kosher salt really pulls out the cheese's flavor, and is not a great idea to completely leave out of your loaded mashed.
Cracked Black Pepper: Freshly cracked black pepper will add a little depth and heat if you add enough! Just pepper it to your taste.
Frequently Asked Questions
How do you store loaded mashed potatoes?
Store leftover potatoes in an air-tight container in the refrigerator for up to one week. You technically can freeze mashed potatoes but they will never be their best selves again. The texture will always be a bit dry and they will not get as smooth when reheated.
Can you make it ahead?
You can make the mashed potatoes several days in advance. I would not add any of the mix-ins until after reheating.
How do you reheat loaded mashed potatoes?
The best way to reheat mashed potatoes is on the stove top. Place mashed potatoes in a medium sauce pot and turn the heat on low. Slowly add boiling milk to the mashed potatoes a tablespoon at a time, stirring to incorporate. Once the potatoes are hot, add more hot milk until the desired consistency is reached. You can also add a little more butter and sour cream.
Will this loaded mashed potatoes recipe multiply?
You can make as large a batch as you wish. My only caution is that it takes time to mash the potatoes in batches and they will gradually begin cooling. This will not result in the best puree.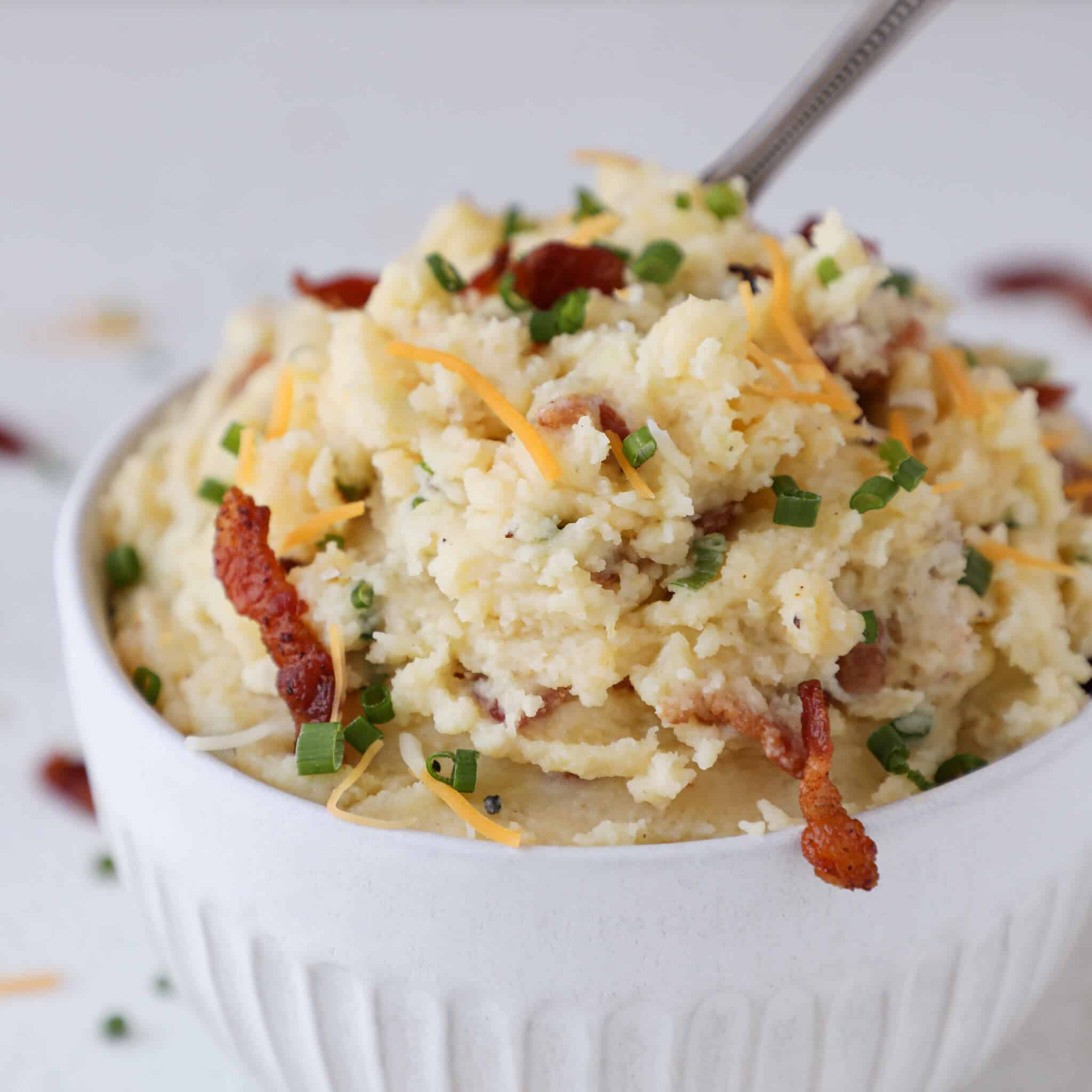 What to serve with Loaded Mashed Potatoes?
These loaded mashed potatoes can be a flavorful part of an easy Thanksgiving dinner, but they would be equally delightful all year round! Serve as a side dish with a small salad and my foolproof rosemary chicken. They are also divine with mustard crusted pork chops. The mustard cuts the richness of the potatoes for a perfect pairing.
If you tried this recipe and loved it please leave a 🌟 star rating and let me know how it goes in the comments below. I love hearing from you; your comments make my day!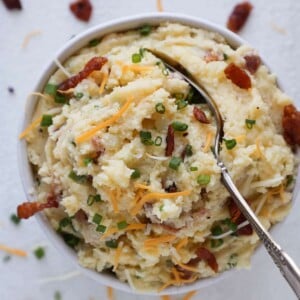 Loaded Mashed Potatoes
These Loaded Mashed Potatoes are bursting with bacon, sour cream, chives and cheddar cheese. Everything you love about loaded potatoes but mixed into smooth, creamy mashed potatoes!
Instructions
Place potatoes in a pot and fill with cold water just to cover. Season generously with kosher salt. The resulting mashed potatoes will need less additional salt if seasoned with the cooking water.

Bring to a boil uncovered and continue to cook until the potatoes are tender. They should pierce easily with a fork, paring knife or cake tester.

Once cooked, strain using a colander or large sieve.

While the potatoes are cooking, cook your bacon. This can be done in a sauté pan or on a wire rack set inside a rimmed baking sheet in the oven. Cook until browned and most of the fat has rendered. Place the bacon on paper towels to cool. Once cool, crumble. Taste test ?

Transfer to the bowl of a stand mixer fitted with the paddle attachment. Mix with the mixer on low until a smooth puree has formed. This step can also be done by hand with a wooden spoon or in a food processor.

Add all the butter to the hot potatoes and mix until completely melted and incorporated.

Remove from the stand mixer and add the cheddar cheese, stirring until completely melted. Stir in sour cream, chives and bacon.

If too much milk is added, you can thicken with potato flakes. The taste and texture will be noticeably different to discerning palates, but most will be none the wiser!

Season with kosher salt and fresh cracked pepper to taste.
Notes
Notes: 2.5 pounds of potatoes, peeled, should yield about 6 cups of mashed potatoes. Peeling the potatoes is optional. I love the added fiber, texture and nutrients from the skins. Just be sure to wash them thoroughly before cooking.
Nutrition
Calories:
802
kcal
|
Carbohydrates:
35
g
|
Protein:
19
g
|
Fat:
66
g
|
Saturated Fat:
32
g
|
Polyunsaturated Fat:
6
g
|
Monounsaturated Fat:
22
g
|
Trans Fat:
1
g
|
Cholesterol:
148
mg
|
Sodium:
843
mg
|
Potassium:
994
mg
|
Fiber:
4
g
|
Sugar:
2
g
|
Vitamin A:
1171
IU
|
Vitamin C:
38
mg
|
Calcium:
187
mg
|
Iron:
2
mg
Like this? Leave a comment below!