In this Tomato Chicken Bake, rosemary encrusted chicken is seared and then baked in an aromatic tomato sauce. A tasty and healthy one-pan meal!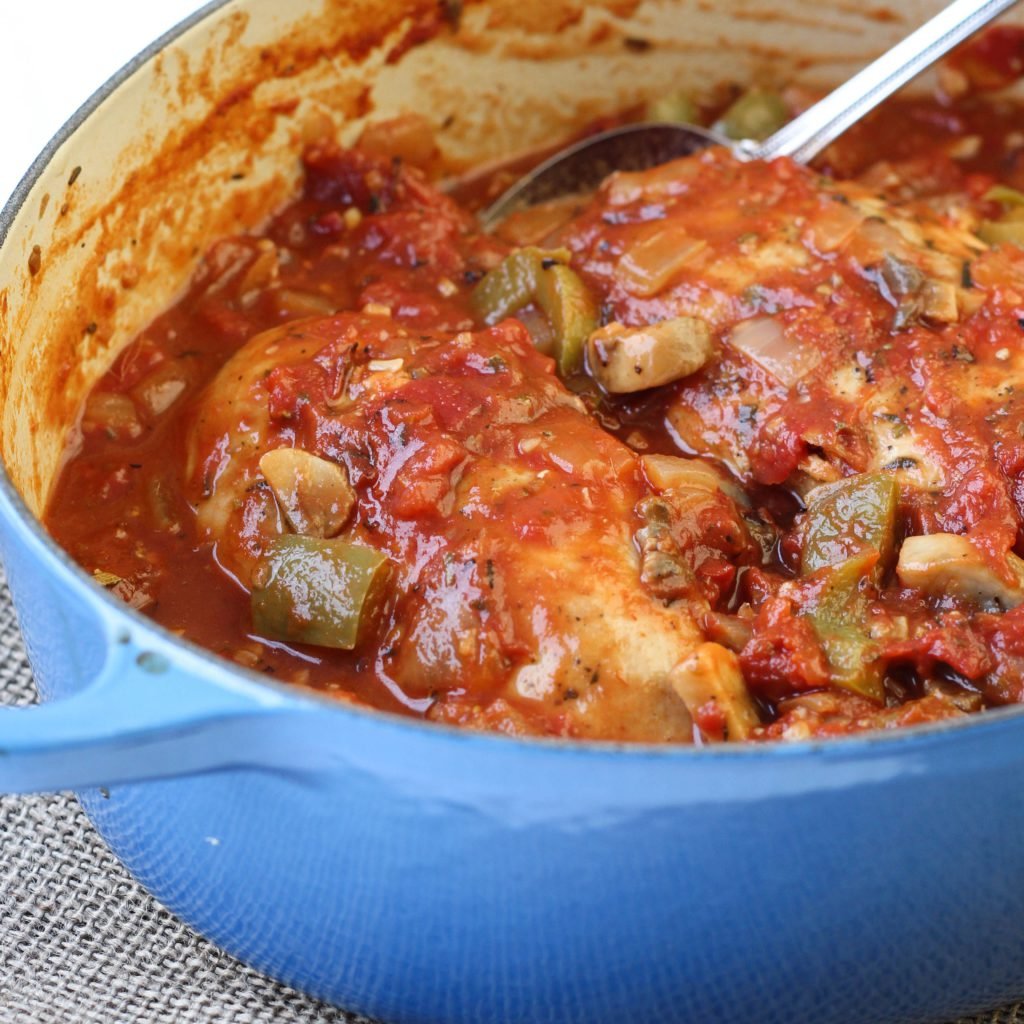 So the other day I Googled "Explain Twitter to me" and the amount of information explaining Twitter is almost as confusing as Twitter itself. I figured it was high time I joined the rest of the World in the 21st Century, because apparently everyone and their mother (well, at least my Mother and, even more embarrassing, my Grandfather) are on Twitter.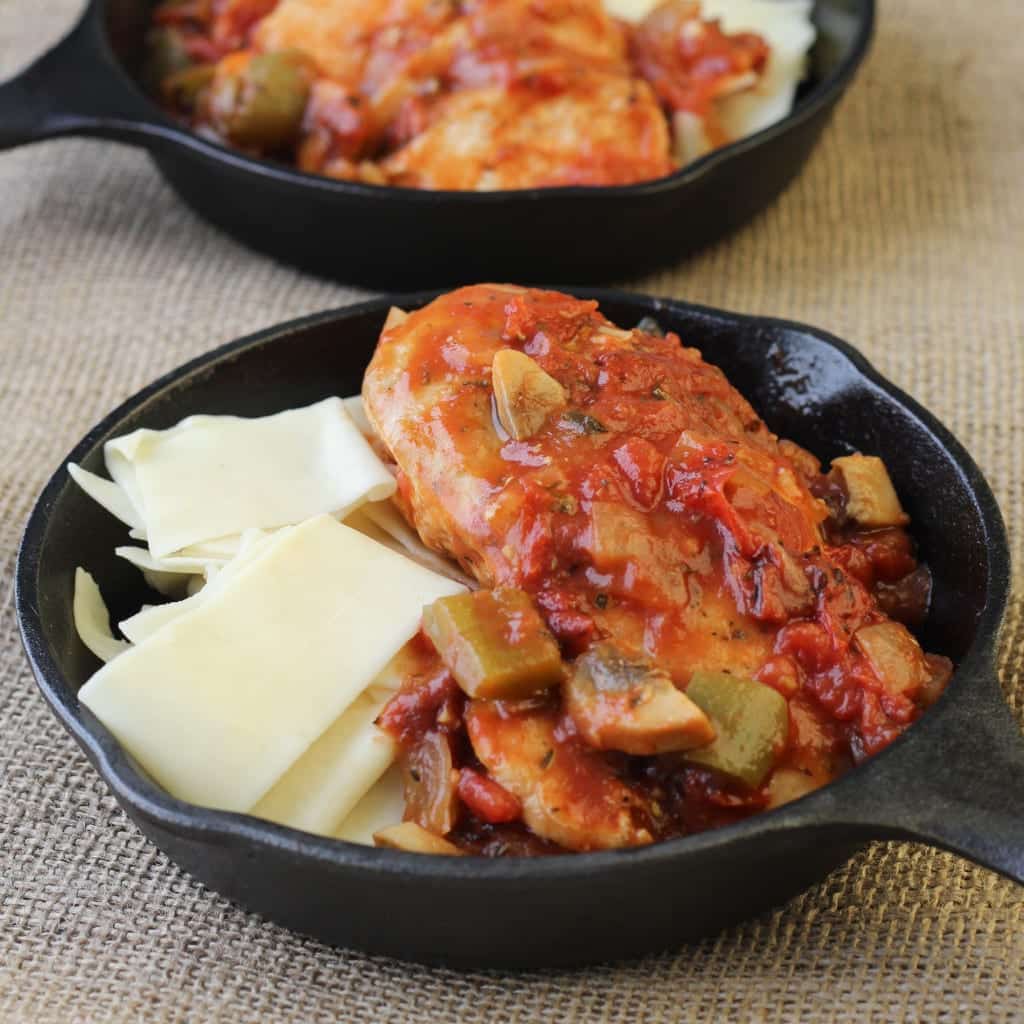 Mastering the Twitterverse (can you say that?!) is one of my goals for 2014. I'm sure you are all rolling your eyes out there but this is a serious issue. I've thought about creating an account numerous times but then I get overwhelmed by all those hashtags, which I still want to call "pound symbols", and @'s.
The whole site may as well be written in Wingdings.
But all those articles "explaining Twitter" just made my head ache and my stomach rumble for something not complex yet comforting. Tomato Chicken Bake to the rescue! I have been making some variation of this dish for over two years. It is still one of my Husband's favorites.
Essentially it's rosemary chicken that is seared and then baked in a homemade tomato sauce that is made all in the same pan! That's right – sauce and chicken all in the same pan!
It's healthy, hearty and, when served with a generous sprinkling of Parmesan cheese, it's about as comforting as it gets.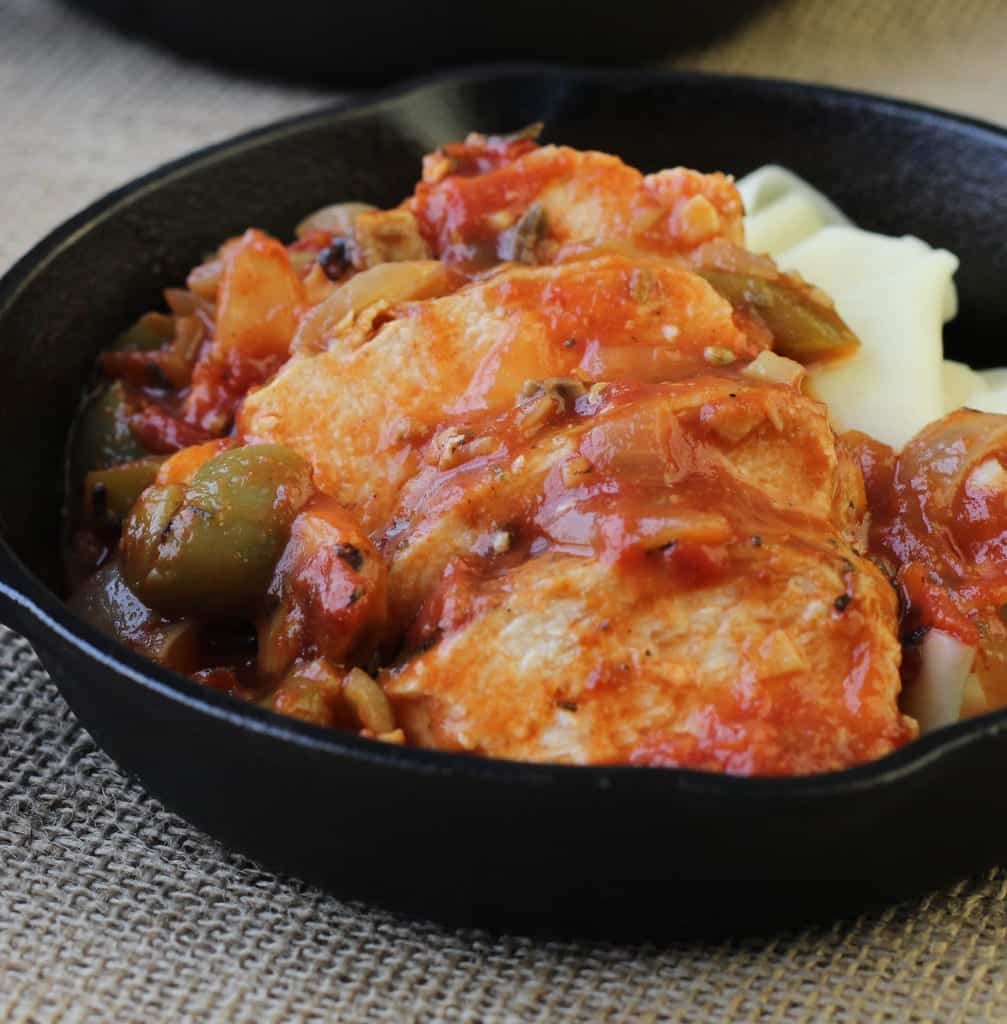 If you've been around AHC, then you know how deep my obsession with cast iron skillets runs, but this Tomato Chicken Bake is one exception to my cast iron rule. After you brown the chicken and sauté the vegetables, I deglaze the pan with a dry white wine to help quickly build layers of flavors in the sauce, and one should NEVER deglaze a cast iron skillet. Apparently this is a huge no-no, and the dish can take on a metallic taste. Umm eww. So I make this in a large stainless, oven-proof pan or Dutch oven (pictured) and you should too!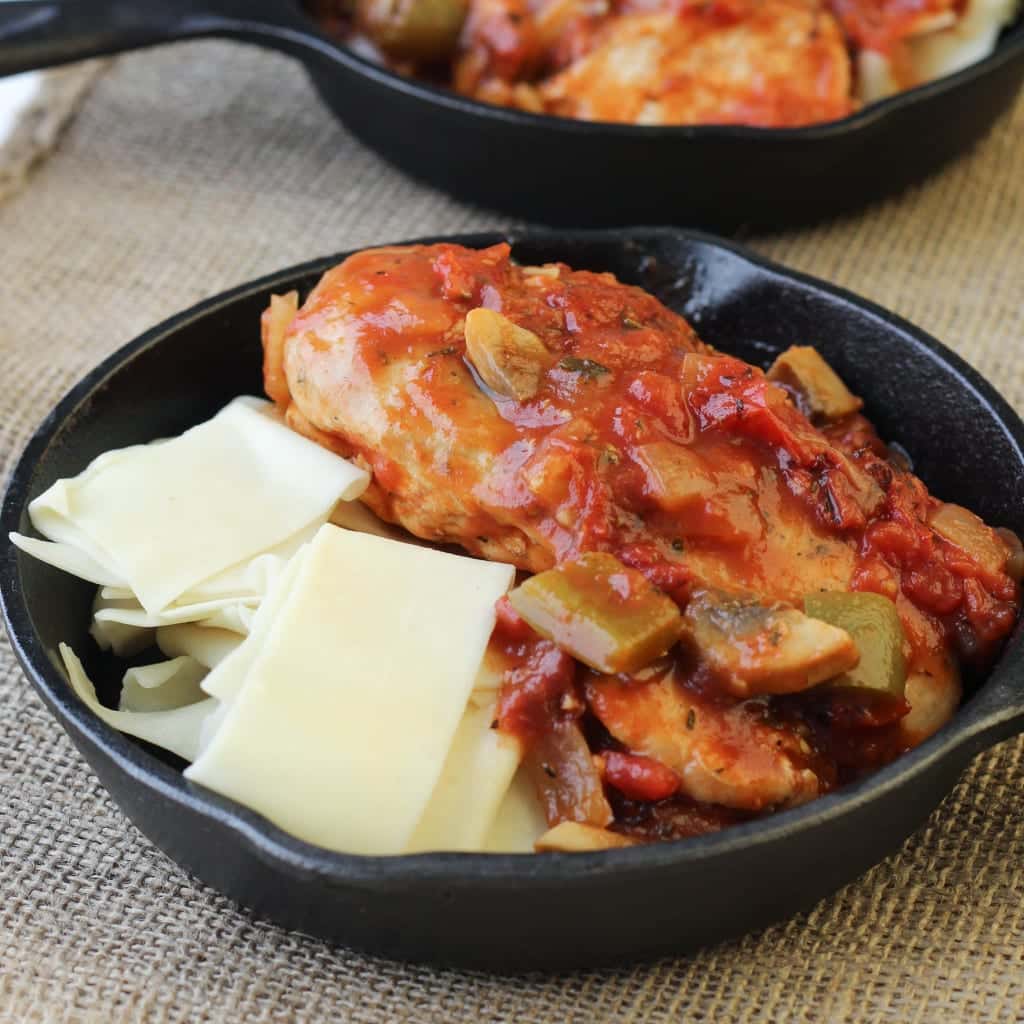 The combination of searing the chicken and then baking it locks in the moisture and it will produce tender, juicy chicken breasts every single time.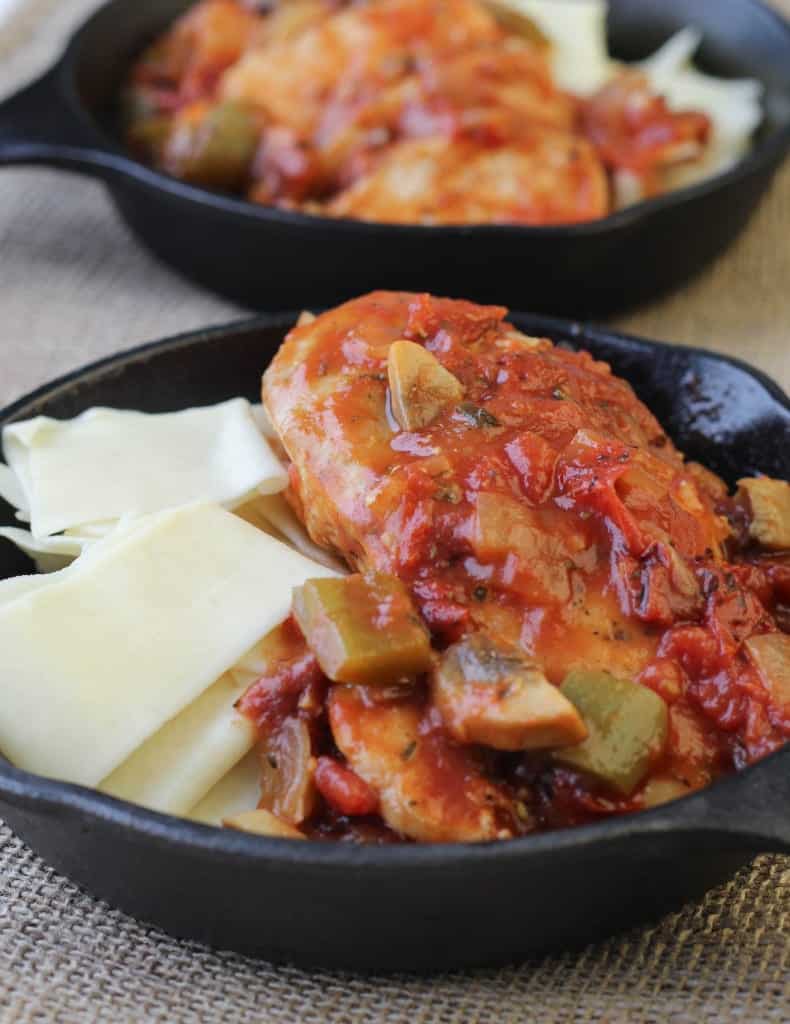 And who doesn't want tender, juicy chicken?
No one. That's who.
Recipe
Tomato Chicken Bake
In this Tomato Chicken Bake, rosemary encrusted chicken is seared and then baked in an aromatic tomato sauce. A tasty and healthy one-pan meal!
Ingredients
2

tablespoons

olive oil

(divided)

4

smallish chicken breasts

1

tablespoon

chopped fresh rosemary

½

teaspoon

Kosher salt

¾

teaspoon

freshly cracked pepper

1

large onion

(diced)

5

cloves

minced garlic

1

green bell pepper

(diced)

1

cup

mushrooms

(sliced)

½

teaspoon

fennel seeds

(crushed)

½

cup

dry white wine

1

teaspoon

dried thyme

½

teaspoon

dried oregano

6

oz

can tomato paste

28

oz

can diced roasted tomatoes

(drained)

¾

cup

chicken broth

2

teaspoons

Worcestershire sauce

Egg Noodles & Parmesan cheese for serving
Instructions
Preheat oven to 400°.

In a small bowl mix salt, pepper and rosemary. Rinse and pat chicken breasts dry. Rub rosemary mixture on both sides of the chicken breasts.

Heat a large stainless, oven-safe skillet (or enameled Dutch Oven) over medium heat until it is very hot. Add 1 tablespoon of olive oil, swirling to coat.

Brown chicken breasts on both sides; remove to a plate and tent to keep warm.

Add the second tablespoon of olive oil and sauté the onion, garlic, peppers, and mushrooms until the onions are translucent and the green peppers are tender.

Deglaze pan with white wine, scraping the bottom to get any browned bits from the chicken off. Let boil for a minute or two.

Add all the remaining ingredients to the pan and bring to a boil.

Place the chicken back in the pan along with any accumulated juice. Mound the tomato sauce on top of each breast.

Cover and bake in preheated oven for 10-12 minutes or until an instant read thermometer registers 165°. Let chicken rest 10 minutes while you cook your noodles.

Serve over egg noodles with Parmesan cheese! Magnifique!
Notes
You can also make this in the same way using thinly sliced pork chops. An excellent variation!
Sometimes I add 1 ½ teaspoons chili powder. It gives it a slight kick and different flavor profile.