This Chicken Pot Pie in a whole wheat crust is creamy and comforting. The whole wheat pastry is delicate and flakey. It almost makes it extra savory and inviting.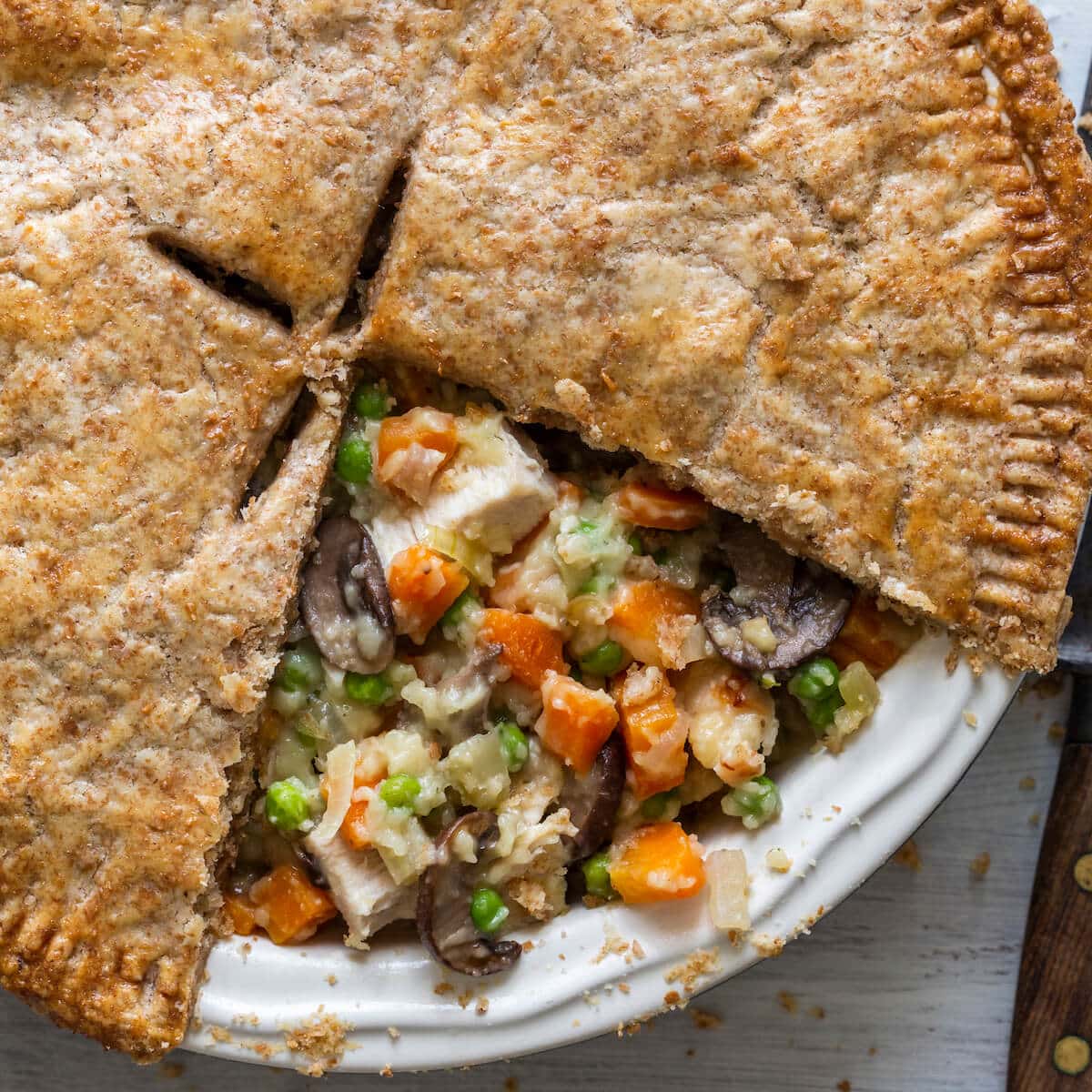 I'm not going to beat around the bush here: this is the BEST Chicken Pot Pie that I have ever tasted. The BEST!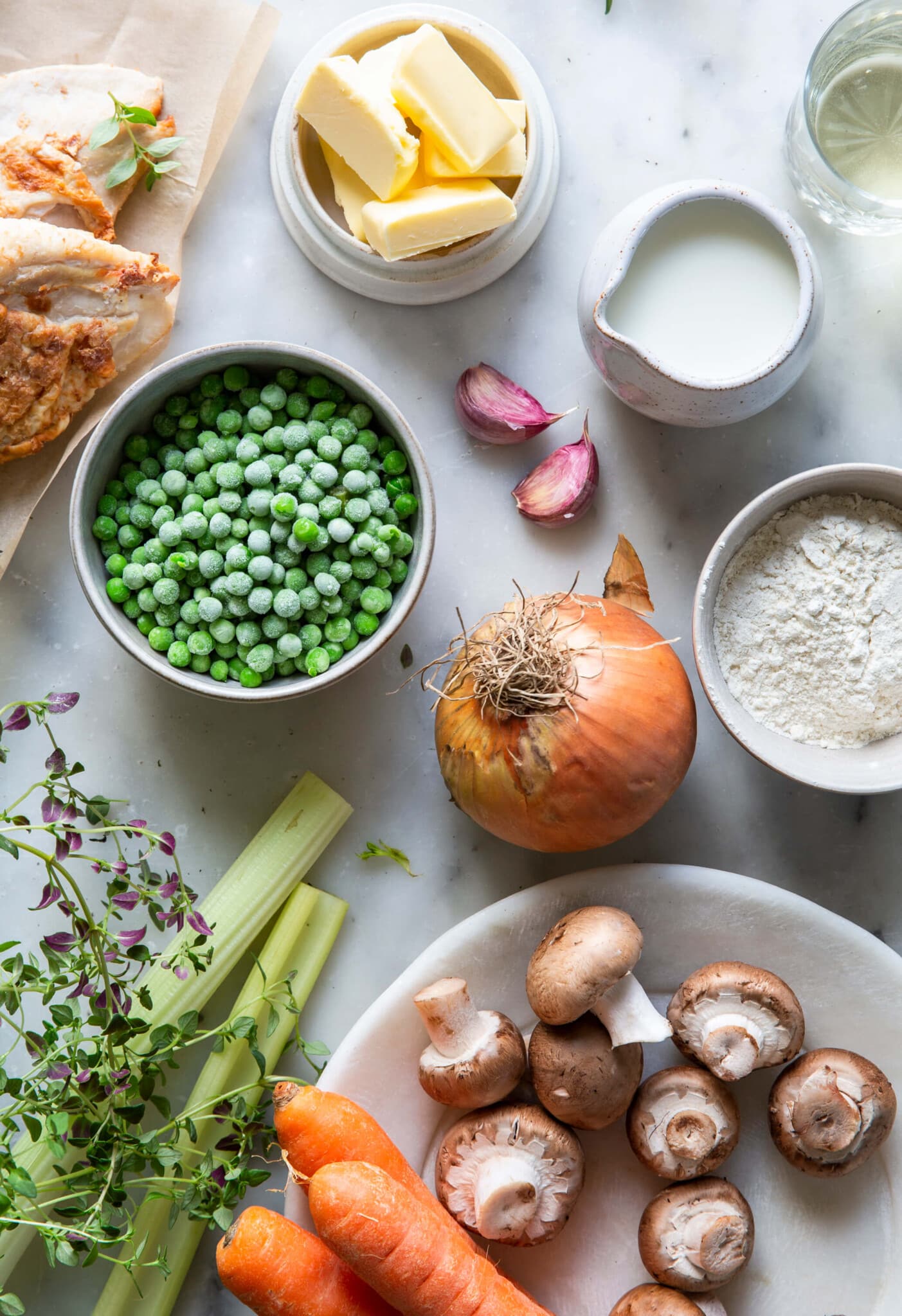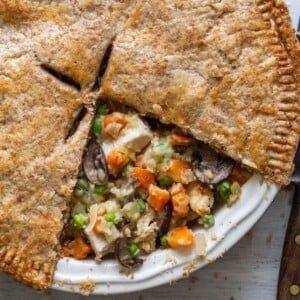 The other day I received a shower gift with a pie theme. That's right. A pie theme! I could barely contain myself. [My fiancé gave me some odd looks as I unpacked the box like a 5 year old on Christmas Day. My excitement was palpable.]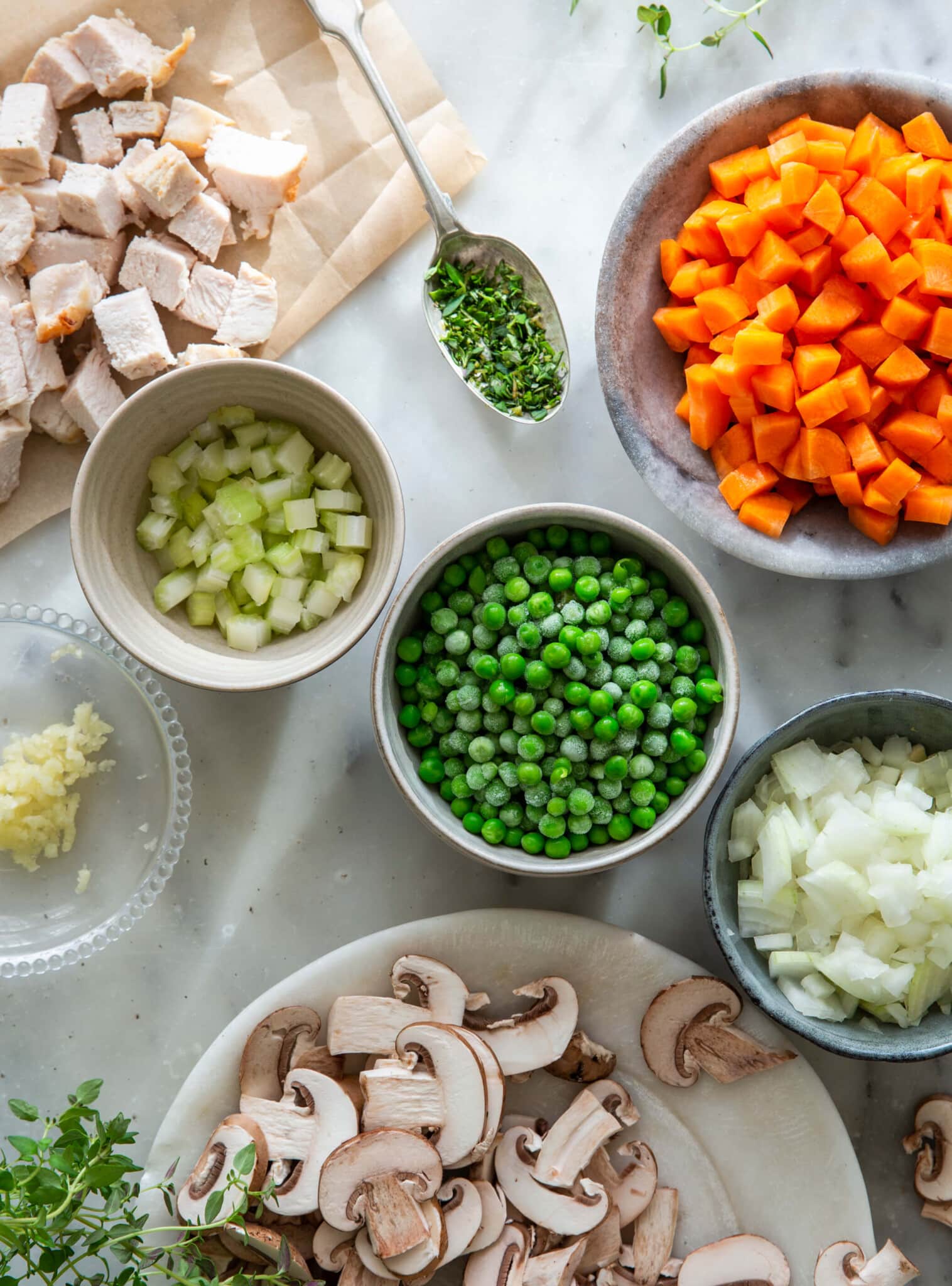 Sandwiched between the pie crust cutter and the Emile Henry pie dish was A Year of Pies by Ashley English of Small Measure.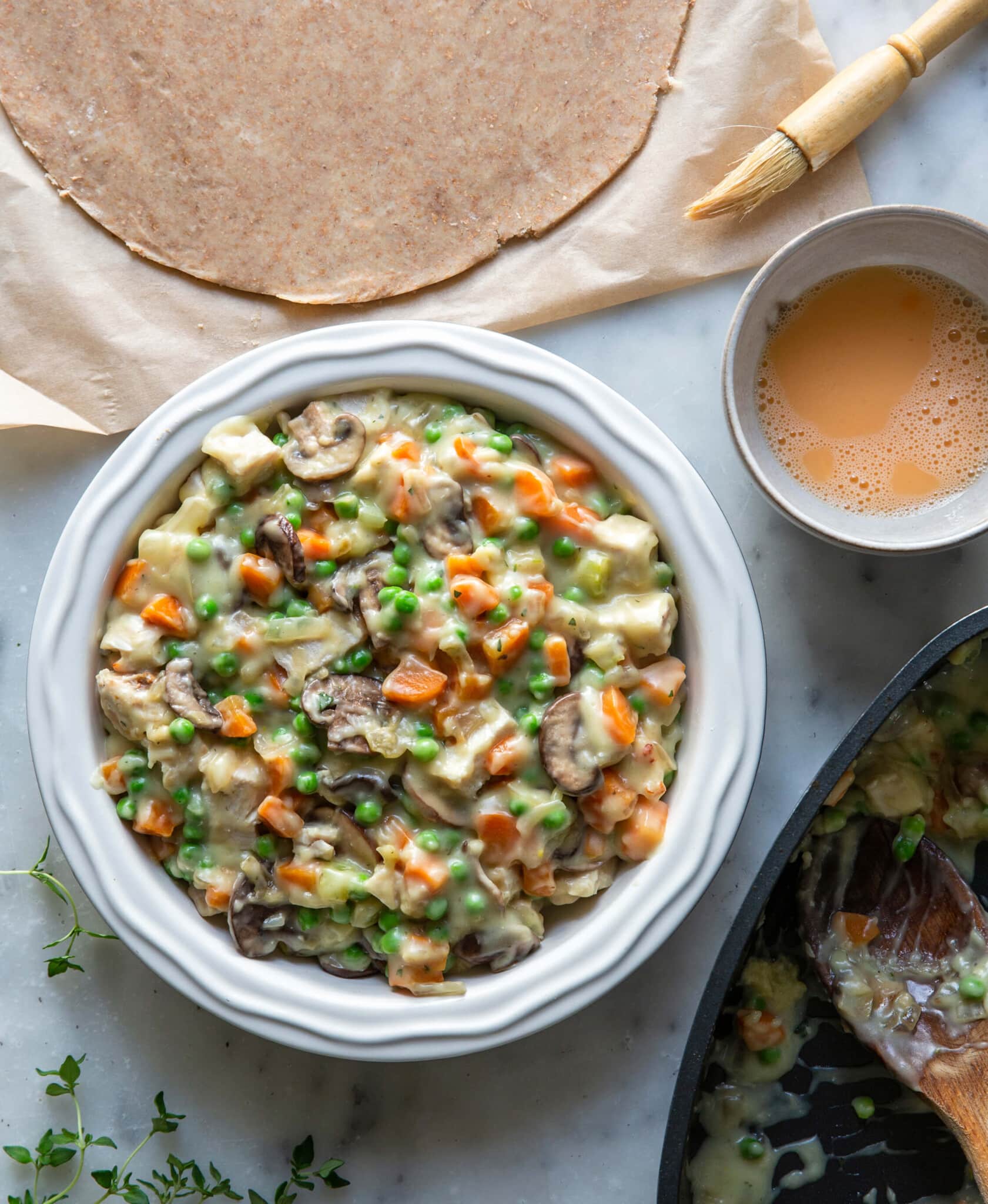 As the faintest of nods to health, I made a whole-wheat crust. Well that's gotta count for somethin' right? I used a Whole-Wheat Pastry recipe from the Boston Cooking School Cookbook [circa 1914], but I completely disregarded their preparation instructions, but the crust was flakey to perfection. [Seriously, who has time to fold in the butter in four layers? I'm not making puff pastry for cryin' out loud!]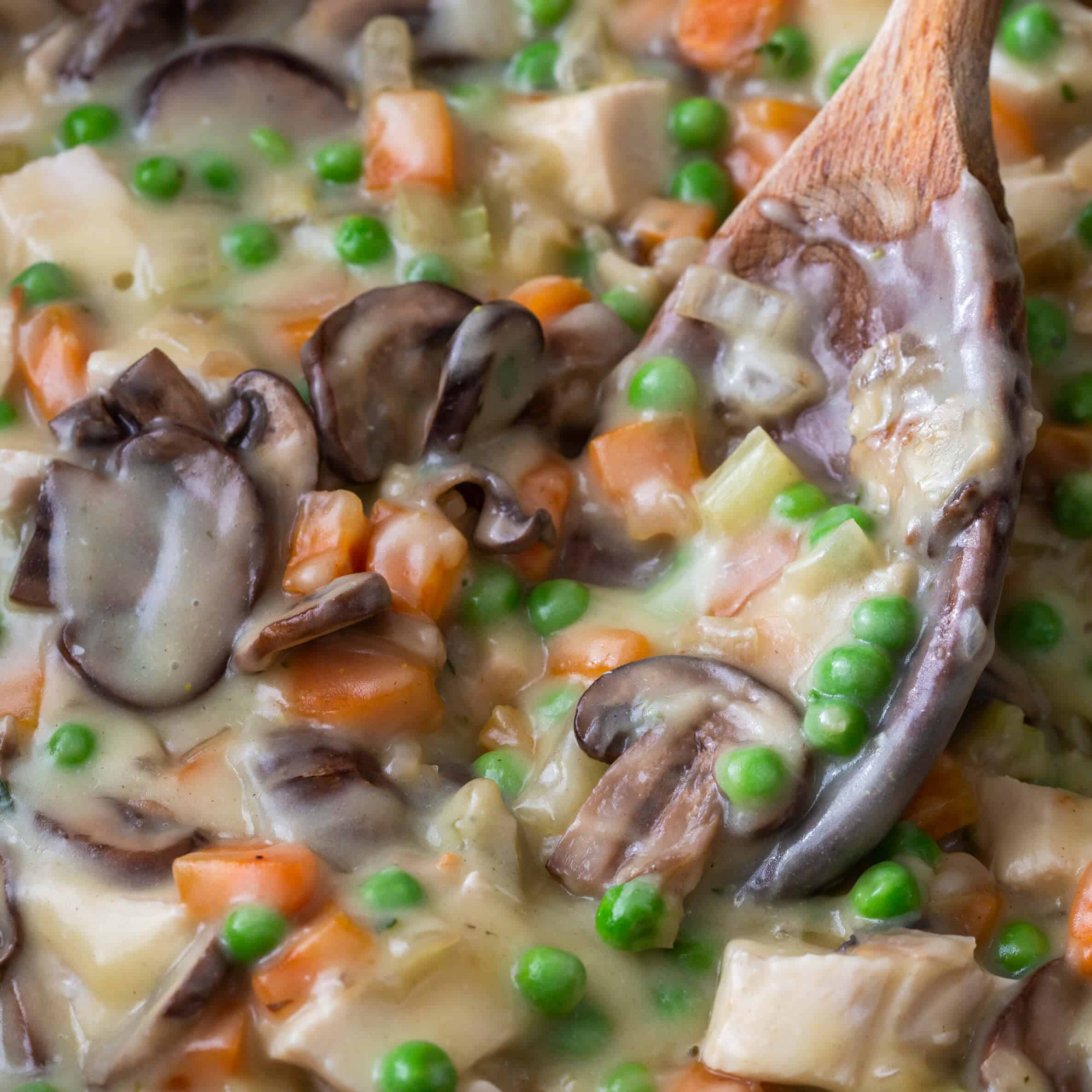 This Chicken Pot Pie is divine. Fresh vegetables are chopped and browned in butter, then a roux is made (yup, more butter!), then chicken broth, wine and half and half are added and then the mixture is covered with buttery pastry and baked to browned perfection. It's the real deal. It's flavorful, old-school home cooking at it's best.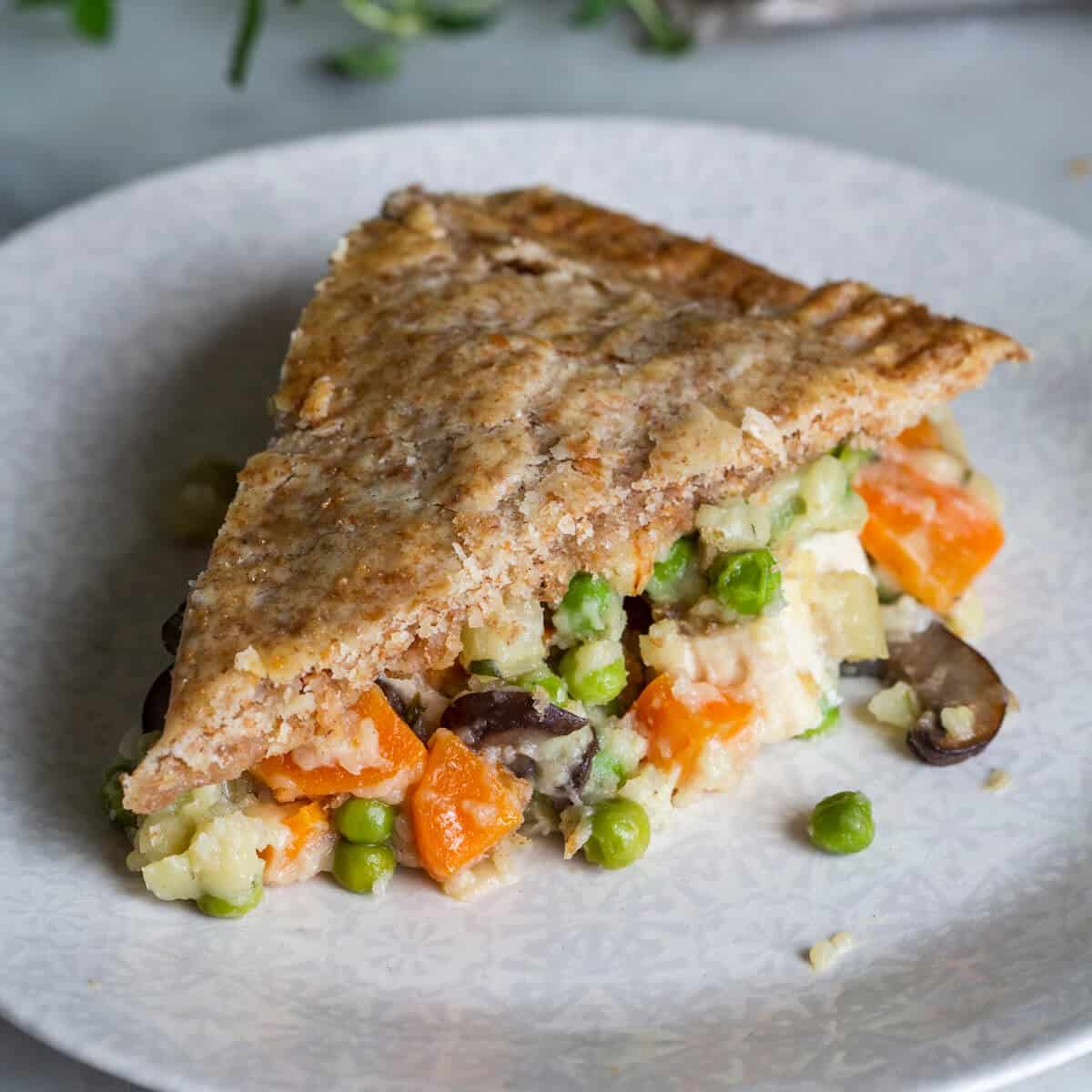 I can confidently say this pot pie joins the ranks with Chicken Marinara of comfort food incarnate.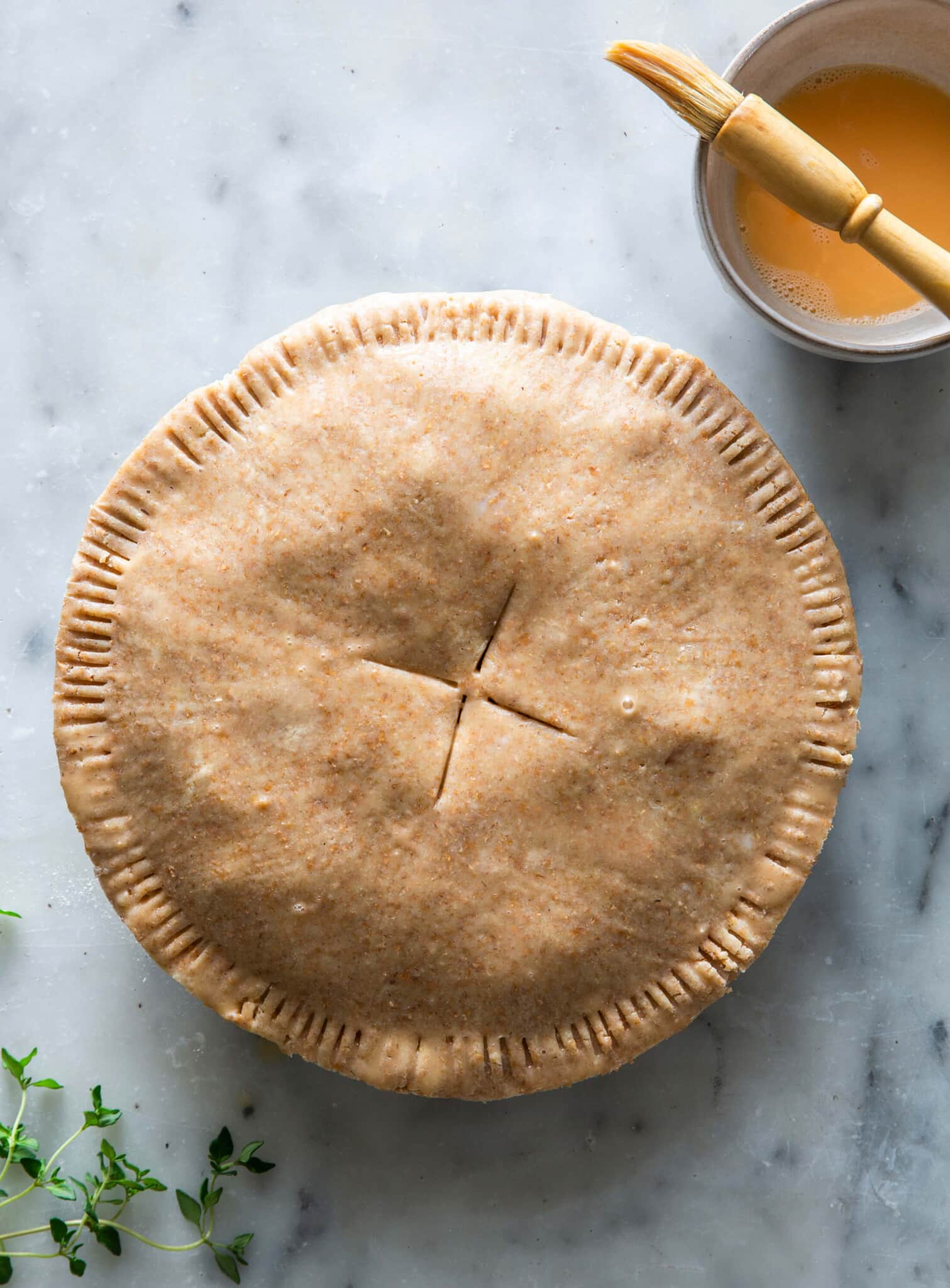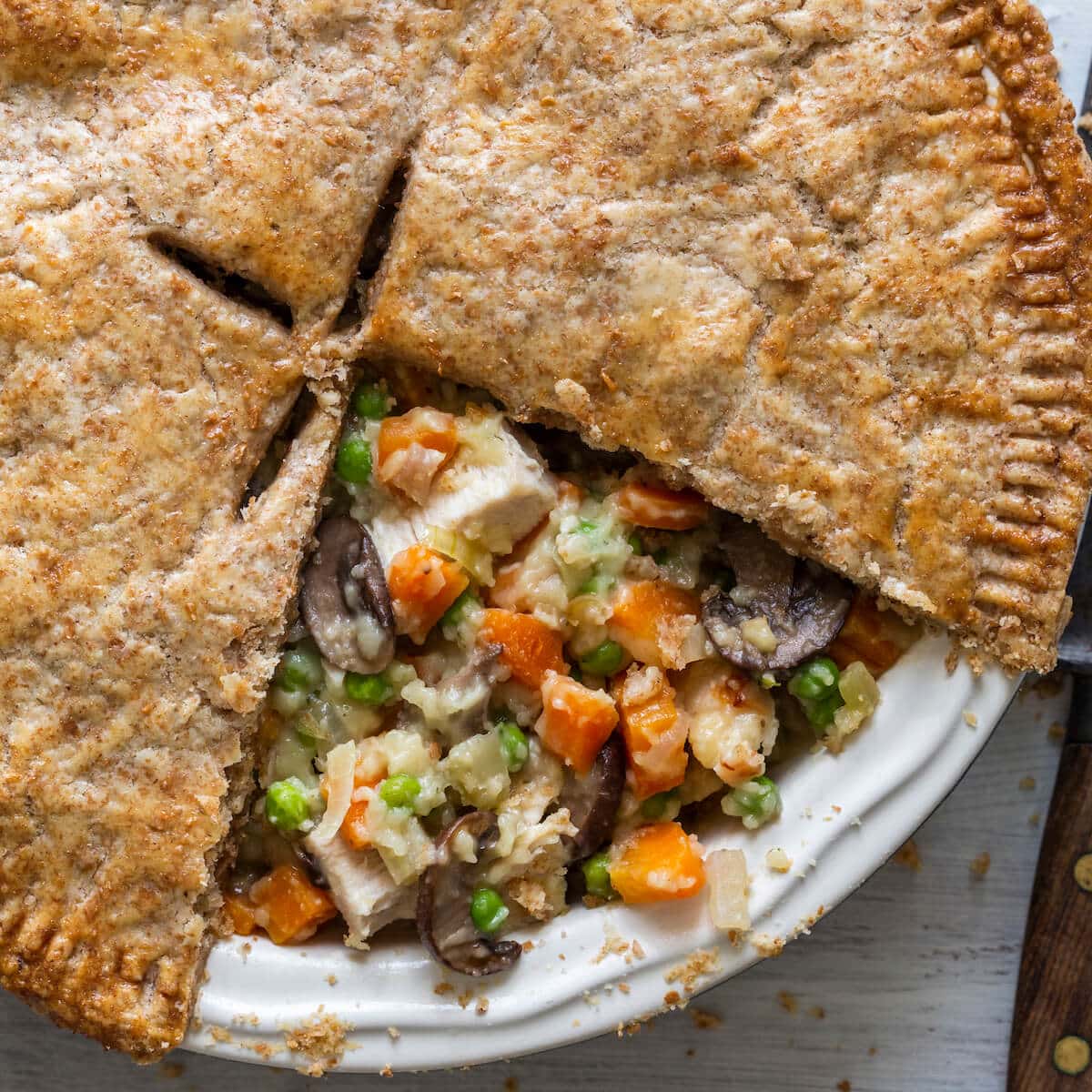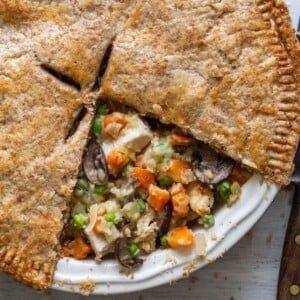 Chicken Pot Pie with a Whole Wheat Crust
This Chicken Pot Pie in a whole wheat crust is creamy and comforting. The whole wheat pastry is delicate and flakey. It almost makes it extra savory and inviting.
Ingredients
For the Chicken Pot Pie Filling:
½

cup

unsalted butter

divided

1

medium onion

diced

3

carrots

peeled and diced

1 ½

cups

sliced mushrooms

1

celery stalk

diced

2

large garlic cloves

minced

1

cup

peas

fresh or frozen, thawed and patted dry

½

cup

all-purpose flour

2

cups

chicken stock

bonus points for homemade!

½

cup

white wine

I used chardonnay

½

cup

half-and-half

Can also use ¼ cup milk + ¼ cup cream

2

teaspoons

fresh thyme

or 1 teaspoon dried

1

pound

cooked chicken

I used rotisserie chicken. You can call me a cheater all you like.
Makes:
9
inch
9
x
9
inch
round
Instructions
Prepare the whole wheat crust:
Make sure all your ingredients and mixing bowl are cold! Combine flours and salt.

Quickly chop the butter and shortening into cubes. This will make it easier to work into the dry ingredients.

Cut the shortening and butter into the flour using a pastry blender or two knives, working as quickly as possible.

Once you no longer have pieces of butter or shortening any larger than a pea, you are ready to begin adding water. I like to switch to a fork at this stage. Pour ice water over flour / butter mixture 1 tablespoon at a time. After each addition, gently mix with a fork. Repeat until your dough is no longer crumbly when you press it together and will hold together in a ball.

Press into a fat dish, wrap in plastic wrap and put in the refrigerator while you prepare the pot pie. You may roll it out at this stage and keep it cold and covered on a rimless baking sheet if you like.
Prepare the Chicken Pot Pie Filling
Melt 2 tablespoons of butter in a medium pot over medium-low heat. Add onions, carrots, mushrooms, celery and garlic; sauté on low heat until softened and slightly browned. Approximately 15 minutes.

If you are using fresh peas, add them at this point and continue to cook for an additional 5 minutes. If you are using frozen, skip the additional cooking. They will be mush and gross.

Remove veggies to a large bowl and set aside.

Melt the remaining 6 tablespoons of butter in the same pot over medium-low heat, and then add the flour. Stir constantly for about 2 minutes until mixture turns a blond color.

Slowly add the chicken stock in no more than ¼ cup at a time, whisking after each addition.

Whisk in wine, half-and-half, and thyme. Cook, stirring frequently, for 10 minutes until the sauce is thickened. Add the veggie mixture back into the pot along with the chicken and stir to cover with the sauce.
Assemble the pie:
Pour into pan and cover with the pastry. Fold and crimp the edges decoratively.

Whisk 1 egg yolk and 1 tablespoon cold water. Brush over pastry.

Cut at least 4 slits in the pastry. Make sure they are completely through the pastry or your steam will exit out the sides and your filling will runeth over. Trust me, I know. Whatever you do, just do it quickly because the warm filling will melt the butter in the crust and then it won't be flakey. Sadness!

Set the baking dish on a rimmed baking sheet and bake 30 minutes or until the crust is your version of perfectly brown. The whole-wheat crust definitely took an extra 20 minutes to brown the way my fiancé likes it.

Cool at least 20 minutes before serving. The filling will thicken considerably after 40 minutes. It's your choice. It tastes just as amazing either way.
Notes
Your Chicken Pot Pie will only be as good as your chicken broth. I use homemade because it's richer, lower in sodium and much lower in fat. Make my recipe here. It's easier than you's think!
Whole Wheat Pastry from The Boston Cooking School Cook Book [1914]
Chicken Pot Pie filling from A Year of Pies, by Ashley English
Nutrition
Calories:
520
kcal
|
Carbohydrates:
32
g
|
Protein:
22
g
|
Fat:
33
g
|
Saturated Fat:
18
g
|
Polyunsaturated Fat:
3
g
|
Monounsaturated Fat:
10
g
|
Trans Fat:
1
g
|
Cholesterol:
111
mg
|
Sodium:
541
mg
|
Potassium:
522
mg
|
Fiber:
5
g
|
Sugar:
5
g
|
Vitamin A:
4776
IU
|
Vitamin C:
11
mg
|
Calcium:
61
mg
|
Iron:
3
mg
Like this? Leave a comment below!