This Collard Green salad has a base of thinly sliced collard greens tossed with a light, balsamic lemon vinaigrette. The greens marinate in the dressing, which softens them up a little bit and takes away some of their raw bite. I then topped them with an absolutely divine spicy peach and Vidalia onion glazed chicken.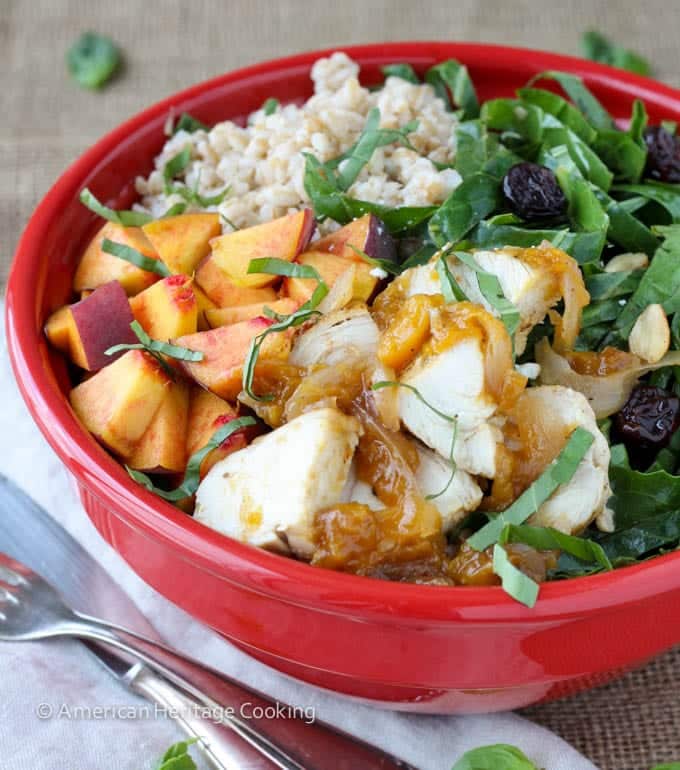 By and large Collard Greens don't get nearly enough love. I am here today remedy that. No longer will collards be relegated to a buttery, Southern side dish. You've gotta mix it up once in awhile!
This sliced Collard Green Salad with Vidalia Onion Peach Glazed Chicken is packed with fresh flavors. It's so good, in fact, I am proposing that Georgia make this salad its new State Salad.
Is there no such thing? Nonsense. There is now!
Thank God I'm here.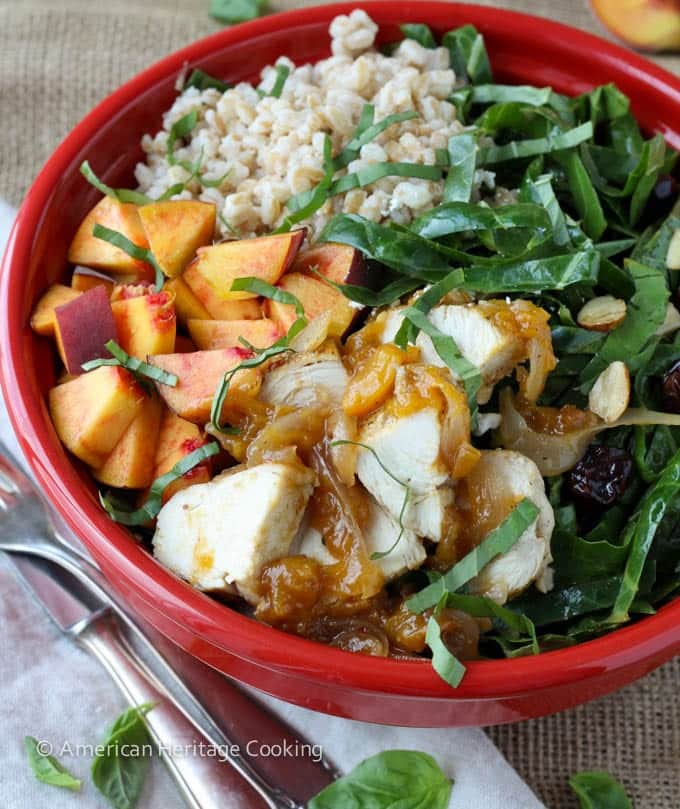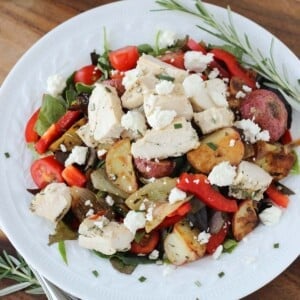 Furthermore dried cherries offer a little bit of tarty-sweetness and some almonds add crunch. The final touch is a sprinkle of thinly sliced basil, because basil pulls it all together. To summarize: you are going to love the flavor melody going on in this salad!
To put it differently, it pulls you in and keeps your taste buds dancing bite after bite!
I am sure you are shocked that this salad, unlike my last several salads, does not have Rosemary Grilled Chicken. Do you remember when I told you  I have several fool-proof ways of making moist, tender chicken breasts? You probably don't because everything recently has used the same grill pan chicken. Because it's awesome.
But trust me when I tell you that this method is just as easy and just as foolproof. It just has one extra step. No biggie.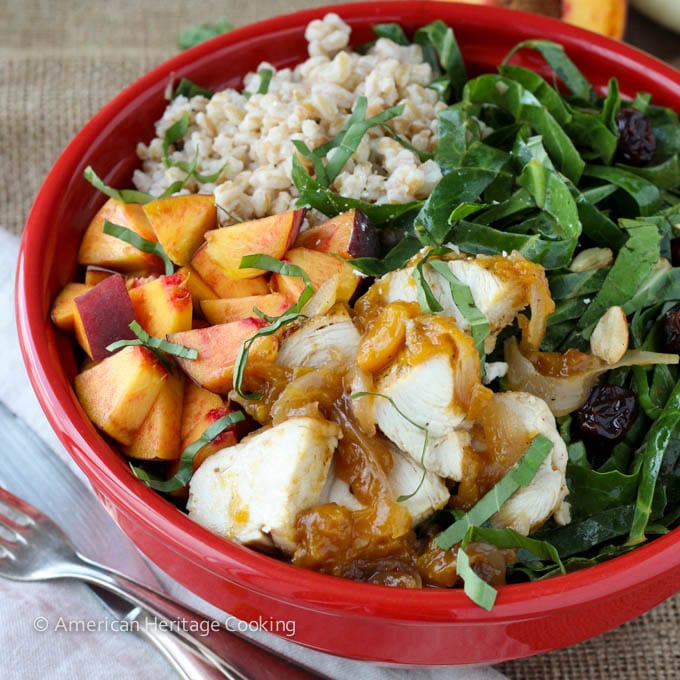 Without doubt I am obsessed with the spicy, sweetness of this glaze! The combination of Vidalia onions, peaches and Thai roasted red chili paste is proof that delicious dishes don't have to be complicated or have a million ingredients. Simple. Tasty. Dinner tonight.
Why the Sear–Bake method works:
Rinsing and patting dry the chicken breasts ensures a quality sear.
Pre-salting the chicken helps break it down to make it tenderer. You know what they say…Salt early and often. I just salt early…
Searing the chicken in a pan that was pre-heated over medium-high heat creates a "skin" that locks in the juices without burning it. There will be no burned chicken on my watch.
Coating the chicken with a sauce or glaze further seals in the juices and adds moisture to the easily dried out breast-meat. I have tried this method with no sauce, and it produces decent chicken but not as moist and meltingly tender as I like.
Lastly, chicken needs to rest 10 minutes prior to cutting so that the juices can redistribute and reabsorb into the meat. If you cut it prematurely, you will have tragically dry chicken every single time. Nobody wants that.
I use the same method in this chicken marinara, chicken in cherry sauce, maple chipotle barbecued chicken and baked chicken and shallots.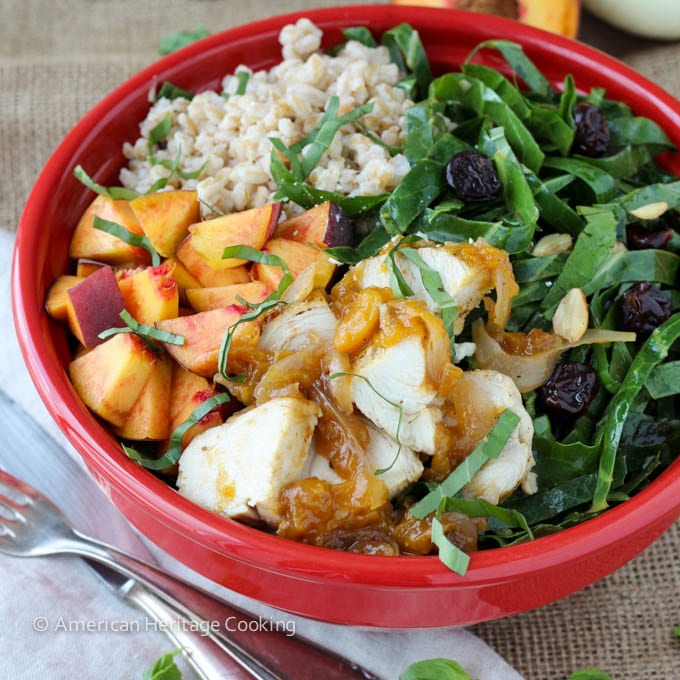 You are going to love this flavorful, healthy dinner salad!!!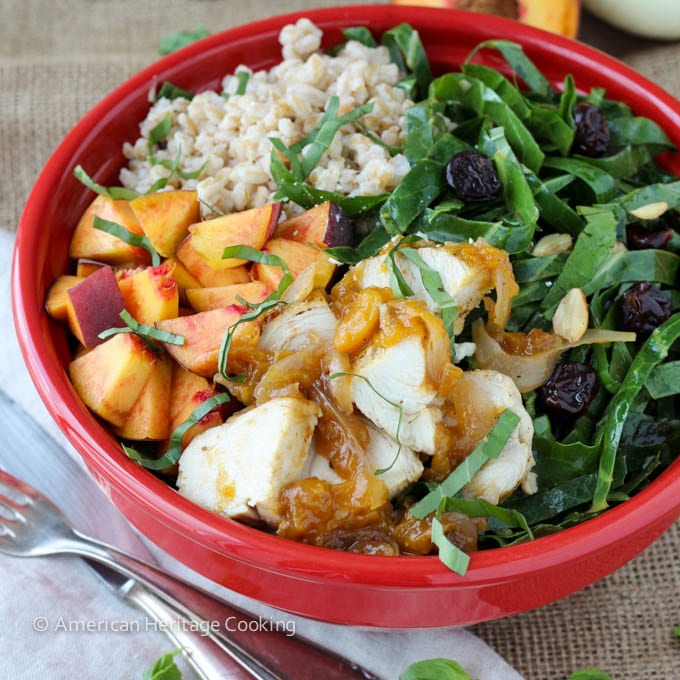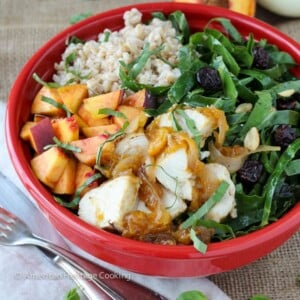 Collard Green Salad with Vidalia Onion and Peach Glazed Chicken
This Collard Green Salad with Vidalia Onion and Peach Glazed Chicken highlights marinated collard greens and a sweet and spicy peach glazed chicken!
Ingredients
Instructions
Preheat your oven to 400°
Cook the Farro:
Combine water, farro, butter and a pinch of salt in a small saucepan. Stir to combine.

Bring to a boil over high heat, then reduce to a simmer and cook, covered, until all the water has been absorbed and the grain is plump and chewy, approximately 30 minutes.
For the Salad Base:
I prepare the collard green salad base while I am waiting for the farro water to boil so that it has time to marinate in the dressing and tone down some of its natural, raw bite.

Wash your collard greens and remove the center stalk in each. Pile them all up in a neat little pile then roll them up lengthwise all together. Slice the roll like you would a Jelly Roll dessert, but as thinly as possible. Place all the strips into a large mixing bowl, tossing to free the individual strips.

In a bowl or a salad dressing container, mix together the vinegar, olive oil, mustard, salt and pepper. Shake or whisk to combine. You are using enough mustard and not too much oil, so this should emulsify nicely. Pour approximately 2 tablespoons of dressing over the collard greens along with the juice from 1 lemon. Toss to coat. Sprinkle with cherries and almonds, cover with plastic wrap and refrigerate until ready to eat.
Vidalia Onion and Peach Glazed Chicken:
Rinse and pat chicken breasts dry. Season with a pinch of salt and pepper on each side. I am conservative with my salt, but you can salt as you wish.

Whisk together champagne vinegar, peach preserves, chili paste, a pinch of salt and some freshly cracked pepper. Set aside.

Heat a cast iron skillet or stainless steel pan over medium heat until searing hot. Sear the chicken for 2 minutes on each side then remove to a plate, tent loosely with foil.

Add the onions and peaches to the pan and sauté until the onions begin to release their juices, stirring frequently to keep them from burning. Pour the peach preserve mixture into the pan and stir almost continuously until the onions are soft.

Return the chicken to the pan and cover with the peach mixture. You want to make sure that you mound up that sauce on top of the chicken and coat every last inch. I insert an individual thermometer into my breasts at this point to take out the guess work.

Bake in the preheated oven for 8-15 minutes until a thermometer inserted into the thickest part reads 165°. This cook time wil vary greatly depending on the size of your chicken breast and if you still have the tenderloin attached. Mine were small with the tenderloin and they took 8 minutes.

Remove chicken from the pan and tent loosely with foil. Let rest 10 minutes. I know you are hungry, but resist. It'll be worth it.

While your chicken rests, reduce the sauce over medium heat if you wish and assemble the rest of your salads.
Nutrition
Calories:
572
kcal
|
Carbohydrates:
67
g
|
Protein:
30
g
|
Fat:
21
g
|
Saturated Fat:
3
g
|
Polyunsaturated Fat:
3
g
|
Monounsaturated Fat:
13
g
|
Trans Fat:
1
g
|
Cholesterol:
75
mg
|
Sodium:
392
mg
|
Potassium:
782
mg
|
Fiber:
8
g
|
Sugar:
33
g
|
Vitamin A:
811
IU
|
Vitamin C:
24
mg
|
Calcium:
78
mg
|
Iron:
2
mg
Like this? Leave a comment below!