These Cranberry Thumbprint Cookies are a buttery shortbread cookie dough filled with a Moscato cranberry jam and baked to soft, tender perfection. The dough tastes like Walker's shortbread but is chewy and soft instead of crumbly.
12 Days of Christmas Cookies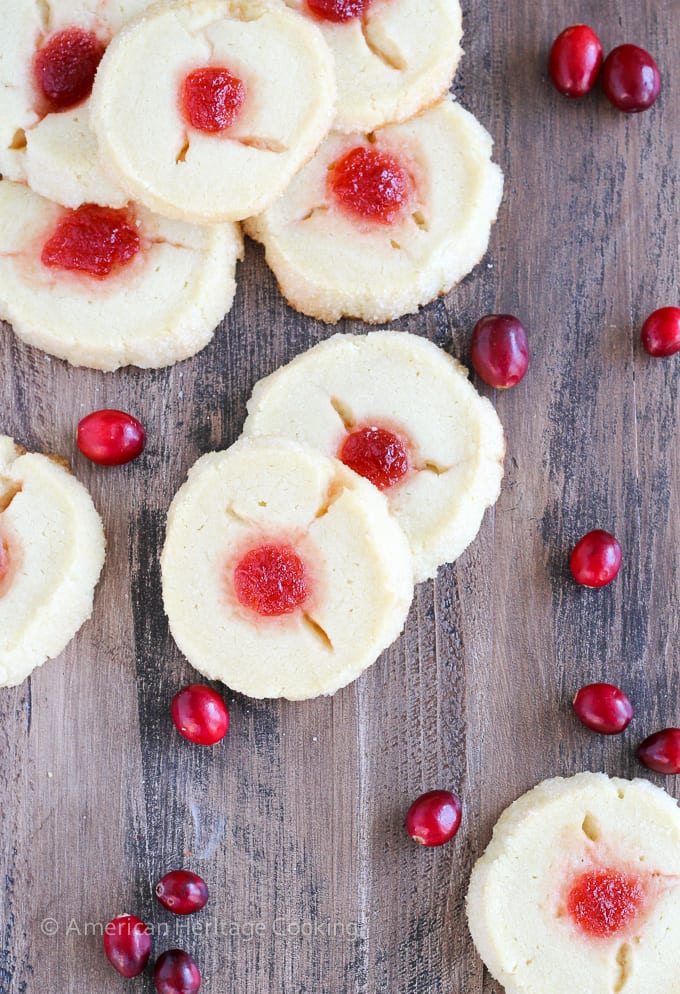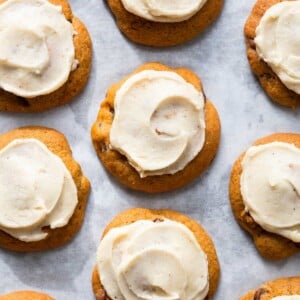 I got this recipe on a family vacation in Napa! During the wine tasting at Robert Mondavi they had these little cookies on the table and I was so enamored that I saved the recipe for almost 4 years.
Apparently I don't know what 1 ¼ inches looks like so my cookies are a bit on the chubby side, but they still taste wonderful. When I make them again, I will make them smaller because then you would get a bit of jam in every bite.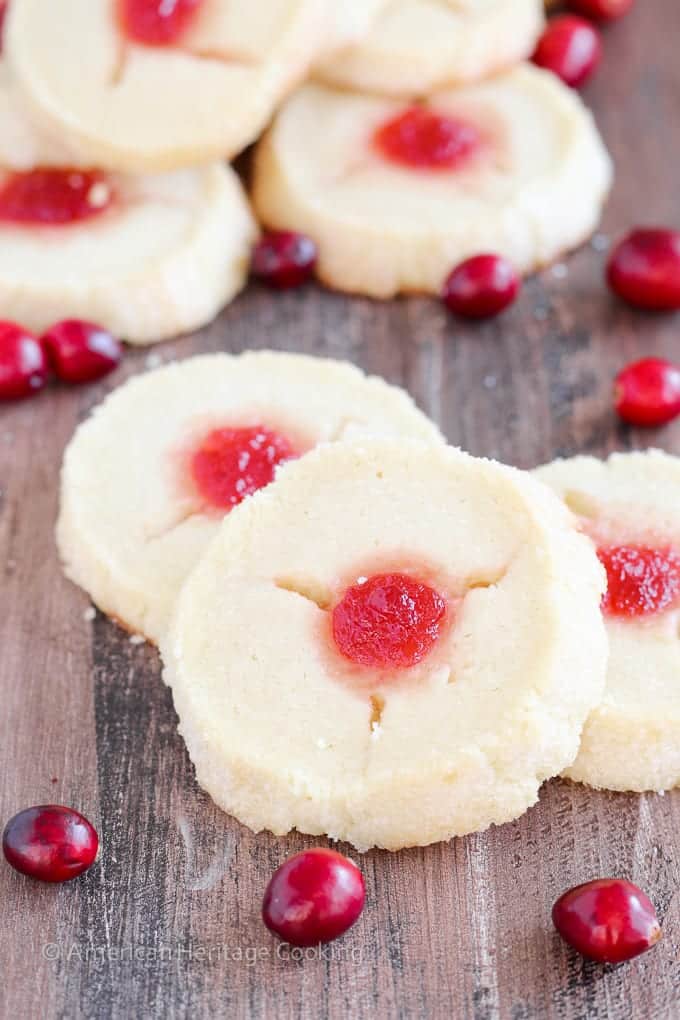 This recipe does require a homemade jam. You could use store-bought but then you wouldn't get to booze it up.
Just sayin'.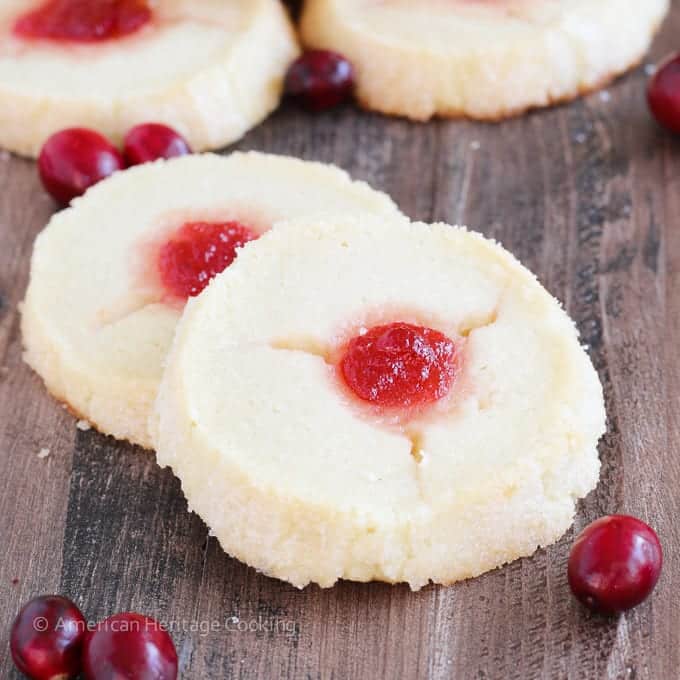 When you sink your teeth into this cookie you get a mouthful of tender sugar cookie and a little bit of tart cranberry jam. The perfect balance of flavors.
The rich butter cookie is enrobed in sugar, so it has a little crunch on the outside.
I mean is there anything better?
#sugarallthethings
These are another refrigerator log cookie, so you can bake off as many or as few as you choose. I am really loving these log cookies. They are so fast. Make dough, roll into log, chill and then slice and bake.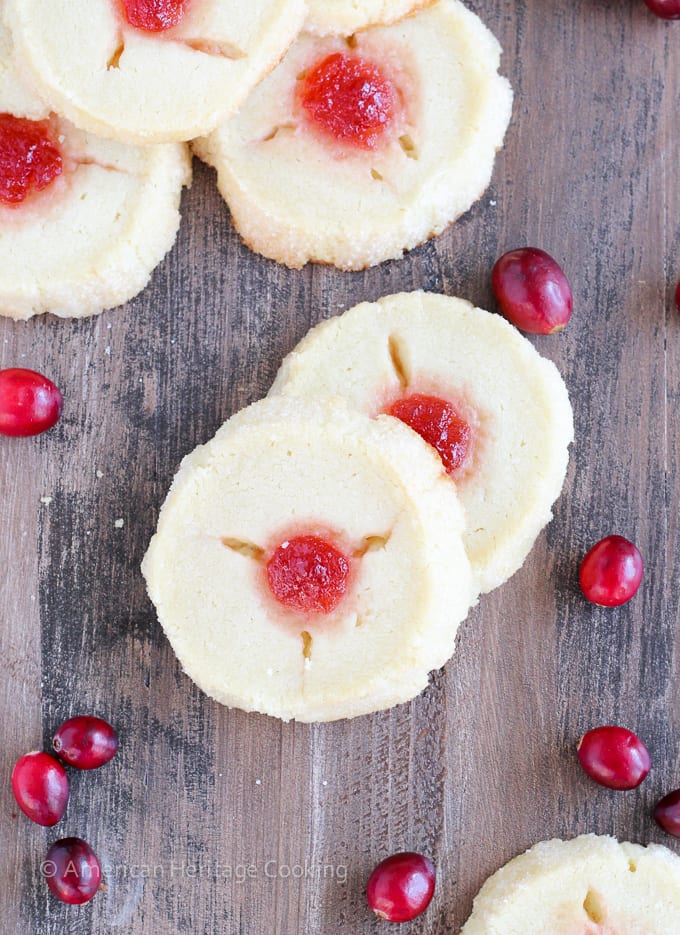 Really, where have these been all my life?
Rolling cookies into balls is overrated.
These Cranberry Thumbprint Cookies are for the seventh day of my 12 Days of Christmas Cookies! You won't want to miss the Cranberry Cinnamon Jam Bars, Rum Refrigerator Cookies, or Cardamom Walnut Snowballs, Spiced Crinkle Cookies, Coconut Peppermint Pretzel Bark, Old Fashioned Date Pinwheels!!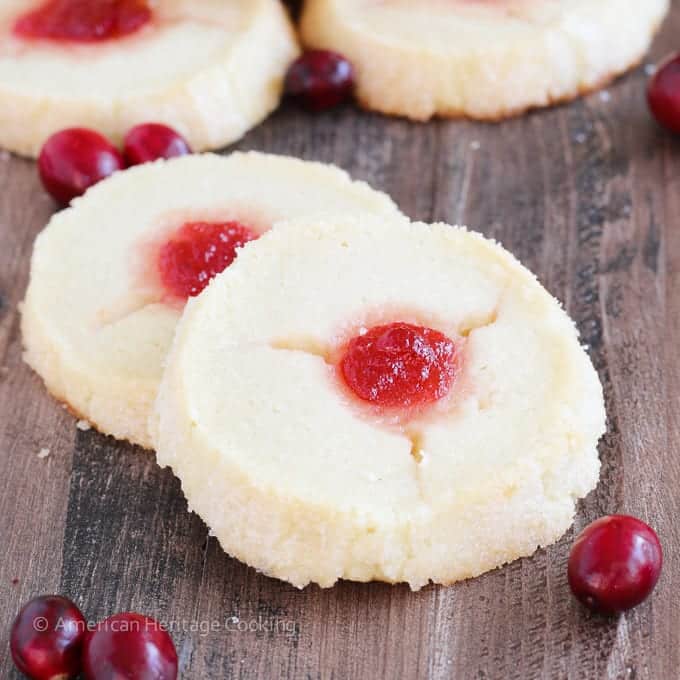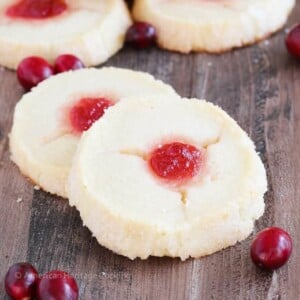 Cranberry Thumbprint Cookies
These Cranberry Thumbprint Cookies are a buttery shortbread cookie dough filled with a Moscato cranberry jam and baked to soft, tender perfection.
Instructions
To Make the Cookie Dough:
In the bowl of a stand mixer cream the butter and sugar on medium speed until light and fully.

Add the flour and salt and mix on low until just combined.

Divide the dough into two pieces and roll out into 2 logs 1 ¼ inches in diameter on parchment paper. Wrap in parchment and refrigerate until hard (at least 3 hours)
To Make the Jelly:
Place cranberries and water in a medium saucepan and bring to a boil, reduce heat, cover and simmer for 10 minutes. Pass mixture through a strainer or sieve, being sure to scrape off the outside of the strainer!

Return strained cranberry mixture to the saucepan and add sugar, wine, lemon juice and sat. Cook until sauce reaches 220°F (104°C).

Skim any foam and pour into a glass bowl to cool. Pour into a piping bag or plastic baggie.
Baking & Assembling the Cookies:
Preheat the oven to 350°F (176°C).

Unroll the log but leave it on the parchment paper. Brush the egg white on all sides of the log. Pour about ¼ cup granulated sugar in a line on the parchment. Roll the log in the sugar to evenly coat all sides.

Remove from parchment and place on cutting board. Cut into ½ inch slices and place slices on parchment lined baking sheet.

Press your thumb into each cookie to make an indent. If the cookies crack, let them warm up for about 5 minutes and try again.

Cut the corner off the plastic baggie or piping bag and squeeze about a teaspoon of jelly into the indent of each cookie.

Bake 12-15 minutes or until the edges of the dough are just beginning to brown.

Allow to cool 2 minutes on the pan and then remove to a wire rack to cool completely.
Nutrition
Calories:
211
kcal
|
Carbohydrates:
37
g
|
Protein:
2
g
|
Fat:
6
g
|
Saturated Fat:
4
g
|
Polyunsaturated Fat:
1
g
|
Monounsaturated Fat:
2
g
|
Trans Fat:
1
g
|
Cholesterol:
15
mg
|
Sodium:
50
mg
|
Potassium:
38
mg
|
Fiber:
1
g
|
Sugar:
24
g
|
Vitamin A:
185
IU
|
Vitamin C:
2
mg
|
Calcium:
7
mg
|
Iron:
1
mg
Like this? Leave a comment below!