These Old Fashioned Date Pinwheel Cookies are soft, chewy cinnamon brown sugar cookies with a pecan date filling! They may be old fashioned but they are absolutely sensational!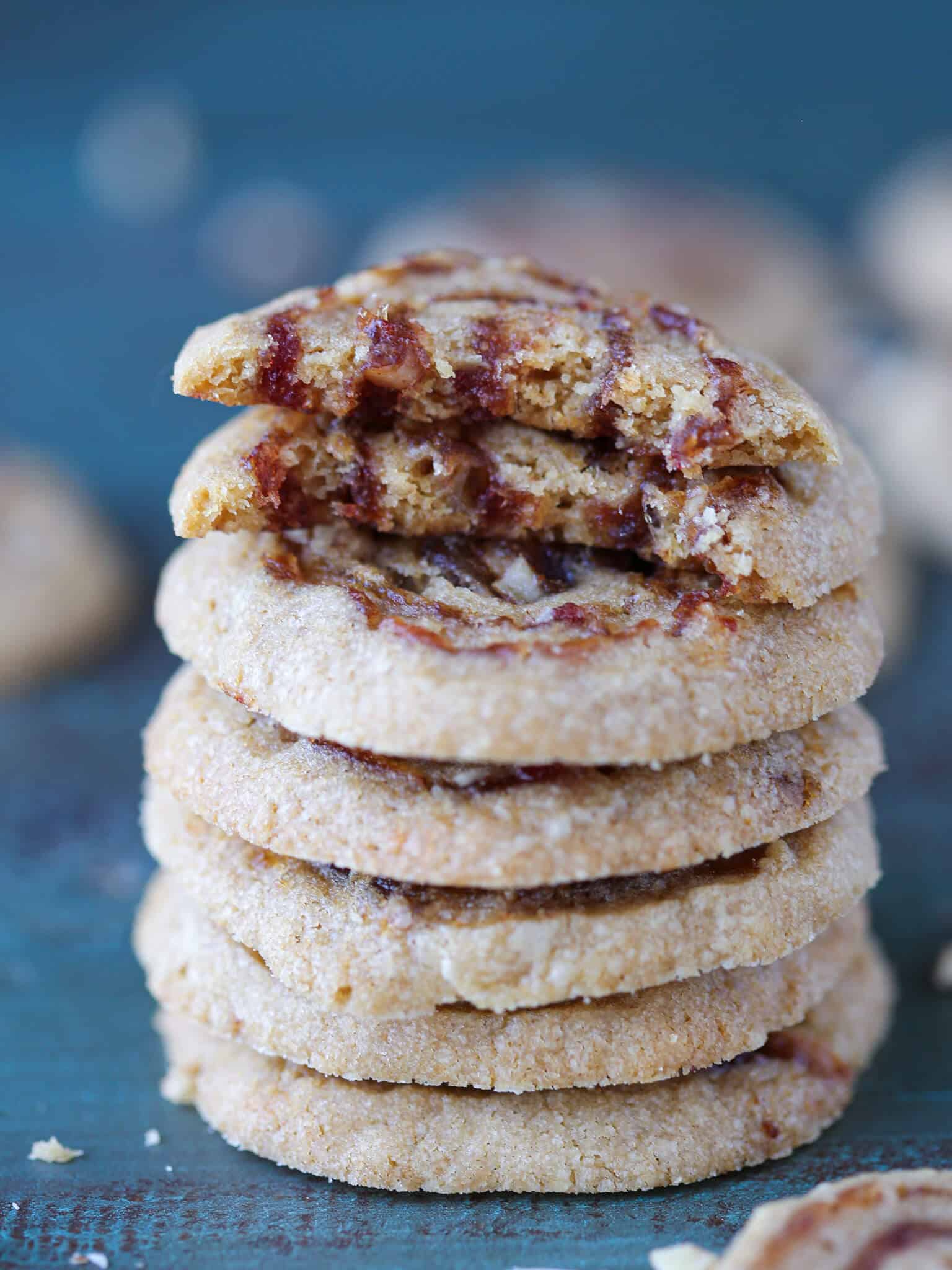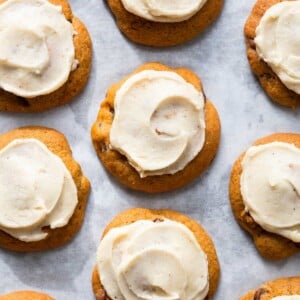 These date pinwheel cookies are soft and chewy with a delightful cinnamon brown sugar flavor that blends perfectly with the rich, caramel flavor of the Medjool dates.
Remember my Great-Grandmother RoRo of the 7 layer bar fame? Remember how she always had each grandchild and great-grandchild's favorite treats waiting whenever they visited? Pecan tassies were mine, Old Fashioned Peanut Butter Cookies were my Dad's, and these date pinwheels were my Mom's.
I couldn't get my paws on RoRo's date pinwheel cookie recipe but I found this one in my new favorite antique Christmas Cookie book.
Ingredients Needed:
Butter: I use unsalted butter for baking, because you want to control the amount of salt you are adding. Every brand is different and it makes adjusting the recipe a challenge.
Sugar: I use extra-fine sugar in baking because it dissolves faster and incorporates easier than even standard granulated sugar. Regular granulated sugar will be just fine though!
Whole Egg: Eggs are there to add a little bit of leavening as well as richness.
Cinnamon: Ground cinnamon is the star of this cookie. It warms the whole dish and pairs beautifully with the dates. Choose a high quality cinnamon such as saigon or ceylon.
Salt: The kosher salt is essential in this recipe. It plays a supporting roll balancing the flavors and all of that sugar! Kosher salt is lass salty than table salt and a teaspoon weighs less than other finer ground varieties.
All-Purpose Flour: I use all-purpose flour but you could also use pastry flour with minimal impact.
Light Brown Sugar: The molasses in light brown sugar balances the dates and adds warmth with the cinnamon. It also contributes to the soft, moist texture.
Dates: I use pitted Medjool Dates in these date pinwheel cookies. They have the richest, deepest flavor and it makes all the difference. I did all the digging and testing for you, so you can trust that these are the most reliably soft Medjool dates produced in the USA.
Pecans: Fresh pecans are a must. They are not toasted, so the pure pecan flavor will come through.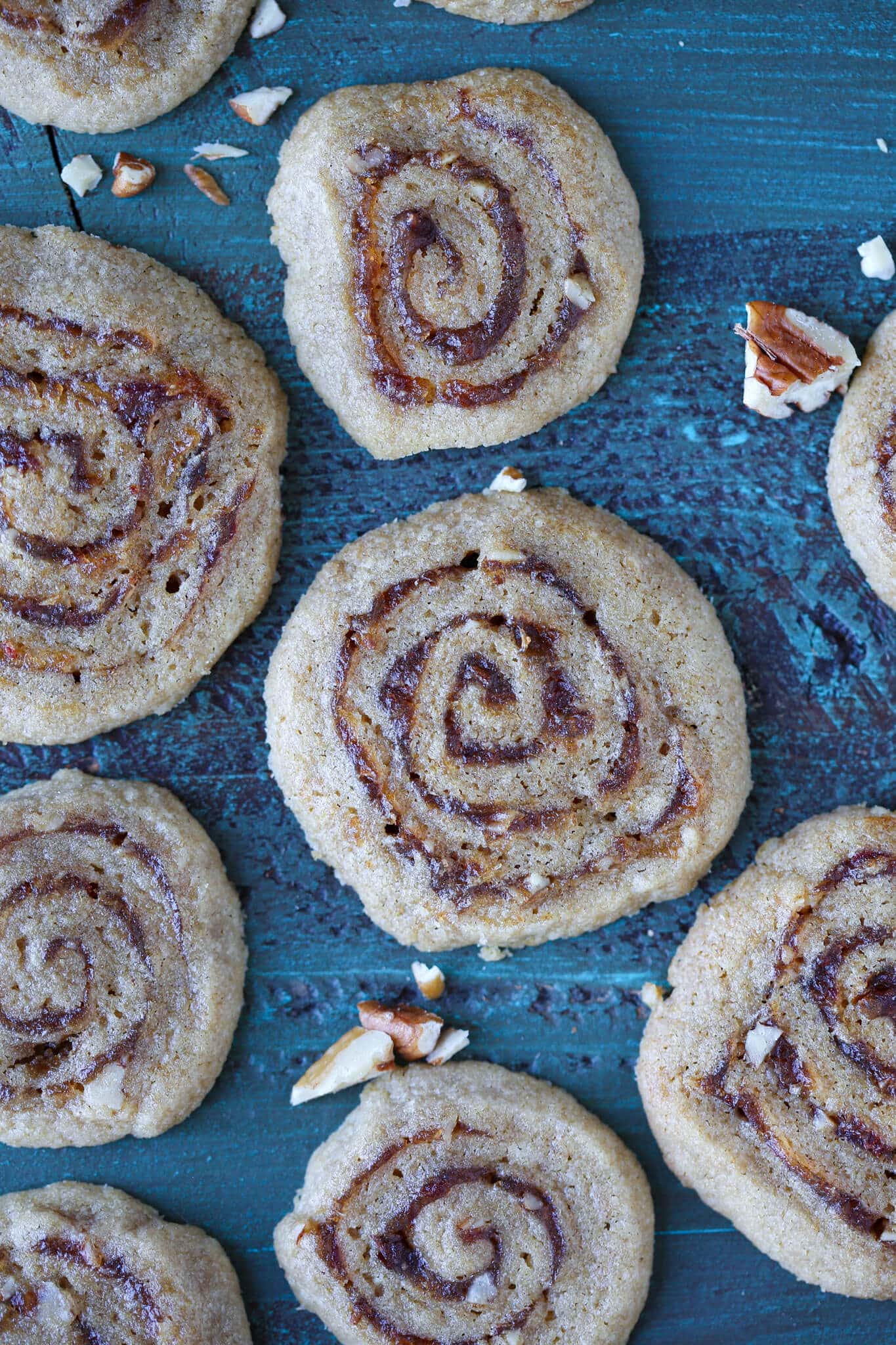 Tips for Perfect Date Pinwheels:
Don't rush them: I did not follow this advice when filming the YouTube video and the results show. The dough is less even and the swirl isn't as symmetrical. I left one of the original photos at the bottom of the post so you can see what date pinwheels can look like. They will taste just as yummy if rushed, just FYI!
Date Filling Consistency: The filling consistency when cooled should be like a thick, spreadable jam. The little pieces of pecans will make it challenge to spread, so it is crucial that the filling isn't too thick.
Filling & Dough Temperature: The dough will crack when it is too cold, so allow it the time to warm up slightly before spreading on the filling. The filling should be room temperature when you spread it. If you make it ahead of time, allow it to warm up before attempting assembly.
Chill Overnight: The rolls will slice best with a serrated knife and when chilled overnight.
Plan Ahead: You can make the dough and filling when you have time, assemble them and then bake perfect date pinwheel cookies as the mood strikes or when unexpected holiday guests turn up.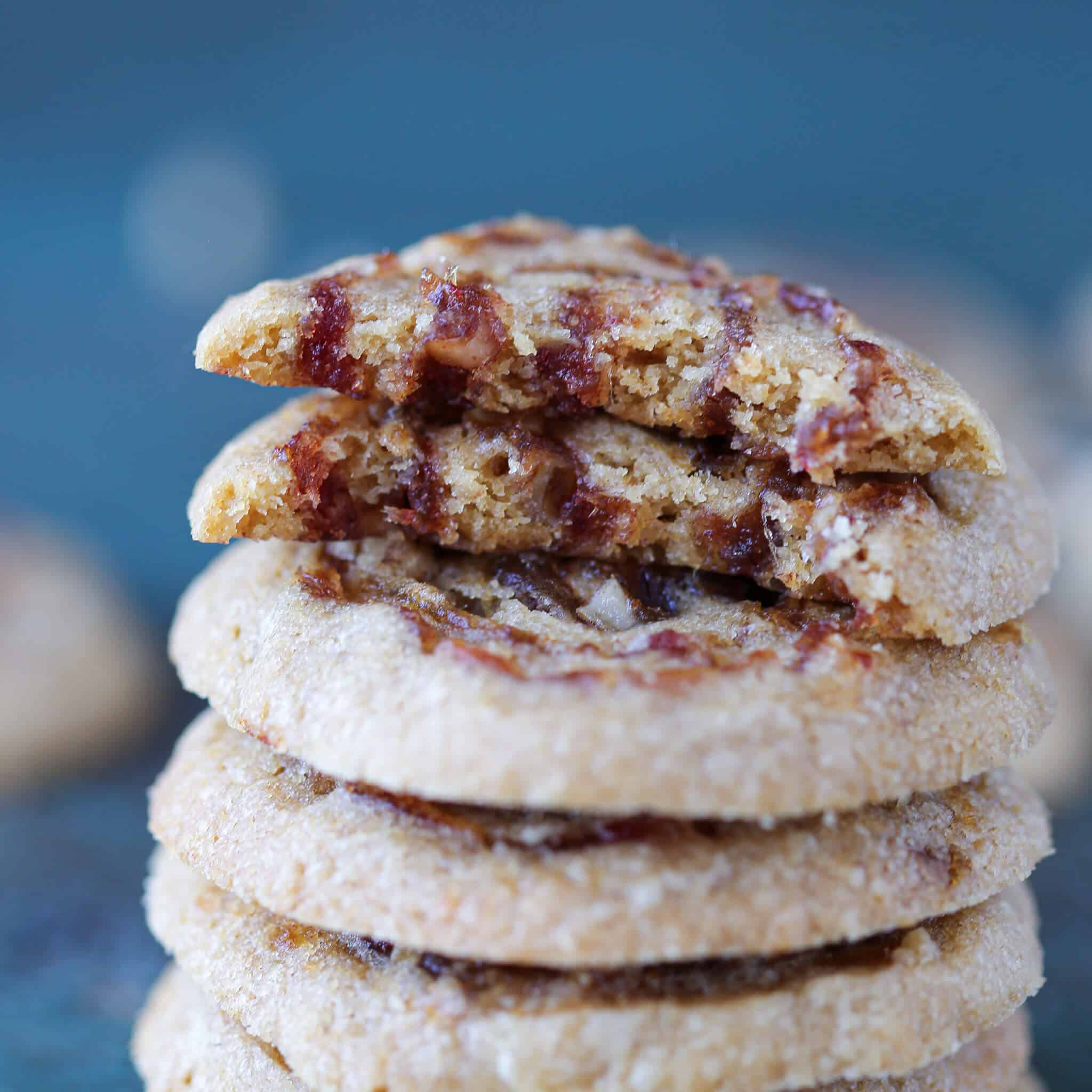 How to store Date Pinwheel Cookies:
Make the filling up to 2 weeks in advance and store in the refrigerator. Or make it up to 2 months in advance and store in the freezer.
Make the dough up to 3 days in advance and store in the refrigerator or up to 2 months in advance if stored in the freezer.
Assemble and store cookies in the refrigerator up to 1 week in advance or frozen up to 2 month in advance
Baked date pinwheel cookies will keep at room temperature for a week or in the refrigerator 2 weeks or frozen up to 2 months. RoRo kept hers layered in waxed paper in gift tins in the freezer just waiting for the right guest to arrive!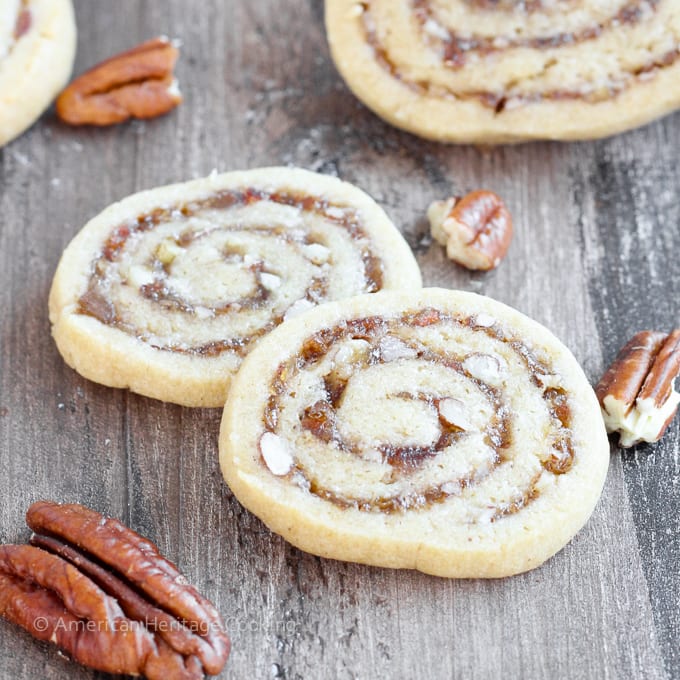 Substitutions
Nuts: I use pecans in these cookies but you could substitute any nut you prefer. Walnuts would also be delightful. If you omit the nuts, be sure to adjust the water because the filling might be too loose.
Spice mix: I use cinnamon but any of my spice mix recipes would be delicious. Substitute in equal parts my Pumpkin Spice Mix, Speculoos Spice Mix or Apple Pie Spice Mix to vary the flavor!
Sandwiches: If rolling the dough into pinwheels sounds like too much to take on this holiday season, make sandwich cookies or thumbprints instead!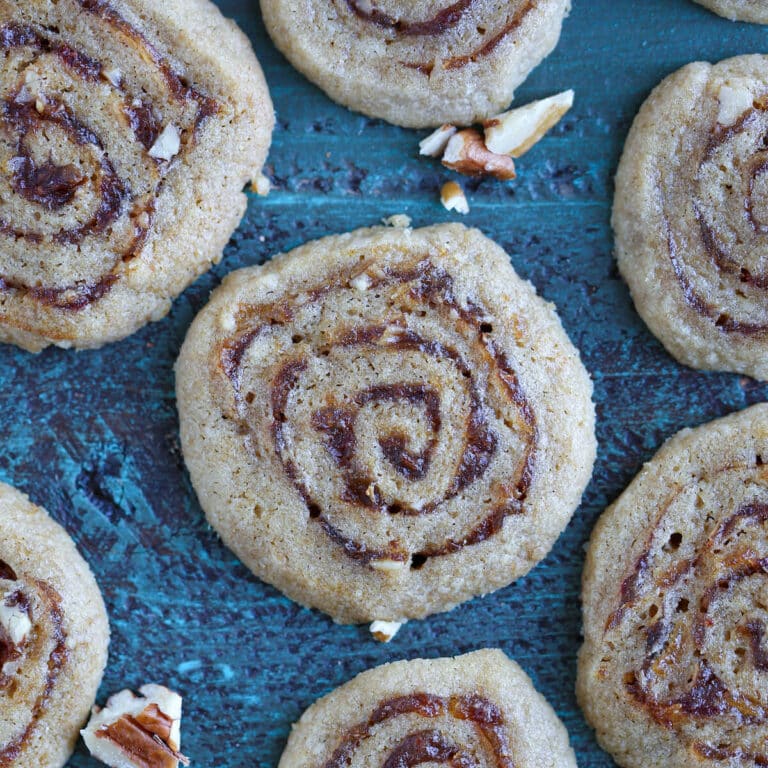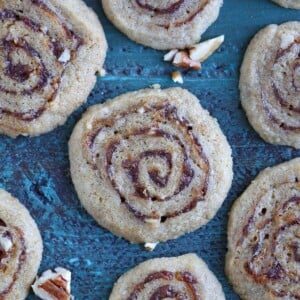 Old Fashioned Date Pinwheels
These Old Fashioned Date Pinwheels are soft, chewy cinnamon brown sugar cookies with a pecan date filling! They may be old fashioned but they are absolutely sensational!
Instructions
To Make the Dough:
In a medium bowl whisk together flour, cinnamon, soda and salt.

In the bowl of a stand mixer, cream butter and sugar on medium speed until light and fluffy. Add egg and beat well to combine.

Sift flour mixture into the bowl of the stand mixer and mix on low speed just until combined.

Wrap the dough in plastic wrap. It will help you roll out the dough later if you shape it into a rectangle.
To Make the Date Filing:
In a small saucepan cook dates and water until dates are soft. Add sugar and cook until thickened. Stir in pecans. Cool to lukewarm.
To Assemble & Bake:
Divide the dough into thirds. On a lightly floured surface roll out 1/3 of the dough into a rectangle 7 inches by 11 inches. Cover with 1/3 of the date filling.

Starting with the short end (for larger cookies) or the long edge (for smaller cookies) gently but tightly roll up the dough. Wrap in wax paper and refrigerate until firm (several hours or overnight). Repeat with remaining dough.

When ready to bake preheat oven to 375° (190°C). Cut ¼ inch slices of the roll and place ½ inch apart on a parchment lined baking sheet. They don't really spread.

Bake 8-10 minutes or until the edges are lightly browned.
Nutrition
Calories:
71
kcal
|
Carbohydrates:
12
g
|
Protein:
1
g
|
Fat:
3
g
|
Saturated Fat:
1
g
|
Polyunsaturated Fat:
1
g
|
Monounsaturated Fat:
1
g
|
Trans Fat:
1
g
|
Cholesterol:
8
mg
|
Sodium:
30
mg
|
Potassium:
31
mg
|
Fiber:
1
g
|
Sugar:
7
g
|
Vitamin A:
65
IU
|
Vitamin C:
1
mg
|
Calcium:
7
mg
|
Iron:
1
mg
Like this? Leave a comment below!
Before you go!
Check out our other delicious, chef-developed recipes for Cookies!