These fiery chili chicken burgers are seasoned with roasted red chili paste, garlic and cilantro! Served with a cool mint lemon yogurt sauce they make a perfect fast, easy and healthy meal!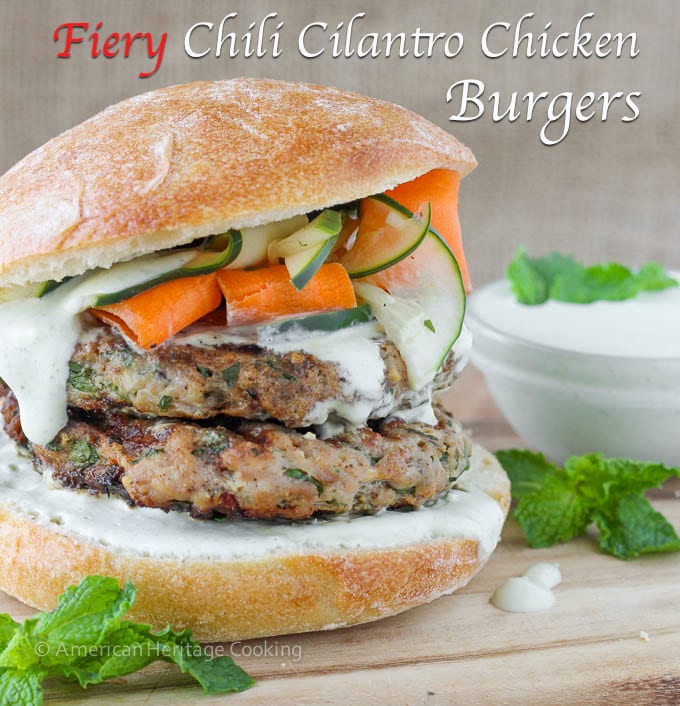 The roasted red chili paste and cilantro in the burgers are addicting all on their own, but with the yogurt spread you are going to dream about them! They are healthy, fresh and easy enough for a weeknight meal! Each serving has over 28 grams of protein and only 172 calories!
So these Fiery Chili Chicken Burgers aren't really that hot. Certainly not hot enough to warrant a Cool Lemon Mint Yogurt Spread. But you're gunna wanna generously dollop that on top anyways because it's fantastic. Finger lickin' good. Surreptitious-spoon-dipping-into-the-bowl-too-many-times-to-count-good.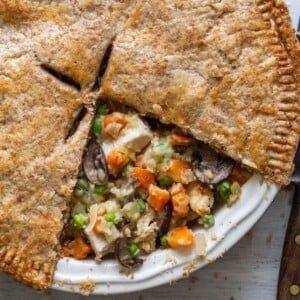 These burgers go on the list of easy and healthy chicken dinners along with Thai peanut chicken noodle stir fry, healthy chipotle chicken tacos, chipotle chicken chili, one pan roasted lemon chicken dinner, and my foolproof rosemary chicken.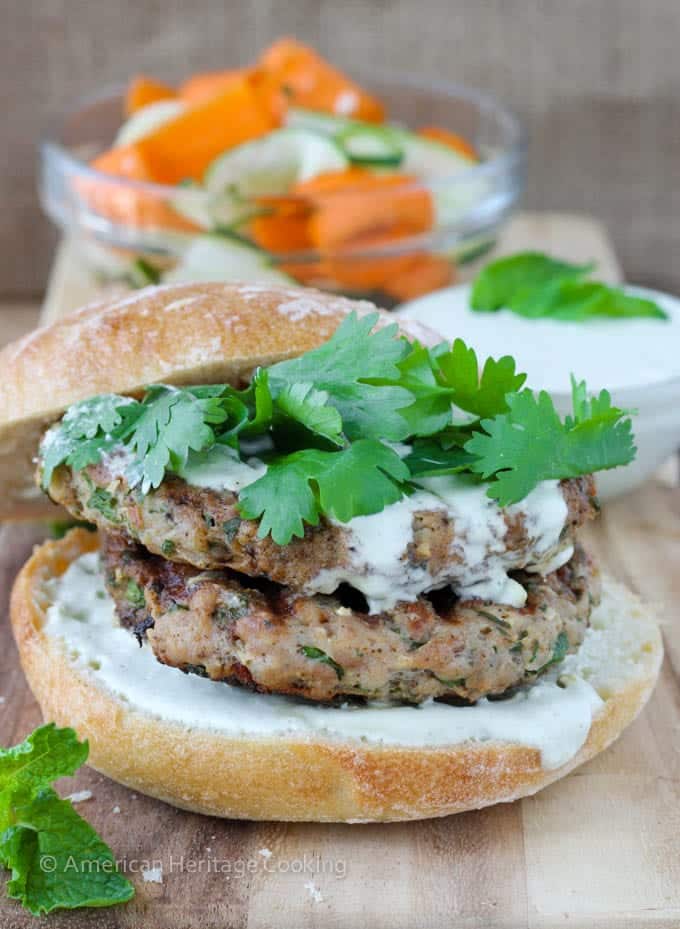 I used a combination of mascarpone cheese and Greek yogurt in the spread because the mascarpone adds a nice smooth, creamy texture and cuts some of the tartness from the yogurt and lemon. You will want to eat this as a veggie dip, on top of falafels, and straight off the spoon. It so creamy, minty, and perfectly tart! And when you pair it with the roasted red pepper cilantro burgers and toasted ciabatta bread, you have yourself a little BIG bite of Heaven.
Since it is well known around these parts that I am terrified of a real grill and I much prefer the safety of my kitchen, I made these in my grill pan.
I use the same technique as my rosemary chicken, which also makes these burgers foolproof. I even cooked my first batch longer than was strictly necessary and they were still juicy, tender and perfectly delicious! Heat up your grill pan, brush it with olive oil, throw down the patties, place a foiled covered cast iron pan on top, and grill to perfection.
I actually would not recommend making these on a traditional grill because ground chicken is little looser than ground beef and may slide through the grates and that would be sad indeed. Full disclosure: these burgers really aren't hot at all, but I just loved the name so much and I'm such a heat weenie that the flavor from the chilies was all I desired. You can feel free to bump up the chili paste or add in some dried crushed red pepper. Or Sriracha (you know who you are…)
I also threw together an easy carrot and cucumber salad that can be eaten on top of the burgers or as a nice side dish (or not at all!). I liked the bit of crunch that it added to the burgers but they were also sensational with just the sauce.
Fiery Grilled Chicken Burgers with Cool Lemon Mint Sauce
These fiery chili chicken burgers are seasoned with roasted red chili paste, garlic and cilantro! Served with a cool mint lemon yogurt sauce they make a perfect fast, easy and healthy meal!
Ingredients
For the Yogurt Spread:
2/3

cup

2% Greek Yogurt

I use Fage because I love the taste

1/3

cup

mascarpone cheese

1/8

teaspoon

lemon zest

only the dark yellow, please!

1

tablespoon

fresh mint leaves

minced
Instructions
For the Burgers:
Heat up your grill pan over medium-high heat. Cover the bottom on a cast iron skillet with 2 sheets of aluminum foil.

While the grill pan heats up, mix together chicken, chili paste, cilantro, salt, pepper, and garlic in a medium bowl. Wet your hands and form into 4 equal patties.

When the grill is hot, brush with olive oil and place patties on the grill pan. Place skillet on top of patties, foil side down, trying to distribute the weight evenly.

Set your timer for 5 minutes. Flip burgers, take off one layer of the foil on the skillet, place skillet back on the patties. Cook an additional 5 minutes or until the internal temperature reaches 165°.

Remove patties to a plate, cover with foil to rest 5-10 minutes.
For the Yogurt Spread:
In the small cup of a Nutribullet add all ingredients. Blend until smooth.

Taste and adjust any ingredients as desired.

You can also make this in a bowl or with an immersion blender, but if you make it in a bowl, mince your mint leaves as fine as you can first!
For the Carrot & Cucumber Salad:
Shave the carrot and cucumber with a mandoline or vegetable peeler. Toss in enough rice wine vinegar to coat; sprinkle with salt and sugar to taste. Let marinate in the refrigerator until you are ready to eat. This can be made the day before if you wish.
Nutrition
Calories:
490
kcal
|
Carbohydrates:
45
g
|
Protein:
31
g
|
Fat:
21
g
|
Saturated Fat:
8
g
|
Polyunsaturated Fat:
2
g
|
Monounsaturated Fat:
4
g
|
Trans Fat:
1
g
|
Cholesterol:
119
mg
|
Sodium:
998
mg
|
Potassium:
868
mg
|
Fiber:
3
g
|
Sugar:
11
g
|
Vitamin A:
8012
IU
|
Vitamin C:
8
mg
|
Calcium:
109
mg
|
Iron:
12
mg
Like this? Leave a comment below!