This Bourbon Chocolate Pecan Tart has a sweet tart crust, a silky chocolate Bourbon pecan pie filling and a crunchy pecan topping! This is a no-fuss, decadent treat.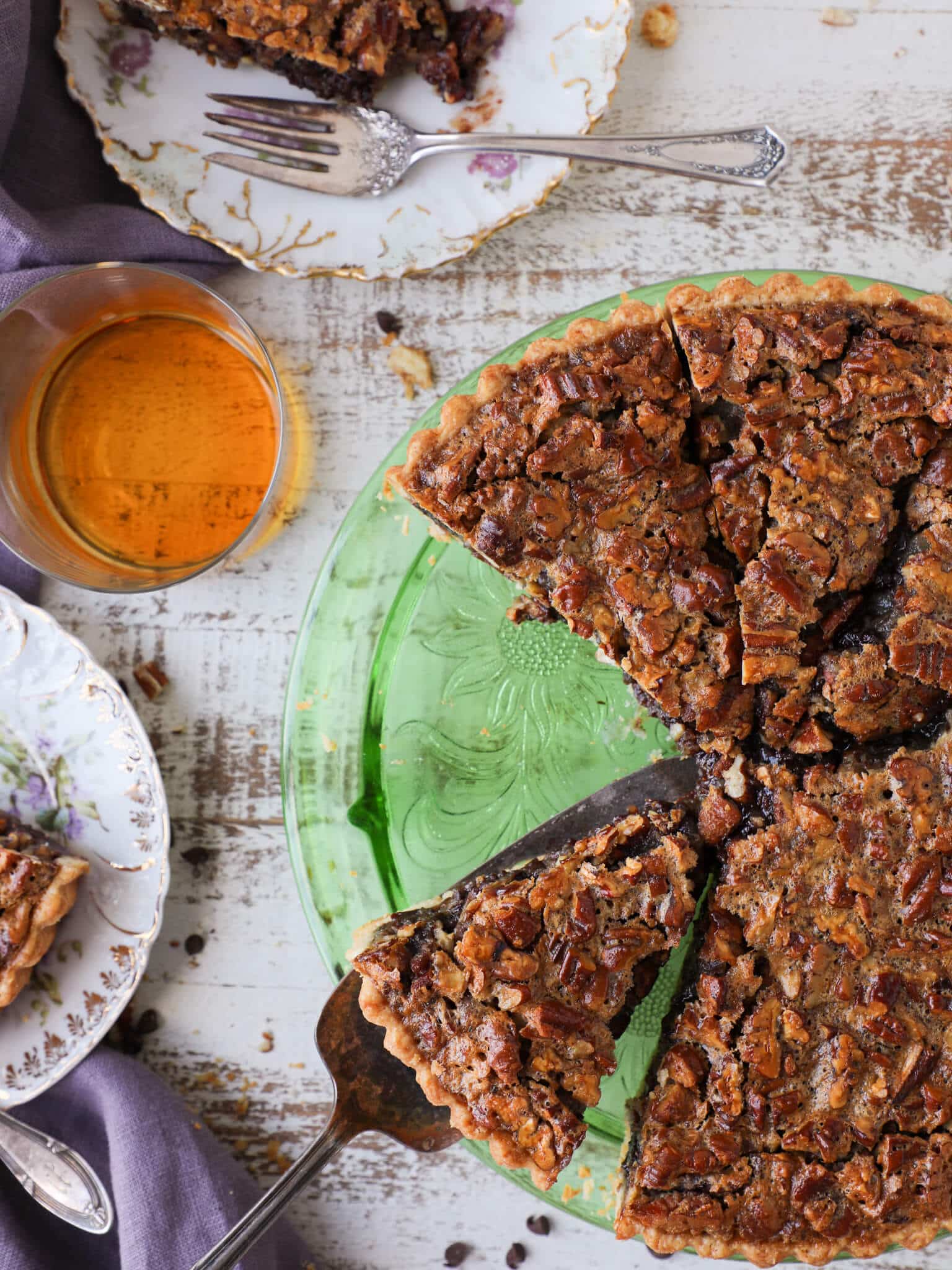 This Chocolate Bourbon Pecan Tart recipe is from The Southern Heritage Pies and Pastry Cookbook (1984) that I was raving about after I made the best Sweet Potato Pie. I use their recipe for a pâte sûcrée but you could also use this recipe for my sweet tart crust.
There is just the right amount of Bourbon in this tart: enough that you are struck by the fabulous, distinctive taste, but not so much that you feel like you just had a shot. If you are like me, and you like your Bourbon in pastry form, then your next bakes should be this Red Velvet Cake with Bourbon Cream Cheese Buttercream and Chocolate Bourbon Truffles.
How to properly line a tart mold?
Roll out tart dough to approximately 1/8th inch thick. Make sure it will cover the tart mold. Chill thoroughly.
Place chilled dough over the top of the tart pan. It does not need to be sprayed. Allow the dough to warm just enough to be pliable but still cold.
Gently lift the whole dough to lay it against the bottom. Starting on the side, fold the edge in towards the center and then, as you unfold it, lay it in the crease where the sides meet the bottom.
The goal is to get a perfect corner without having to stretch or press the tart dough into the corners. Continue to fold and set the dough into the crease until the whole mold has been lined. Allow the edges of the dough to fold over the edge of the pan. Chill thoroughly.
Use a rolling pin to press the dough against the edge of the tart mold and cut it perfectly.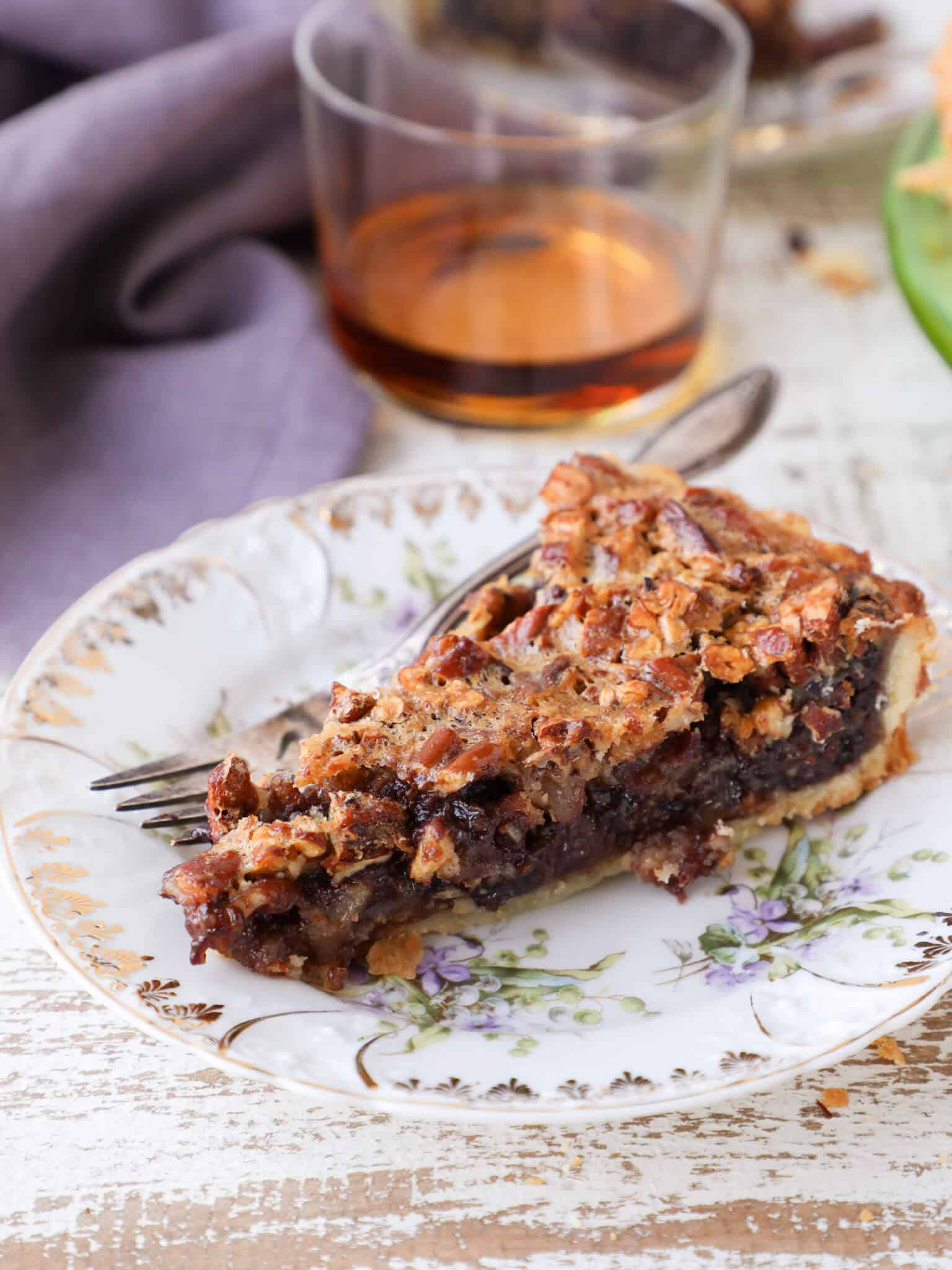 Bourbon Chocolate Pecan Tart Ingredients
Whole Egg: The egg in a baked custard is specifically integral to thickening the custard. Whisking it first with the sugar protects it from the heat and also acidic ingredients.
Butter: I use unsalted butter for baking, because you want to control the amount of salt you are adding. The fat and dairy in butter will round out the flavor and create a smooth in this baked custard tart.
Light Corn Syrup: Light corn syrup thickens the filling like sugar but isn't as sweet. It will also create a thicker, smoother texture.
Granulated Sugar: Sugar is here for sweetness but also to add a little leavening when beaten with the eggs and to protect the eggs from the heat of baking and additional acidic ingredients.
Dark Brown Sugar: Using dark brown sugar adds sweetness along with a nice, rich molasses flavor.
Bourbon: You can definitely taste the Bourbon in this tart, so choose one that you enjoy. If you don't like the taste of raw Bourbon, then choose one with an aroma that suits you. These will be the final notes in the baked tart.
All Purpose Flour: I use All-Purpose flour in this baked custard as a thickener. It has a lighter hold than cornstarch or tapioca. It will absorb some moisture and thicken the filling without changing the flavor.
Vanilla Extract: Vanilla Extract adds a beautiful flavor itself but it also boosts the flavor of other ingredients around it like chocolate and brown sugar.
Chopped Pecans: I chop the pecans for this Heritage Chocolate Bourbon Pecan Tart to make cutting easier. You will get cleaner slices. I do not pre-toast my pecans because the oven temperature is high enough where they will toast in the oven.
Semi-Sweet Chocolate Morsels: I use mini Semi-Sweet Chocolate Morsels to get an even distribution of chocolate in this tart. You could likewise use regular sized chips or any baking chip or chopped chocolate that you enjoy!
Kosher Salt: Kosher salt is less salty than table salt and a teaspoon weighs less than other finer ground varieties. It heightens the flavor here and will keep your pastry crust from tasting dull or flat.
Egg Yolk: The egg yolks are here to add fat, moisture and flavor. The fat from the yolk adds richness and helps hydrate the dough without activating the gluten. This keeps the crust soft and tender.
Half and Half: Half and Half adds just enough liquid to make a tender, workable tart dough. It also comes with fat to add to the flavor and texture. You could substitute heavy cream without worry.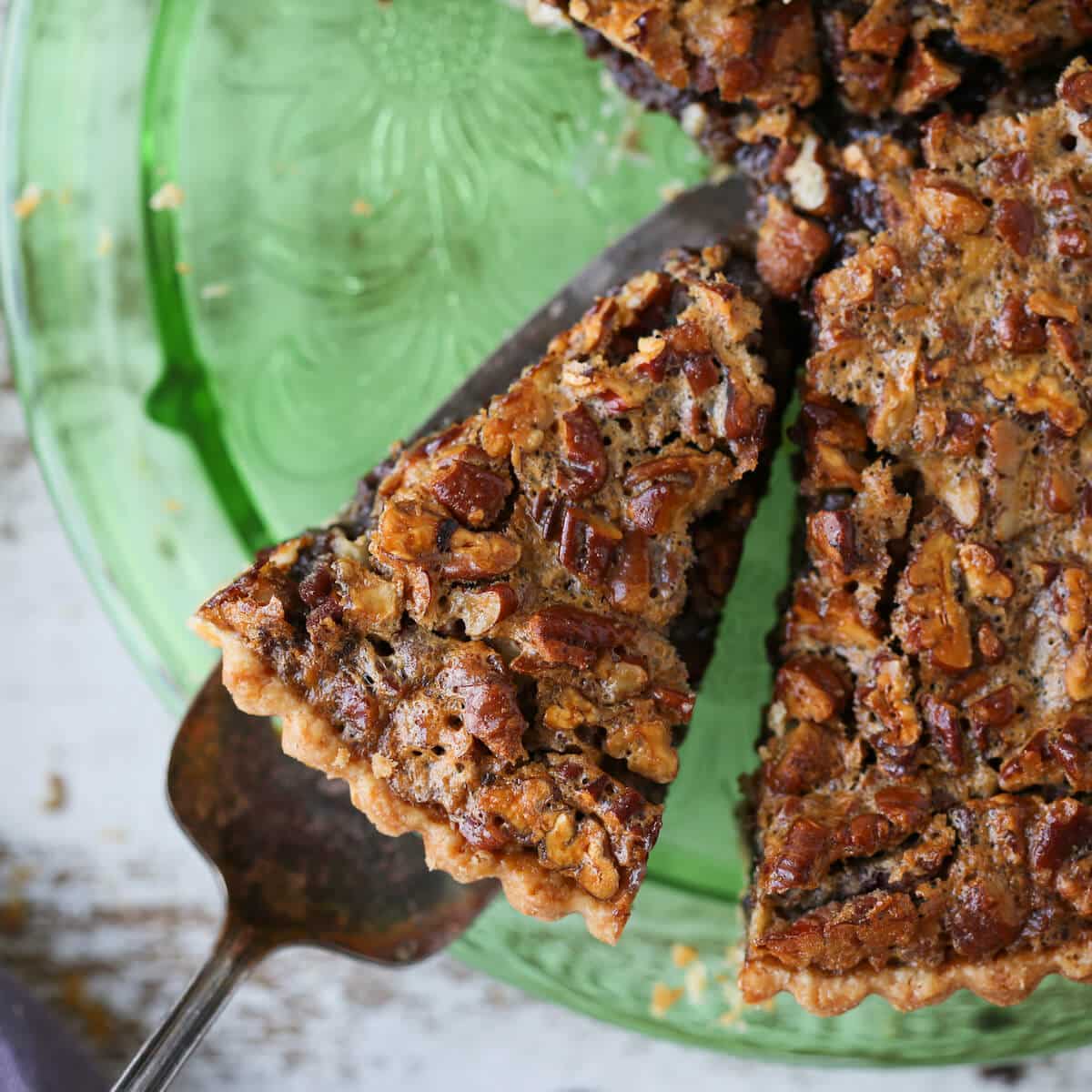 Variations on a Bourbon Chocolate Pecan Tart
Mix up the Nuts: Use any variety of chopped nuts that you desire! This tart is also exceptional with walnuts.
Alcohol Free: You can indeed omit the Bourbon in the tart filling without any adjustments.
Chocolate Swap: The semi-sweet chocolate makes this tart fairly sweet, a bittersweet chocolate would be delightful. You could even use unsweetened baking chocolate.
Frequently Asked Questions
How do you store a chocolate bourbon pecan tart?
Store chocolate bourbon pecan tart at room temperature for 2 days or refrigerated for 1 week. It can also be frozen for up to 2 months. Wrap the cooled pie in plastic wrap before storing.
How long will a baked custard tart keep?
Chocolate bourbon pecan tart will keep 2 days at room temperature, a week refrigerated or up to 2 months frozen.
Can you freeze a pecan tart?
Chocolate bourbon pecan tart freezes brilliantly. Cool pie completely at room temperature, then wrap well and refrigerate until cold. Place wrapped tart in the freezer for up to 2 months.
Can you make pecan tarts ahead of time?
You can prepare and bake the tart up to one week in advance. I would not suggest preparing and assembling the tart more than a few hours in advance of baking.
Can you make this Bourbon Chocolate Pecan Tart into a pie?
Absolutely. The recipe as written will make 1 Bourbon Chocolate Pecan Pie. I would strongly suggest par-baking your crust if you are making a pie. This will ensure a crispy crust!
Do you need to dock the tart crust?
This tart bakes long enough in a metal dish that it does not need to be parbaked or docked. Just simply line, chill, fill and bake!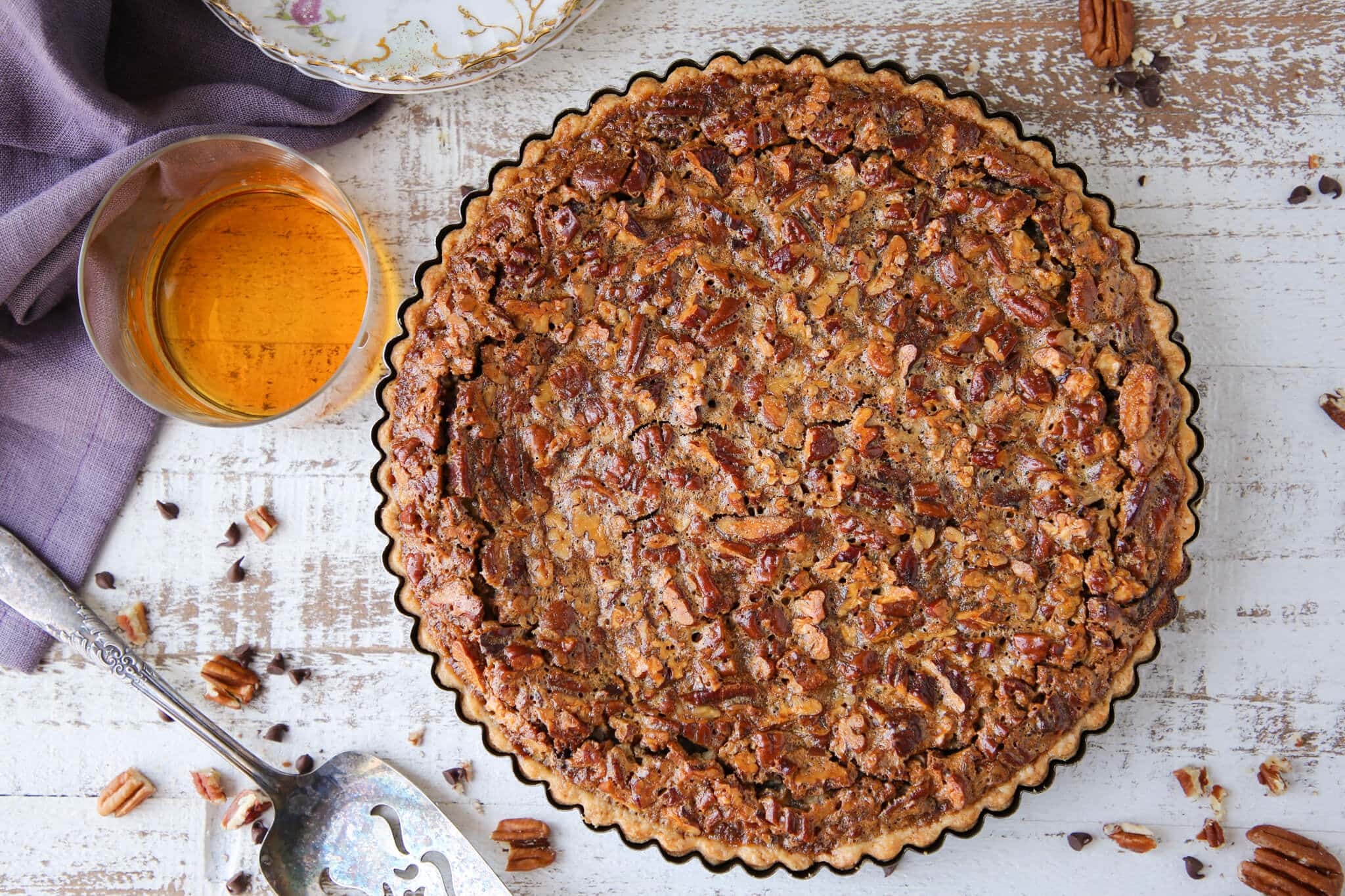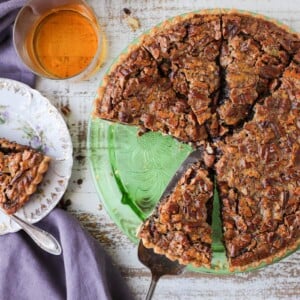 Heritage Bourbon Chocolate Pecan Tart
This Bourbon Chocolate Pecan Tart, baked in a traditional pâte sucrée, has the silkiest filling with the perfect hit of Bourbon and chocolate.
Ingredients
Makes:
9
inch
9
x
9
inch
round
Instructions
For the pâte sucrée:
Combine flour, sugar and salt in a small mixing bowl.

Cut butter into the flour mixture using a pastry blender or two knives until it resembles coarse meal.

Combine egg yolks and half-and-half in separate bowl, whisking to incorporate.

Add egg mixture to the flour mixture; stir with a fork until all the dry ingredients are moistened. Shape dough into a ball, flatten slightly, and refrigerate 2 hours to overnight.

Roll out dough to slightly less then ¼ inch thick.

Place pastry over tart pan and gently press pastry down to the bottom and into each groove. To remove excess pastry cleanly, roll a rolling pin over the top and it will cut the dough off neatly.
For the Tart Filling:
Add syrup, sugars, bourbon, flour and vanilla to a medium bowl. No need to mix. Set aside.

Beat eggs in a large mixing bowl until frothy. Add butter, beating well.

Add the syrup mixture; beat well. Stir in the pecans.

Sprinkle the chocolate chips on their own into the bottom of the pastry.

Pour pecan mixture over chocolate morsels to just under the top of the pastry.

Bake for 1 hour or until set. Cool completely before slicing.
Notes
Presentation
–
Bonus points for serving this tart with a mound of
vanilla bean ice cream
or a generous spoonful of
vanilla bean anglaise
.
Flavor Tips
–
My professional advice overall is that it is all about balance. In this tart recipe, the semi-sweet chocolate balances out the whiskey. Be sure the whiskey you use is one that you actually appreciate…if it's not good enough to drink don't put it in your tart!
Technique
–
For the silkiest tart filling, whisk the eggs thoroughly before combining the remaining ingredients. This will keep too many air bubbles from forming, which will create an uneven texture on top and a less smooth filling.
To remove excess pastry cleanly when putting your tart in your tart pan, roll a rolling pin over the top and it will cut the dough off neatly.
Helpful Tools
–
I use a pastry blender to make my pie crust, but you could also do this in a food processor or stand mixer if you so choose.
Variations
–
You can easily make this recipe using a traditional pie crust in a pie pan. It will yield one 9-inch pie. For twelve 10 cm tarts, roll out the dough as above but use a 4-inch biscuit cutter to cut the rounds. You may need to reroll the excess. Press into individual tarts as above. The rolling pin will not be needed because the 4-inch circle fits them perfectly. My mini tarts took 30 minutes to bake.
Storage
–
Store baked Bourbon Chocolate Pecan Tart in a covered dish at room temperature or tightly wrapped in the refrigerator or freezer. Baked Bourbon Chocolate Pecan Tart will keep for 3 days at room temperature, 10 days in the refrigerator or up to 3 months tightly wrapped in the freezer.
Both recipes are from The Southern Heritage Pies and Pastry Cookbook, 1984.
Nutrition
Calories:
478
kcal
|
Carbohydrates:
53
g
|
Protein:
5
g
|
Fat:
28
g
|
Saturated Fat:
13
g
|
Polyunsaturated Fat:
3
g
|
Monounsaturated Fat:
10
g
|
Trans Fat:
1
g
|
Cholesterol:
95
mg
|
Sodium:
239
mg
|
Potassium:
174
mg
|
Fiber:
3
g
|
Sugar:
37
g
|
Vitamin A:
523
IU
|
Vitamin C:
0.1
mg
|
Calcium:
42
mg
|
Iron:
2
mg
Like this? Leave a comment below!
Before You Go!
Check out our other delicious, chef-developed Pies and Tart Recipes!