Pâte Sucrée is a sweet tart crust that is buttery and slightly sweet. It is a tender dough that is as easy to make as cookie dough! It is perfect for any sweet start recipe like my mini salted chocolate tarts or even my cherry almond tart.
Pâte Sucrée is one of those essential pastry recipes that is so incredibly versatile that it can even be used as a cookie in a pinch! This could even be made into a pie crust for, say, a banana cream pie. It's a combo of making a tart dough and a cookie dough, if you think about it. This is a foolproof tart dough, it's no stress because you don't have to decide the perfect time to add your liquids.
Tips for the Perfect Pâte Sucrée
This dough is like a combination of the creaming method and the cut-in method that is only moistened with eggs, which results in an incredibly tender crust. Make sure the eggs are completely incorporated before chilling. If there are lingering bits of dry ingredients, work it in by hand by just squishing it between your fingers.
Press the dough flat on plastic wrap before chilling it. This speeds up the chilling process but also makes it easier for you to roll out later! You can also freeze these little dough packets for up to a month! Tarts on demand!
If your apartment is warm, roll out the dough on parchment paper instead of the counter. Rolling on parchment also limits the amount of flour you add to the dough, thus preserving the flavor and texture.
Chill the dough right between layers of parchment for easy transfer to tart pans.
Just like other doughs, keep it cold! Ultimately it will affect the final texture if you bake it when it is warm or didn't let the gluten relax. This is no finicky brisée, so you don't have to stress as much and this particular dough is pretty forgiving.
Again, be gentle! No tough pastry around here! Chill between each step. It may be more forgiving but it isn't magic.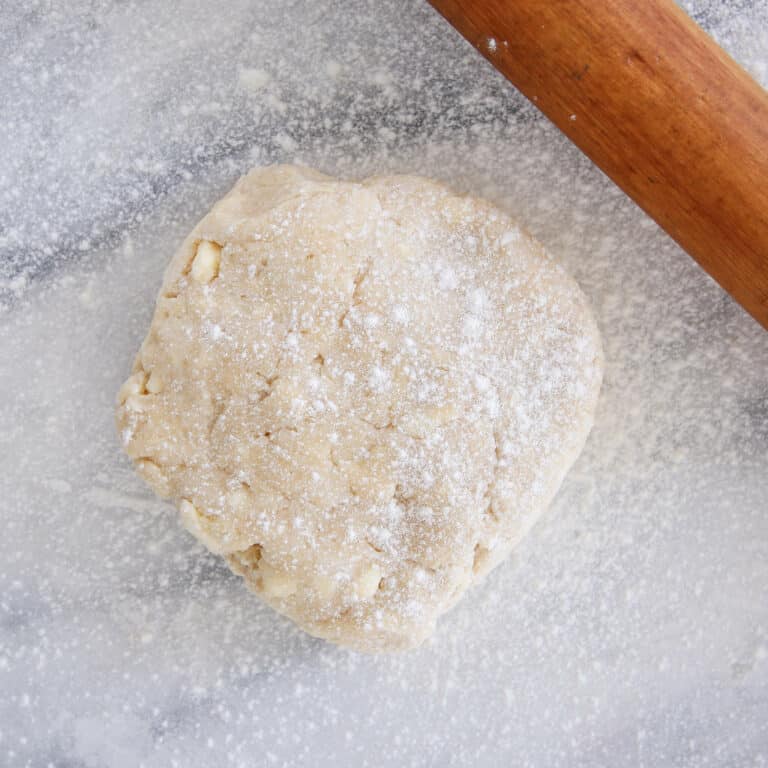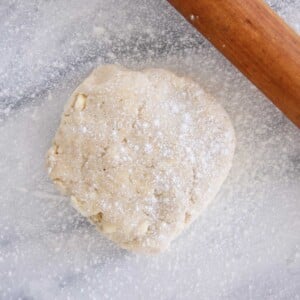 Use this sweet dough to make the expected desserts like cherry almond tart, bourbon chocolate pecan tart, or French silk pie, or use it in unexpected ways like with this sweet potato pie!
Pâte Sucrée
Pâte Sucrée is a sweet tart crust that is buttery and slightly sweet. It is a tender dough that is as easy to make as cookie dough!
Ingredients
Makes:
9
inch
9
x
9
inch
round
Instructions
Soften your butter in a stand mixer or let it sit out at room temperature for an hour or so.

Put sifted powdered sugar and softened butter in stand mixer with the paddle attachment, and cream them (starting on low so the powdered sugar doesn't get everywhere). This will get silky smooth.

Add our eggs one at a time (it helps if the eggs are room temperature), it might look a little scary in the bowl, but don't worry, the eggs will incorporate at their own pace.

Add AP Flour and Kosher salt to bowl of stand mixer and start on low to cut in our creamed mixture, be patient and trust the process. What we've got here is sucrée!

This dough still needs to be handled with care and love, because it still has gluten in it which you don't want to overdevelop.

Take your sucrée out and divide it into however many packets you want, wrap them in cling wrap and chill them for at least two hours. You can also freeze them already rolled out!

To Blind Bake:

Preheat an oven to 350F

Roll to 3mm thick either on a piece of parchment or on a floured surface. Chill at least 30 minutes.

Remove from parchment to line a large tart pan up to 12" in diameter. Or cut with ring molds slightly larger than the mini tart pans you are using. Place one dough circle over each mold and gently place it in the crease and the press to line. Chill.

Cut parchment paper that will fit inside your molds. Crumple it up to make it pliable.

Cut off the excess on the top of the chilled and lined tart shells. Place parchment inside and fill with beans or rice. I find that rice doesn't work as well as medium sized beans. Chill again if they got warm.

Bake in preheated oven for 8-11 minutes with the beans or until the parchment lifts out easily and the sides have begun to brown. Remove the parchment and beans and set aside to cool. You can reuse both again!

Continue baking until golden brown.
Notes
Yield: enough dough for 2, 8-9 inch tart or pie crust 
You can store baked tart shells for 5 days in the refrigerator, freeze for up to 2 months, or use them immediately. 
The dough can also be stored well wrapped in the refrigerator for 3 days or the freezer for 2 months. 
Nutrition
Calories:
122
kcal
|
Carbohydrates:
14
g
|
Protein:
3
g
|
Fat:
7
g
|
Saturated Fat:
4
g
|
Polyunsaturated Fat:
1
g
|
Monounsaturated Fat:
2
g
|
Trans Fat:
1
g
|
Cholesterol:
31
mg
|
Sodium:
102
mg
|
Potassium:
61
mg
|
Fiber:
2
g
|
Sugar:
4
g
|
Vitamin A:
206
IU
|
Calcium:
9
mg
|
Iron:
1
mg
Like this? Leave a comment below!