This epic White Cheddar Mac and Cheese is incredibly cheesy and easy to prepare. It uses two varieties of cheeses for a rich, deep flavor! Plus, there is one secret ingredient that makes it extra smooth and creamy.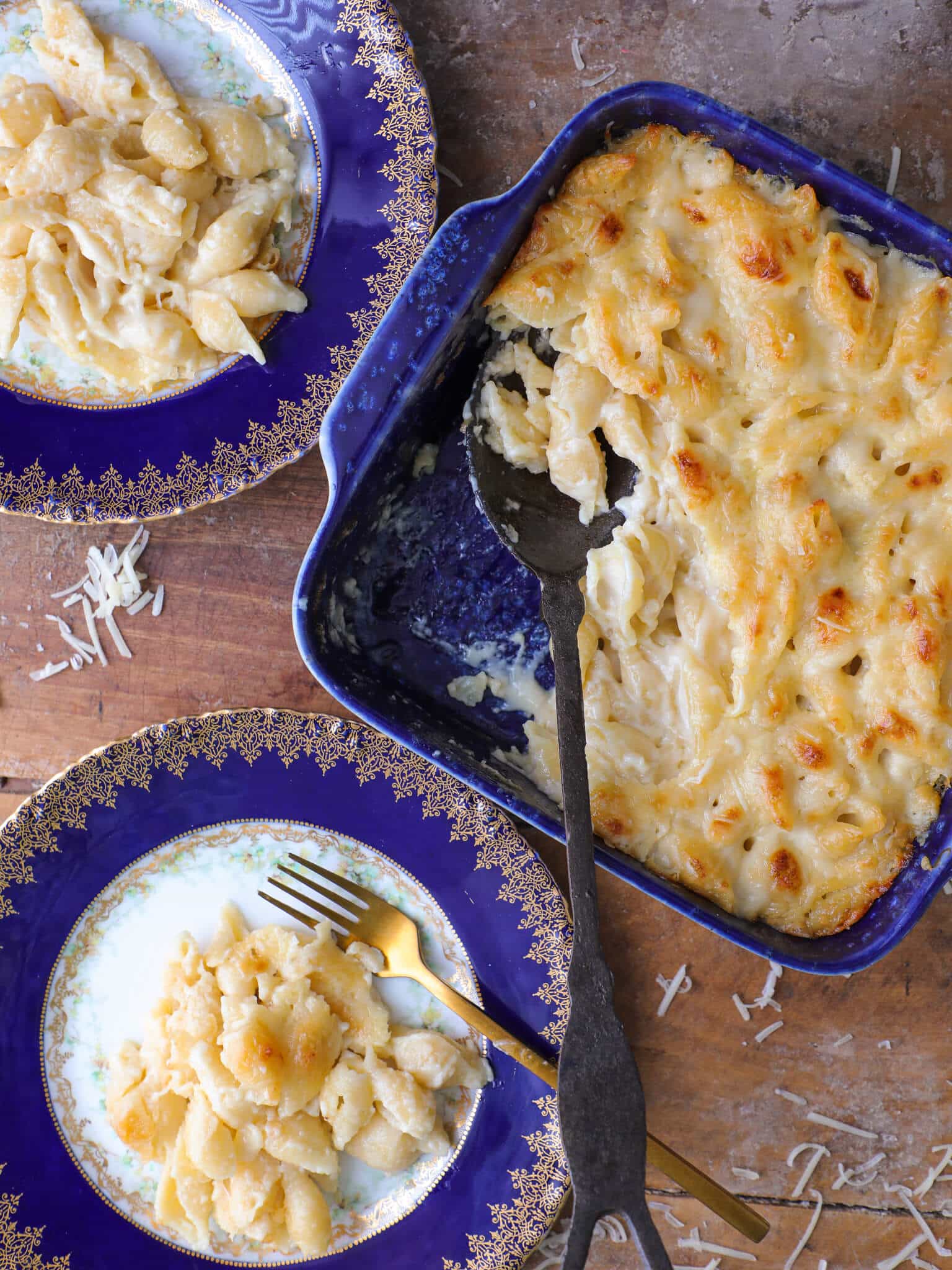 Mac and Cheese makes me super nostalgic. When I was a kid, whenever we celebrated a birthday, that person would get to pick what they wanted for dinner—and you can imagine Mac and Cheese, specifically made by my Dad, was the most popular! He would use my Grandmother's old fashioned macaroni and cheese recipe, and that cheesy goodness tasted like home.
This mac and cheese is akin to that childhood version, but better, with extra cheese of different varieties and my own secret ingredient.
Table of Contents
How do you make White Cheddar Mac and Cheese?
It all starts with the best sharp cheddar. If you don't like how the cheese tastes off the block, you won't love the final dish. Choose gruyere and white cheddar that you love. A mix of brands will also add a lovely depth.
Finish with crème fraiche. This adds a silky texture to the final dish. It makes the cheese seem extra creamy and rich. You could also add cream cheese if you have that.
Be careful not to overbake. It is a sad fact that I learned the hard way while filming. Too much moisture will evaporate, and you will not get that cheese pull or the gooey cheese filling. The flavor will still be delightful, but the texture will be different.
How do you make Mac and Cheese Extra Creamy?
Start with a roux: This is a French technique for thickening sauces. This involves cooking butter and flour until thick and a bit browned and nutty.
Add the milk slowly: Slowly whisking the milk into the roux will allow for maximum absorption and will make a nice rich, thickened base. Adding the milk too fast will create lumps and will be too loose.
Choose great cheese: Taste the cheese before grating to ensure you will love the end result.
Finishing with crème fraiche or cream cheese will make it extra silky smooth, and creamy.
Serve it straight from the stovetop or bake it until golden brown and bubbling.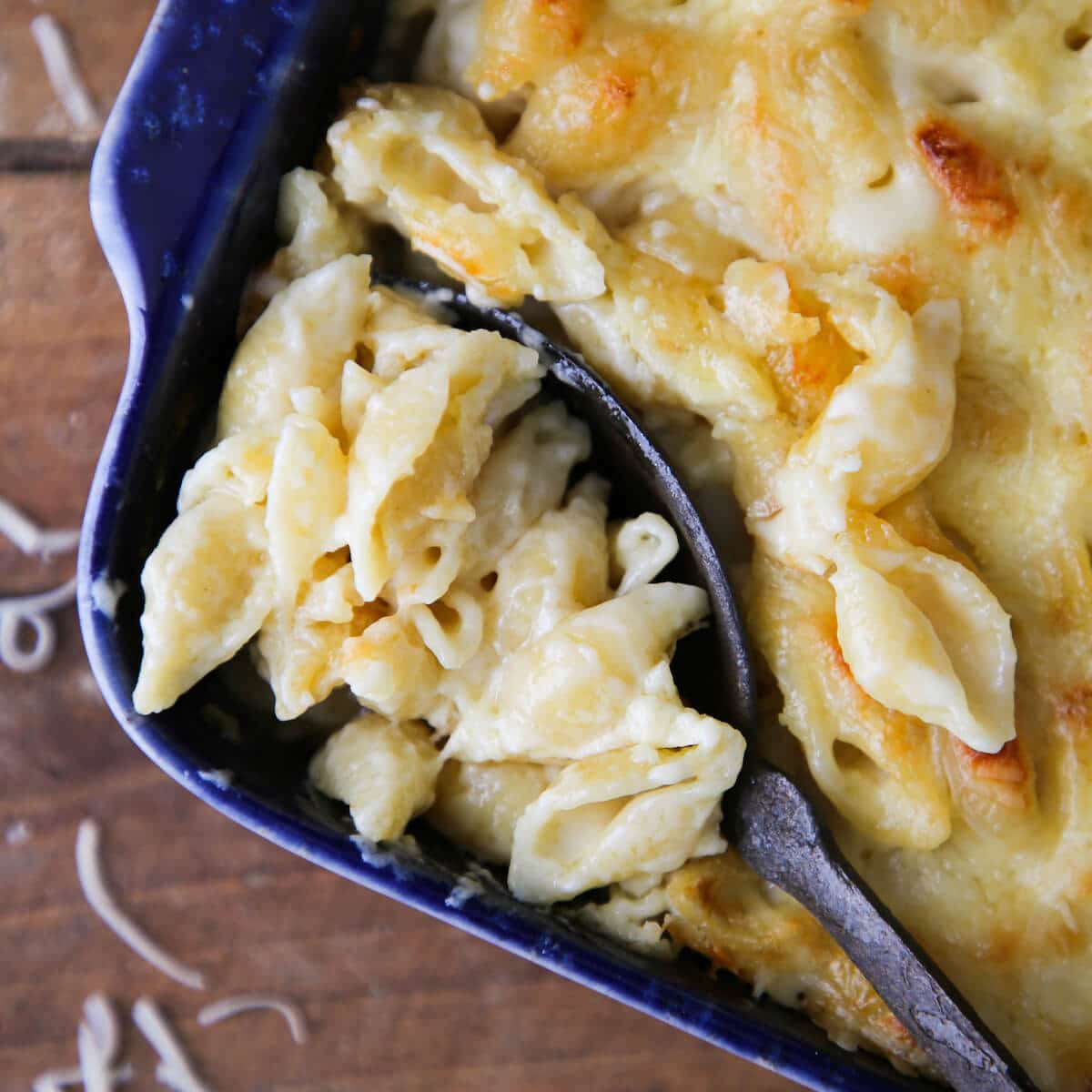 What Cheeses Make the Best Mac and Cheese?
Choose a variety of cheese to get the best flavor and texture, and be sure to taste it before you dump it all in. However, a mix of gruyere, extra sharp white cheddar, and comté is a favorite. Swiss cheese can also be a good addition.
Ingredients
Macaroni: I use pasta shells in this recipe, as I'm a fan of that cheesy goodness caught in the shells' texture.
Butter: Unsalted butter allows you to control how much salt goes into the mac and cheese, so you can salt it just how you like it.
Flour: All-purpose flour has just the right amount of starch to thicken your cheese sauce to perfection.
Kosher salt: Kosher salt really pulls out the cheese's flavor and is not a great idea to completely leave out of your mac and cheese.
Milk: Whole milk is the way to go if you want a creamy macaroni and cheese experience, but if you need to go for a lower fat percentage, just know that's where some of your creaminess comes from.
Cheese: I specifically mix 1 cup Gruyère and 2 cups very sharp white cheddar, but you can mix whichever white cheeses are your favorites!
Crème fraîche: This is my secret ingredient! Crème fraîche gives extra smoothness to whatever cheese choices you use, and it adds a je ne sais quoi that will pull everyone in for seconds.
Substitutions for White Cheddar Mac and Cheese
Cheese Choices: Feel free to use whatever white cheese you'd like. You could also use 100% sharp white cheddar and just lean in.
Crème Fraîche: If you can't find Crème Fraîche or don't like it, substitute softened cream cheese instead. It will add that richness and a little bit of tang.
Shells: Clearly, I used pasta shells for this post, but you can use mini penne, macaroni, fusilli, or rotini pasta.
Whole Wheat Shells: I originally developed this recipe using whole wheat shells, which was phenomenal! You couldn't even taste the whole wheat because it was so rich and decadent. I highly suggest it. In fact, I prefer it.
Chef Lindsey's Recipe Tips
The starch must boil for 1-minute to rid the raw flour taste. Be sure to allow the butter and flour to cook for at least 1-minute to get all the thickening properties and none of that raw flour taste!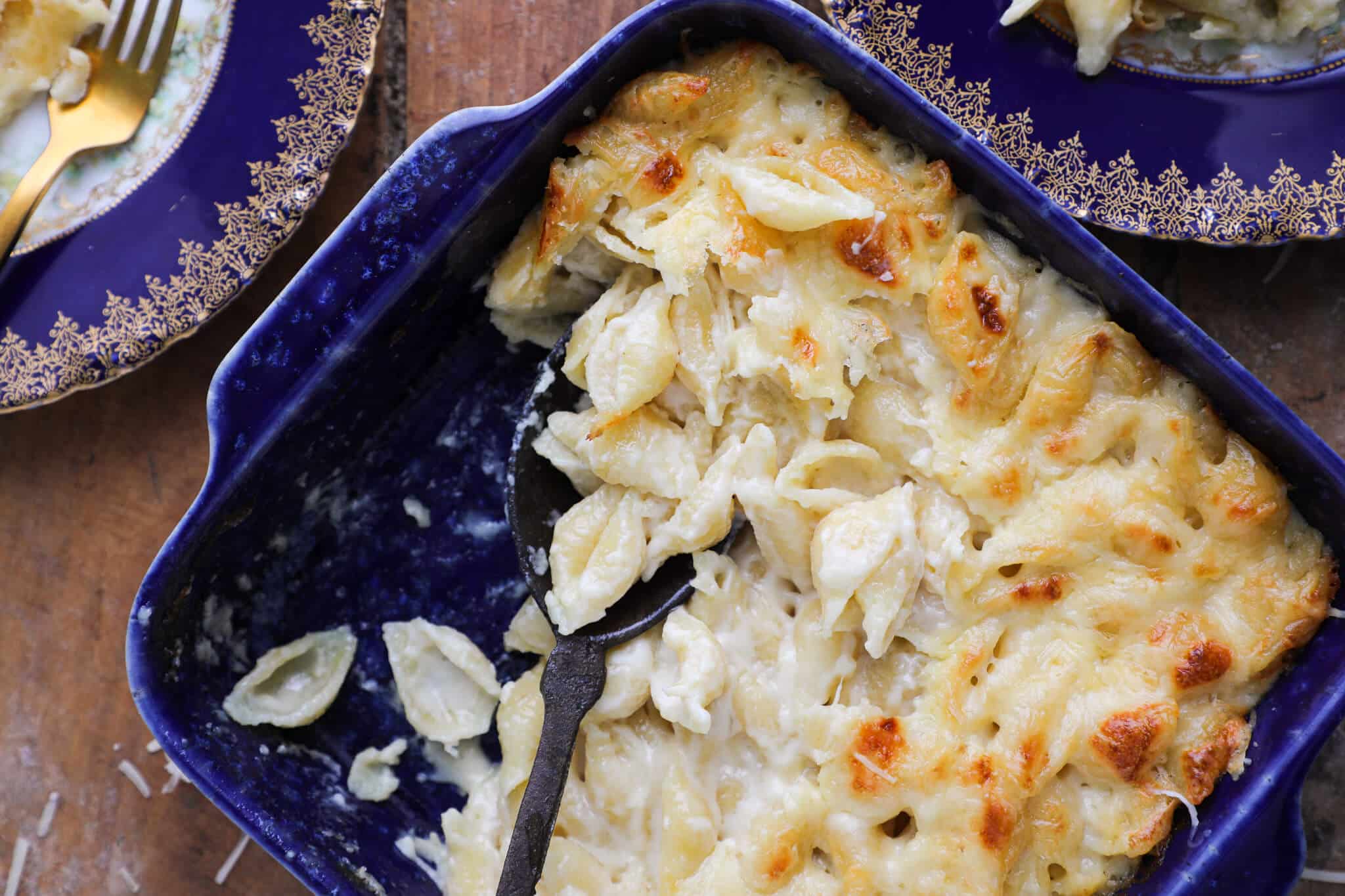 How Do You Serve Mac and Cheese?
This is one of those blessed dishes that goes with just about everything. She is the little black dress of the side dish world. Obviously, white cheddar mac and cheese is a requirement with pulled chicken barbecue and creamy coleslaw. It is also delicious with my spicy peach pork chops because the sweet and spicy sauce gets all up in the mac and cheese business in the best way.
And like a classic LBD, mac, and cheese can stand on its own. No one will complain when she is the star of the show.
Recipe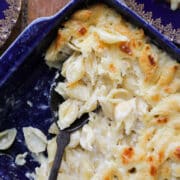 White Cheddar Mac and Cheese
This epic White Cheddar Mac and Cheese is incredibly cheesy and easy to prepare. It uses two varieties of cheese for a rich, deep flavor! Plus, there is one secret ingredient that makes it extra smooth and creamy.
Instructions
Bring a pot of salted water to a boil. Cook pasta to al dente where they still have a little bite.

In a medium sauce pot, melt butter then add flour and salt. Cook, stirring constantly until it boils one minute, trying not to let it brown. If it does, no big deal. Just keep going!

Slowly whisk in the milk several tablespoons at a time.

Then add the cheese, reserving ½ cup for the topping, followed by the noodles.

Finish with the crème fraiche.

Pour into a casserole dish, top with reserved cheese, and bake in preheated oven until the center is boiling and the top has browned.
Video Instructions
Notes
Notes: Could add an additional ½ cup shells to the base and still be delightful, if you wanted to stretch it out further.
I developed this recipe with whole wheat pasta and you didn't even notice because it was that good!
Before You Go!
Check out all our delicious, chef-created Side Dish Recipes!