This is my Thanksgiving Menu Plan 2022! It has all the decadent side dishes, an easy Roasted Herb Turkey and all the desserts! I've created an easy-to-follow menu preparation plan, plus a comprehensive shopping list to make this the least stressful Thanksgiving dinner yet! There is even a downloadable PDF of the menu, grocery list and meal prep plan!
Roasted Herb Turkey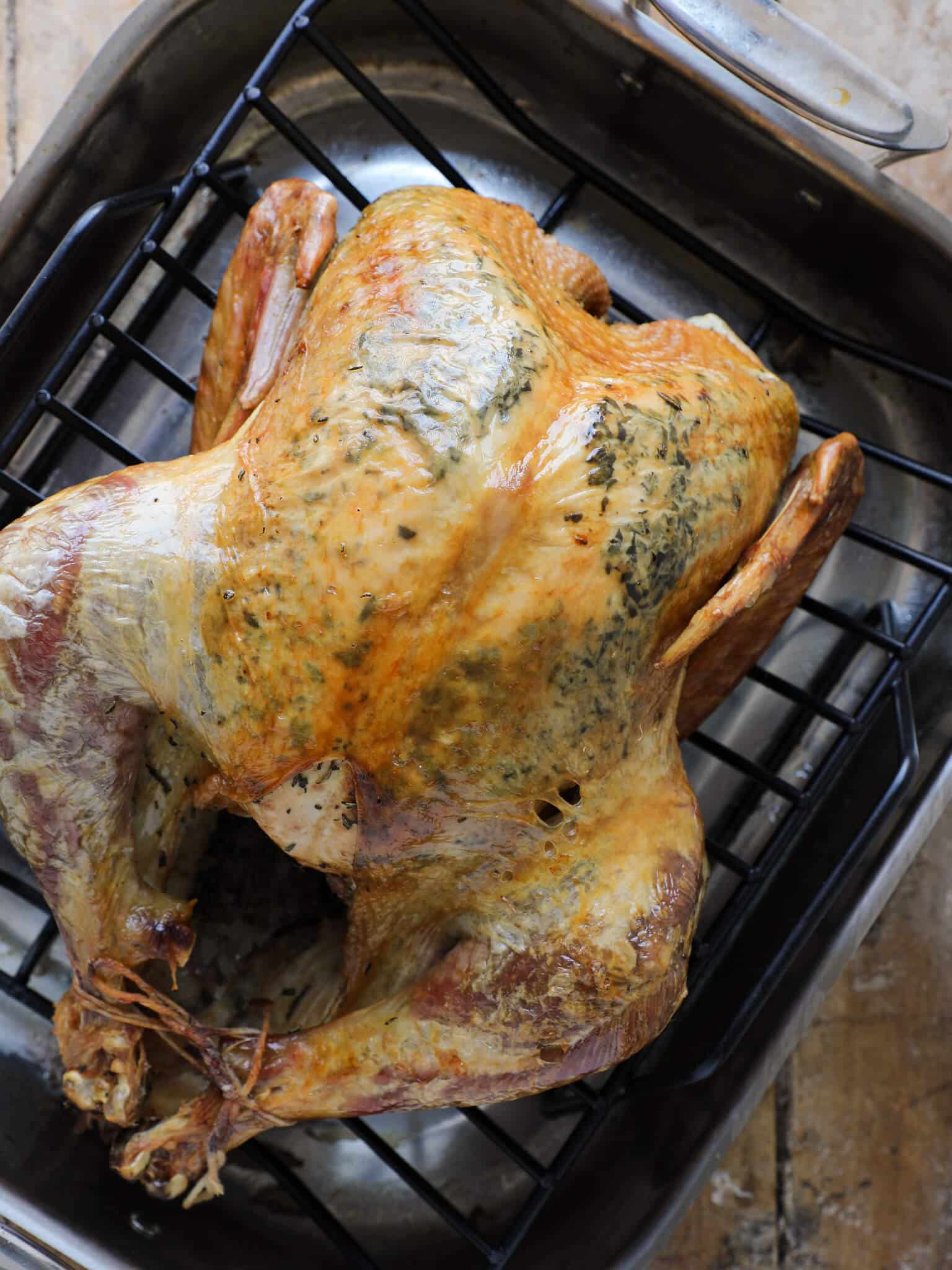 This roasted herb turkey has chopped herbs between the breast meat and the skin, so the whole turkey is flavored with herbs and butter! The recipe is incredibly easy and flavorful, and I filmed a turkey tutorial to make it as foolproof as possible for you as you cook your Thanksgiving Menu Plan!
Thanksgiving Menu Plan 2022 Side Dishes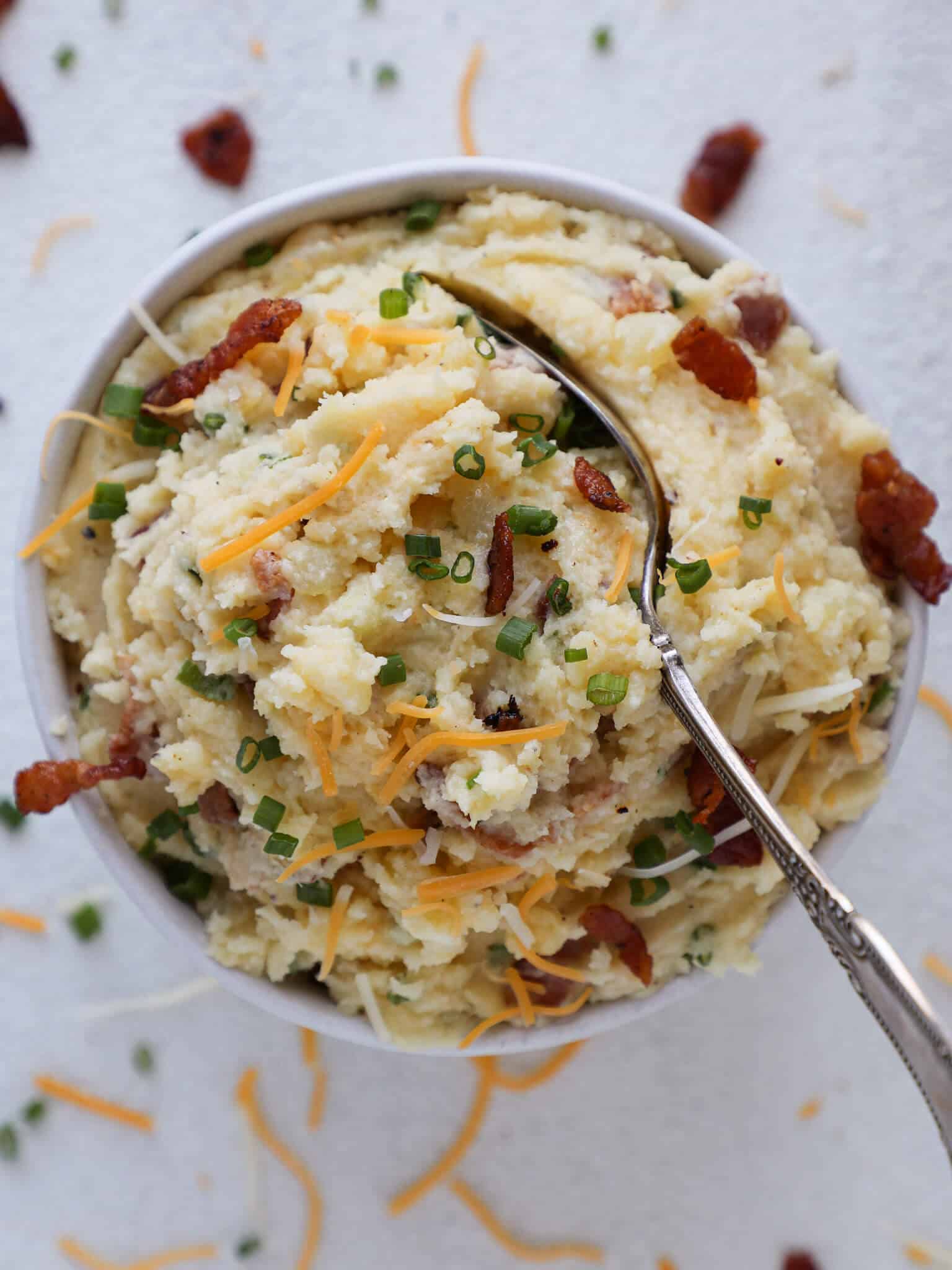 A good dollop of mashed potatoes to catch all that gravy seems like the right way to do a 2022 Thanksgiving Menu Plan, especially when those are these Loaded Mashed Potatoes! These silky, buttery mashed potatoes have all the fixings and flavor of loaded potatoes!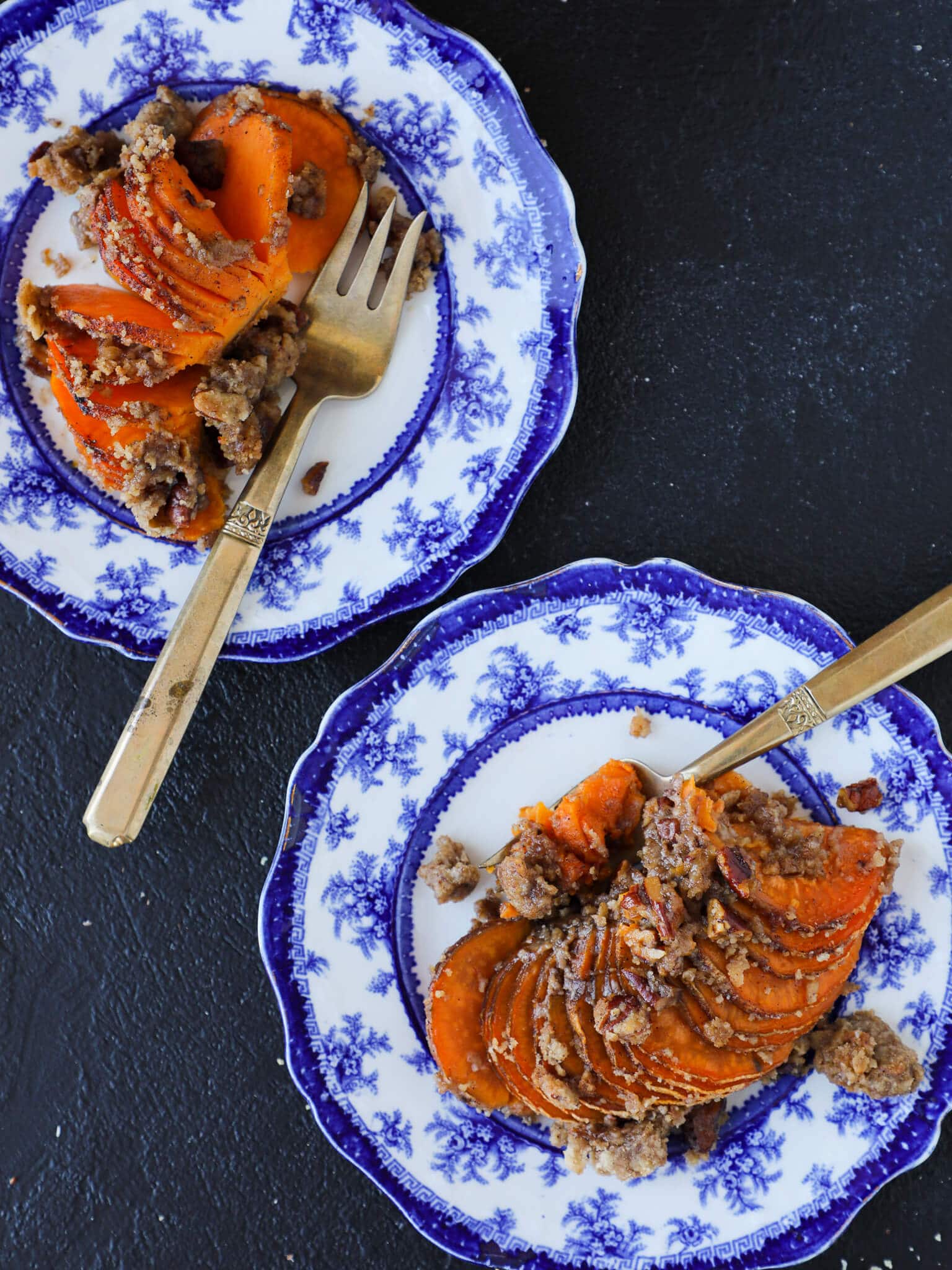 Sweet potatoes are a Thanksgiving Menu Plan nonnegotiable for me! This Hasselback Sweet Potato Casserole is a healthier version of traditional sweet potato casserole, so it has all the flavors you love with a fraction of the calories. Plus, how fun do they look!?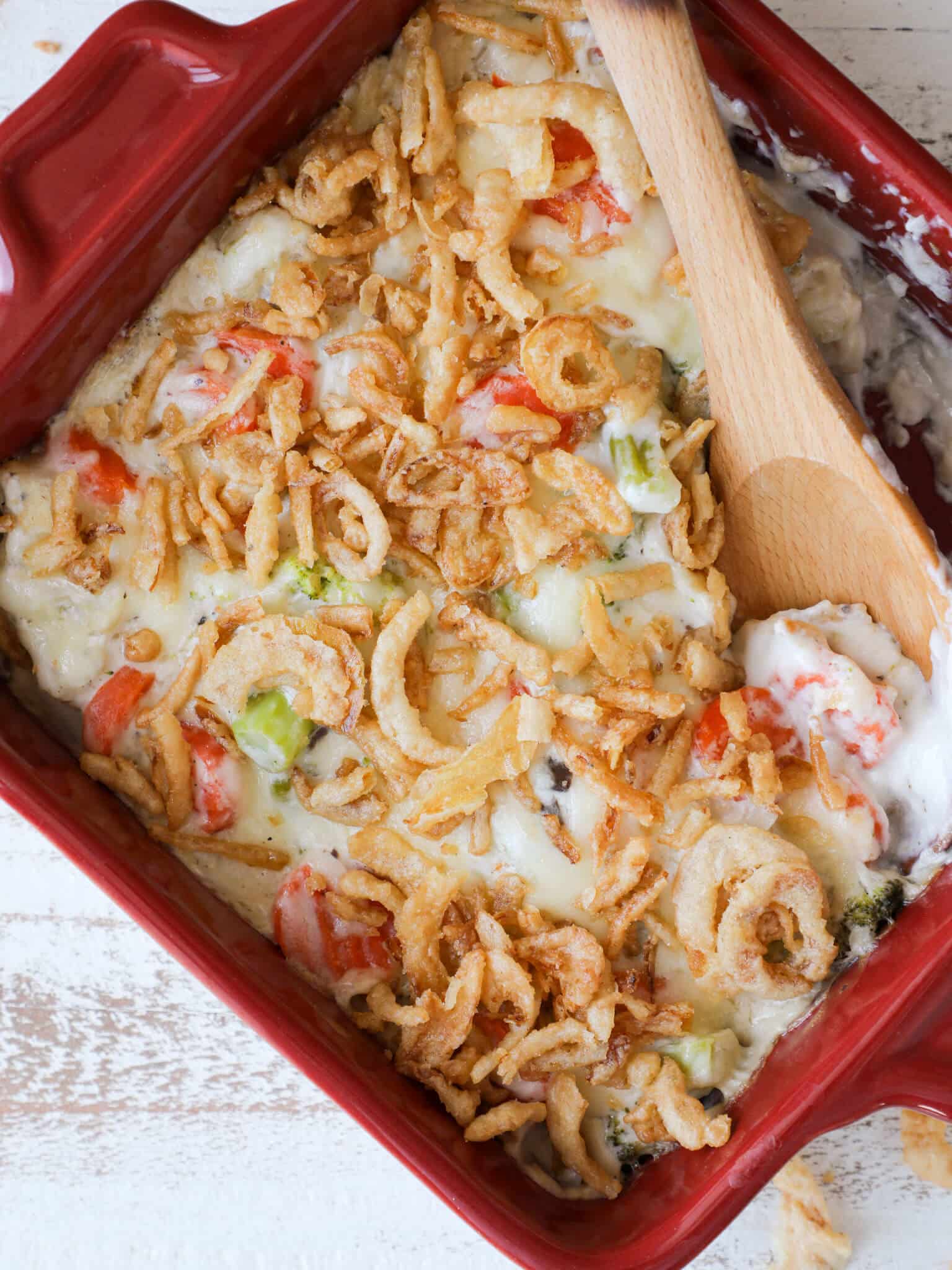 I clearly leaned toward the indulgent side for this Thanksgiving's 2022 Menu Plan! This Vegetable Casserole Recipe has 5 ingredients and is ready for the oven in under 5 minutes. It is almost embarrassing how easy it is! It'll be our little secret. If you want a healthier option, try this roasted cauliflower or these brussels sprouts and leeks!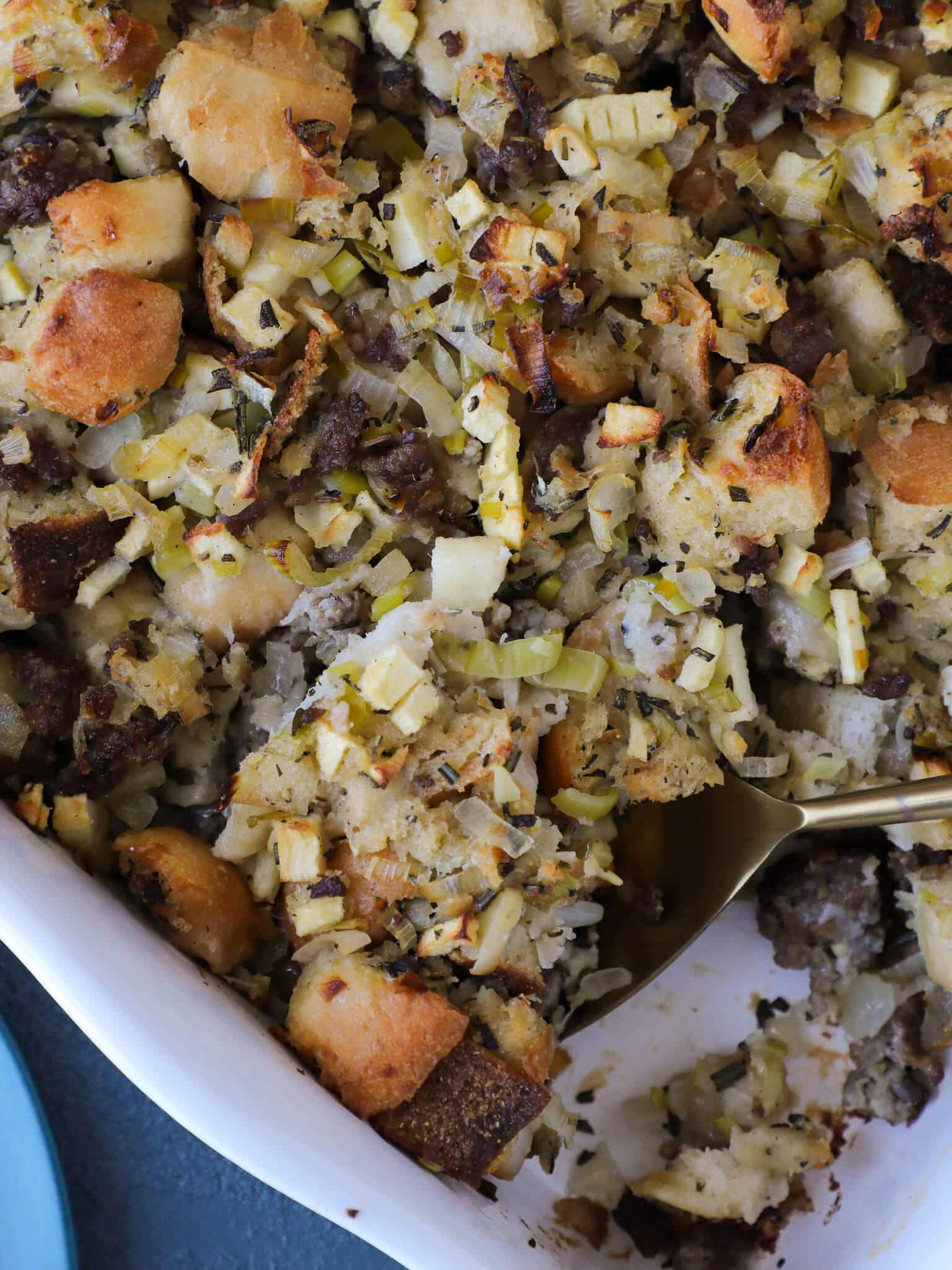 This Apple Sage Sausage Stuffing has a little something for everyone! There is a little sweetness from the apples, a little heat from the spicy Italian sausage, and all the herbs for flavor! You could even substitute half the bread with my savory cornbread recipe if you are feeling that during this year's Thanksgiving Menu Plan you are more the Classic cornbread Stuffing type.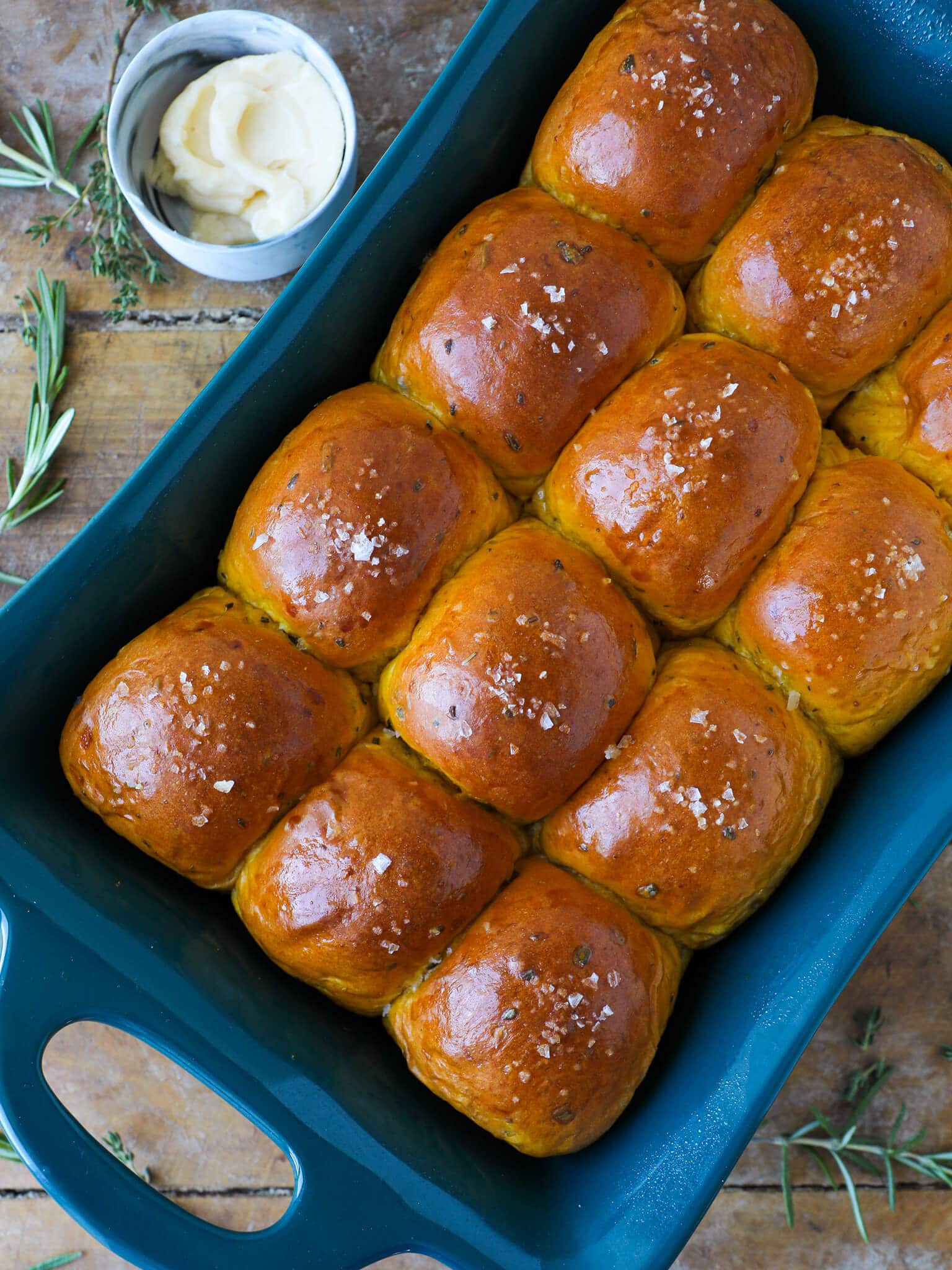 Some may say that no extra carbs are needed in this menu, but I disagree. I passionately feel that no Thanksgiving Menu plan would be complete without bread. These Pumpkin Herb Dinner Rolls are a soft, savory pumpkin roll that has hints of browned butter and herbs. It pairs beautifully with the herb roasted turkey and they will make fantastic leftover sandwiches!
Thanksgiving Sauces
These are the prerequisite sauces for any Thanksgiving Menu Plan in my opinion.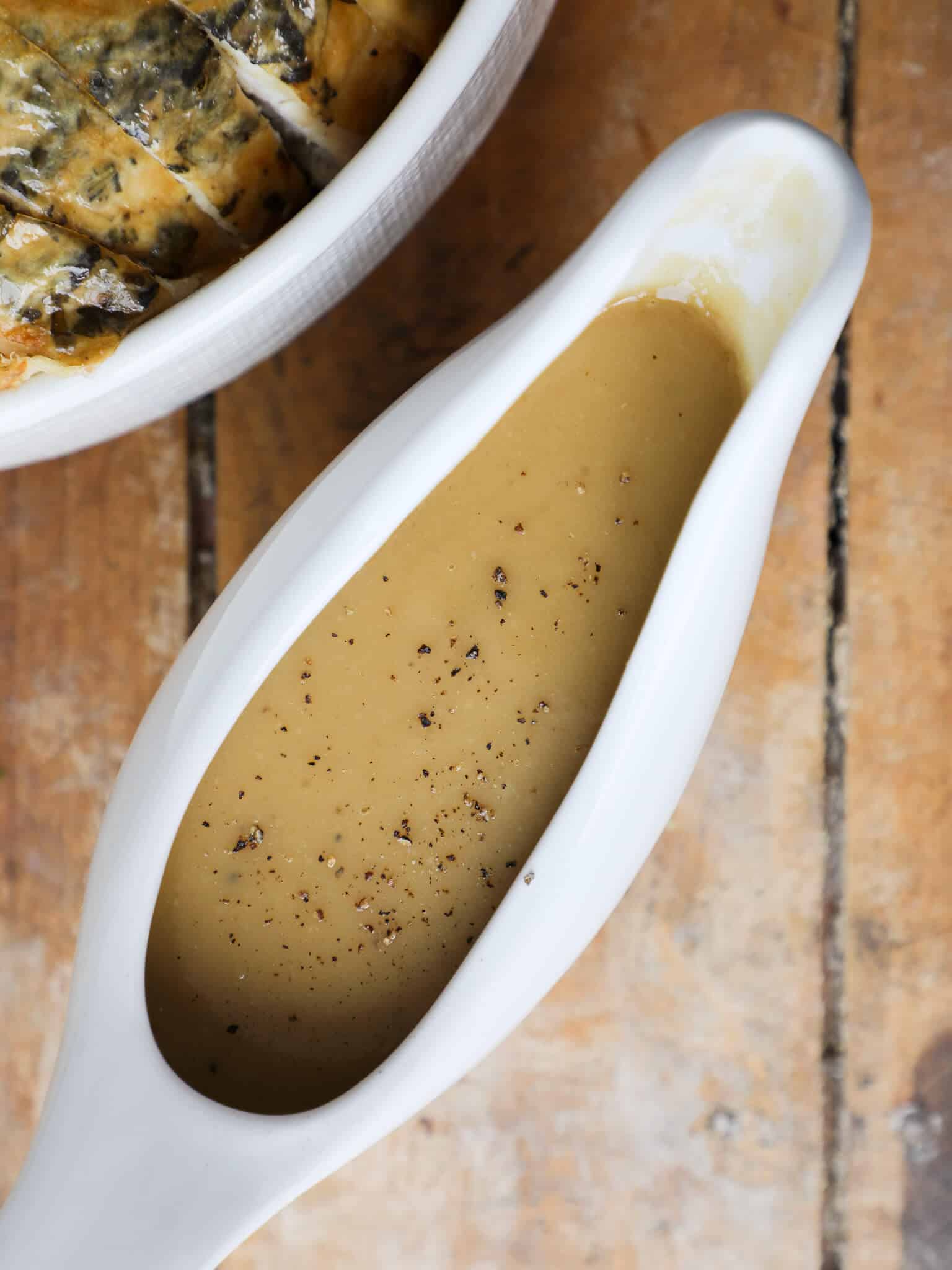 If you are already roasting a whole bird for this year's Thanksgiving Menu Plan, then why not make a flavorful Gravy from the Pan Drippings? This easy recipe can be made with any pan drippings and I give you all the cheat codes for making it delicious no matter what happens.
My Thanksgiving menu plan for 2022 dinner is not complete without a generous helping of Nana's Cranberry Chutney. It is just a little sweet and very aromatic. The tart, fragrant sauce pulls all the different side dishes together and adds a welcome burst of acidity.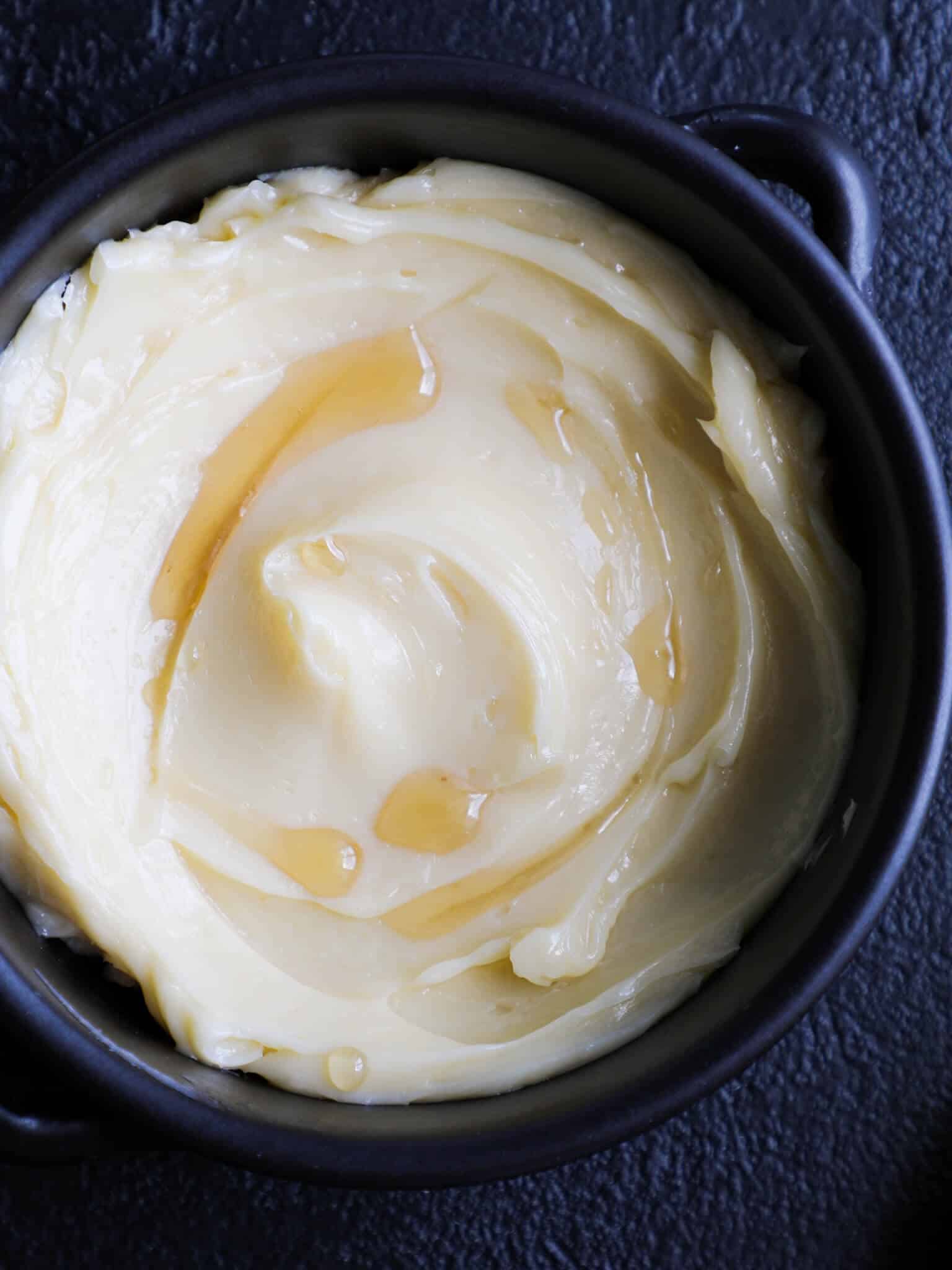 Maple butter isn't a sauce but it does make any dinner rolls taste even more fantastic! Plus, it is the easiest thing you'll make all day, at least on this Thanksgiving Menu Plan. Simply mix together maple syrup, kosher salt and softened butter for a sweet, salty spread! Think of this as the enabler for, "okay, maybe just one more dinner roll."
Thanksgiving Menu Plan 2022 Dessert
If you are new around here, welcome to my Thanksgiving Menu Plan 2022! And, let me be the first to tell you that I am a professional pastry chef and there is no shortage of dessert recipes on CLF. If none of these pique your interest, we have compiled a list of the 20 Best Thanksgiving Pie Recipes to complete your Holiday meal! You can also hop on over to my Pastry Shop and leave all the pie making to me! We ship pies Nationwide and we only use 100% all-butter pie crusts and the highest quality ingredients.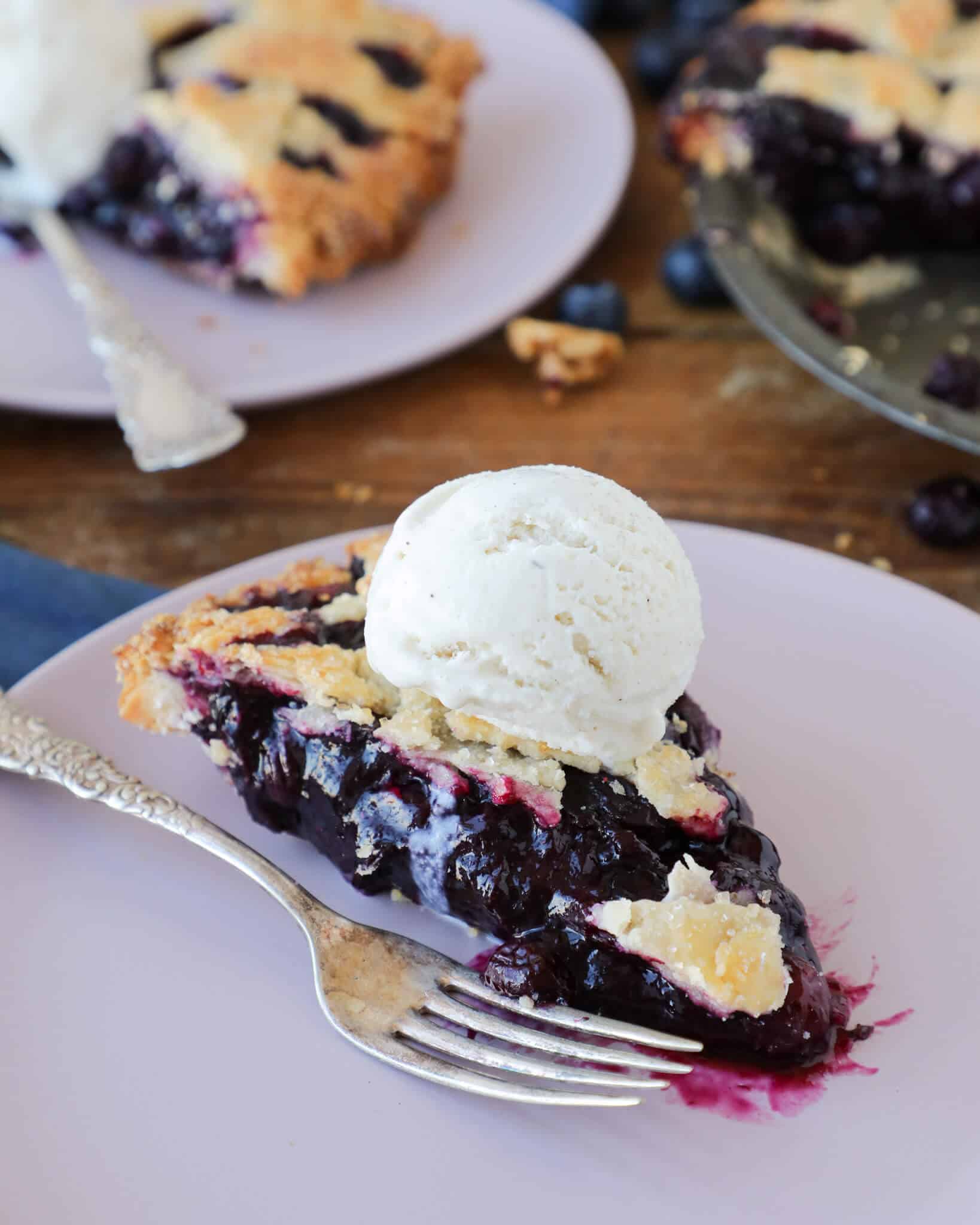 This Amazing Blueberry Pie is thick and juicy. It is flavored with lemon juice, orange zest, and just a hint of vanilla extract. I put this on my 2022 Thanksgiving Menu Plan because it will be your new favorite blueberry pie recipe. Bake it in an all-butter vodka pie crust for a flakey, buttery crust to complement all those blueberries!
There are 5 pounds of apples in this delicious Mile High Apple Pie. I pre-cook the filling for the perfect texture and to avoid that gap between the filling and the crust. It is one extra step, but I promise it's worth it! Anything for the perfect Thanksgiving Menu Plan!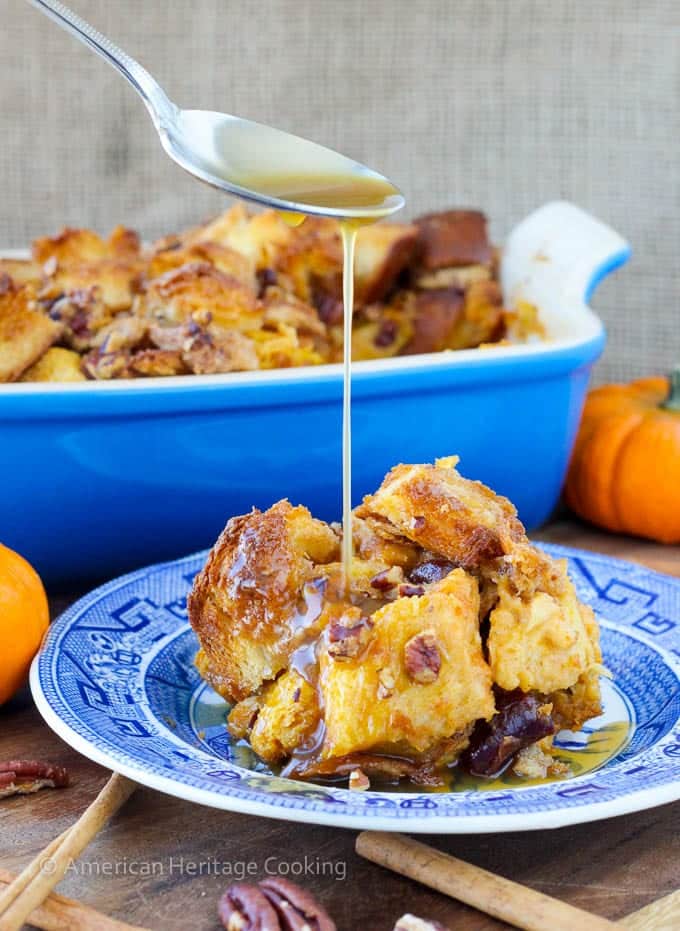 You could make my foolproof pumpkin pie instead, but this Pumpkin Spice Bread Pudding is so easy to pull together and exceptionally delicious! It hits all the pumpkin spice notes simultaneously without the stress of an additional pie.
Now I am not saying you shouldn't serve all these desserts with homemade vanilla ice cream, because you absolutely should, but I am giving you the opportunity to make an even easier topping for your Thanksgiving Menu Plan 2022. As a matter of fact, Vanilla Bean Anglaise is essentially melted ice cream. It will add all the cool, rich, creaminess of ice cream without the hassle. You could also just buy vanilla ice cream, because making an entire Thanksgiving feast is quite enough!
Your Thanksgiving Menu Plan 2022 Shopping List
A master list of all the ingredients you'll need to make this significantly epic Thanksgiving Menu plan for 2022. Check your cupboards and the back of your fridge, adjust the list and head on over to the grocery store for some shopping. There is a downloadable link to a PDF below that you can print and take with you.
Downloadable Planning PDF's