Moravian Christmas Cookies are paper-thin, crispy, spiced molasses cookies. Sweet and gingery, they taste a bit like gingerbread but are waaaay more addicting!
Day 5 (Part 1) of the annual 12 Days of Christmas Cookies 2021!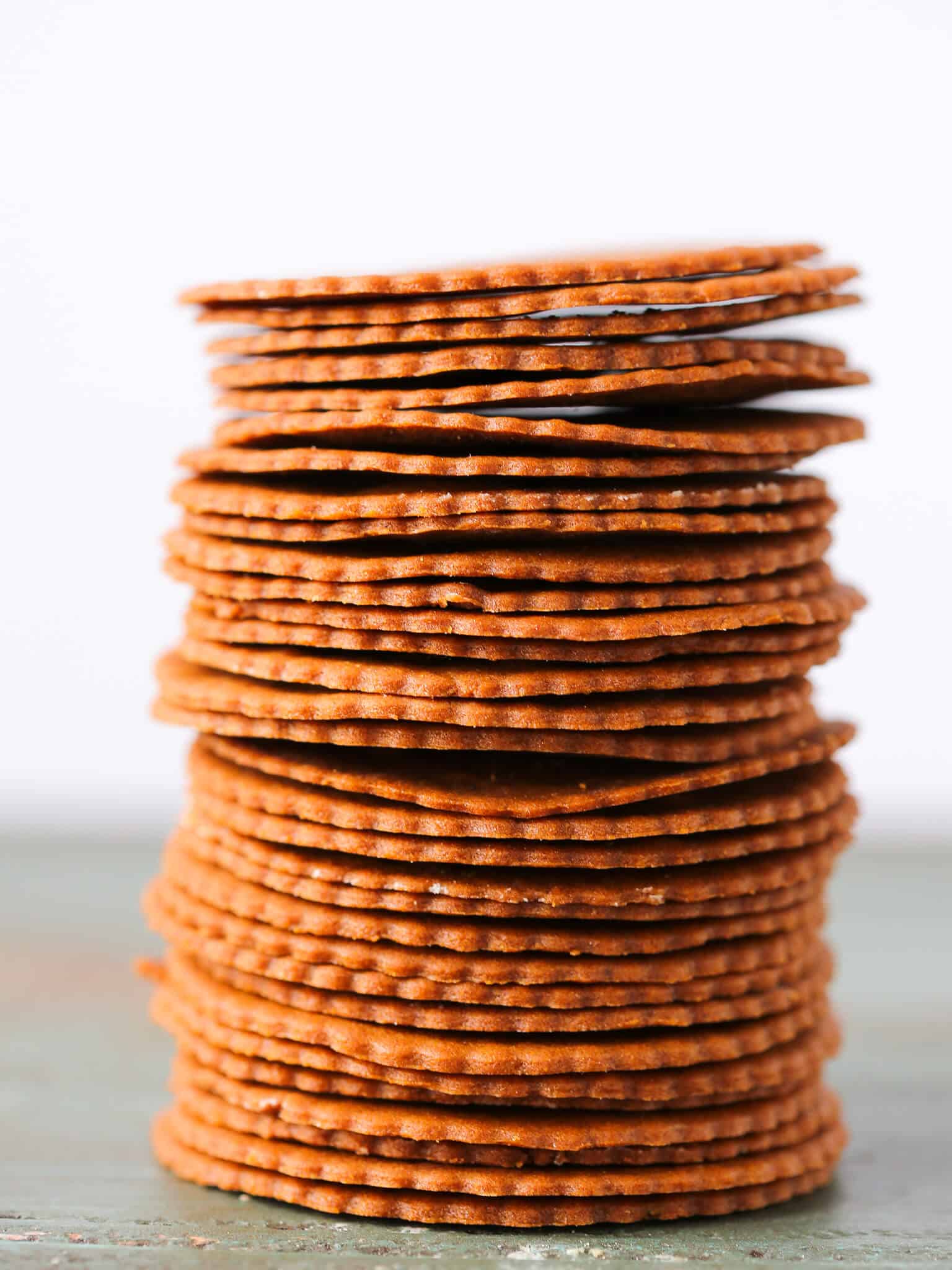 Firstly, let me boil down my college experience for you. At Wake Forest I learned a lot about math and French, a little about everything else consequently including keg stands (I know. College. Insert rolling eye emoticon here…), and emphatically that Moravian Christmas Cookies (MCC) are the things that sweet dreams are made of.
Wake Forest is located in the markedly booming metropolis of Winston-Salem, North Carolina. 😉 And while it is best known for Krispy Kreme…oh you didn't know the first Krispy Kreme was particularly in Winston-Salem? You thought it was started somewhere rather hip and trendy like Charlotte? Nope. Certainly fun fact Tuesday.
Anyways…the town was originally settled by Moravians who are long gone but their delectable wafer-thin spice cookies live on.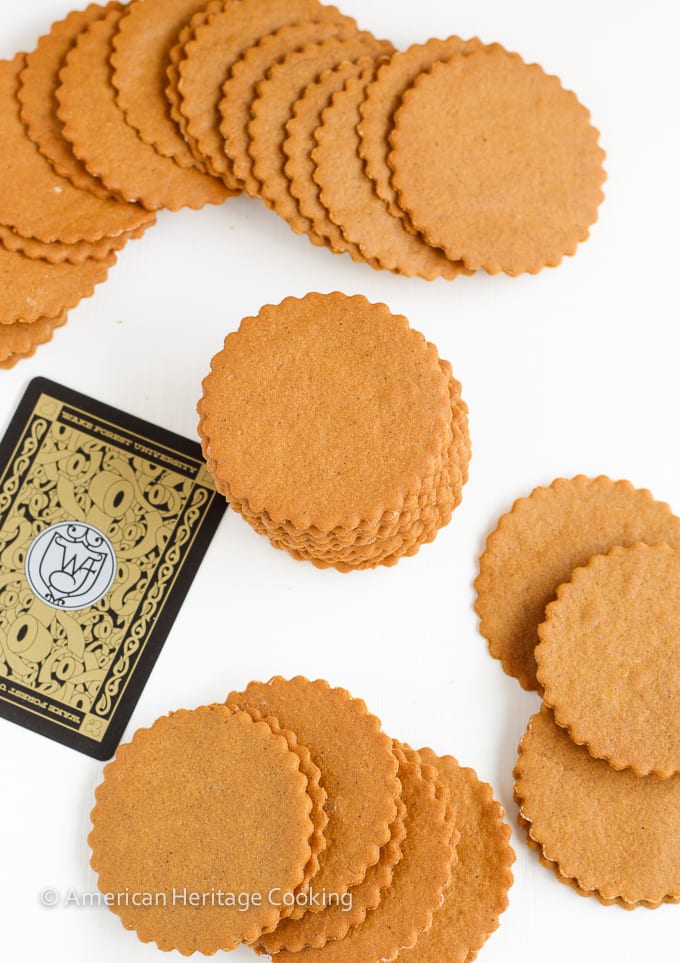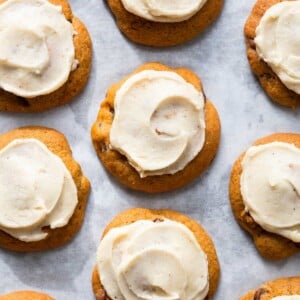 I didn't even like crispy cookies before college. If I even spotted a hint of brown edges, I was undeniably moving on. Next!
But MCCs stole my heart before I even had a chance to say no.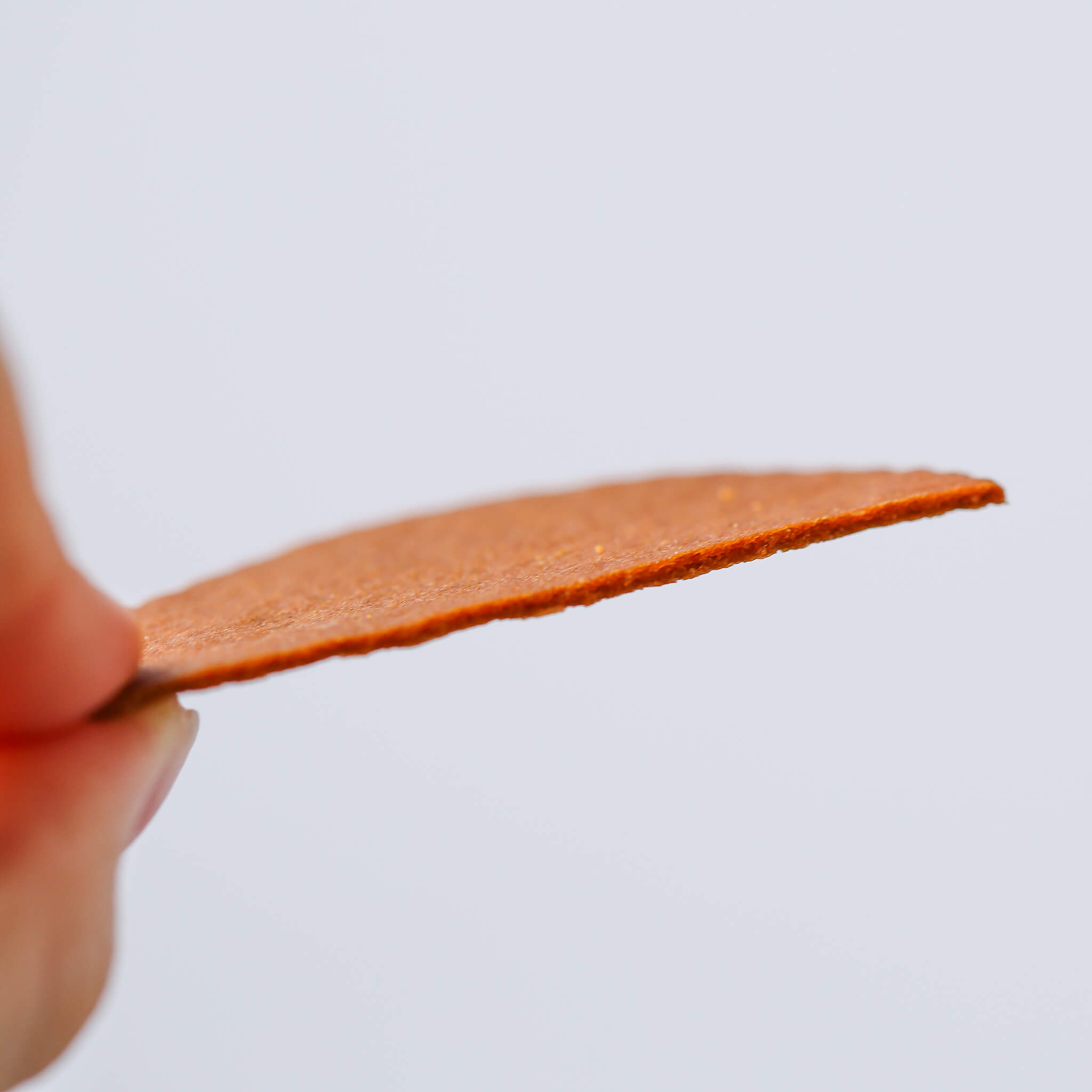 My parent's friends gave me a "Welcome to Winston" care package and above all, inside was Moravian sugar and Christmas cookies. I initially eyed the paper-thin, crispy cookies with disdain and set them aside, but I don't need to tell you that school food is lack-luster at best. I won't even tell you what I ate everyday for lunch for 4 years straight. It's embarrassing. And, no, at any rate, it wasn't fried. #healthyeating #moreroomforcookies
I opened the box.
It wasn't long before I was opening that box of Moravian Christmas Cookies.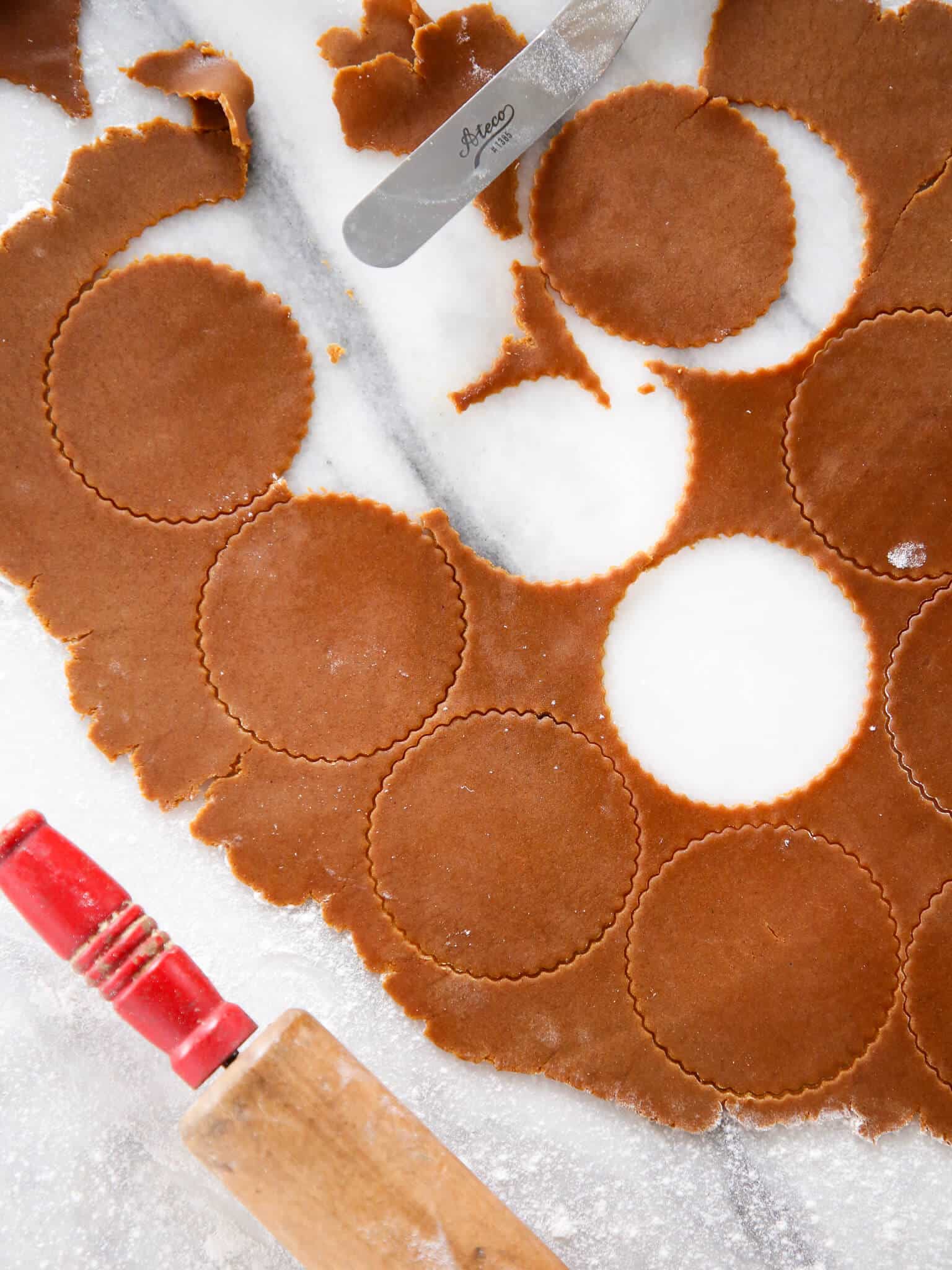 These cookies come in sleeves like Thin Mints. And by and large, like Thin Mints, I consider it a personal challenge not to eat the entire sleeve in one sitting.
Capital "A" addicting!
Even more, there should probably be a warning label of sorts.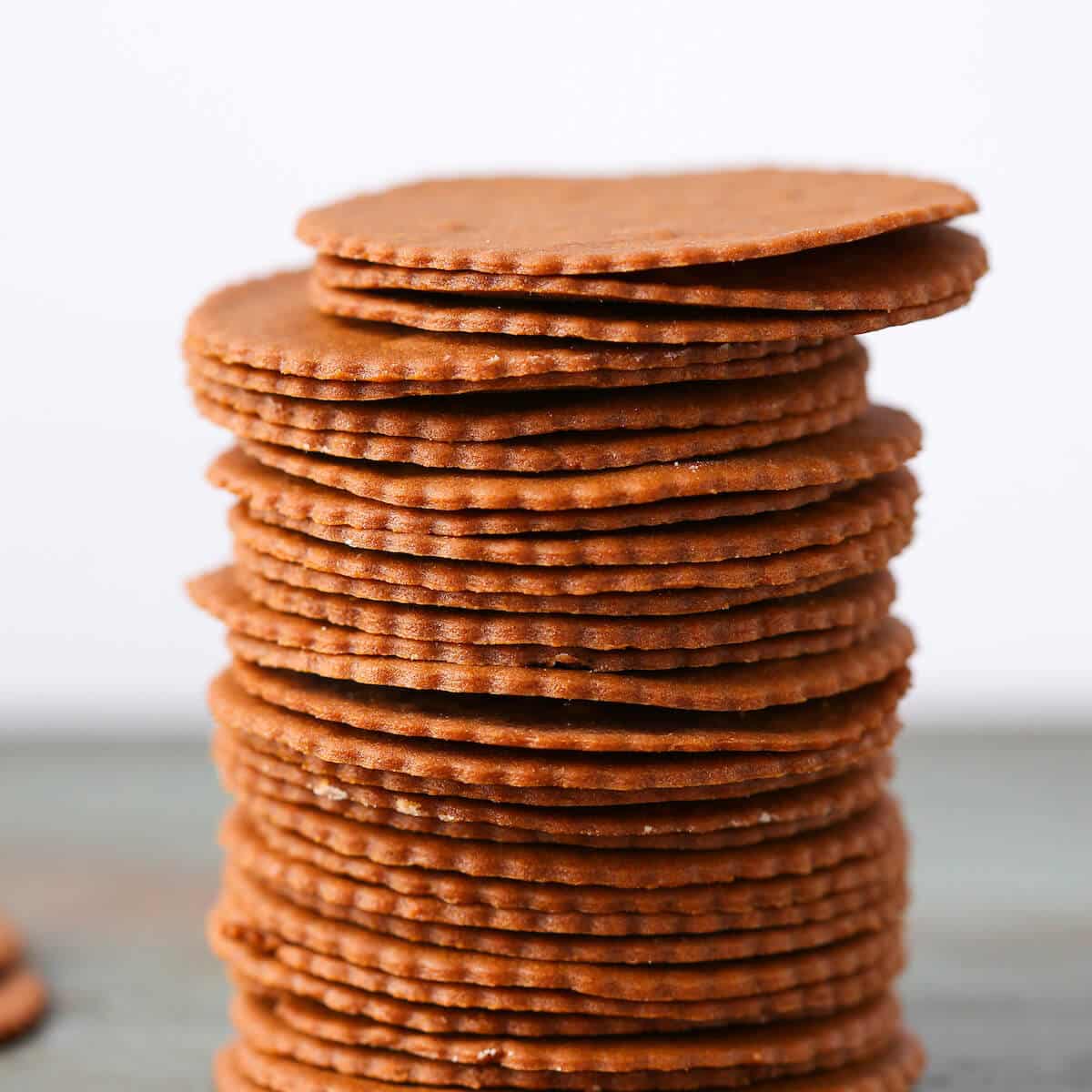 If you love gingersnaps, gingerbread cookies or any variation of molasses sugar cookies then you will adore Moravian Christmas Cookies. In my house they are as synonymous with Christmas as fruit cake or stollen bread.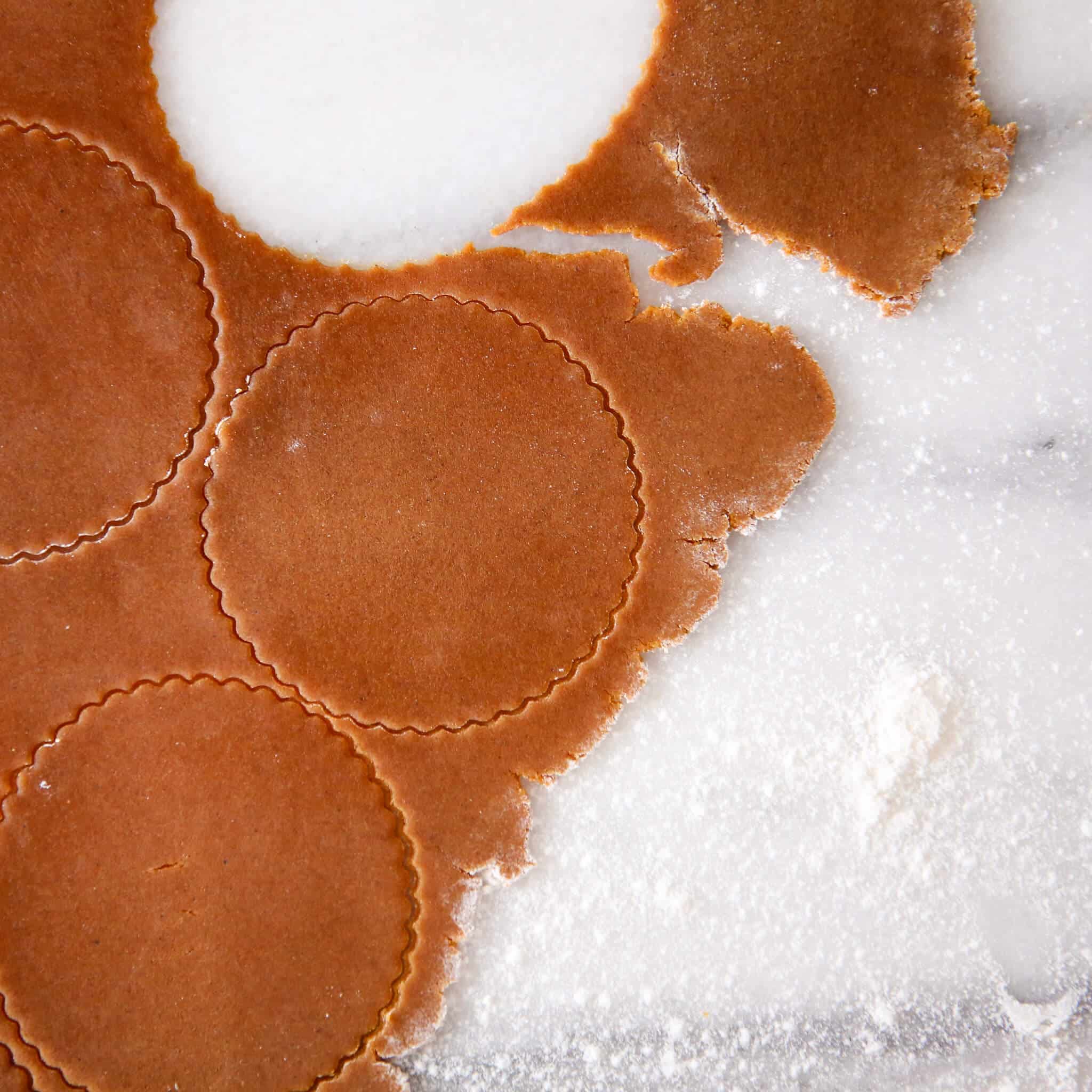 It took me a few batches to nail the thickness (or thinness as the case may be with these cookies) and for that reason the baking time. There is a 20 second window between crispy perfection and burned. Don't fret! I've done all the trouble shooting for you!
Can you see the difference between the two cookies in the photo above? The top one is the appropriate thickness and the bottom one was rolled more to the thickness of construction paper. After baking the cookie is just shy of 1mm. It's time to practice those rolling skills!
How to make the thinnest Moravian Christmas Cookies*
* that I learned the hard way
Roll them thin. When I say paper-thin, I mean paper-thin. Not cardboard-thin, not construction-paper-thin, not heavy-gauge-wedding-invitation-thin. Printer-paper-thin. They actually puff to double the thickness in the oven.
Use a liberal amount of bench flour. Cover thy service with flour. You're going to need it.
But don't cover the top with flour, just tap your hand on the counter and rub it on the rolling pin. You don't want to see flour on the surface.
Brush away excess surface flour with a clean, dry pastry brush. Do you know what flour tastes like when it bakes at 375 for 6 minutes? You don't want to. It's bitter and gross.
I only rerolled my scraps once because of all the bench flour. Otherwise you work too much flour in the dough, which will make your cookies tough and tasteless. You want them to be thin like paper but not taste like it!
Be gentle. Roll with love. A gentle, loving touch is the key to all good pastry. I learned that in culinary school. You're welcome.
You know your dough is thin enough when you can see the counter. It changes color from a dark molasses to a light brown sugar color. Congrats! You've arrived!
There will come a time in the rolling process when you cannot lift the sheet of dough to get more flour under the center and your center is sticking and not rolling thinner. That's okay. Gently roll out the edges to the proper thickness, cut with cookie cutter, and remove to your baking pan. Next, gently run an offset spatula under the dough and flip it over using both hands (with lots of love or it will tear – dough knows when you are frustrated. Trust me.). Sprinkle more flour and continue rolling and cutting. See. Problem solved sans tears.
You can lightly dip your cookie cutter in flour and then tap off the excess.
The store-bought MCC are perfectly flat. To achieve this you can bake the cookies with a second baking sheet on top. But, come-on, life's little imperfections are what make homemade a million times better than store-bought. No?
Send a picture of your paper-thin masterpieces to all your friends and family. Bask in the accolades. Come on, you've earned it!
There was a brief moment in time when I thought I would use my KitchenAid pasta attachment for this rolling process. Ha! The dough is too fragile for that. There isn't enough moisture or gluten to allow for short cuts. Unless you have an industrial-grade sheeter lying around, fuggetabout-it.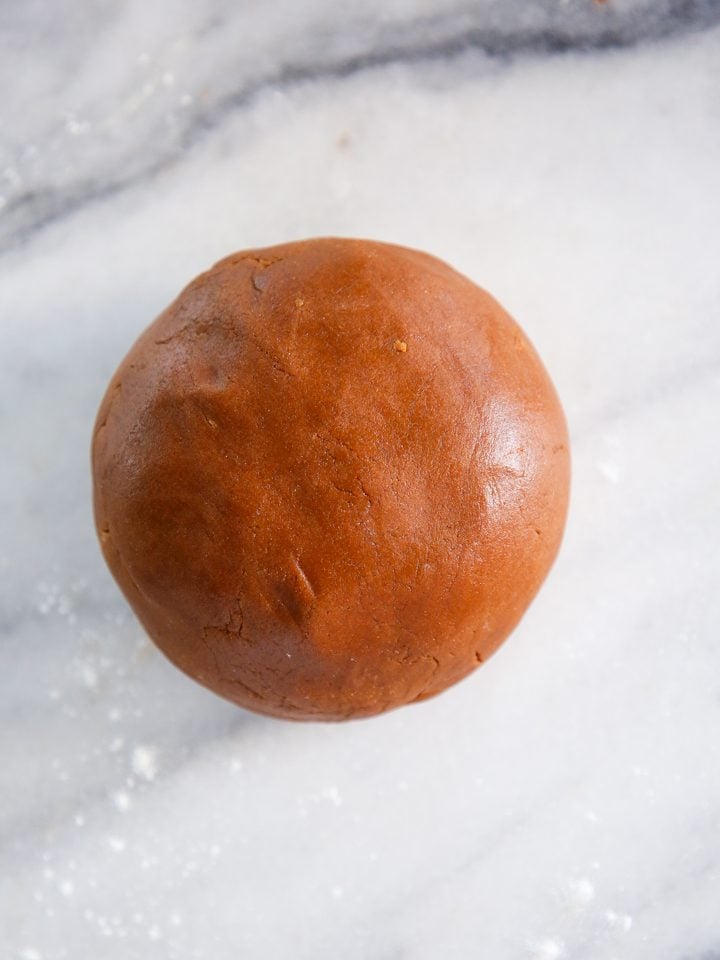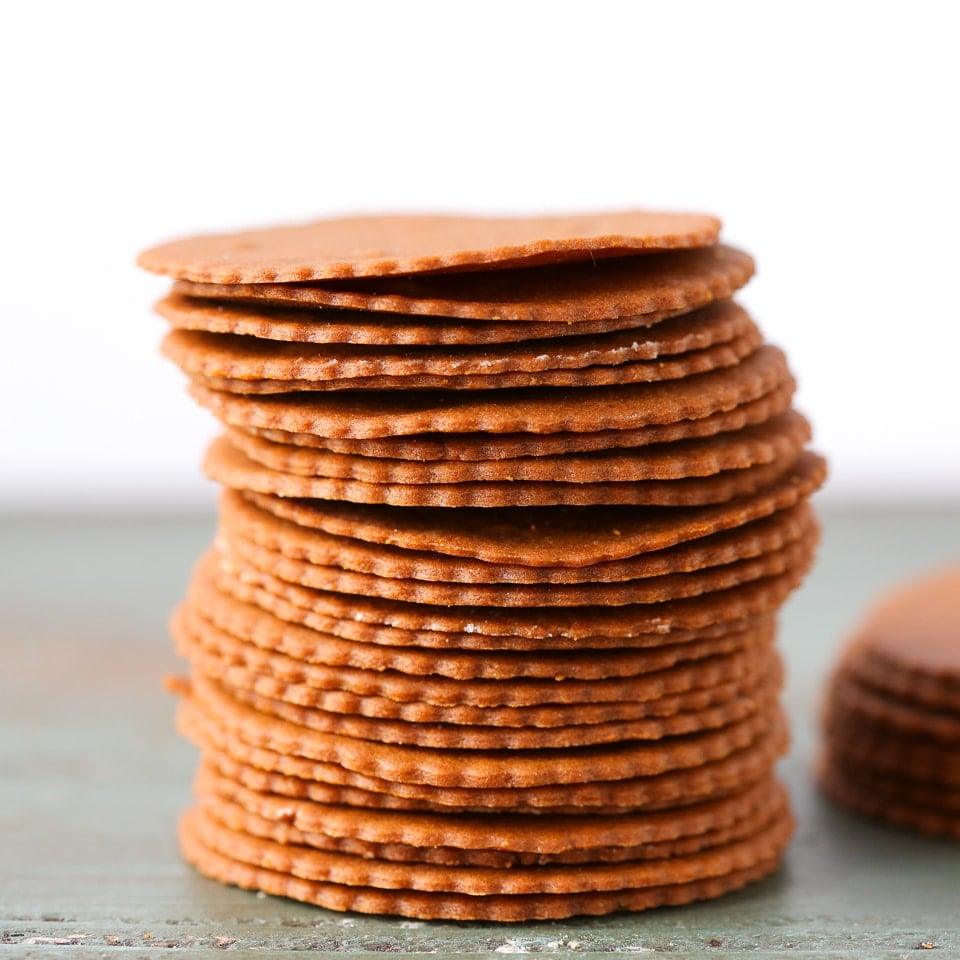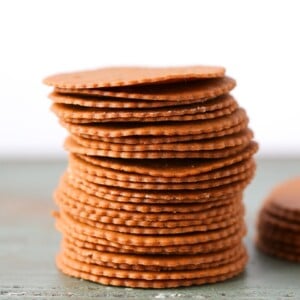 Moravian Christmas Cookies
Moravian Christmas Cookies are paper-thin, crispy, spiced molasses cookies. Sweet and gingery, they taste a bit like gingerbread but are waaaay more addicting!
Instructions
In a medium bowl whisk together the sugar, soda, salt and all the spices.

In a medium saucepan heat the molasses just to the boiling point but do not boil. This doesn't take very long so watch it.

Stir in the shortening until perfectly smooth. Cool slightly.

Transfer to the bowl of a stand mixer or use a hand mixer to beat in the sugar mixture. Add a bit of the flour, stirring to combine. As soon as it starts to hold together in a sticky dough, scoop it out onto the well-floured counter. Your bench flour in this step is part of the 4 cups total flour.

Knead in the flour with your hands until the dough holds together. I used about 3 ½ cups of flour. The dough will become very stiff and that is what you want!

Roll into a ball and refrigerate until firm. I refrigerated it overnight.

When you are ready to roll (ha! Sorry.), preheat oven to 375° and line several baking sheets with parchment.

Cut off a portion of the dough and roll paper-thin on a well floured surface. Cut into 2 inch circles, I used the fluted cutter because that is how the cookies looked at Wake. A small offset spatula works well for lifting the delicate circles from the counter. Brush off any excess flour and place on lines baking sheet. They don't spread at all, so I baked mine less than ½ inch apart.

Bake 4 minutes; rotate tray; bake 2 more; cool on baking sheet; stack and repeat.

I only baked one sheet at a time because my oven sucks and there is no such thing as a top third and a bottom third. Divide and conquer at your own risk.

They bake and cool so fast that it really doesn't slow you down.
Notes
Recipe from The American Heritage Cookbook, 1964 edition T
hese cookies are vegan! Tell all your friends!
The dough will keep for weeks, so you can roll as much or as little as you would like at a time.
Nutrition
Calories:
41
kcal
|
Carbohydrates:
7
g
|
Protein:
1
g
|
Fat:
1
g
|
Saturated Fat:
1
g
|
Polyunsaturated Fat:
1
g
|
Monounsaturated Fat:
1
g
|
Trans Fat:
1
g
|
Sodium:
22
mg
|
Potassium:
56
mg
|
Fiber:
1
g
|
Sugar:
4
g
|
Vitamin A:
1
IU
|
Vitamin C:
1
mg
|
Calcium:
9
mg
|
Iron:
1
mg
Like this? Leave a comment below!