Italian Pizzelle Cookies are crunchy and tender, and made in a pizzelle press! Flavored with anise and vanilla, they are a perfect accompaniment to coffee or with an affogato!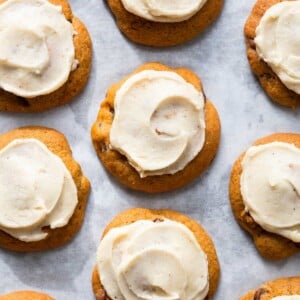 Personally, I was first introduced to pizzelle cookies when we were recipe testing for the opening menu of Davide, an Italian restaurant in the Meatpacking District of NYC. I fell in love with the delicate, crunchy cookies. Yes, me, Lindsey, the lover of huge, chewy cookies! I then put these little guys on the menu at Peasant, which meant that I got to make hundreds each week, so you came to the right place for your recipe!
What is a pizzelle?
Pizzelles are crispy Italian cookies flavored with anise. They are made in a pizzelle maker, which is like a small waffle iron.
What do pizzelles taste like?
Pizzelles are traditionally flavored with anise, and they have a light, delicate flavor with hints of vanilla and butter.
Pizzelle Recipe Ingredients
Whole Egg: The eggs are here to add fat, moisture and leavening. Beating in the eggs just enough will add a little or a lot of leavening depending on the desired texture. Eggs also emulsify the batter and keep everything texturally perfect.
Granulated Sugar: Granulated sugar is here for sweetness and is in perfect proportion to the butter and flour. The sugar also shortens the gluten strands in the flour creating that tender, crunchy texture.
Butter: I use unsalted butter for baking, because you want to control the amount of salt you are adding.
Whole Milk: There is just the right amount of milk to pull the dough together but not so much to make the cookies tough. The addition of a liquid means we have to be extra careful not to overmix the dough and activate the gluten in the flour.
Vanilla Extract: Vanilla Extract adds a beautiful flavor itself but it also boosts the flavor of other ingredients around it.
Anise Extract: Anise extract is here for flavoring and is the traditional taste of this cookie.
All-purpose flour: Be sure to measure your flour by fluffing up the flour in the bag then spooning it into a measuring cup. Level it off with a knife. Be careful not to tap or compress the flour. Not measuring correctly, will lead to dry cookies.
Baking Powder: Double acting baking powder will react instantly when it is mixed with an acid and then again when it is heated.
Kosher Salt: Kosher salt is lass salty than table salt and a teaspoon weighs less than other finer ground varieties. It heightens the flavor here and will keep your cookies from tasting dull or flat.
How to make perfect pizzelle like a pastry chef?
I dive further into this in my Pizzelle Video Tutorial, the following will have you making pizzelle cookies like a pro in no time:
Preheat, spray, repeat: Make sure your iron is piping hot, spray with nonstick cooking spray, and cook your batter. Be sure the iron is hot enough before you recoat with spray and cook the next round.
Chill: After you follow the pizzelle recipe to make the batter, let it sit and chill for at least an hour.
Spray: I know I mentioned spray, but I really mean it! Spray that pizzelle press every single time.
Cut with scissors while hot: Cut your pizzelles while they are still hot, and do so with scissors. Prior to cutting with scissors I was punching them out with a ring mold or biscuit cutter along with the rest of the poor, unfortunate souls. This led to cracked, broken cookies. Cutting with scissors is faster, cleaner and allowed me to keep more of the cookie rather than having to find the right size cutter or one that was close enough!
Protect: Use parchment paper for protection underneath your pizzelle press, you won't regret it when the batter starts to overflow!
Single layer: This is mission critical. Let the pizzelle cool in a single layer so you can maintain the ultimate crunch.
How to keep pizzelle from sticking?
I recommend that you put a piece of parchment paper down underneath your pizzelle iron to catch all the overflow and keep your pizzelles from sticking while making this pizzelle recipe. Also, nonstick cooking spray is your absolute best friend, so spray between rounds!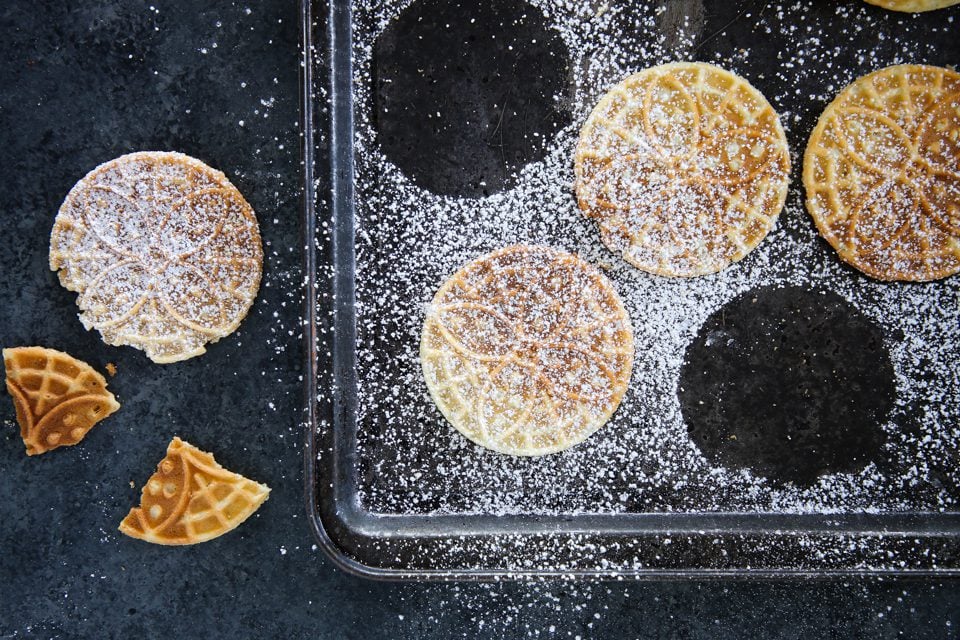 Why are my pizzelles not crispy?
It is absolutely necessary to let the cookies cool completely before stacking and storing or they will lose their crisp. Let them cool in a single layer for ultimate crunch, because the best part of the pizzelle recipe is getting to eat them! ?
Pizzelle Recipe Frequently Asked Questions
How do you store pizzelle cookies?
Store these crunchy cookies in an airtight container at room temperature. Do not store with any other cookies or they will absorb the moisture and soften.
How long will pizzelles keep?
Pizzelle cookies will keep up to 2 weeks at room temperature. They are still edible beyond that but they will begin to taste a bit stale.
Will the pizzellerecipe multiply?
You can make as large a batch as you would like from this pizzelle recipe, but be aware of the size of your pizzelle press. The cookies become quite thin, so really your only limit is your patience!
Do I need to chill the pizzelle cookie batter before cooking?
I recommend you chill the batter for 1 hour prior to cooking.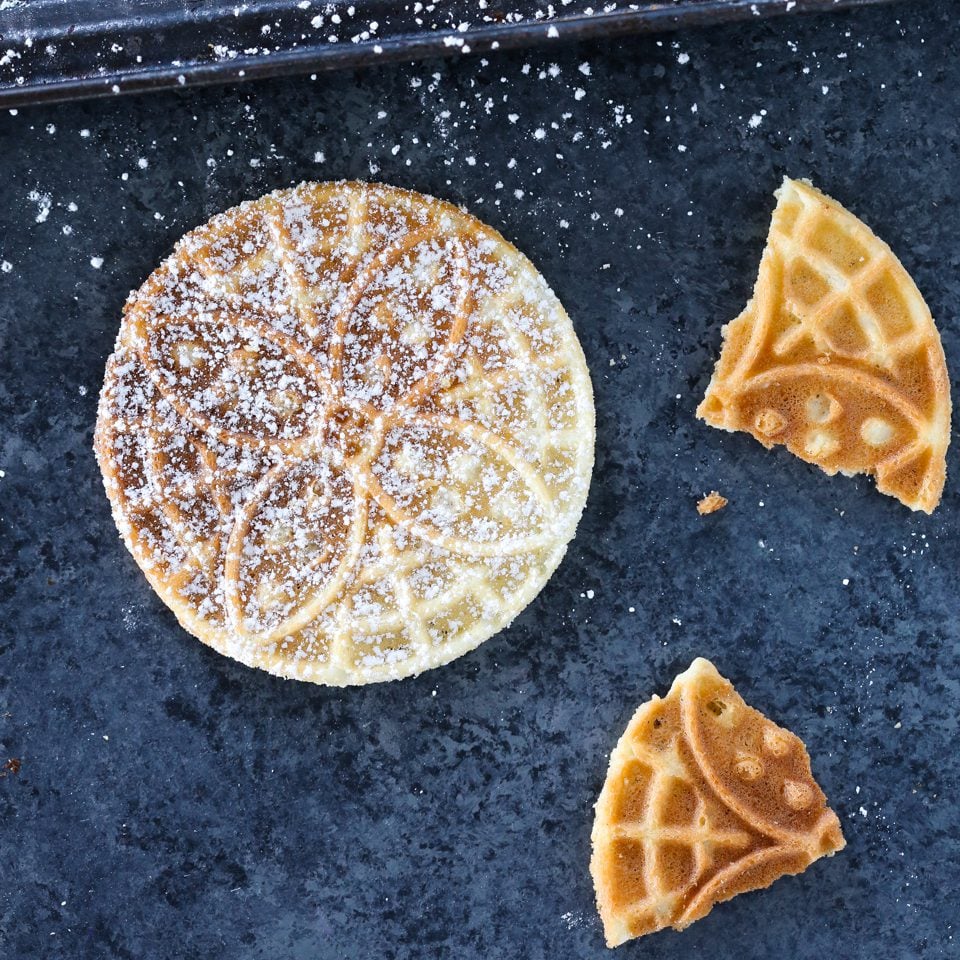 Pizzelle Cookies
Italian Pizelle Cookies are crunchy and tender, and this pizzelle recipe is made in a pizzelle press! Flavored with anise and vanilla, they are a perfect accompaniment to coffee or with an affogato!
Instructions
In a small bowl, whisk together flour, baking powder and salt. Set aside.

In a bowl whisk eggs then whisk in sugar followed by milk, butter, and extracts. Fold in the flour mixture.

Cover with plastic wrap and allow to sit for an hour. Do not skip this step because the flour needs to hydrate and the gluten needs to relax.

Cook in pizzelle iron. Be sure to preheat the iron until smoking hot and then give it a spray with nonstick cooking spray after every few rounds, just to be safe. I can tell you from experience that cleaning the grooves of an unsprayed iron is unforgettable. Unforgettably awful. Trust.
Notes
Yield: 50, 2 inch cookies
Nutrition
Calories:
52
kcal
|
Carbohydrates:
7
g
|
Protein:
1
g
|
Fat:
2
g
|
Saturated Fat:
1
g
|
Polyunsaturated Fat:
0.1
g
|
Monounsaturated Fat:
1
g
|
Trans Fat:
0.1
g
|
Cholesterol:
15
mg
|
Sodium:
49
mg
|
Potassium:
10
mg
|
Fiber:
0.1
g
|
Sugar:
4
g
|
Vitamin A:
72
IU
|
Calcium:
12
mg
|
Iron:
0.3
mg
Like this? Leave a comment below!
Before You Go!
Check out our other delicious, chef-developed Cookie Recipes!