These are beautiful, delicate oatmeal lace cookies with hints of caramel and an irresistible crunch! These easy lace cookies are crispy and light as air.
The fourth day of my 12 Days of Christmas Cookies 2014.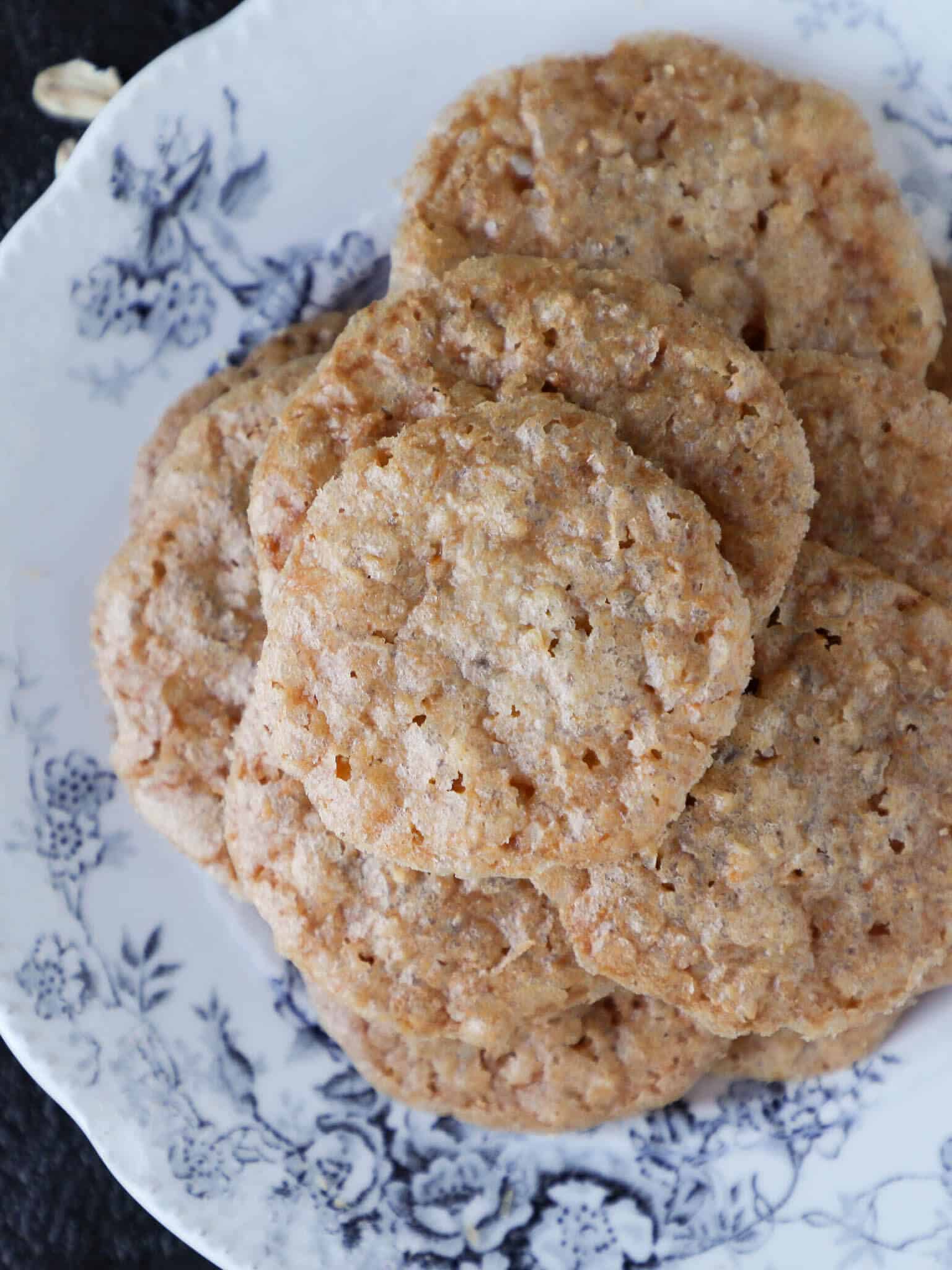 Oatmeal Lace Cookies are easy drop cookies that only require a little bit of patience. One of my parents' friends would send a little tin filled with these delicate, crunchy, sweet cookies every year. My Mom and I looked forward to it all Christmas season! This lace cookie recipe is Mrs. Ledford's.
The sugar caramelizes while baking and combines with the oats to produce a magical flavor. I personally think they taste even better frozen! Make a batch of these lace cookies to serve with chewy gingerbread boys, cardamom crescents, and raspberry linzer cookies!
Table of Contents
What are oatmeal lace cookies?
Oatmeal lace cookies are drop cookies made from a thin oatmeal batter that is dropped by the ½ teaspoon on baking sheets. The cookies spread and caramelize while baking for a thin cookie that resembles lace!
Ingredients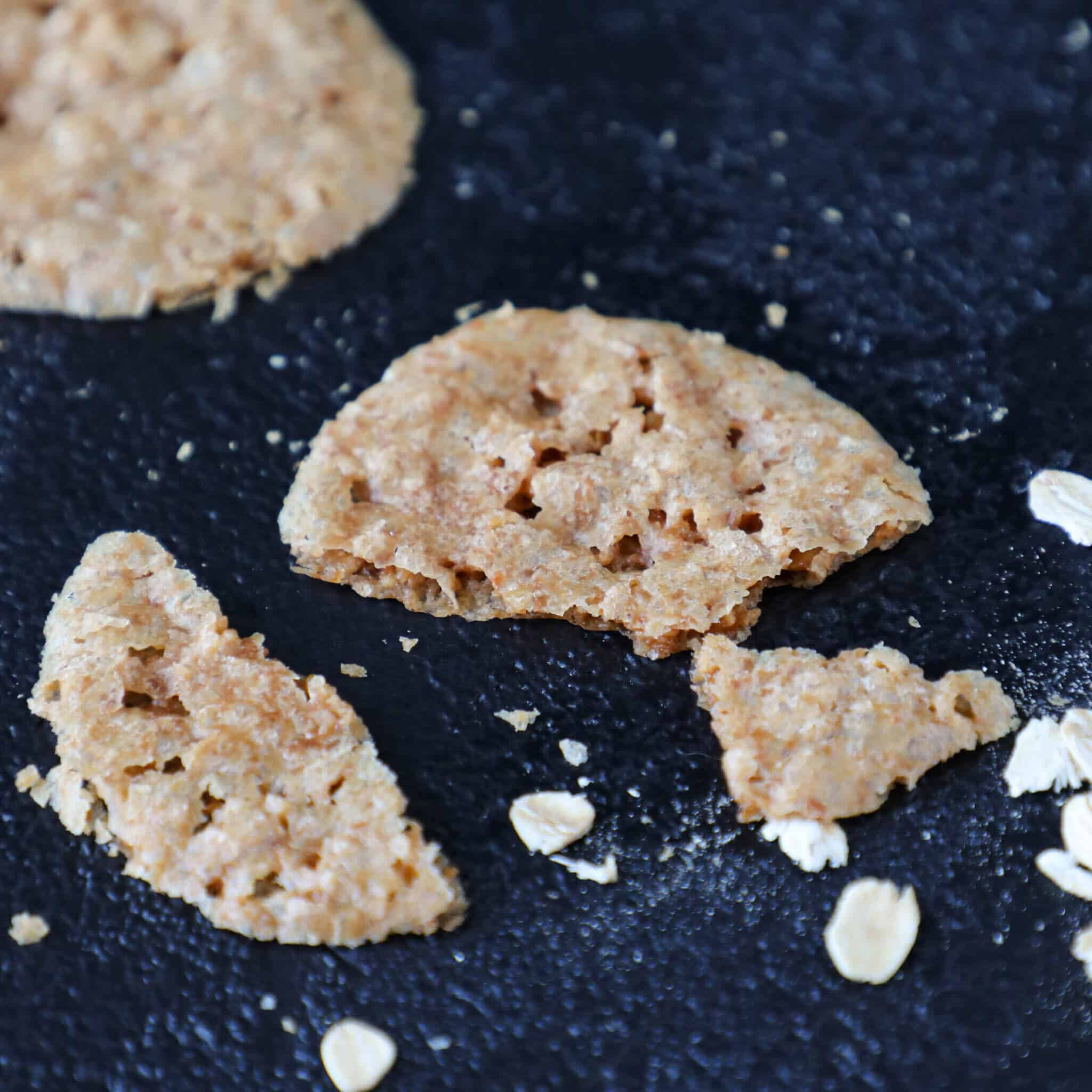 Substitutions
Gluten Free: To make these lace cookies gluten free make sure your oats are gluten free and substitute gluten free all-purpose flour for the wheat all-purpose flour. I always use Cup 4 Cup because it has the best texture.
Rolled Oats: Use any type of oat that you want. I use quick cooking oats for a smooth batter, but rolled oats will give a nice texture to the final lace cookies.
Frequently Asked Questions about Lace Cookies
How do you store oatmeal lace cookies?
Store baked cookies in an airtight container at room temperature or in the freezer. Layer the cookies between waxed paper or parchment. Do not store with any other cookies or they will absorb the moisture and soften.
How long will these cookies keep?
Oatmeal lace cookies will keep up to a month at room temperature or several months frozen.
Can you freeze oatmeal lace cookies?
Oatmeal lace cookies freeze perfectly. I love to eat them straight from the freezer but you could also allow them to thaw at room temperature.
Will the recipe multiply?
You can make as large a batch as you would like. Each lace cookie only uses a ½ teaspoon of batter, so really your only limit is your patience!
Will these lace cookies ship?
Growing up we received a small tin of these cookies as a gift every Christmas and they arrived remarkably intact. I don't know what her secret was because the year I shipped these to friends and family, they all received oatmeal lace cookie crumbs.
Do I need to chill the cookie dough before baking?
The batter bakes best as soon as it is prepared! There is no need to chill the batter before scooping. If you would like to make it ahead or in batches, then allow the batter to come to room temperature before proceeding. Chilled batter will produce thicker, less lacy cookies.
Chef Lindsey's Recipe Tips
Bake oatmeal lace cookies on aluminum foil for effortless removal! Bake, allow cookies to cool completely and then peel off!
Recipe
Old Fashioned Oat Lace Cookies
A beautiful, delicate oatmeal lace cookie with hints of caramel and an irresistible crunch! These easy lace cookies are crispy and light as air.  
Instructions
Preheat your oven to 325° and line several baking sheets with aluminum foil (shiny side up).

I have very hearty rolled oats and so I processed mine in the food processor just to break them down some.

Mix oats, flour, sugar and salt in a large bowl. Pour very hot melted butter over the flour mixture and stir until the butter has coated everything and the sugar has dissolved. Add the eggs and vanilla; stir well.

Drop ½ teaspoons of the batter 2 inches apart on ungreased foil lined sheets.

Bake 1 sheet at a time 10-12 minutes, rotating sheet halfway through, until they turn a golden brown. Let cool on pan on a wire rack.

When cool they will peal effortlessly off the foil!

Store in an airtight container and don't forget to hide a secret stash for you! You earned it!
Video Instructions
Notes
As I mentioned in the post, my mom and I store these cookies in the freezer! They are excellent at room temperature and even more excellent frozen! Taste and decide for yourself!
Recipe courtesy of Mrs. R. Ledford.
Before You Go!
Check out our other delicious, chef-developed recipes for Cookies!