These Pecan Snowball Cookies have a soft, crumbly texture with just the right amount of pecans. These easy pecan snowball cookies can be made in under 10 minutes!
Day 4 of the annual 12 Days of Christmas Cookies 2022!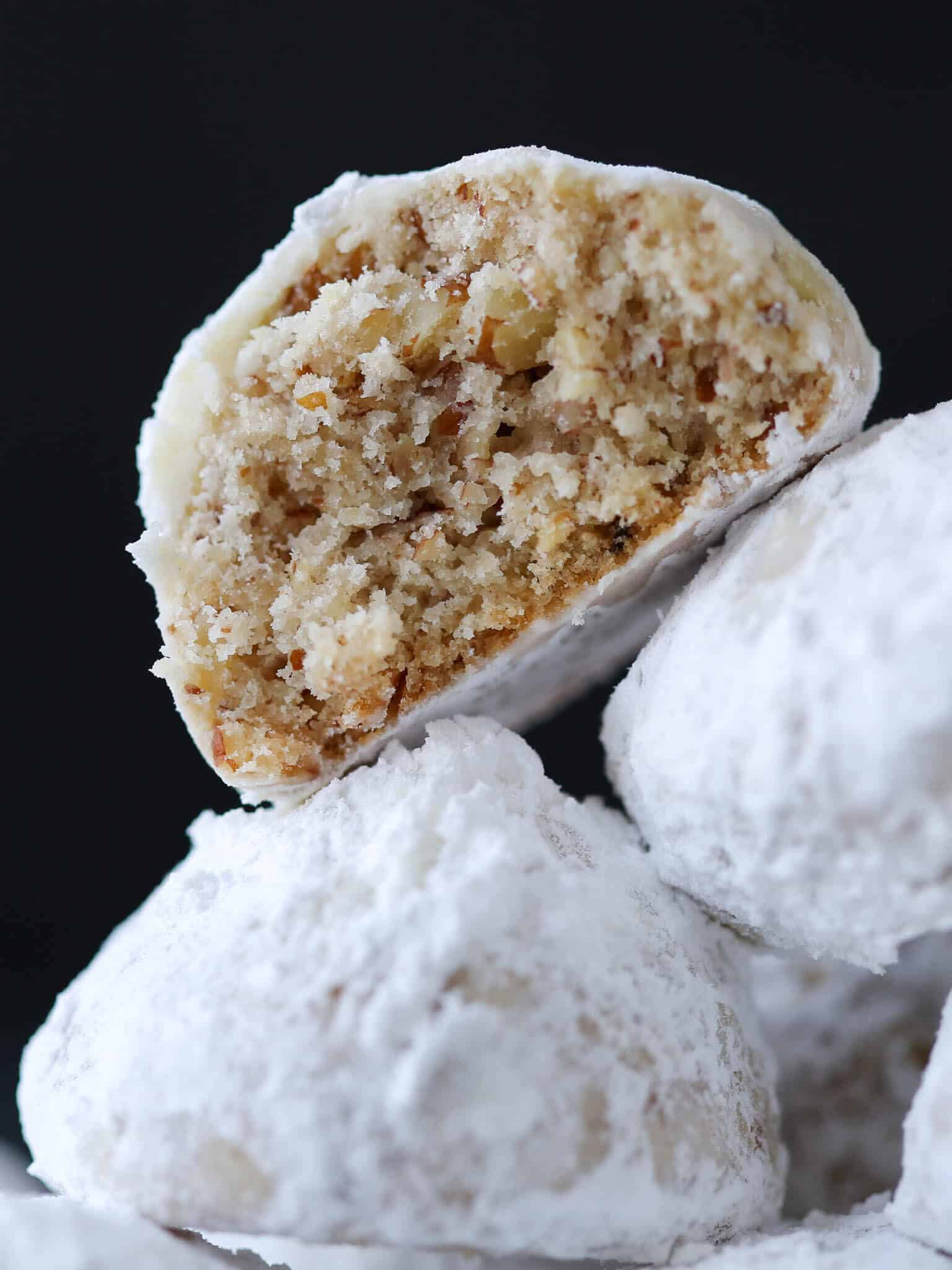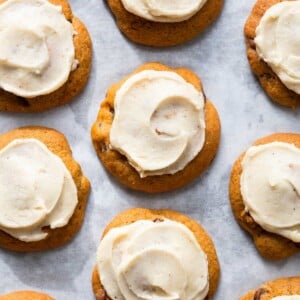 Pecan Snowball Cookies are crumbly, tender pecan cookies coated in powdered sugar. They are not overly sweet and the flavor improves as they sit! This is what I call Christmas magic. We all need some high-maintenance cookies (I'm looking at you Moravian Spice Cookies!) and some easy, no-fuss cookies to balance them out.
I love how they balance out the flavors and textures of a Christmas cookie platter. Pair them with chewy gingerbread boys, apricot kolaches, sweet almond pignoli cookies and pistachio cranberry sable cookies for a striking and delicious array of cookies!
What are Snowball cookies?
Snowball cookies are tender shortbread-like cookies that have chopped pecans or walnuts mixed in the dough. They are also called Mexican Wedding Cookies or Russian Tea Cakes. The cooked, cooled cookies are tossed in powdered sugar for a white exterior.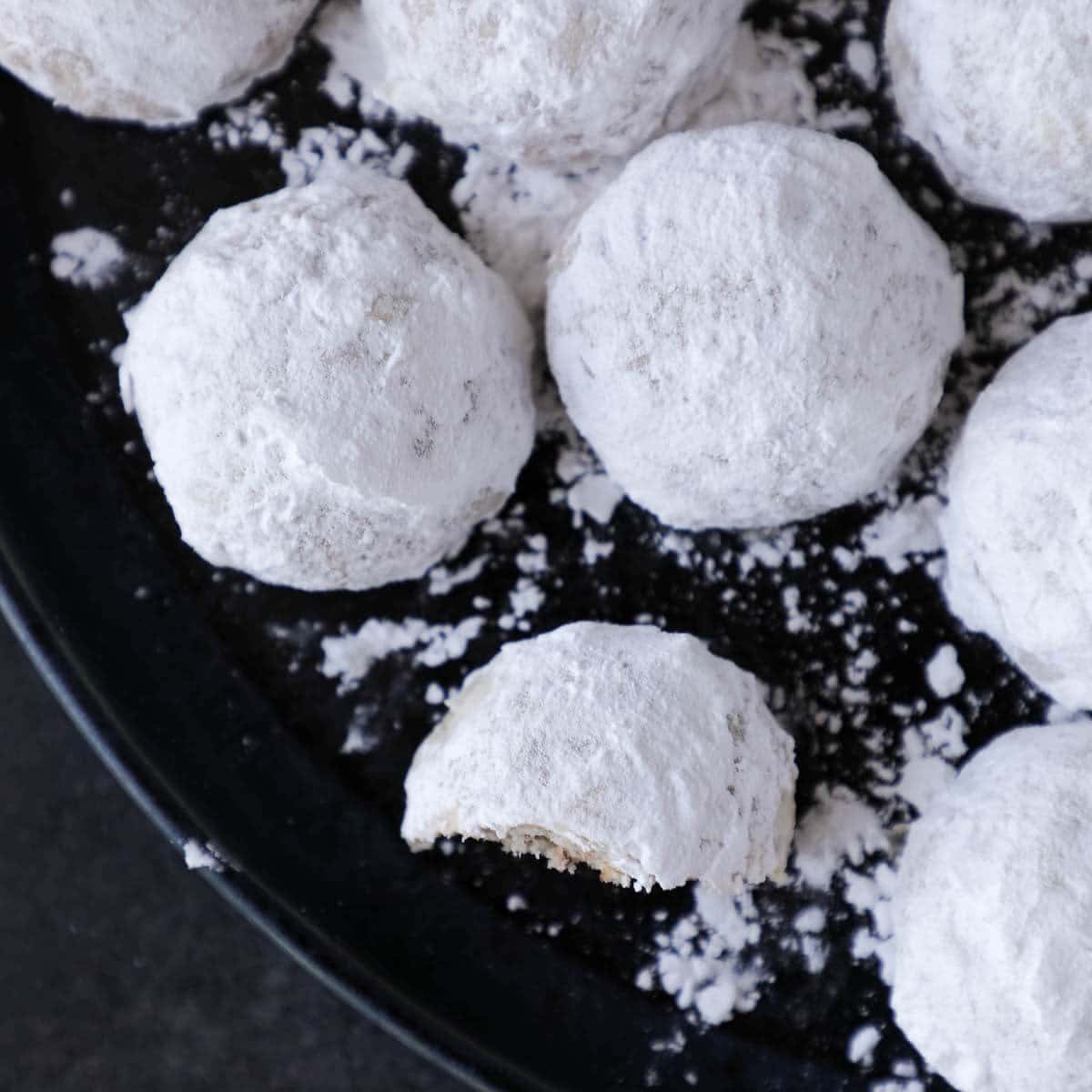 Why did my snowball cookies flatten?
Snowball cookies flatten if the dough was not chilled before baking or if the oven temperature was too low. A low oven temperature can cause the butter to melt and flatten the cookies.
Ingredients for Pecan Snowball Cookies
All-purpose flour: All-purpose flour has just the right amount of gluten to make a chewy, soft cookie.
Pecans: You can finely chop pecans with a knife or pulse in a food processor until finely ground. Alternatively, you can purchase pecan flour or pecan meal and skip the entire step!
Pecan Meal: Purchasing pre-ground pecan meal or pecan flour can save a bit of prep time when making cookies, crusts, or cakes.
Kosher Salt: Kosher salt is lass salty than table salt and a teaspoon weighs less than other finer ground varieties. It heightens the flavor here and will keep your cookies from tasting dull or flat.
Butter: I use unsalted butter for baking cookies, because you want to control the amount of salt you are adding. Every brand is different and it makes adjusting the recipe a challenge.
Granulated Sugar: Granulated sugar is obviously here for sweetness, but if you add too much in proportion to the butter and flour, the cookies will spread rather than stay tall and chewy.
Vanilla Extract: Vanilla Extract adds a beautiful flavor itself but it also boosts the flavor of other ingredients around it.
Powdered Sugar: The powdered sugar coating adds a bit of additional sweetness and it helps keep the cookies moist during longer storage.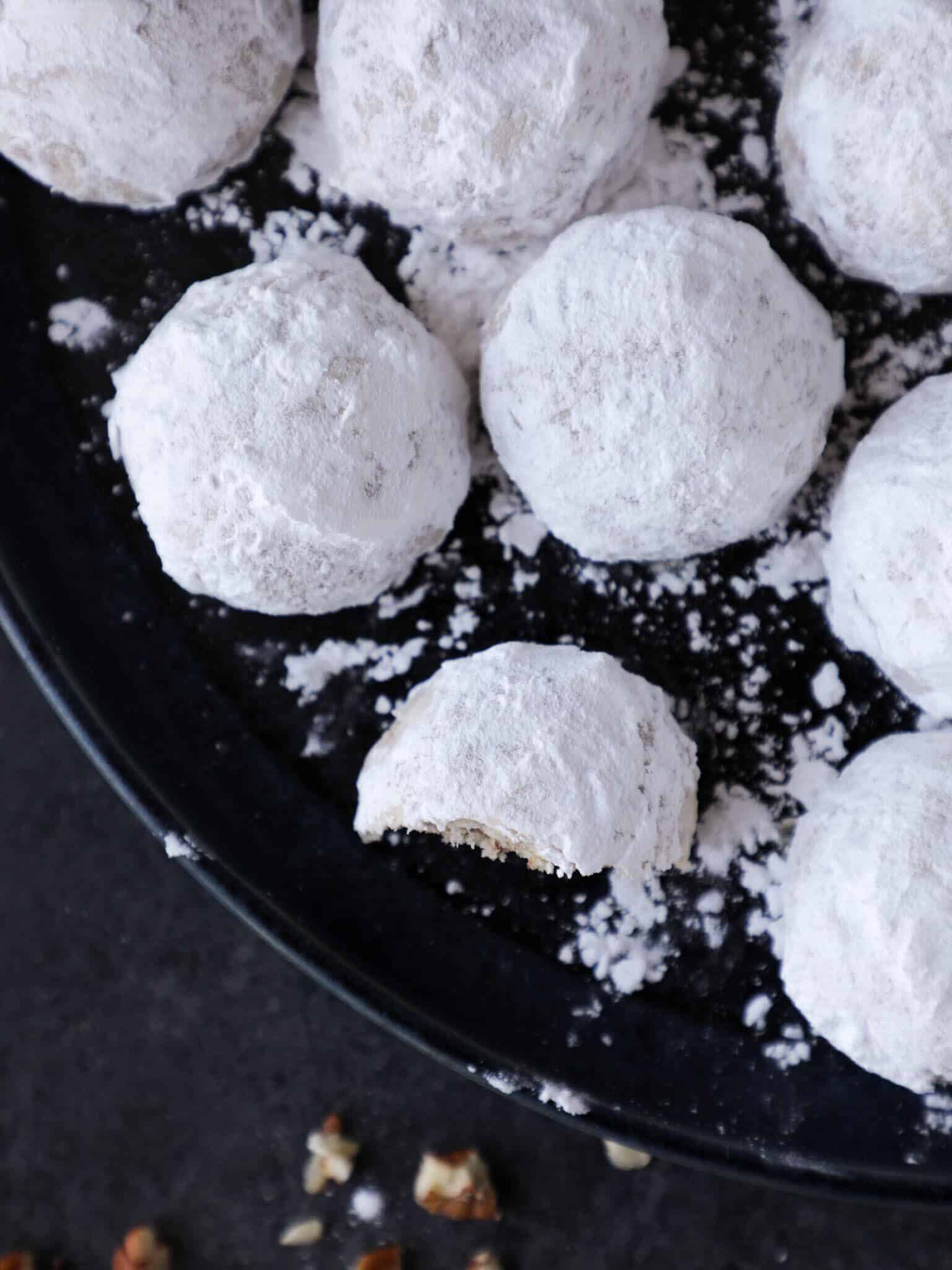 Substitutions
Frequently Asked Questions
How to store Pecan Snowball Cookies?
Store pecan snowball cookies in an airtight container at room temperature. Layer the cookies between pieces of parchment or waxed paper. They can also be stored in a zip-top baggie. For a flawless finish, toss again in powdered sugar before serving.
Can you freeze baked Pecan Snowball cookies?
You can freeze baked pecan snowball cookies. Once cooled and tossed in powdered sugar, layer between parchment or waxed paper in an airtight container. After thawing, toss in powdered sugar to refresh the coating.
How long will snowball cookies keep?
Snowball cookies will keep at room temperature for one week or frozen for up to 3 months
Why are my snowball cookies dry?
Overbaking is the most common reason pecan snowball cookies are dry. Be sure to bake them just until a light golden brown on the bottom and the tops are beginning to show small cracks. Another reason is they were left out uncovered too long. Tossing them in the powdered sugar keeps them moist especially when stored in an airtight container.
Why did my pecan snowball cookies fall apart?
Snowball cookies fall apart when they are not allowed too cool or if they were left out too long and have dried out. Be sure to allow the cookies to cool completely before tossing in powdered sugar. Then store the pecan snowball cookies in an airtight container or zip-top bag.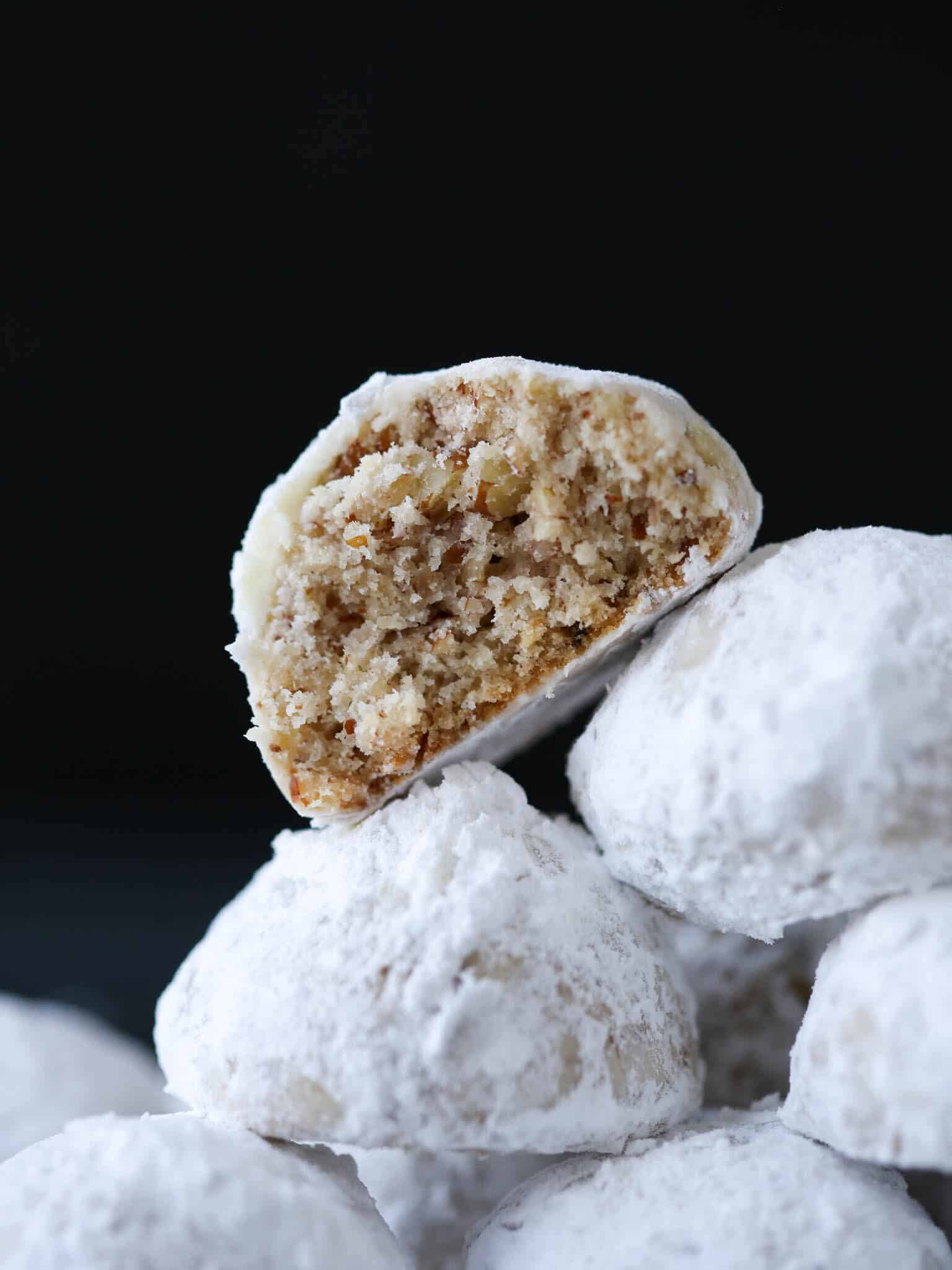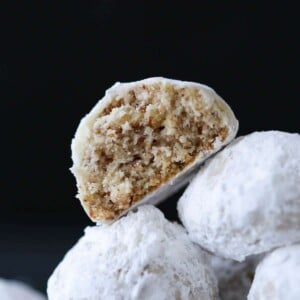 Pecan Snowball Cookies
These nutty, buttery Pecan Snowball Cookies have a perfect soft, crumbly texture with just the right amount of pecans. And they are incredibly easy to make!
Instructions
Preheat oven to 325°. Line two baking sheets with parchment paper.

Chop pecans or pulse in a food processor until fine. You can also purchase pecan flour (pecan meal) to skip this step entirely.

Mix flour, 1 cup chopped pecans, and the salt in a medium bowl. Set aside.

Place the remaining cup chopped pecans in a food processor and pulse until ground fine (the texture of coarse cornmeal). I continued chopping my nuts by hand because I was sick of doing dishes, which was a mistake. If you have a food processor, I highly recommend using it here! But know that if you choose to do it by hand, they will still be sensational!

Add the processed nuts to the flour mixture and mix.

Cream the butter and sugar together until light and fluffy, scraping the sides of the bowl as needed. Beat in the vanilla until well-combined. Add all the flour mixture and mix on low speed until the dough just begins to come together but still looks shaggy. Scrape down the sides of the bowl and continue mixing on low until the dough is cohesive, about 10 more seconds.

Roll heaping tablespoons of dough into balls.

For the tallest cookies, chill dough balls before baking.

Bake until the bottoms are golden and the tops are beginning to brown, 17 to 19 minutes.

Cool the cookies 2 minutes on the baking sheet before transferring to wire racks to cool completely.

Place powdered sugar in a large plastic bag. Working with two cookies at a time. Toss gently to coat and place back on the wire rack.

Allow the cookies to sit at least an hour, up to overnight, and then repeat the tossing in powdered sugar.

Cookies can be stored in an airtight container at room temperature for up to 5 days.
Nutrition
Calories:
203
kcal
|
Carbohydrates:
19
g
|
Protein:
2
g
|
Fat:
14
g
|
Saturated Fat:
5
g
|
Polyunsaturated Fat:
2
g
|
Monounsaturated Fat:
5
g
|
Trans Fat:
0.3
g
|
Cholesterol:
20
mg
|
Sodium:
74
mg
|
Potassium:
48
mg
|
Fiber:
1
g
|
Sugar:
11
g
|
Vitamin A:
241
IU
|
Vitamin C:
0.1
mg
|
Calcium:
10
mg
|
Iron:
1
mg
Like this? Leave a comment below!
Before You Go!
Check out our other delicious, chef-developed recipes for Cookies!