Cherry Pistachio Snowballs are a tender butter cookie with maraschino cherries and toasted pistachios inside! The outside is rolled in confectioner's sugar and red sanding sugar for a fun, festive appearance!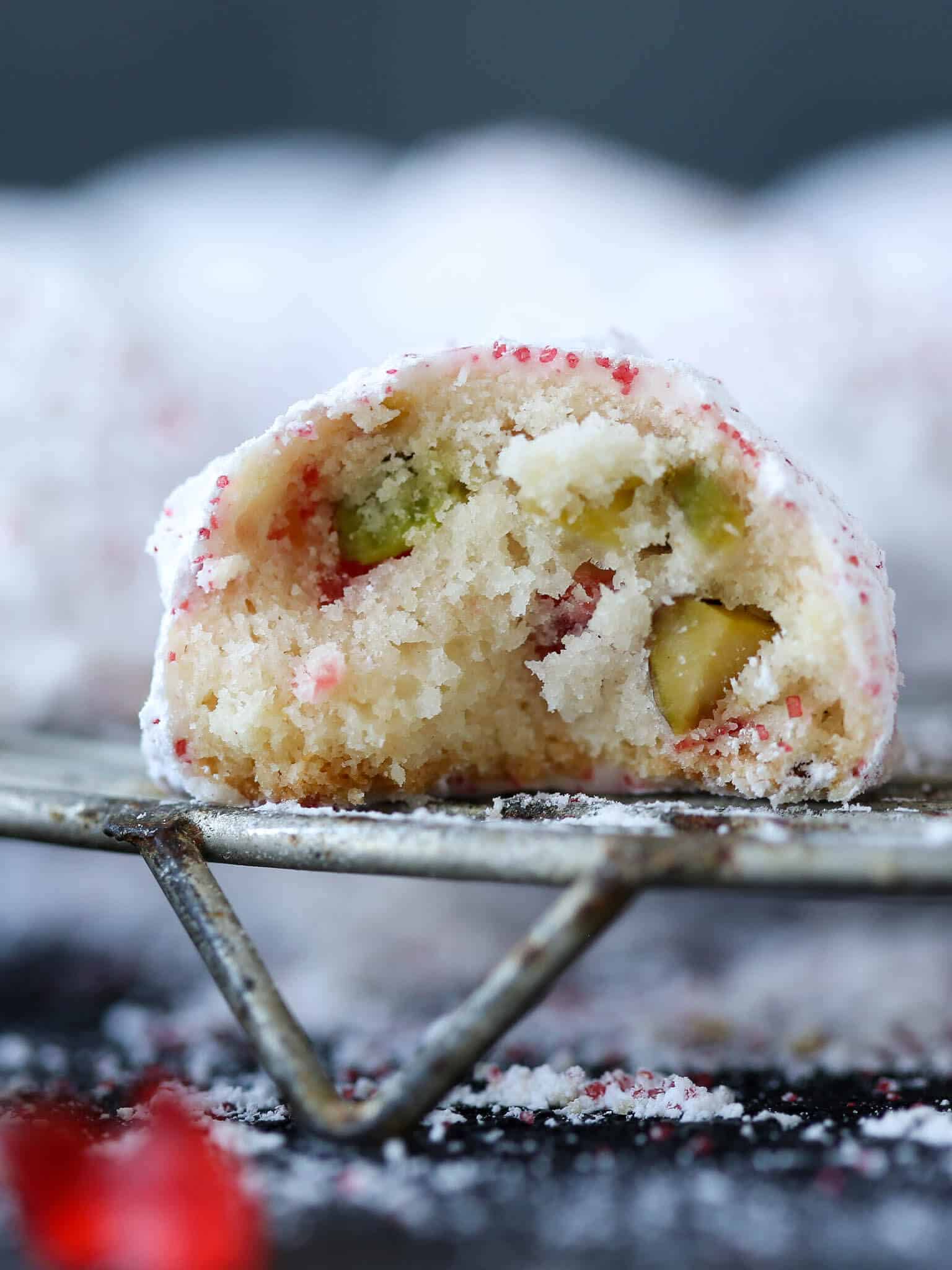 These Cherry Pistachio Snowballs are a fun twist on Snowball Cookies. The buttery dough is lightly flavored with almond extract and filled with chopped cherries and toasted pistachios. They are tender, crumbly cookies with a sparkly red and white sugar coating. The perfect addition to a Holiday cookie tray.
I do love a good twist on snowball cookies. There is something about that crumbly, buttery cookie that just begs for new versions. I did a Cardamom Walnut Snowball a few years ago and it is still one of my favorites. They are especially easy, delicious and their flavor improves as they sit. We all need a Christmas Cookie lay-up amiright? That unquestionably leaves more time for the high-maintenance ones like Homemade Speculoos Cookies!
Ingredients in Cherry Pistachio Snowballs
All-purpose flour: All-purpose flour has just the right amount of gluten to make a chewy, soft cookie. And you know from my Cream Cheese Chocolate Chip Cookies that I am here for a chewy cookie!
Butter: I use unsalted butter for baking cookies, because you want to control the amount of salt you are adding. Every brand is different and it makes adjusting the recipe a challenge.
Vanilla Extract: Vanilla Extract adds a beautiful flavor itself but it also boosts the flavor of other ingredients around it.
Powdered Sugar: The powdered sugar coating adds a bit of additional sweetness and it helps keep the cookies moist during longer storage. Using powdered sugar in the dough makes a crumblier, tender texture.
Maraschino Cherries: Maraschino cherries are preserved cherries that are soaked in a sugar syrup and dyed bright red. There are your everyday maraschino cherries as well as more luxury brands of maraschino cherries that have a richer cherry flavor and not as much or any artificial colorings.
Almond Extract: Almond extract is here for flavoring. I love this almond extract brand in particular.
Pistachios: I use shelled, unsalted pistachios for baking. This way you can control the salt of your cookies. Chopping them will distribute them throughout the dough for a little crunch in every bite!
Red Sanding Sugar: Red sanding sugar has crystals that are just a little larger than granulated sugar. They are perfect for decorating cookies or topping bars and brownies.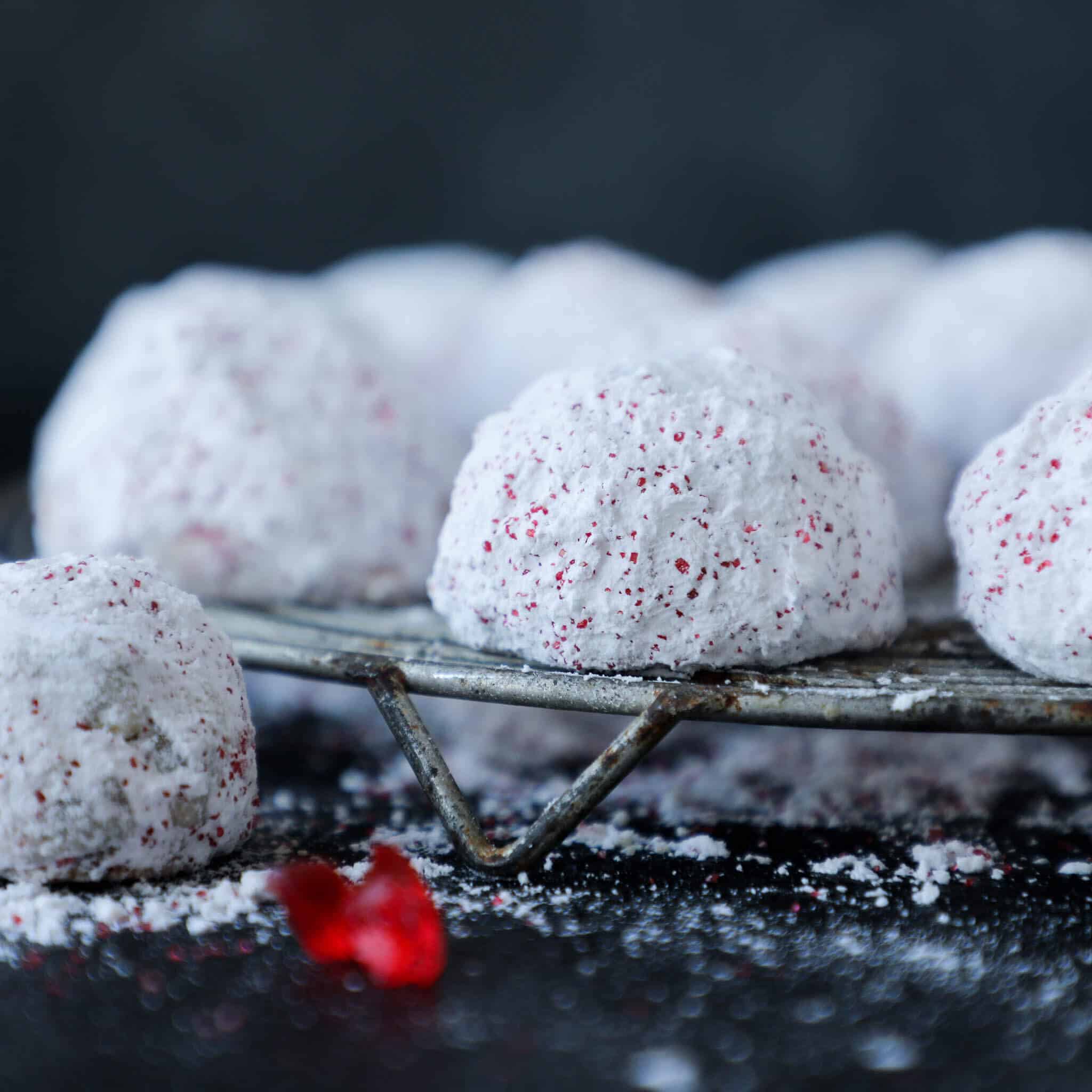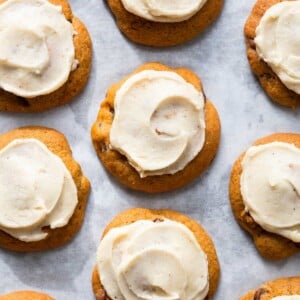 Substitutions
Almond Extract: Some people, myself not included, are not in love with the flavor of almond extract. You could use all vanilla extract or another complementary extract that you do enjoy such as orange or lemon.
Gluten Free: You could use gluten free all-purpose flour in this recipe. I do prefer Cup 4 Cup gluten free flour because I find it is the closest texturally to regular all-purpose flour. However, using a brand that has more rice flour in it will produce a texture more closely resembling Traditional Shortbread Cookies.
Maraschino Cherries: Maraschino cherries come in a wide range of qualities. There are your standard-issue maraschino cherries, which is what I used in my cherry pistachio snowballs for their bright red color, but there are also more luxury possibilities. High-quality maraschino cherries such as those by Rex Brand have a better flavor and do not use artificial colorings. You could substitute one of these varieties or equally chopped, dried cherries.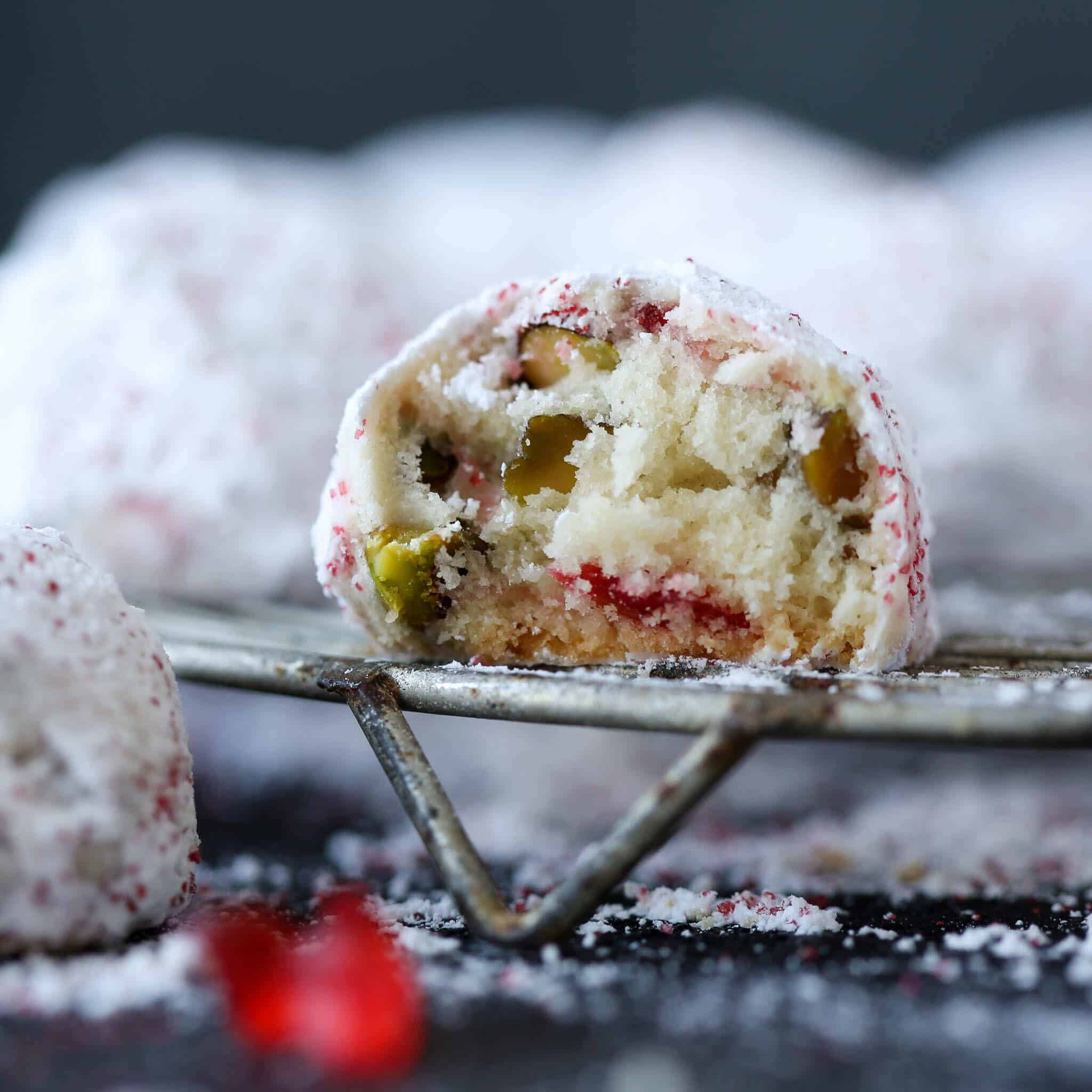 Frequently Asked Questions
How do you store Cherry Pistachio Snowballs?
Store pistachio snowball cookies in an airtight container at room temperature. Layer the cookies between pieces of parchment or waxed paper. They can also be stored in a zip-top baggie.
How long will these cookies keep?
Cherry pistachio snowballs will keep at room temperature for two weeks or frozen for up to 3 months. Though I do prefer to freeze the dough and bake them fresh.
Can you freeze Cherry Pistachio Snowballs?
You can freeze baked pistachio snowball cookies. Once cooled and tossed in powdered sugar, layer between parchment or waxed paper in an airtight container.
Can I make a larger batch of these cookies?
You can make as large a batch of cherry pistachio snowballs as you would like. You are only limited by the capacity of your stand mixer.
Will these Cherry Pistachio Snowball cookies ship?
These cookies ship wonderfully. Package them will with tissue paper as padding so they don't crash about in the tin.
Do I need to chill the cookie dough before baking?
You don't need to chill the dough for cherry pistachio snowballs prior to baking!
If you tried this recipe and loved it please leave a 🌟 star rating and let me know how it goes in the comments below. I love hearing from you; your comments make my day!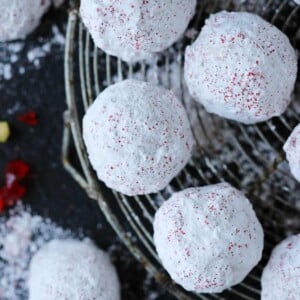 Cherry Pistachio Snowballs
Cherry Pistachio Snowballs are a tender butter cookie with maraschino cherries and toasted pistachios inside! The outside is rolled in confectioner's sugar and red sanding sugar for a fun, festive appearance!
Instructions
Preheat oven to 325°F. Line two baking sheets with parchment paper.

Drain chopped cherries and pat dry.

In the bowl of a stand mixer fitted with the paddle attachment cream butter, sugar and extracts until light and fluffy.

Reduce the mixer speed to low and slowly add the flour. Once the flour is incorporated, add the pistachios and cherries.

Roll dough into 1 inch balls and place 1 inch apart on prepared baking sheets.

Bake until golden brown and cracked on top. This took about 10 minutes, but will depend on the size of your cookies. Cool on a wire rack.

Roll in edible glitter mixed with confectioner's sugar.
Notes
Adapted from Better Homes & Gardens Christmas Cookies Magazine 2018.
Yield: 48 Cookies
Nutrition
Calories:
85
kcal
|
Carbohydrates:
10
g
|
Protein:
1
g
|
Fat:
5
g
|
Saturated Fat:
3
g
|
Polyunsaturated Fat:
0.4
g
|
Monounsaturated Fat:
1
g
|
Trans Fat:
0.2
g
|
Cholesterol:
10
mg
|
Sodium:
31
mg
|
Potassium:
27
mg
|
Fiber:
0.4
g
|
Sugar:
5
g
|
Vitamin A:
127
IU
|
Vitamin C:
0.1
mg
|
Calcium:
5
mg
|
Iron:
0.3
mg
Like this? Leave a comment below!