These delicious Pumpkin Spice Cupcakes with Maple Cream Cheese Buttercream are tender and perfectly spiced!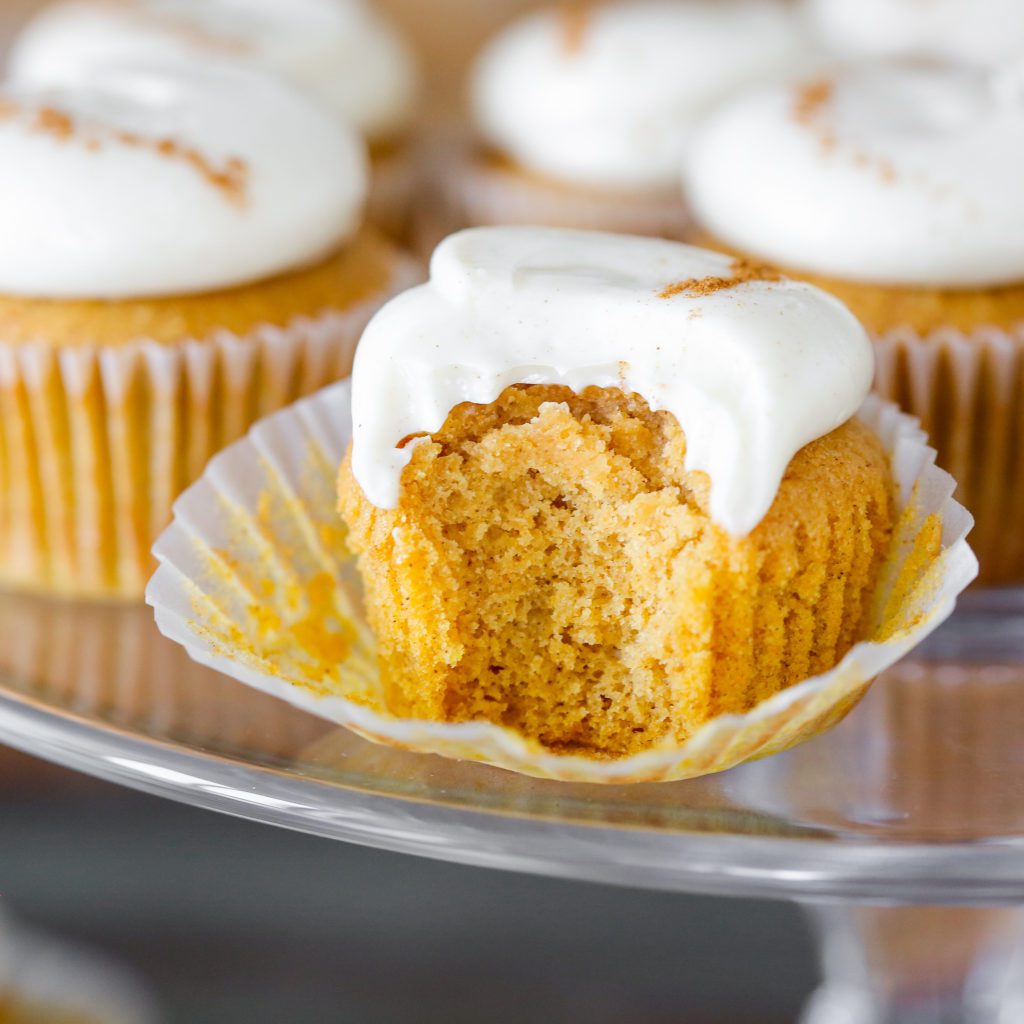 A soft, moist, buttermilk pumpkin cake is lightly spiced with cinnamon, nutmeg, cloves, allspice and ginger; tender, with a creamy, silky smooth maple buttercream!
You know what the above all amazing thing about having fabulous Pastry Basic Recipes in your back pocket is? You get to whip up a luscious batch of The Best Cream Cheese Buttercream and then add whatever you want to get a whole new flavor profile! Here I added maple syrup and cinnamon, which pairs beautifully with the spice in the cupcakes to make these delightful Pumpkin Spice Cupcakes with Maple Cream Cheese Buttercream!
I feel it is safe to open the floodgates during pumpkin spice season! Truth be told, I have been eating pumpkin-spiced things for weeks now! And I have been dying to share these with you! Actually, I would have shared it last week, but I HAD to make donuts. I know you understand.
This pumpkin spice cake absolutely melts in your mouth: Soft and delicate but not too fluffy! The perfect balance of pumpkin and spice.
Who's tired of pumpkin? Bloggers keep asking that. I could never get tired of pumpkin! For me, there is a long wait all year to bake anything and everything with pumpkin. I would go so far as to say that I hoard pumpkins just in case of a shortage.
Do you remember that? Little pumpkin-lovin' hearts were breaking all over the USofA. Sadness.
Looking for other pumpkin-inspired recipes? Check these out…
Pumpkin Spice Cupcakes with Maple Cream Cheese Buttercream
These delicious Pumpkin Spice Cupcakes with Maple Cream Cheese Buttercream are tender and perfectly spiced!
Ingredients
For the Cupcakes:
1 ¾

cups

all-purpose flour

1

teaspoon

baking powder

½

teaspoon

kosher salt

1

Tablespoon

Pumpkin Spice Mix

½

cup

light brown sugar

(packed)

½

cup

granulated sugar

½

cup

unsalted butter

(room temperature)

4

eggs

1

teaspoon

vanilla

½

cup

pumpkin puree

(not pumpkin pie mix)

⅔

cup

buttermilk
For the Cream Cheese Frosting:
Instructions
Make the Cupcakes:
Preheat the oven to 350° and line 14 standard muffin tins with cupcake liners.

In a medium bowl whisk together flour, baking powder, salt and all spices; set aside.

In a large bowl, beat sugars and butter together with a hand mixer or in a stand mixer fitted with the paddle attachment until light and fluffy. Add eggs one at a time, beating well between each addition. Add the vanilla after the last egg.

Add the pumpkin and mix on medium until smooth and creamy, about 30 seconds.

Alternately add flour and buttermilk, beginning and ending with flour. I add a third of the flour then half of the buttermilk and repeat. Fold the last flour addition in by hand to avoid over mixing.

Scoop into prepared tins, filling almost to the top of the cup. Bake in preheated oven 16-20 minutes or until a toothpick inserted in the center comes out with a few clinging crumbs. Mine took 18 minutes.

Remove immediately from muffin tins to cool completely on a wire rack.
Make the Frosting:
Add maple and cinnamon to cream cheese frosting.

The frosting will keep best in the refrigerator but it will also keep for several days at room temperature.
Assemble the Cupcakes:
Once cupcakes are cool, frost with your favorite piping tip!
Video Instructions
Notes
Yield: 14 cupcakes
If you don't want to use my pumpkin pie spice mix then you can substitute these spices for all the pumpkin pie spice:
2 teaspoons cinnamon (slightly rounded)
½ teaspoon nutmeg
¼ teaspoon ginger
⅛ teaspoon mace
⅛ teaspoon cloves