A professional pastry chef's pumpkin spice recipe that you can make in under 5 minutes! Fine-tuned to work in pumpkin pie as well as it does in bread, oatmeal, or cookies!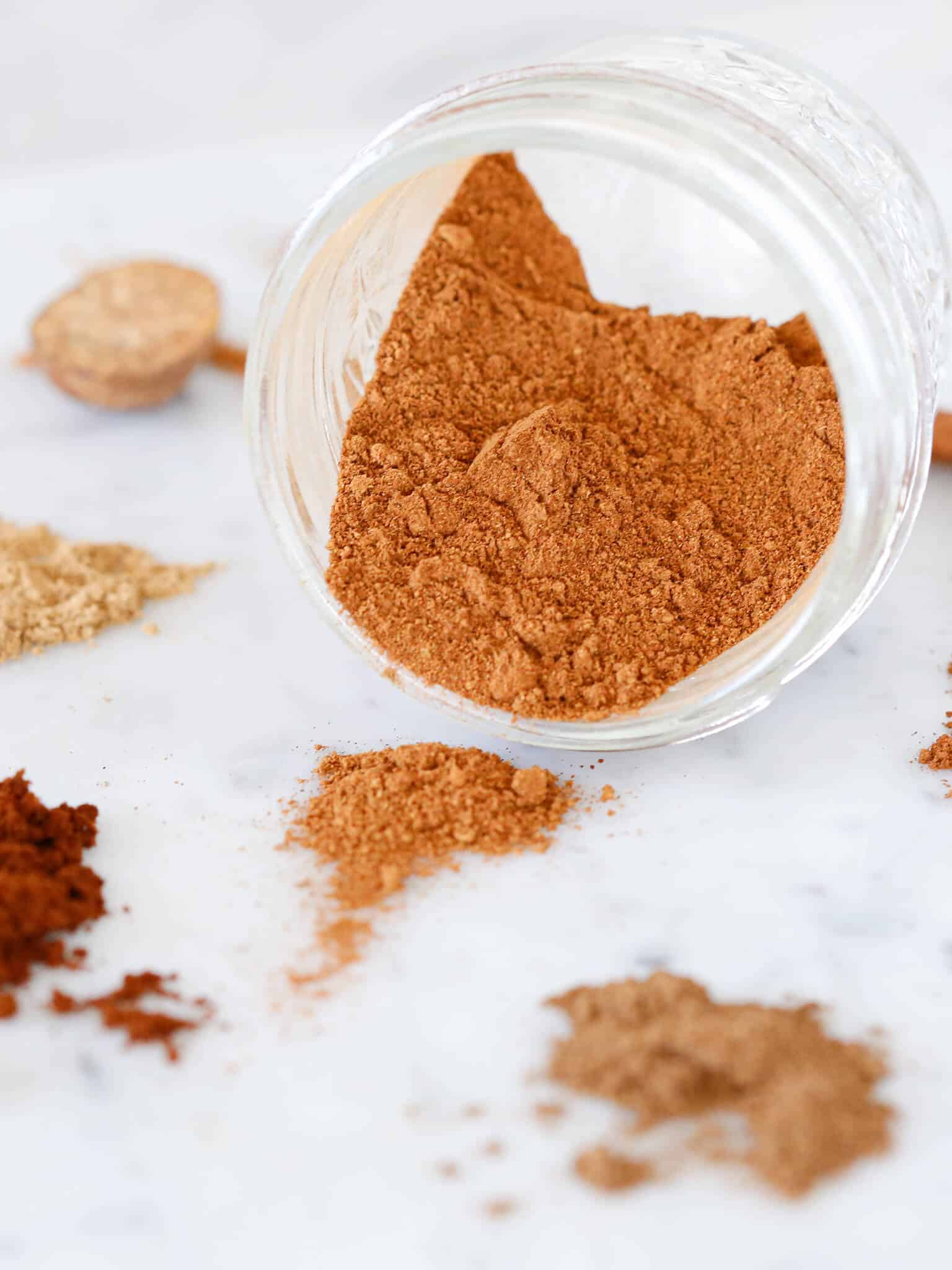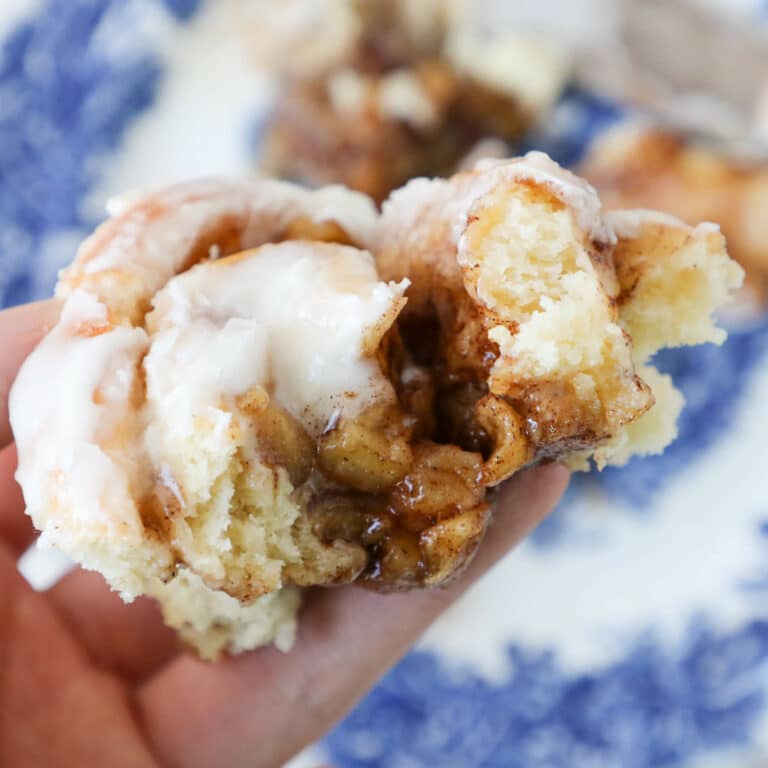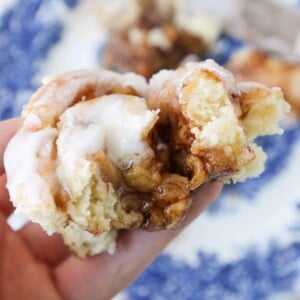 There are a million Pumpkin Spice Recipes out there, but this is mine. I have fine tuned it over the years in professional kitchens. I make a big batch every few weeks and then I put it in everything.
I do mean everything. Use it to spice up this pumpkin roll, pumpkin coffee cake, moist pumpkin bread, and pumpkin spice bran muffins. I even use it to season these roasted acorn squash slices!
Better yet, head over to my 25 Best Pumpkin Recipes for Fall or these 10 Easy Pumpkin Desserts and go wild! Making a big batch of this pumpkin spice mix is an easy shift into the fast-lane towards a well spiced Fall!
Why this is the best pumpkin spice recipe
The perfect balance. This recipe has the perfect balance of flavors. Allspice and cloves are powerful and they can easily take over the flavor. I have carefully tested this ratio thousands of times to make sure everything is in balance.
Test, fine tune, and repeat. This recipe was originally created on a micro digital scale, which is accurate to 1/100th of a gram. When I say I fine-tuned it, I really mean I tested and retested in baked goods until my recipe was literally perfect.
This recipe is versatile. I have used this recipe to make hundreds of different pumpkin recipes over the years. Some are on CLF like these pumpkin spice donuts and this pumpkin bundt cake, but some are just sitting in my Little Black Book waiting for me to bring them to you.
Professional Tips for making pumpkin spice
Check your spices. Everyone says this and that is because it is true. Ground spices lose their potency over time, so the fresher they are, the better your spice mix will be.
Grind them yourself! Oh yes you can! If you want your pumpkin spice to stand out, break out that coffee grinder (clean it!) and then get grinding. I usually grind the allspice and cloves fresh. After grinding you MUST sift them. Nobody wants to bite into a piece of clove. If you aren't about that sifting life, then just use pre-ground.
Make a large batch for simplicity. There are several benefits to making a large batch. You can scale it on a kitchen scale (bonus points for using a micro digital scale), which will save time now and later. Future you will be grateful as they sprinkle some on this and, oh, how about a little dusting on that? [Sprinkle some on your steak or venison along with kosher salt before searing. I dare you. It's delicious.]
Ingredients for Pumpkin Spice Mix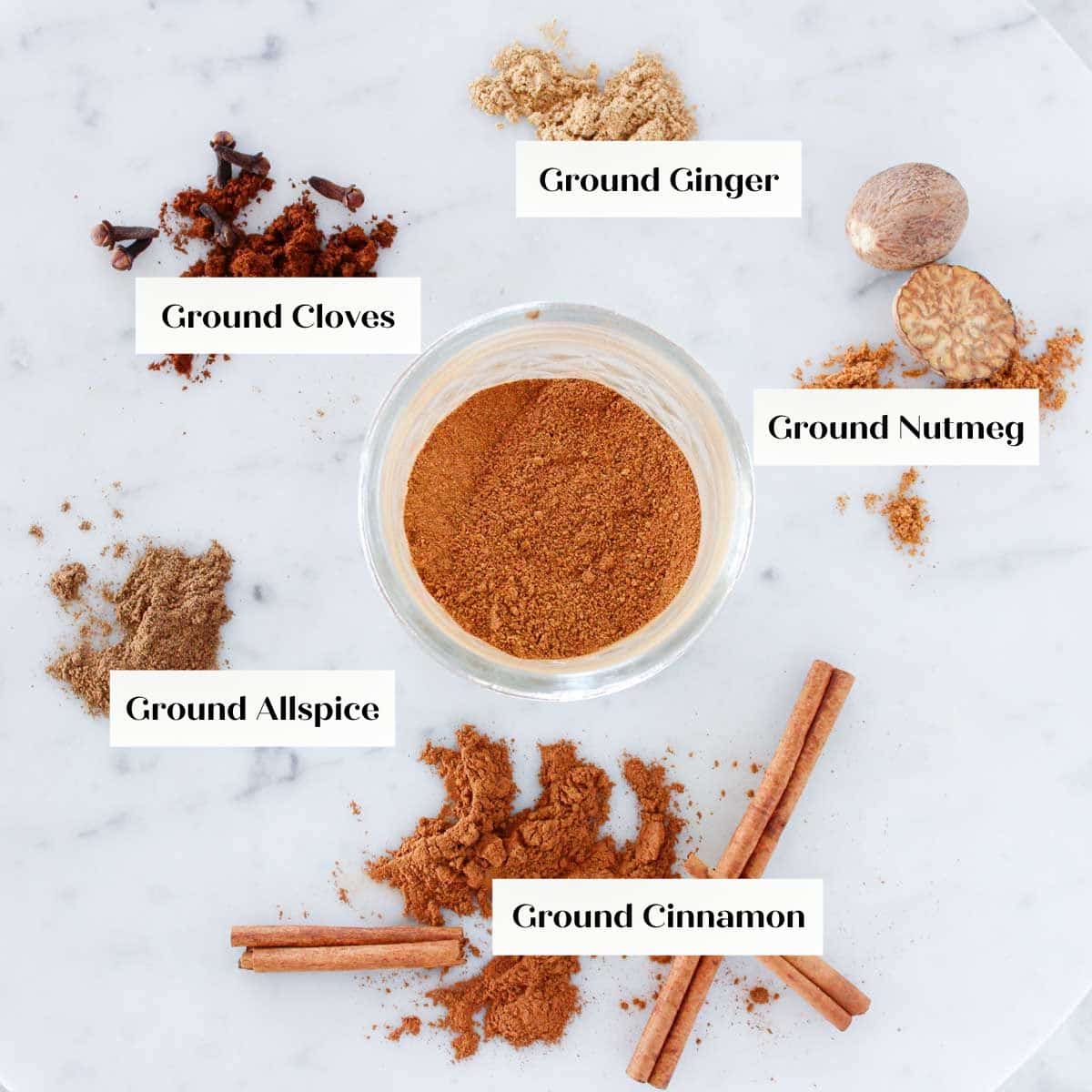 I am not going to bore you with the details of why chose the ratios of each spice, but you can rest assured that I obsessed over it.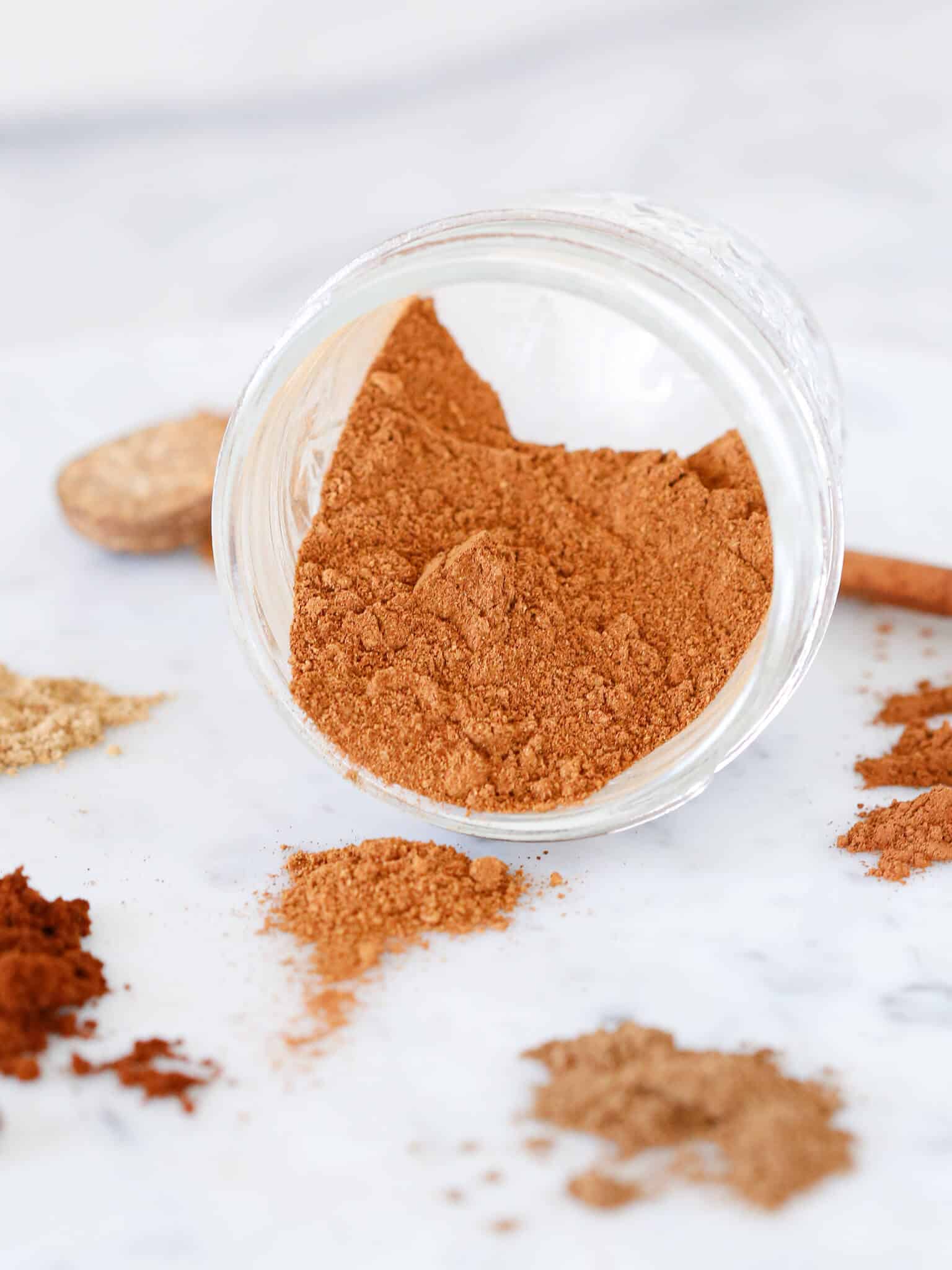 How to Make My Pumpkin Spice Recipe
Use these instructions to make the perfect pumpkin spice mix every time! Further details and measurements can be found in the recipe card below.
Step 1: Measure cinnamon, ground ginger, cloves, nutmeg and allspice into a small bowl.
Step 2: Whisk them all together and transfer into a small jar or an old, empty spice container.
Just a little note if you do want to use an old spice jar for storage. This is a great way to reuse those little glass jars the spices come in. Just choose a spice that is already IN pumpkin spice. You don't want to put it into a jar that used to have curry powder, or your spice mix will take like curry.
Chef Lindsey's Recipe Tip
The beauty is in the simplicity here. Just choose fresh spices and store them in a a tightly sealed container that is free from other lingering scents. An old spice jar will work beautifully or Rose Gold Mini Jars or OXO Mini Pop Containers.
How Much Pumpkin Spice to Use
The amount of this pumpkin spice recipe that you will use depends on the recipe you are making. If the recipe calls for "pumpkin pie spice" then you can substitute it 1:1 in the recipe. If you want to use this mix in a recipe that calls for a blend of spices, then simply add up the total amount of all the spices in teaspoons and use that total measurement for the pumpkin spice.
For example: If the recipe calls for 2 teaspoons of cinnamon, ¾ teaspoon ginger and ¼ teaspoon of clove, you would simply substitute 3 teaspoons of this pumpkin spice recipe for all the spices.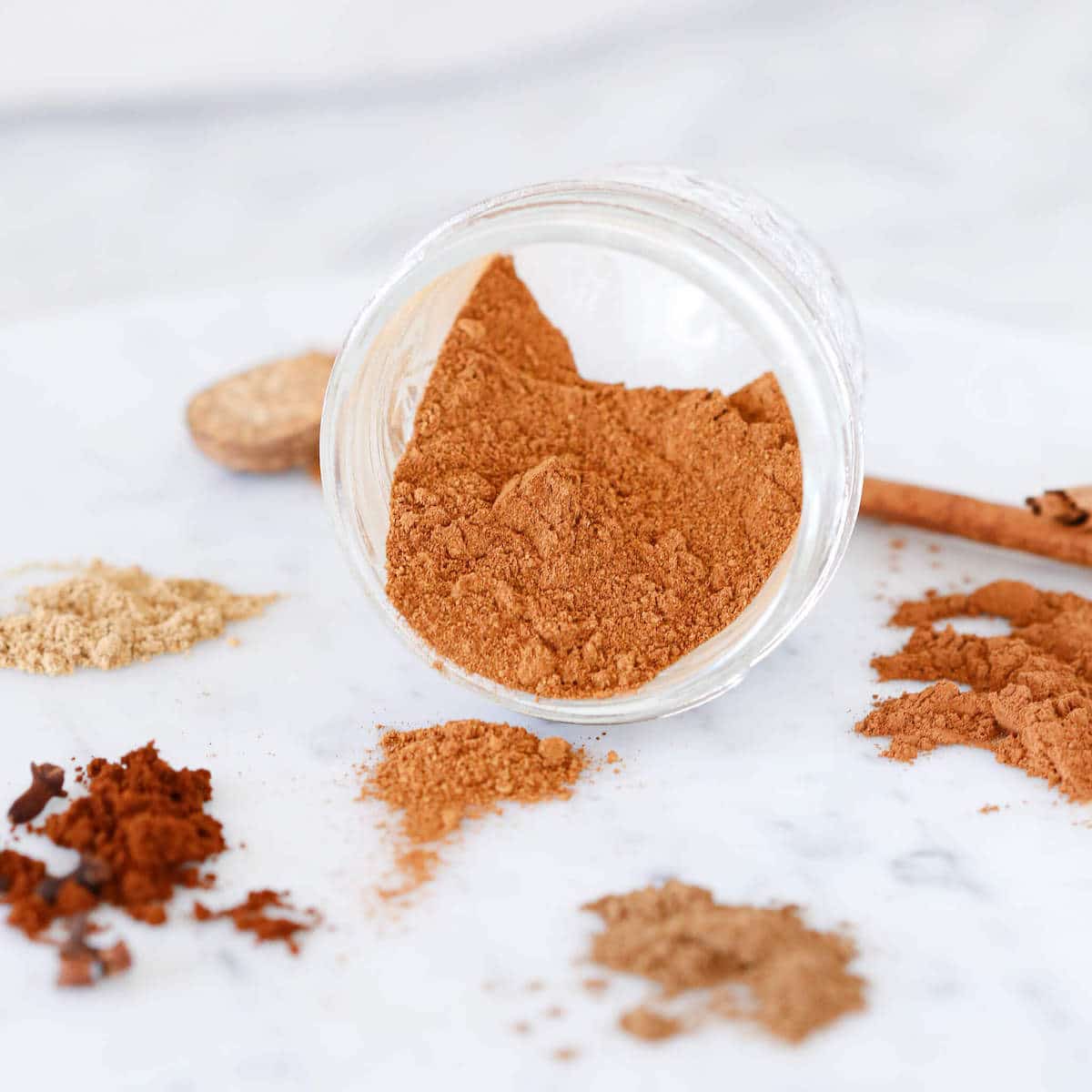 How to use Pumpkin Spice Mix
Frequently Asked Questions
How to store pumpkin pie spice?
Store spice mix in an airtight container, old, empty spice jar, or in a decorative miniature ball jar.
How long will pumpkin spice keep?
If you used fresh spices, pumpkin spice will keep in an airtight container for up to two years. Over time the potency of the spices will diminish. They won't necessarily go bad, just become dull.
Can I use this pumpkin spice mix in any recipe ?
Please do ! This pumpkin spice recipe can be substituted in any recipe calling for pumpkin pie spice. No need to change the measurements unless you want more spice. You know I am here for a well spiced dish.
Is allspice the same as pumpkin spice?
Believe it or not, allspice is an actual spice. It is the dried, unripe berry of the Pimenta dioica tree. Ground allspice is just one spice ground to a powder while pumpkin spice is a combination of cinnamon, ginger, cloves, nutmeg AND allspice.
What can I use instead of allspice in pumpkin pie spice?
If you do not enjoy the flavor of allspice, you can simply omit it. The remaining four ingredients will still taste fantastic!
Pin this now to save it for later
Pin It
If you tried this recipe and loved it please leave a 🌟 star rating and let me know how it goes in the comments below. I love hearing from you; your comments make my day!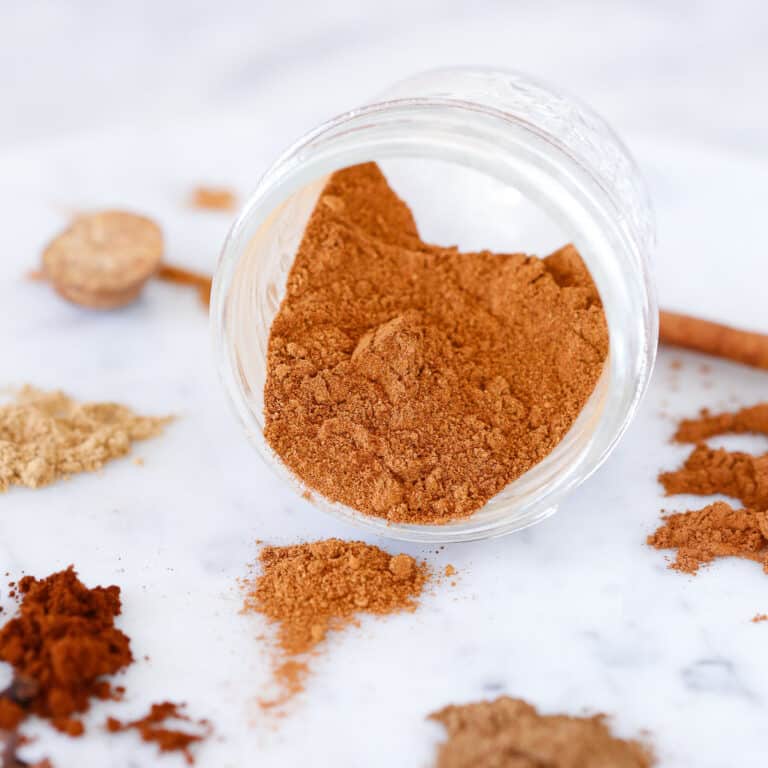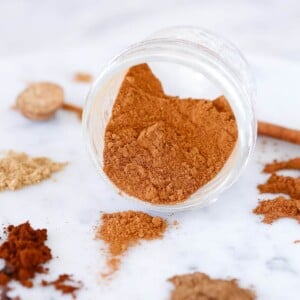 Pumpkin Spice Recipe
A professional pastry chef's pumpkin spice recipe. Fine-tuned to work in pumpkin pie as well as it does in bread, oatmeal, and cookies!
Instructions
Whisk all spices together in a small bowl and then transfer to a small jar or old spice container!

Season away!
Notes
Flavor Tips – Be sure to use fresh spices for the best flavor. Spices don't go bad they just lose their potency over time.
Nutrition
Calories:
14
kcal
|
Carbohydrates:
4
g
|
Protein:
1
g
|
Fat:
1
g
|
Saturated Fat:
1
g
|
Polyunsaturated Fat:
1
g
|
Monounsaturated Fat:
1
g
|
Sodium:
1
mg
|
Potassium:
30
mg
|
Fiber:
2
g
|
Sugar:
1
g
|
Vitamin A:
13
IU
|
Vitamin C:
1
mg
|
Calcium:
43
mg
|
Iron:
1
mg
Like this? Leave a comment below!
Before You Go
I hope you enjoyed this professional chef tested recipe. Check out our other delicious, chef-developed Fall recipes!