Good Morning! Pumpkin French Toast is here to brighten your day! I rarely indulge in pure decadence for breakfast but I made an exception for this spiced pumpkin version. And it is so easy that you could whip it up on a weekday or a lazy weekend morning. No stress and no patience required.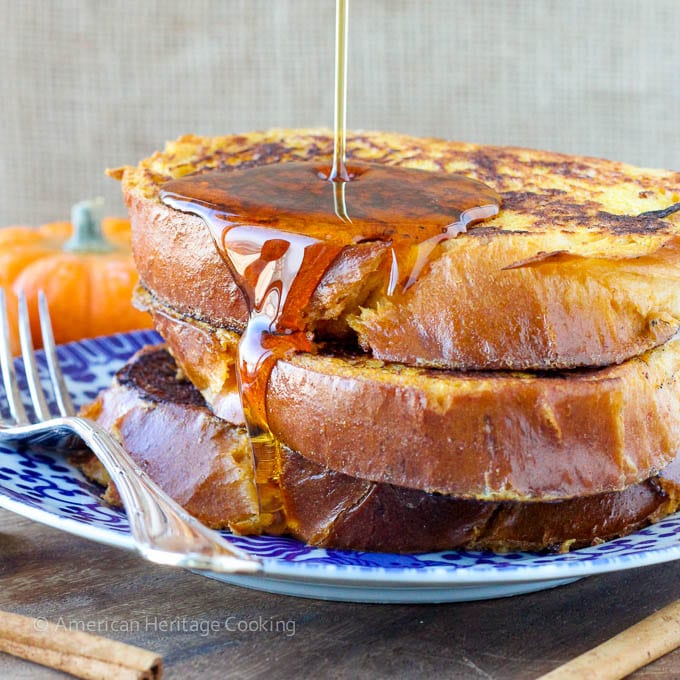 I had some left over challah bread from my Pumpkin Bread Pudding, so I whipped up a quick pumpkin, egg and milk mixture and surprised my husband with two slices of happiness! This recipe would also be amazing (and extra decadent) made with this pumpkin bread recipe!
I am a huge fan of starting my day with pumpkin, spice and everything nice! Sometimes I lean healthier with healthy pumpkin muffins, gluten free pumpkin bars or pumpkin oatmeal, and sometimes I like a little decadence like with pumpkin donuts, pumpkin coffee cake, or even a slice of leftover pumpkin roll cake!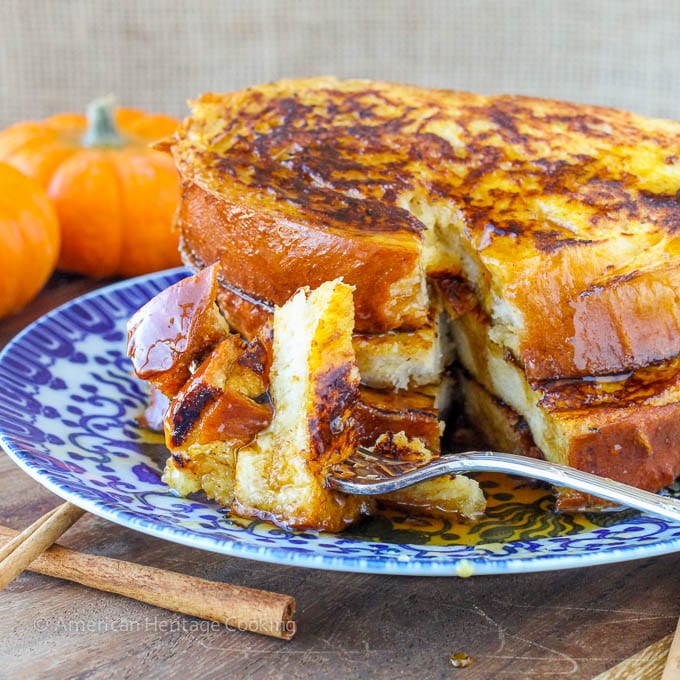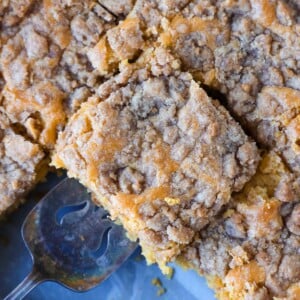 This recipe is perfect for two, but you could easily double or triple it for a family or even a crowd! You might want to plan on everyone asking for seconds – It is that good!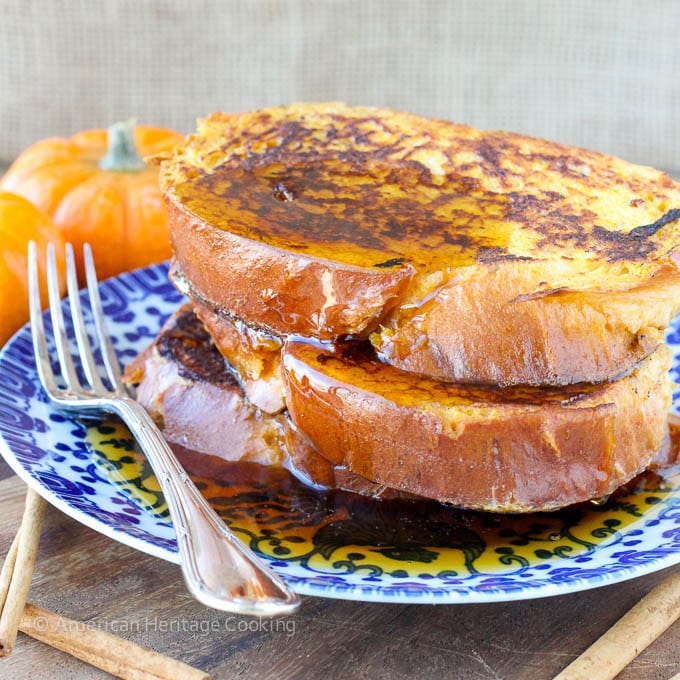 The toast has a subtle pumpkin flavor and is bursting with cinnamon and nutmeg flavor! I used 2% milk and only 1 tablespoon of brown sugar in the egg mixture, so it is leaning towards healthy.
While you could make this healthier by using 100% whole wheat bread, that would be sad, because there is something so magical about thick cut Challah French toast. The eggy bread flavor combined with pumpkin and my pumpkin spice recipe is not to be missed.
You could also deep fry the bread like these rabanadas! They make an extra decadent weekend treat!
The egg dip calls for a drop of vanilla extract. I have shockingly steady hands, so I drip the extract straight from the bottle, but if you worry about accidentally dumping in too much (a distinct possibility), you could pour 1/8 teaspoon and then add about half.
Add a pat of butter like my husband and pour on the pure maple syrup! This is one warming, Fall breakfast that you will crave all year long!!
Dig in!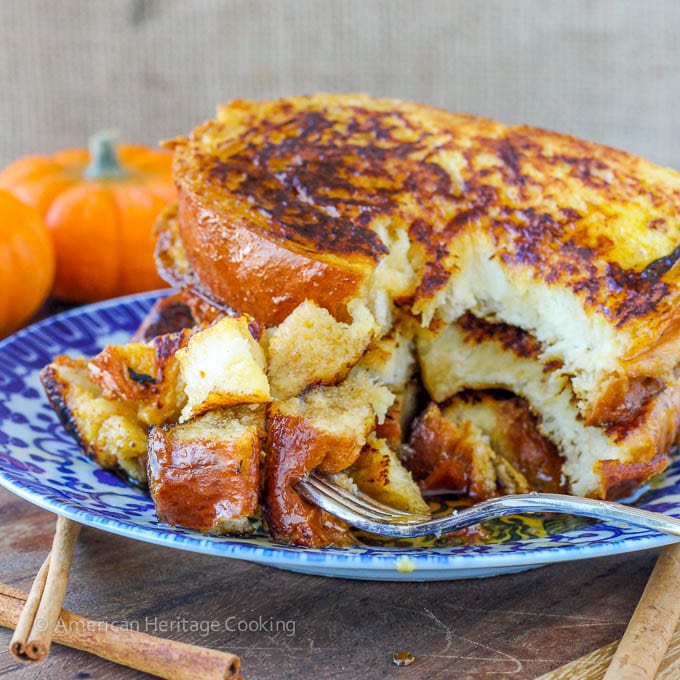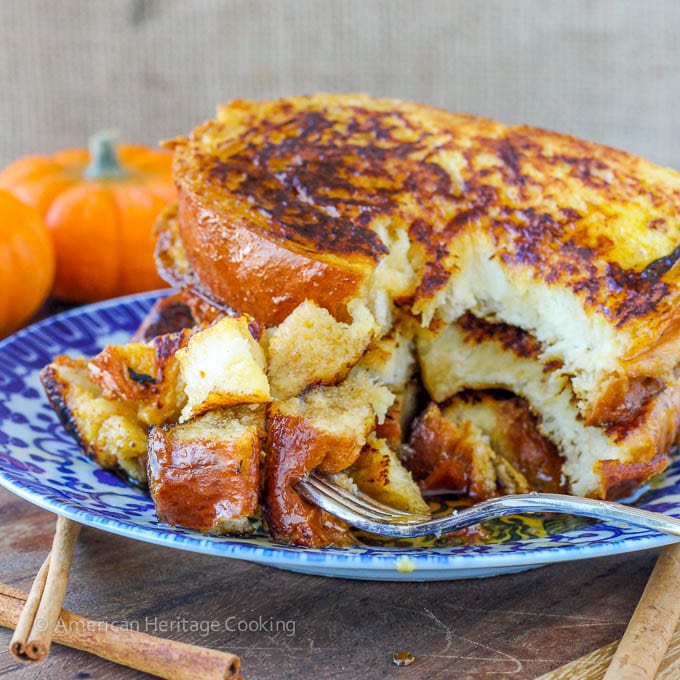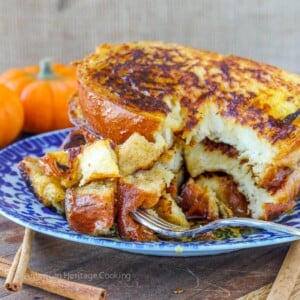 Pumpkin French Toast
The Pumpkin Spice French Toast has a subtle pumpkin flavor and is bursting with cinnamon and nutmeg flavor! Serve with butter, maple syrup or apple sauce for the perfect indulgent breakfast for two!
Instructions
Preheat a cast iron skillet over medium-low heat until hot but not smoking. Add the tablespoon of butter to the skillet. It should melt immediately but not begin to burn or smoke.

Whisk together egg, milk, sugar, spices, and pumpkin in a medium shallow bowl.

Place the first slice of bread into the egg mixture and press down with a fork for several seconds, flip and press down allowing the bread to absorb the egg mixture for several seconds. Place in skillet and immediately repeat the process with the remaining bread slices. Let cook for 2 minutes or until it is nicely browned; flip and cook on the second side an additional 2-4 minutes or until it is brown and the toast gives a bit of resistance when pressed lightly with the back of a fork. I use a 14 inch cast iron skillet. You can work in batches if you don't have a large skillet. If you are multiplying the recipe, you can keep the cooked slices warm covered in a slow oven.

Serve immediately with butter and maple syrup! Or even apple sauce.
Nutrition
Calories:
145
kcal
|
Carbohydrates:
11
g
|
Protein:
5
g
|
Fat:
9
g
|
Saturated Fat:
5
g
|
Polyunsaturated Fat:
1
g
|
Monounsaturated Fat:
3
g
|
Trans Fat:
1
g
|
Cholesterol:
102
mg
|
Sodium:
116
mg
|
Potassium:
157
mg
|
Fiber:
1
g
|
Sugar:
10
g
|
Vitamin A:
2689
IU
|
Vitamin C:
1
mg
|
Calcium:
99
mg
|
Iron:
1
mg
Like this? Leave a comment below!