These Pumpkin Spice Bran Muffins are healthy and delicious! Each muffin only has 200 calories and is packed with fiber, protein, and healthy fats. The pumpkin flavor is a perfect change to Banana Bran Muffins for Fall and Winter!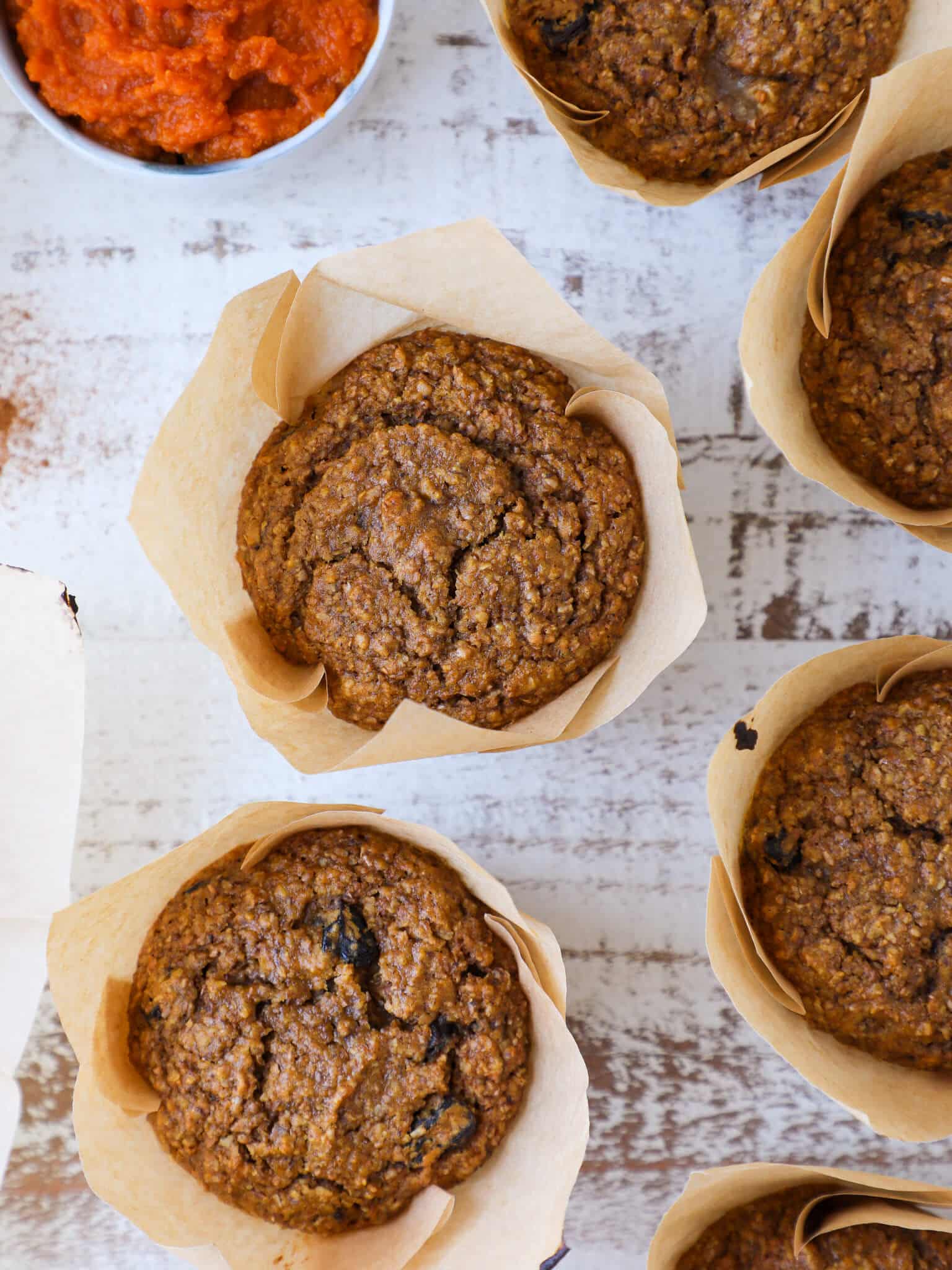 You know I love a good bran muffin moment. I always have a plastic freezer bag of muffins in my freezer at all times. Right now I have these pumpkin spice bran muffins but before that I had my Best Blueberry Banana Bran Muffins and these Strawberry Whole Wheat Muffins.
Decadent treats are my weakness but I am just as obsessed with healthy, filling snacks. Mix up the snack pack with apple spice energy bites, pumpkin spice energy bars or tropical energy bars. They are perfect as a healthy breakfast on the go or tucked inside a lunchbox for a dessert or afternoon snack that is just sweet enough!
Table of Contents
What makes these Pumpkin Spice Bran Muffins moist?
Pre-soaking the wheat bran in buttermilk helps hydrate the bran before mixing, which keeps the whole muffin moister.
Buttermilk has just enough fat to add richness and moisture even after baking.
Bananas and pumpkin puree are always mission critical to adding moisture to quick breads.
I have found that coconut oil makes muffins moister than the same amount of vegetable oil. Plus, it is a healthy fat and that sounds like a win-win to me!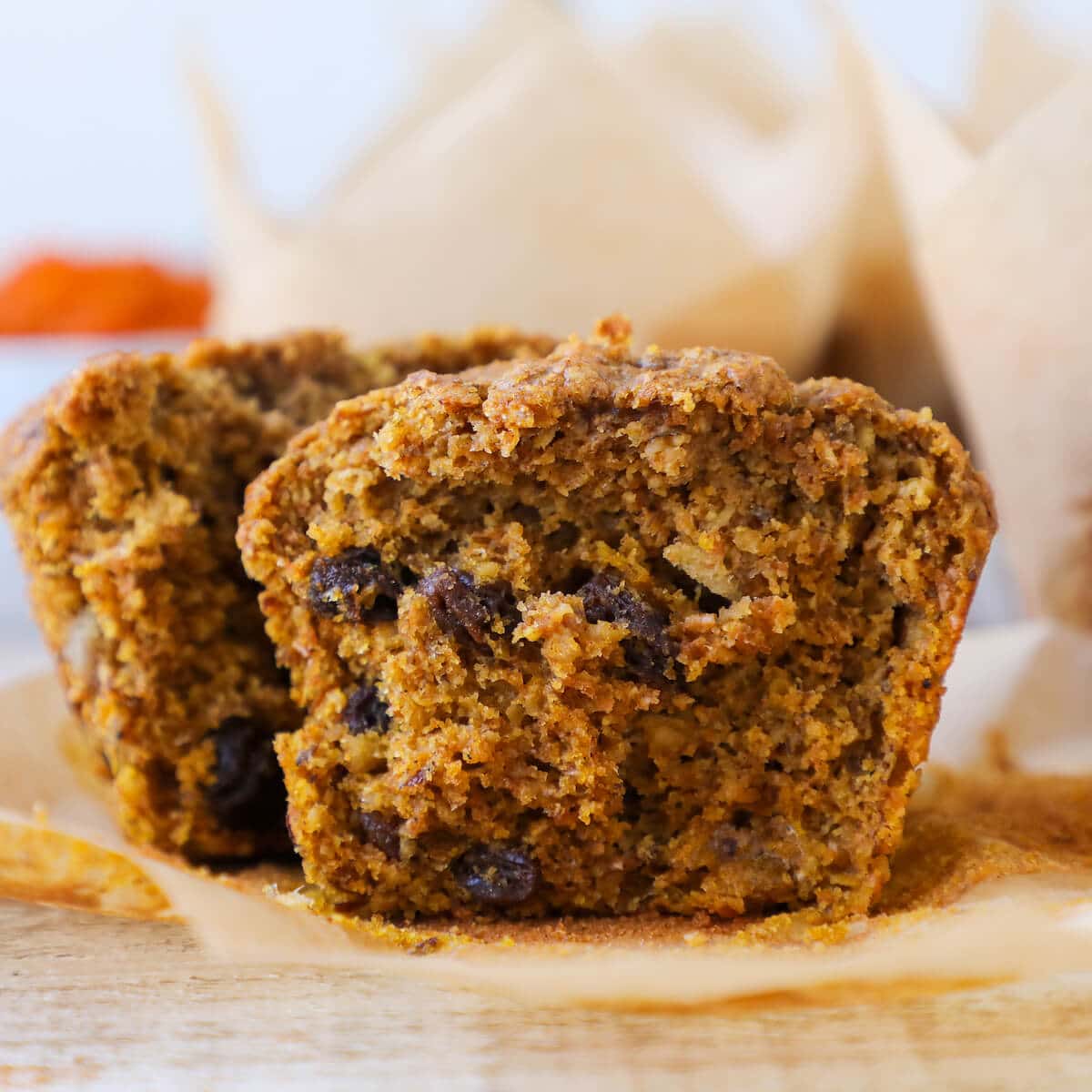 Ingredients
Possible Substitutions
Pumpkin Puree: I would not suggest substituting homemade pumpkin puree due to the varying moisture content. Canned pumpkin puree is tightly controlled within a certain percentage
Pumpkin Spice Mix: The recipe is written using my Pumpkin Spice Mix but I include individual spice measurements in the Notes section of the recipe.
Raisins: I love the flavor combination of raisins, pumpkin and pumpkin spice, but feel free to add whichever dried fruit you prefer. You can also skip the raisins.
Coconut Sugar: You could substitute coconut palm sugar for the dark brown sugar in this recipe if you prefer.
Frequently Asked Questions about Pumpkin Spice Bran Muffins
How do you store Pumpkin Spice Bran Muffins?
Store baked pumpkin spice bran muffins in an air-tight container at room temperature, refrigerated or frozen. Zip-top plastic bags also work nicely.
How long will these muffins keep?
These bran muffins will keep 3 days at room temperature, a week in the refrigerator or 2 months frozen. For optimal freshness freeze muffins after cooling and reheat as desired.
Can you freeze bran muffins?
Absolutely! These pumpkin spice bran muffins freeze beautifully. I keep mind in a zip-top freezer bag in the freezer so that I can eat them as desired.
How do you reheat pumpkin spice bran muffins?
If you have the time, you can thaw them at room temperature in a sealed container or in the refrigerator. If you don't then you can easily reheat them in the microwave or toaster oven. I reheat them in the muffin liners to retain moisture. 
Will the recipe multiply nicely?
You can make as large a batch as you'd like. I personally make a double batch so I have plenty for the freezer and snacks later in the month.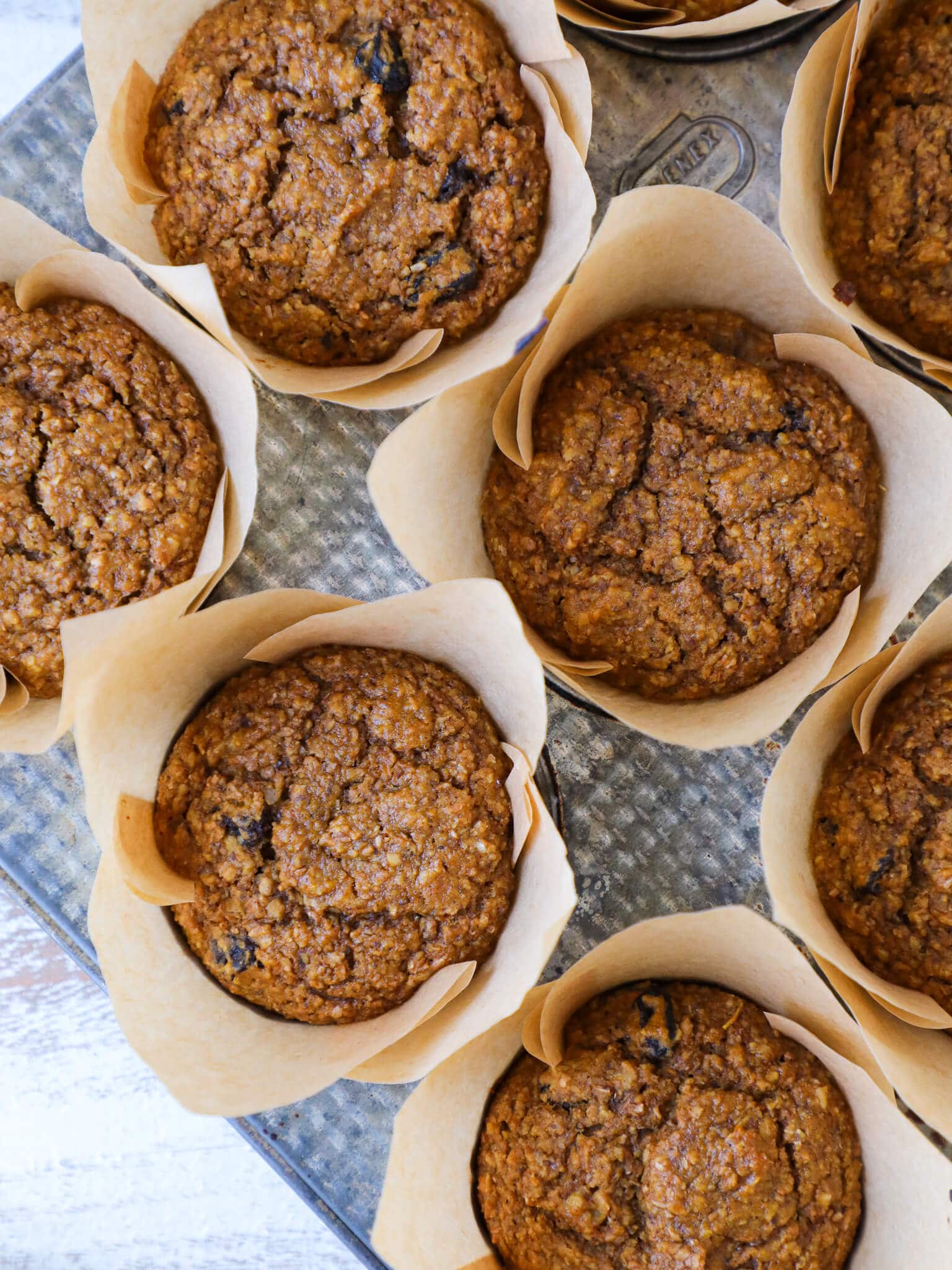 Chef Lindsey's Recipe Tips
Soaking the wheat bran and oat bran in buttermilk before mixing into the batter keeps the muffins extra moist. Bran takes longer to hydrate than milled flours, so this gives it a chance to soften and doesn't pull from the moisture of the muffins.
Recipe
Pumpkin Banana Bran Muffins
These Pumpkin Spice Bran Muffins are healthy and delicious! Each muffin only has 200 calories and is packed with fiber, protein, and healthy fats. The pumpkin flavor is a perfect change to Banana Bran Muffins for Fall and Winter!
Instructions
Preheat oven to 400° and grease or line 12 muffin tins.

Mix buttermilk, wheat bran and oat bran in a small bowl and set aside. In a medium bowl combine flour, flaxseed, cinnamon, ginger, salt, baking soda and baking powder and set aside.

Mix sugar, oil, egg, vanilla, banana and pumpkin and mix thoroughly.

Add pumpkin mixture and buttermilk mixture to the dry mixture and stir gently until just combined and a few lumps remain. Fold in raisins.

Pour into prepared tins. Fill the cups all the way to the top to ensure you get nice tall muffins.

Bake 20 minutes or until a toothpick inserted into the center comes out with only a few clinging crumbs.
Video Instructions
Notes
Yield: 12 muffins
If you want just enough pumpkin spice mix for this recipe then add the following spices to the flour mixture: 1 ¼ teaspoon cinnamon; 1 teaspoon ground ginger; ¼ teaspoon cloves; ⅛ teaspoon nutmeg; pinch allspice
The most accurate way is to mix a larger batch because the recipe doesn't always divide perfectly into ⅛ teaspoon increments.
Before You Go!
Check out our other delicious, chef-developed recipes for Muffins!