These easy Raspberry Ribbon Cookies are a vanilla cookie filled with a ribbon of raspberry jam and glazed with an easy vanilla icing. They taste like a cookie version of a raspberry Danish!
Day 8 of the annual 12 Days of Christmas Cookies 2022!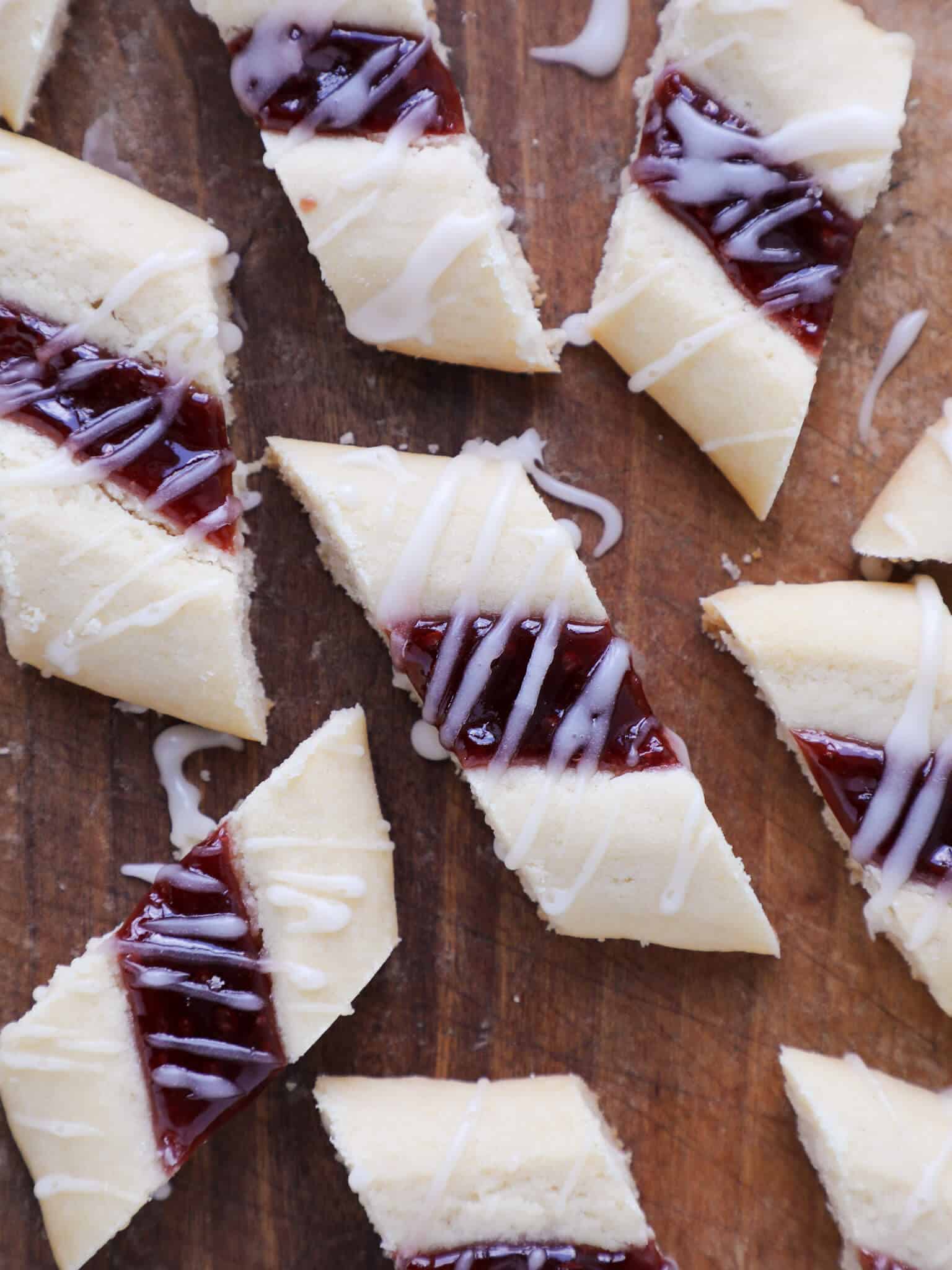 Raspberry Ribbon Cookies are easy, beautiful cookies. The dough is flavored with a lot of vanilla extract and baked with a ribbon of raspberry jam for a soft center and crunchy exterior. This is an easy addition to a Holiday cookie tray!
Gift these cookies with Pecan Snowball Cookies, Gingerbread Boys, Grandma's Old Fashioned Sugar Cookies and Vanilla Spritz Cookies for the perfect balance of flavors and textures! You could also serve them with coffee or tea as a cute twist on traditional Raspberry Danish!
Table of Contents
What are Raspberry Ribbon Cookies?
Raspberry Ribbon Cookies are vanilla cookies with a ribbon of raspberry jam down the center. After baking, the ropes are cut on the diagonal to create individual ribbon cookies. Ice it with a vanilla glaze, which will make the whole cookie taste like a raspberry Danish pastry!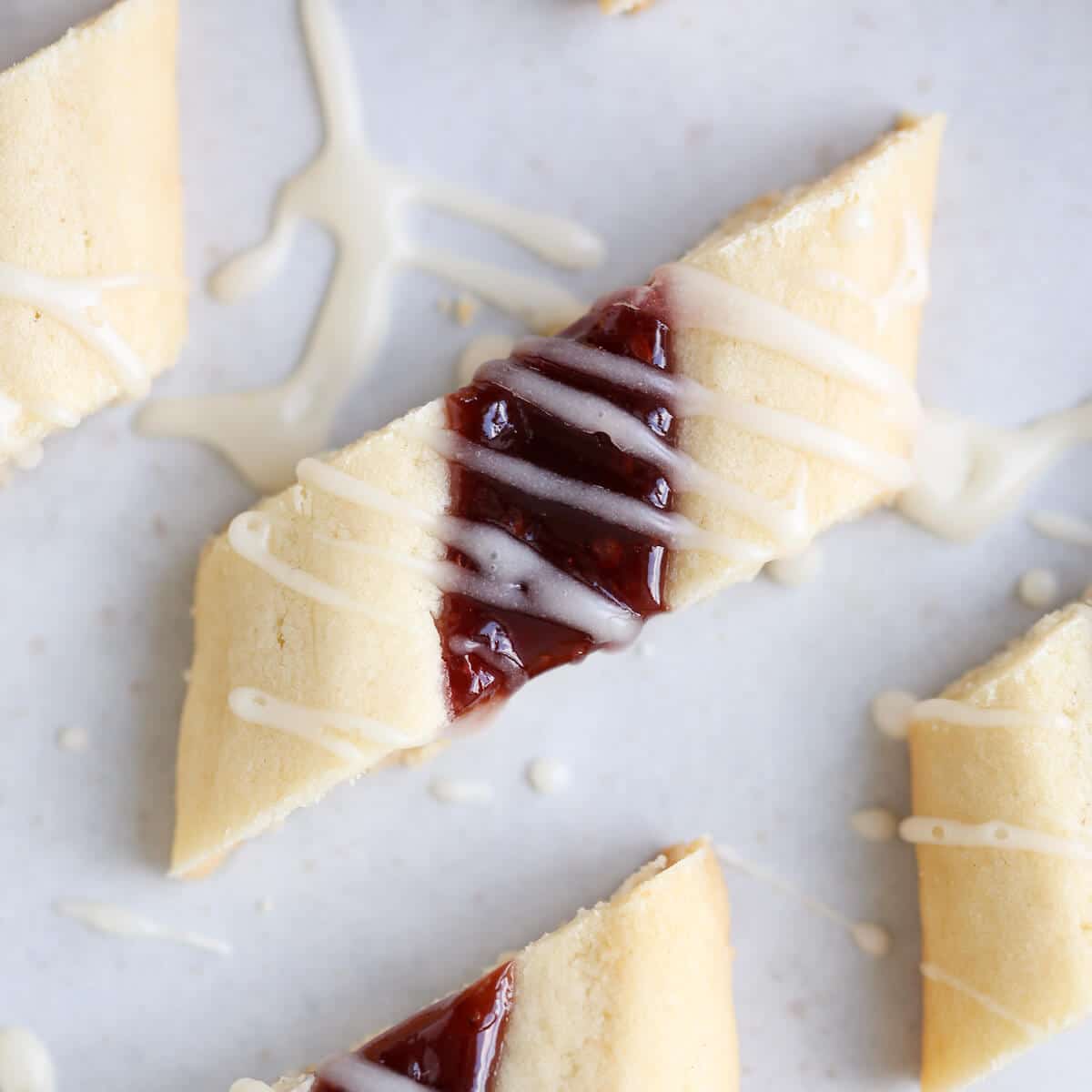 Ingredients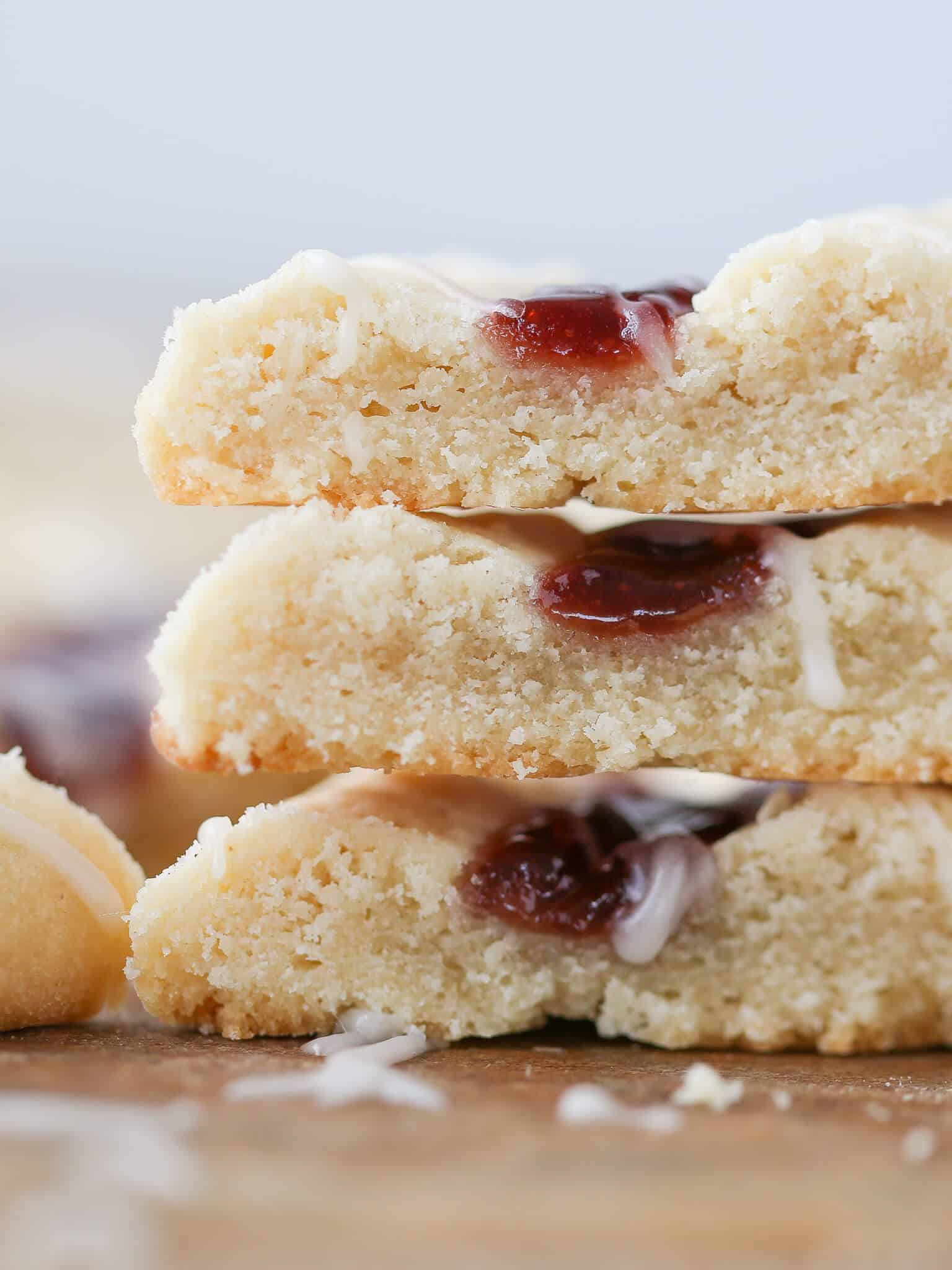 Variations on Raspberry Ribbon Cookies
Flavor: Most danish ribbon recipes call for seedless raspberry jam but these would be delicious with any flavor of jam! You could even make each cookie log different, so you end up with a variety of colors!
Citrus: Easily flavor the dough with orange or lemon zest by combining the sugar with about a tablespoon of zest. The longer the zest sits with the sugar before mixing, the more intense the flavor will be. Use orange or lemon juice in place of the milk in the glaze for even more flavor atop your raspberry ribbon cookies!
Thumbprints: Rather than rolling the dough into ropes, you could roll it into balls and press and dent in the center of each with your finger. Bake as directed but fill the center of each cookie with jam. My Cranberry Thumbprint Cookies are a great model of what those would look like!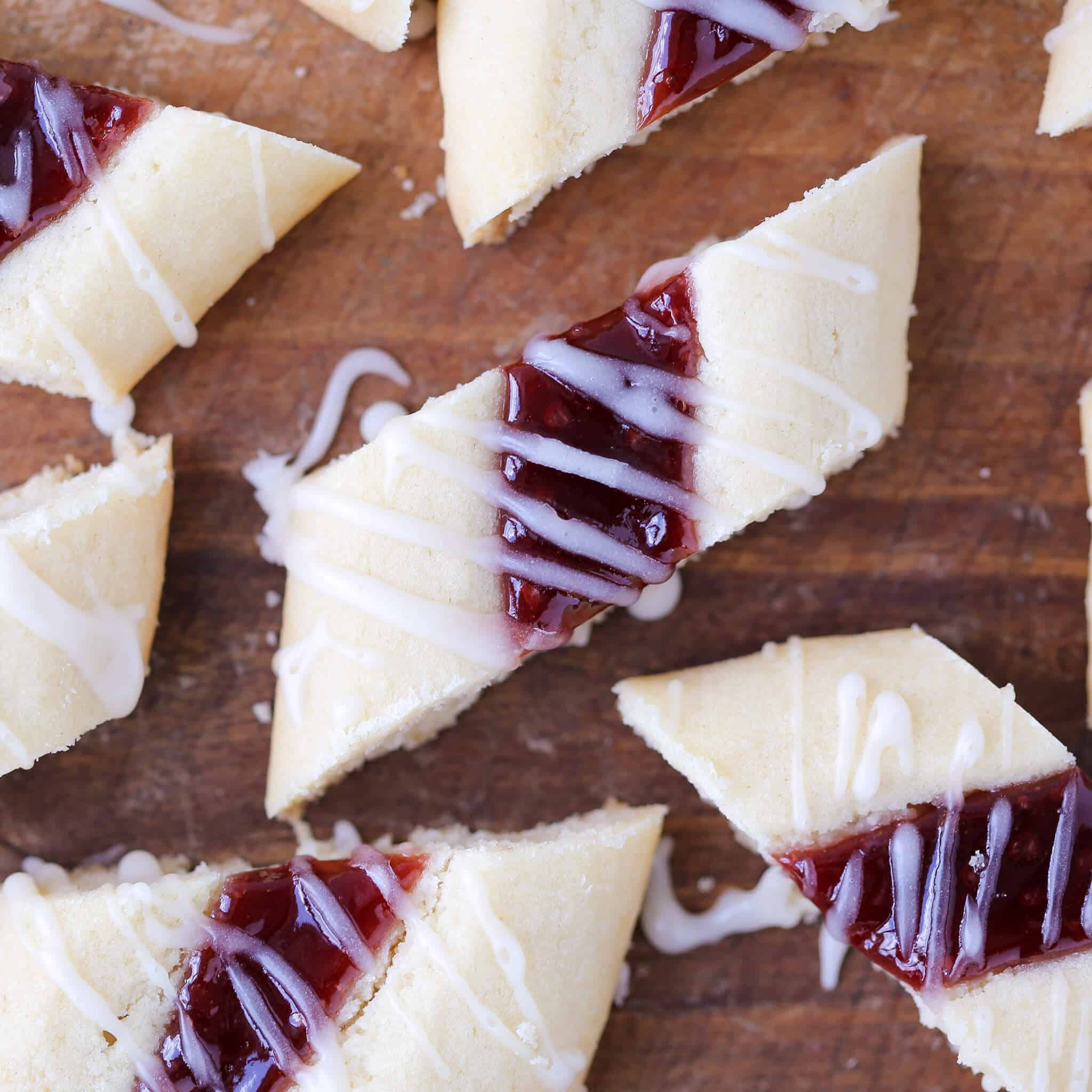 Frequently Asked Questions
How do you store Danish Ribbon Cookies?
Store these crunchy cookies in an airtight container at room temperature.
How long will raspberry ribbon cookies keep?
Raspberry Ribbon Cookies will keep up to 2 weeks at room temperature. They are still edible beyond that but they will begin to taste a bit stale.
Can you freeze raspberry ribbon cookies?
You can freeze the baked cookies for up to 2 months in an airtight container or freeze the dough to make more cookies later.
Is it possible to prepare them in advance?
You can make the cookie dough up to 2 weeks in advance and store refrigerated or freeze for up to 2 months.
Can I multiply this recipe?
You can make as large a batch of raspberry ribbon cookies as you would like. You are only limited by the capacity of your stand mixer.
Will these Danish ribbon cookies ship?
You can ship these Danish ribbon cookies between layers of waxed paper or parchment. Be sure to use tissue paper to fill in any gaps to keep them from hitting the sides of the tin.
Do I need to chill the raspberry ribbon cookie dough before baking?
This dough does not need to be chilled before baking because you want a little bit of spreading. If you want smaller, less crunchy cookies, chill the dough in logs before baking.
Chef Lindsey's Recipe Tips
You can spoon the jam into the center of the cookies or you could use a piping bag to evenly and easily apply the jam. It will also be much faster than using a spoon.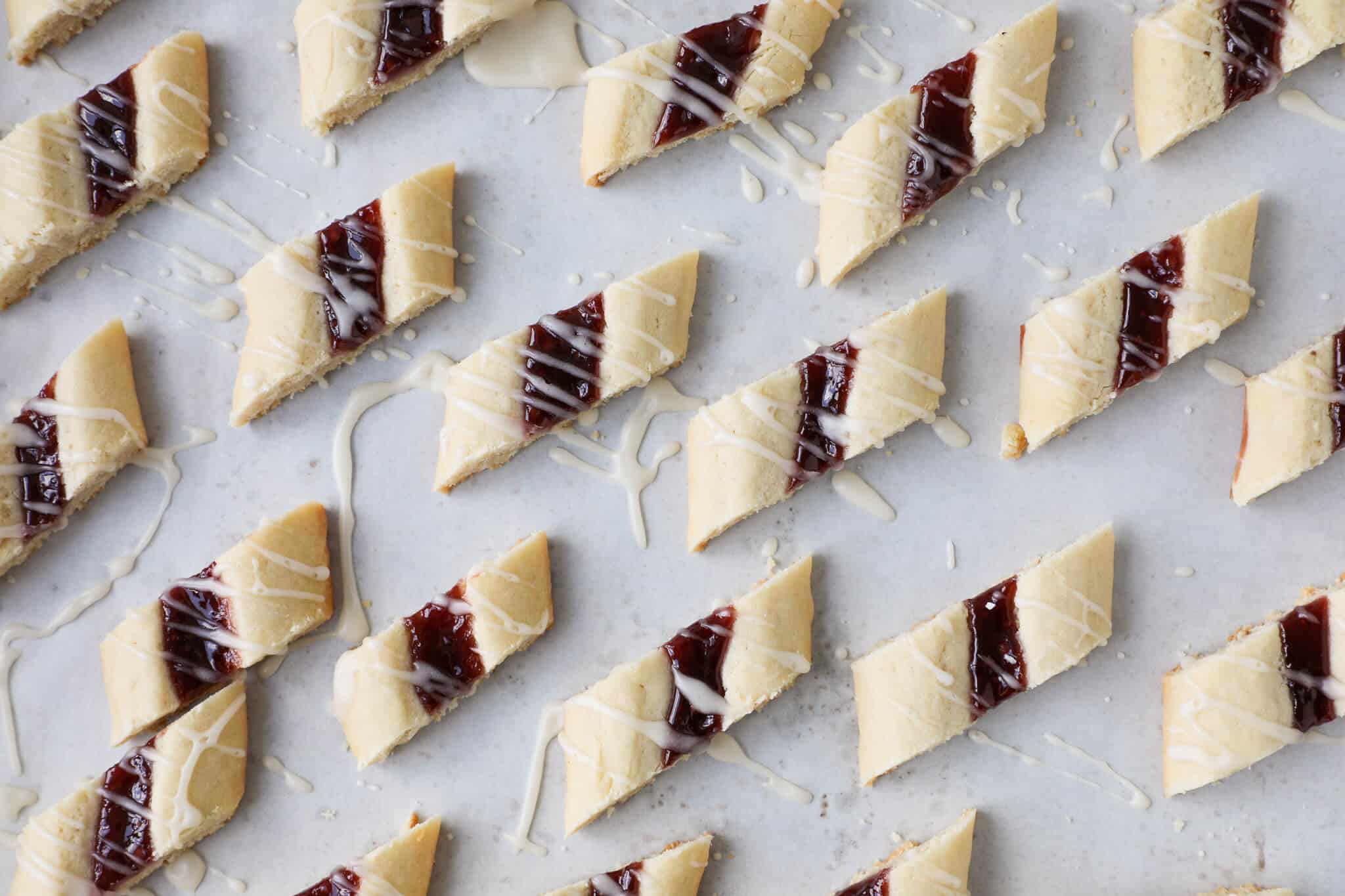 Recipe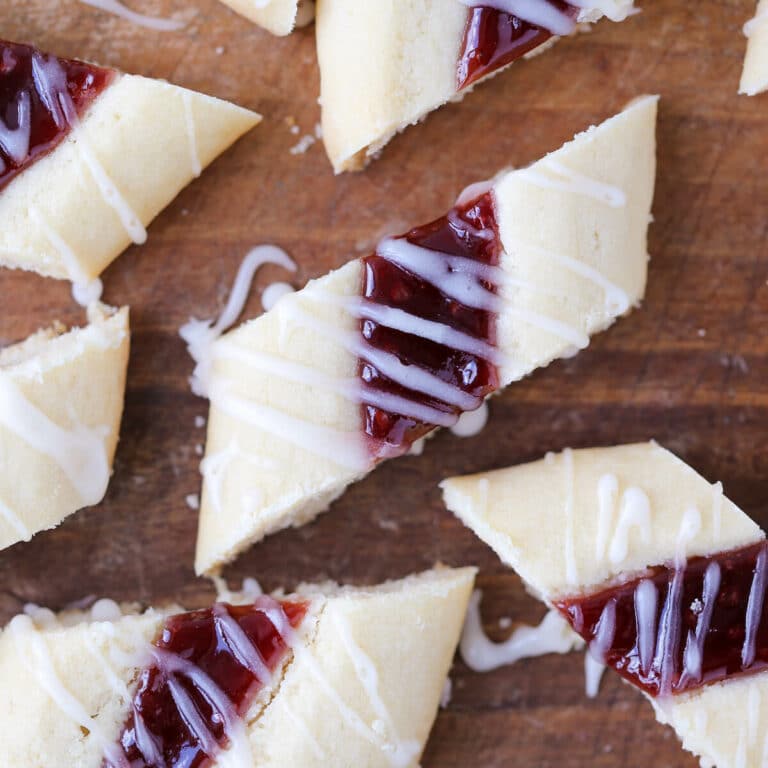 Raspberry Ribbon Cookies
These easy Raspberry Ribbon Cookies are a vanilla cookie filled with a ribbon of raspberry jam and glazed with an easy vanilla icing. They taste like a cookie version of a raspberry Danish!
Instructions
Make the Cookie Dough:
In the bowl of a stand mixer fitted with the paddle attachment or with a hand mixer, cream butter and sugar until fluffy. Beat in egg and extracts.

Reduce the mixer speed to low and slowly add the flour, waiting until one addition is almost incorporated before adding the next.

Wrap dough in plastic wrap and refrigerate 1 hour or until firm. This can also be refrigerated several days before proceeding.
Bake the Ribbon Cookies:
Preheat oven to 375°F non-convection.

Divide dough into 6 pieces and roll each into a rope that is about 12 inches long and ¾ inch wide. Evenly space 3 pieces on each piece of parchment.

Make a ¼ inch groove down the center of each rope with the handle of a wooden spoon or a dowel. Transfer to baking sheets. This step can be done on the baking sheet if they are flat. All my baking sheets are rimmed, so I needed to press the groove in the center before placing the baking sheet.

Bake 12 minutes and then spoon or pipe jam down the center of each rope. If the dough puffed while baking, press it down gently to make space for the jam. Bake about 5-8 minutes longer or until the strips are a light golden brown.

Cool about 15 minutes on the baking sheets. Then remove to a cutting board and slice on a diagonal about 1 inches apart. You can glaze before or after cutting.
Prepare the Glaze:
In a small bowl whisk together sugar, milk and vanilla until smooth. Drizzle the glaze over the cookies. This can be done before or after cutting the cookies. Glazing after cutting will make a cleaner cookie.

Let cool completely before storing.

Store in an airtight container between pieces of wax or parchment paper.
Video Instructions
Before You Go!
Check out our other delicious, chef-developed recipes for Cookies!