This Spaghetti Squash Kale Lasagna is flavored with bright cilantro and asiago cheese! It's healthy, vegetarian, hearty and flavorful!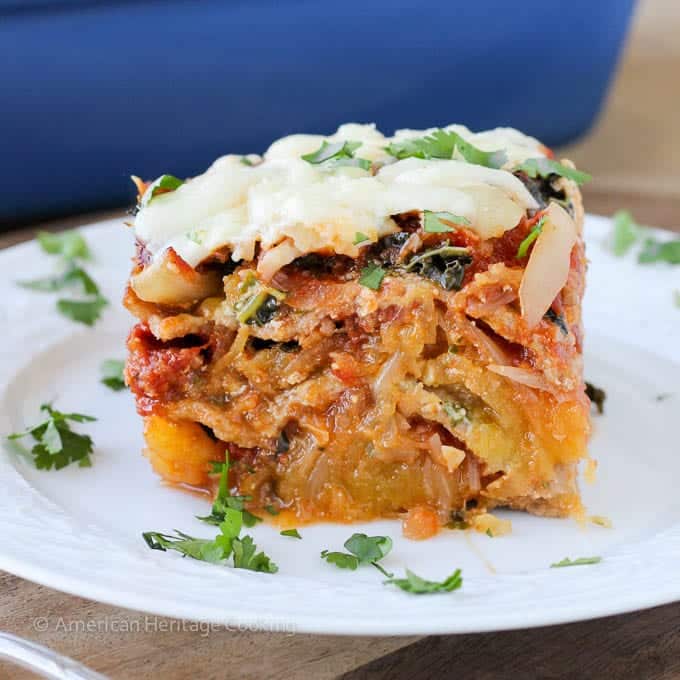 Spaghetti Squash Kale Lasagna.
WAIT!
Before you run away, I just want you to know two things: it was delicious AND it has my Husband's Stamp of Approval, which is harder to get than a meeting with The President.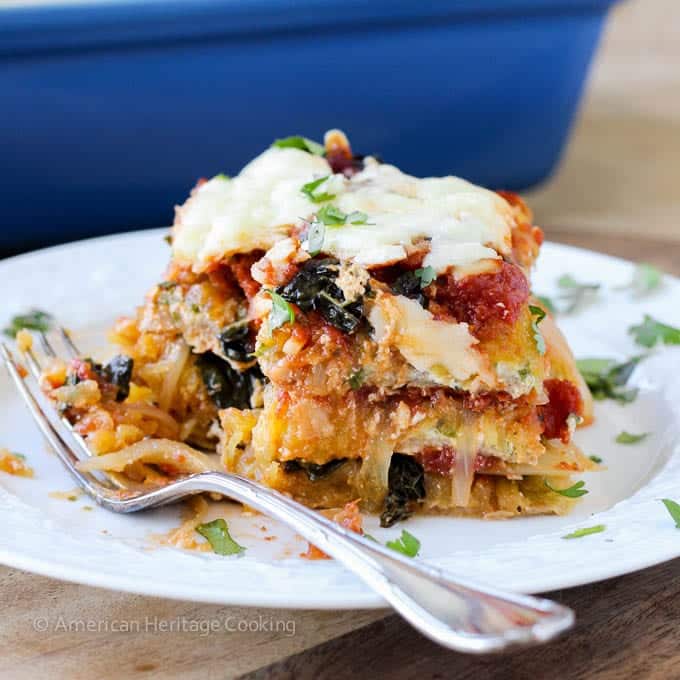 It's not the most photogenic dish and it sounds kinda odd (and possibly gross), but I'm telling you it was yummy and I wouldn't lie to you.
I've had a recent obsession with spaghetti squash after my twice-baked spaghetti squash several weeks ago. I started wondering how else I could use this filling, yet low calorie, vegetable. What about lasagna?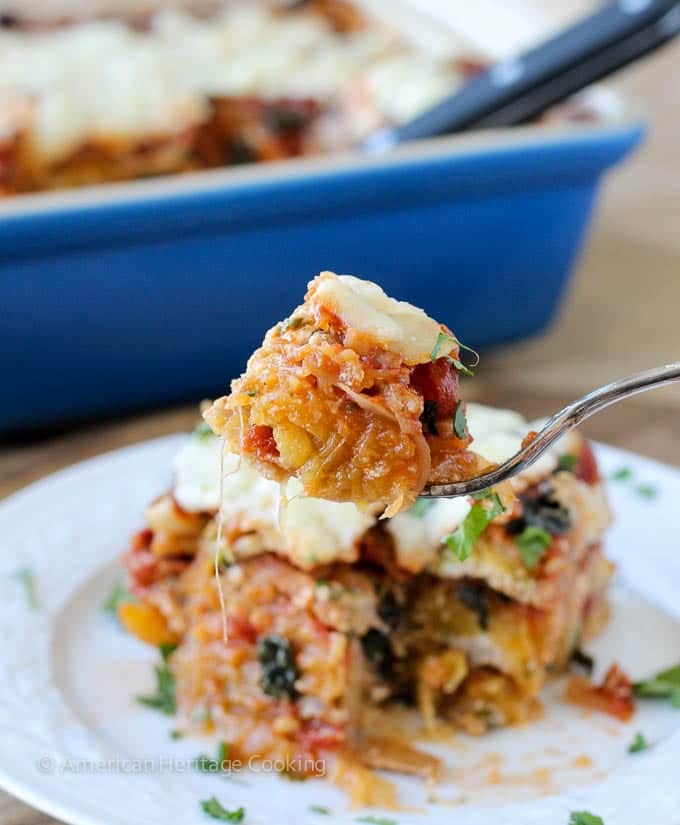 It was a risk. A vegetarian lasagna that's also light on cheese. Would my Husband hate it? I know we love lasagna, my lasagna recipe being one of our household favorites, but it was still a risk!
No reward without risk, I guess! He said it was really good and then got seconds.
Winning!
My Whole-Wheat Vegetarian Lasagna had similar spices and structure as my more traditional Lasagna, but in this Spaghetti Squash Kale Lasagna, I decided to throw the old rules out the window and try something new.
Fresh cilantro brings a bright, fresh flavor and asiago cheese makes the whole dish taste indulgent!
And in all honesty, I was kind of sick of basil.
Make sure you use fresh mozzarella and a high quality asiago. Fresh mozzarella has more flavor than the pre-shredded or low-moisture versions. More flavor means you use less cheese for the same impact, which means fewer calories! Yay!
And because spaghetti squash is so moist, you will want to use a thicker tomato sauce. Nobody likes soupy lasagna.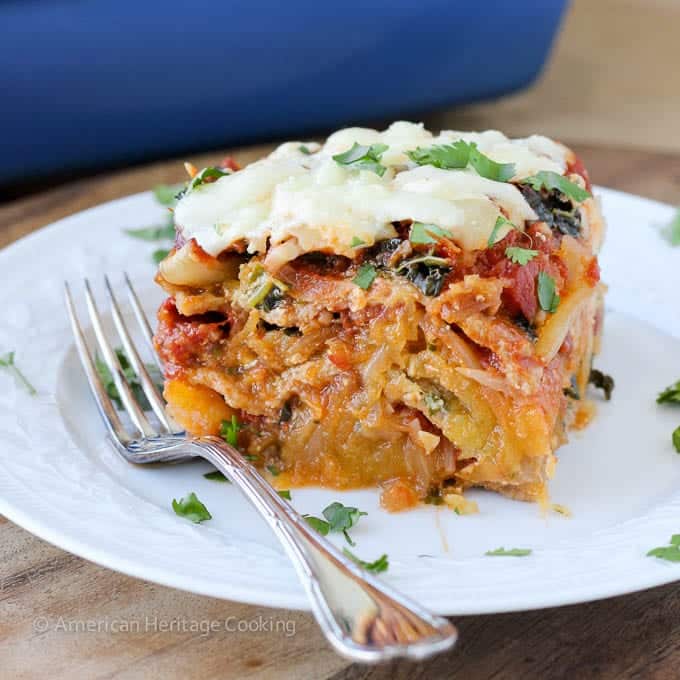 I honestly can't wait to make it again! Healthy, flavorful and vegetarian!
Recipe
Spaghetti Squash Kale Lasagna
This Spaghetti Squash Kale Lasagna is flavored with bright cilantro and asiago cheese! It's healthy, vegetarian, hearty and flavorful!
Ingredients
1

large spaghetti squash

freshly ground nutmeg

freshly ground black pepper

kosher salt

1

large yellow onion

(thinly sliced)

6

cloves

garlic

(minced)

8

stalks Tuscan Kale

(stalks removed, sliced into thin ribbons)

1

cup

part skim ricotta

⅓

cup

finely chopped fresh cilantro

5

oz

fresh mozzarella

(shredded)

5

oz

asiago

(grated)

3 ½

cups

tomato sauce

4

sheets fresh whole-wheat lasagna
Instructions
Roasting and Seasoning your Squash:
Preheat oven to 425°. Line a rimmed baking sheet with parchment paper (this will save your baking sheets and also you a lot of cleanup!)

Halve your spaghetti squash, scoop out the insides, and place the halves face up on your baking sheet; drizzle with olive oil and coarse kosher salt. Flip them over and drizzle with more olive oil and salt. Be sure to set aside the insides of the squash to roast the seeds!

Bake in your preheated oven until the skin easily gives when you poke it with a fork. It will feel soft and will indent. This baking time will vary drastically by the size of your squash; 30-60 minutes.

Grip the squash with tongs and scrape out the insides with a fork into a medium bowl.

Repeat with all remaining squash halves.

Season generously with olive oil, kosher salt, fresh ground pepper and fresh ground nutmeg (leave this out if you only have the pre-ground type…it's just not the same). I like to season the squash in batches; fluffing with a fork to toss and coat.

You can make the squash several days ahead of time.
Assembling your Lasagna:
Preheat oven to 350°

Mix cilantro with the ricotta in a medium bowl and set aside.

Heat a cast iron skillet over medium heat. Add about 1 tablespoon olive oil, swirl to coat. Sauté onions and garlic until onions are translucent. Remove from skillet and set aside. Add a little bit more olive oil and sauté the kale until it is limp and cooked through. Add kale to onions and mix.

Place all your ingredients out around your 12x7x4 baking dish, and you are ready for assembly!

Start by placing two overlapping lasagna noodles in the bottom of your dish, then spread about a third of the ricotta mixture on the noodles with a rubber spatula.

Next add your spaghetti squash being careful not to scoop out too much water that has drained to the bottom of your bowl. I made this layer thick, about ¾ inch with minimal visible ricotta.

Next sprinkle ⅓ of the onion/kale mixture over the squash. It's easiest to do this with your hands.

Top the vegetables with ⅓ of the sauce.

And finally add a layer of asiago and mozzarella.

Repeat until the pan is filled ending with cheese. I like to add a bit of extra cheese to the top layer for added yumminess!

Bake 50 minutes in preheated oven. Cool 10-20 minutes before serving.
Notes
In this recipe I would be sure to use a "plain" tomato sauce that is only lightly seasoned, because we wouldn't want it to overpower the other flavors in this lasagna!