These Salted Caramel Butter Bars are incredibly easy! A buttery shortbread crumble surrounds a salted caramel filling for the perfect salty-sweet dessert!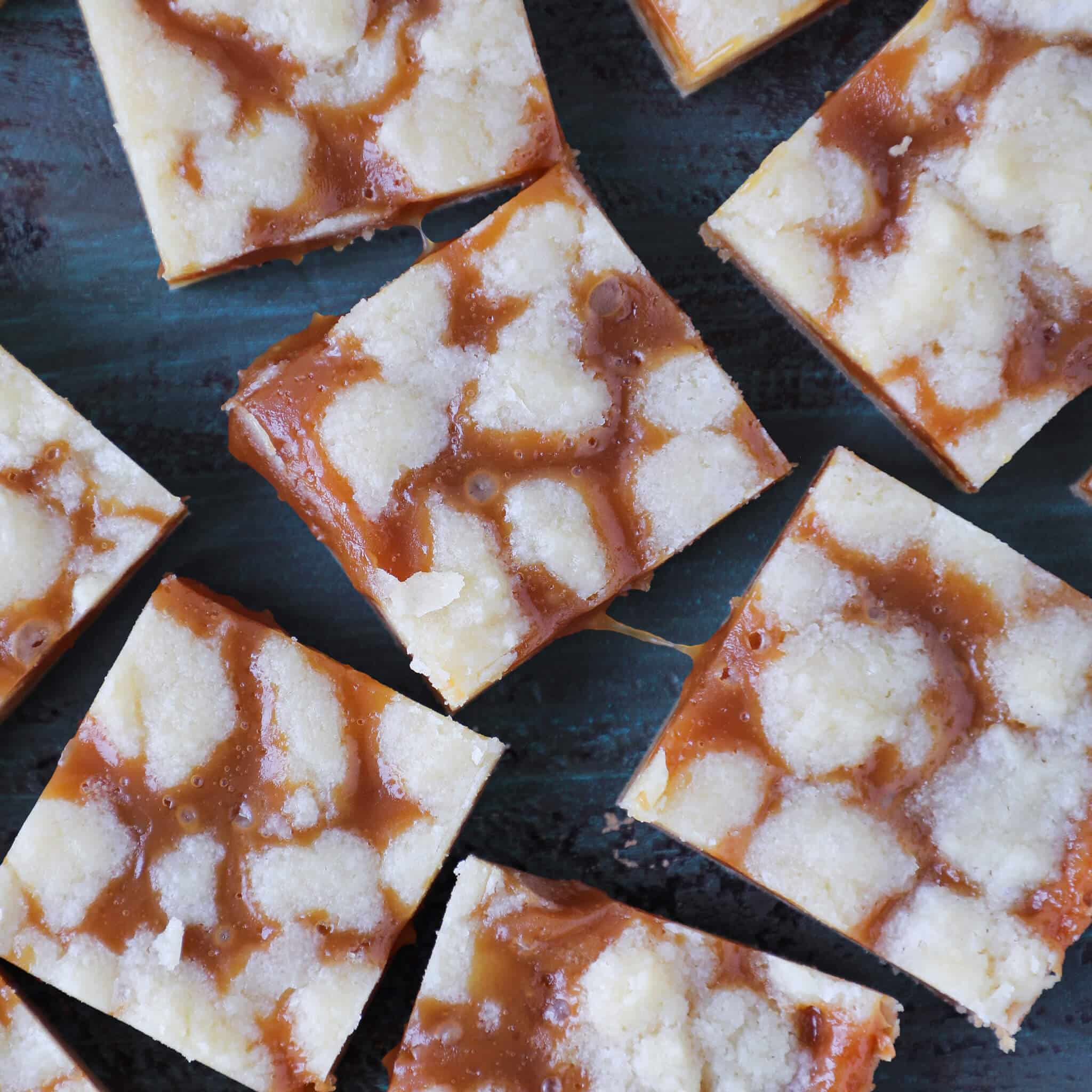 There are few things in life that cannot be fixed with salted caramel and butter, so as my life has gotten increasingly more crazy and stressful, my desserts have gotten simpler and more butter-laden! Starting with these Salted Caramel Butter Bars – these are miracle-workers!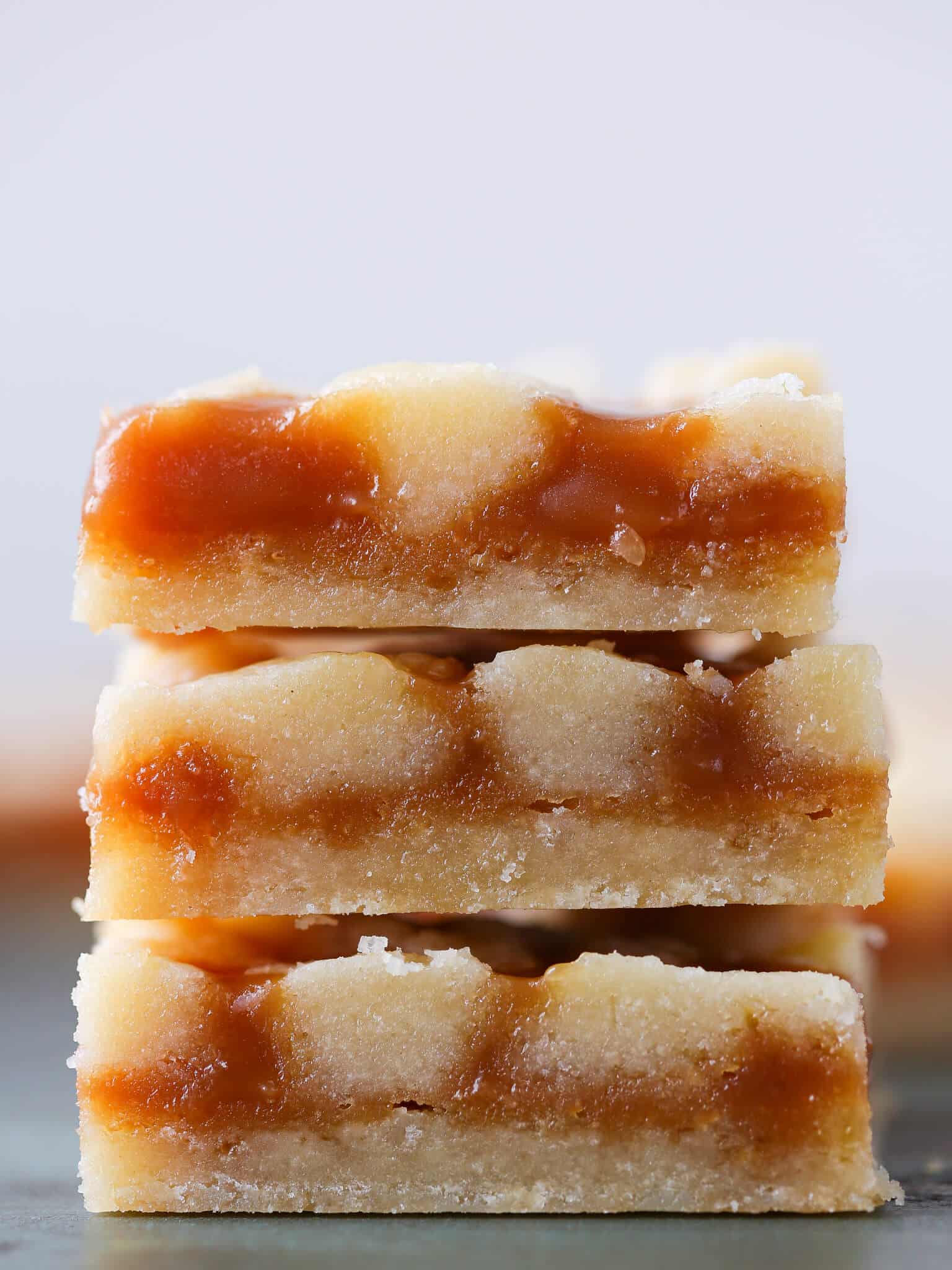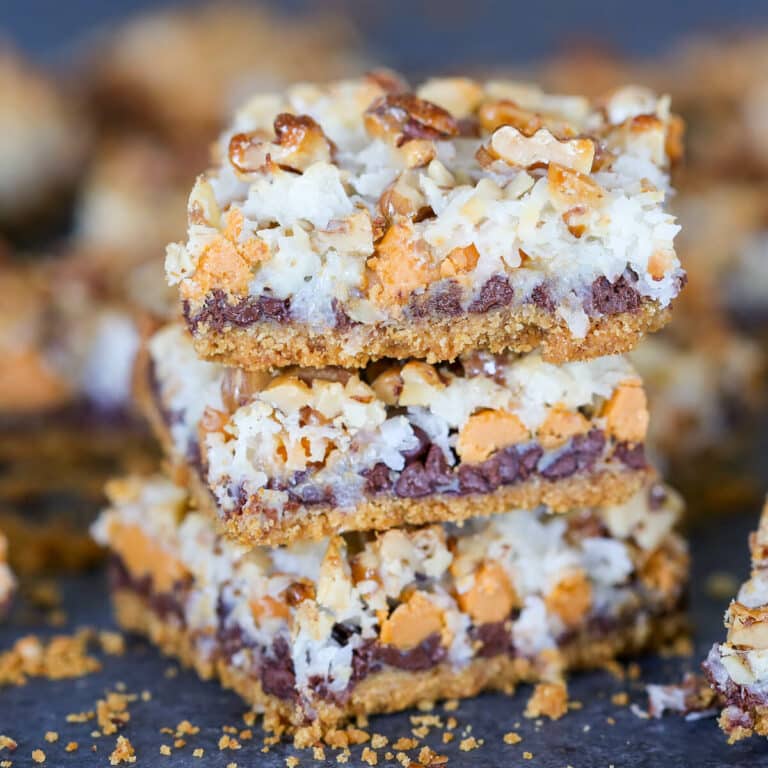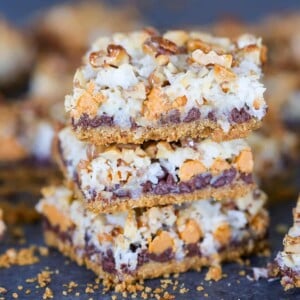 These bars are one of my go-to recipes. They are easy because the top and bottom use the same dough and you can either use homemade caramel sauce or use caramel candies!
If I need a crowd pleaser and am short on time, I will bring these caramel butter bars, 7 layer bars, old fashioned butterscotch brownies, or these perfect chewy white chocolate macadamia nut cookies! If I have a little more time I'll bring pecan pie bars or a chocolate pecan pie as well!
This recipe is from Cookies & Cups and Shelly uses these to cure bad days too, so I am not alone here!
These Salted Caramel Butter Bars look complicated but they are actually super easy! The bottom crust and the top crumble are the same shortbread dough. Easy peasey.
The Lowdown on Salted Caramel Butter Bars
I made these in an hour, but 50 minutes of that time was me waiting for the bars to finish baking!
I used homemade salted caramel because I had some in refrigerator from these salted caramel cupcakes, but you could use caramel candies to simplify these bars even further.
Additionally, I baked mine a bit longer than the directions so my bottom crust and top crumble were a little crunchy, which added some texture to the bars but that is completely unnecessary; they would be just as delicious as soft and chewy bars.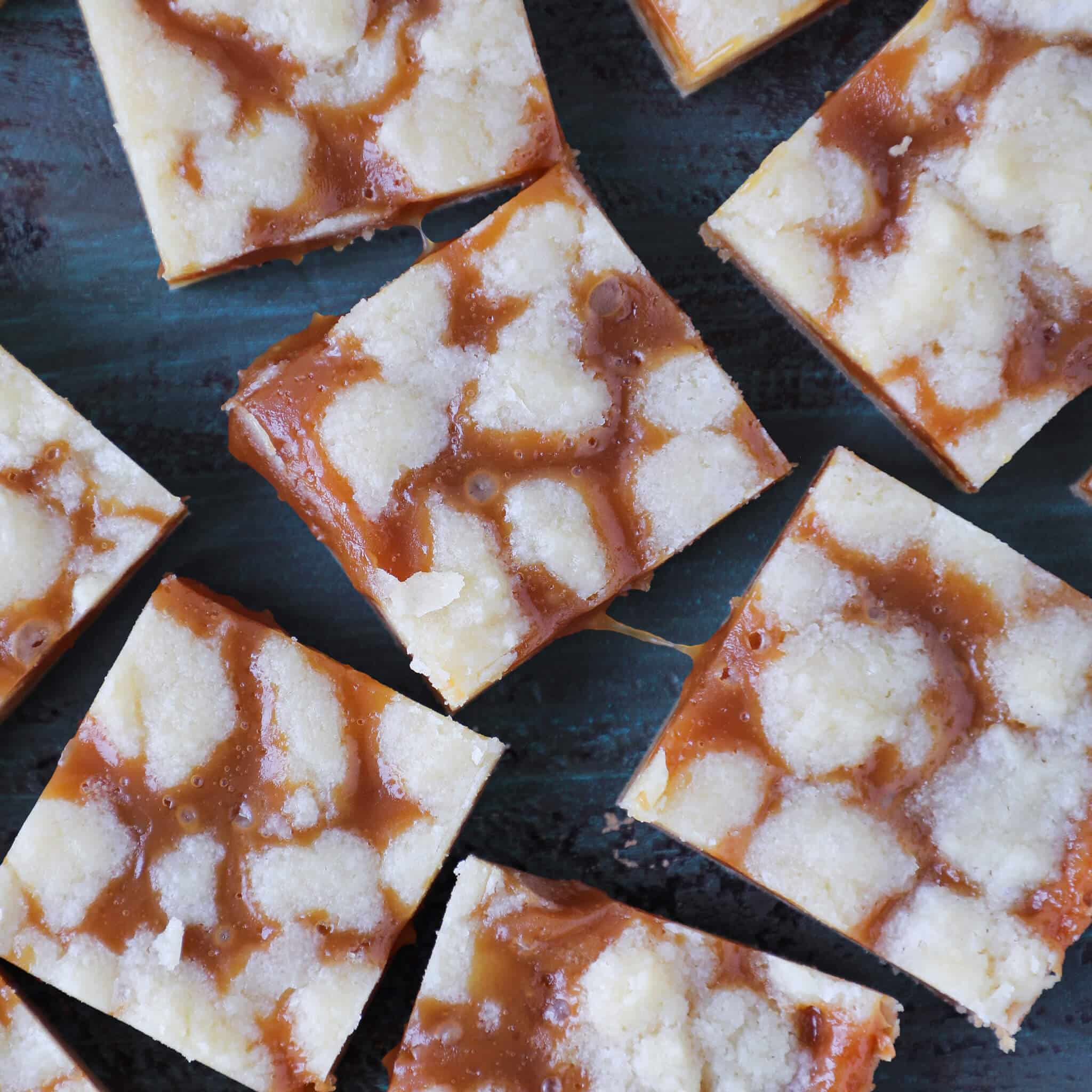 Do you know what else makes everything better? Shark Week. #obsessed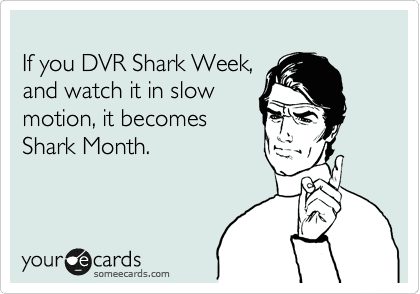 I didn't get to watch any this year (tear), but I've gotten inexpressible enjoyment out of reading the memes and someecards. #whyaretheysofunny
So throw some Salted Caramel Butter Bars in the oven and cozy up on the couch to watch Shark Week reruns!
And there is my recipe for happiness. You're welcome.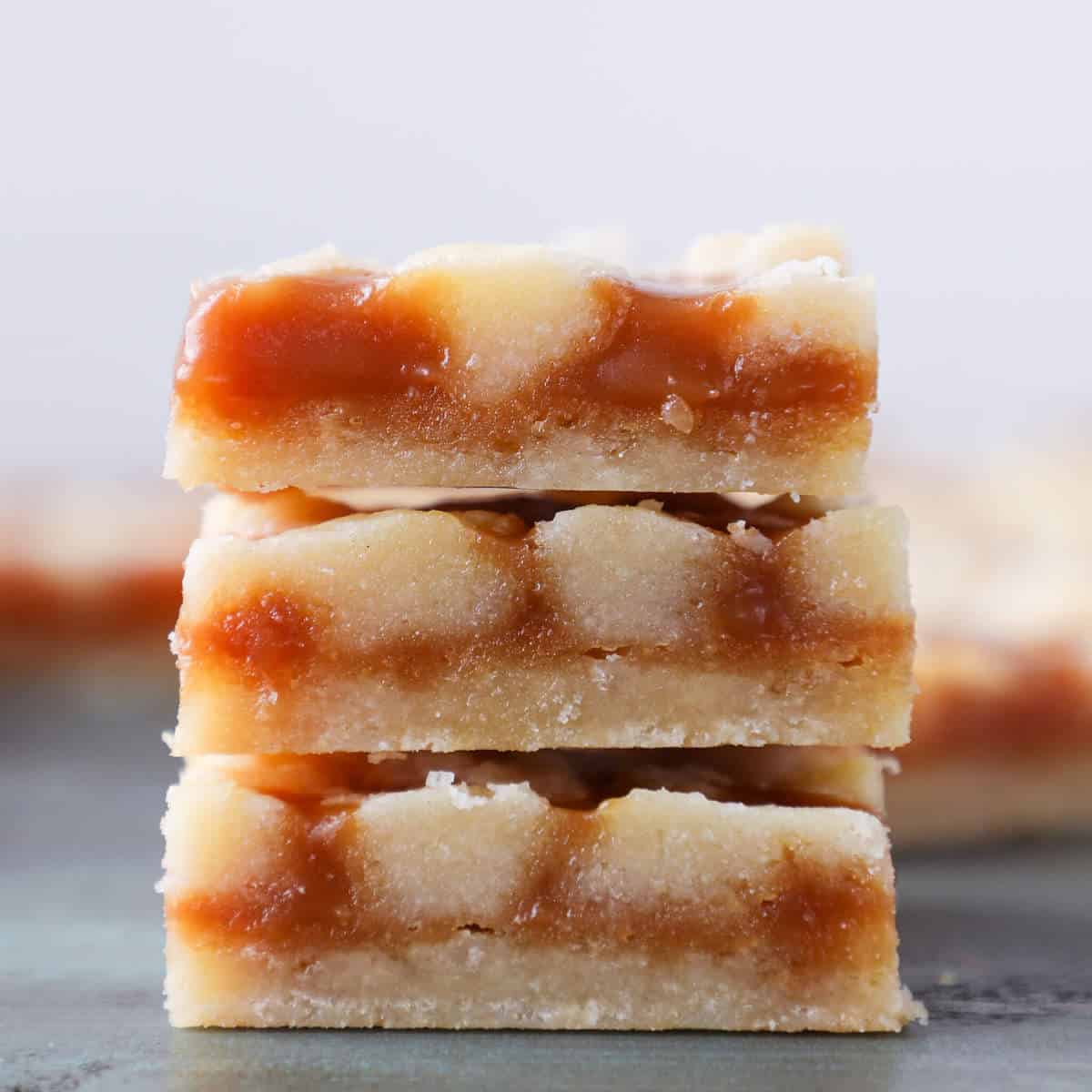 If you tried this recipe and loved it please leave a 🌟 star rating and let me know how it goes in the comments below. I love hearing from you; your comments make my day!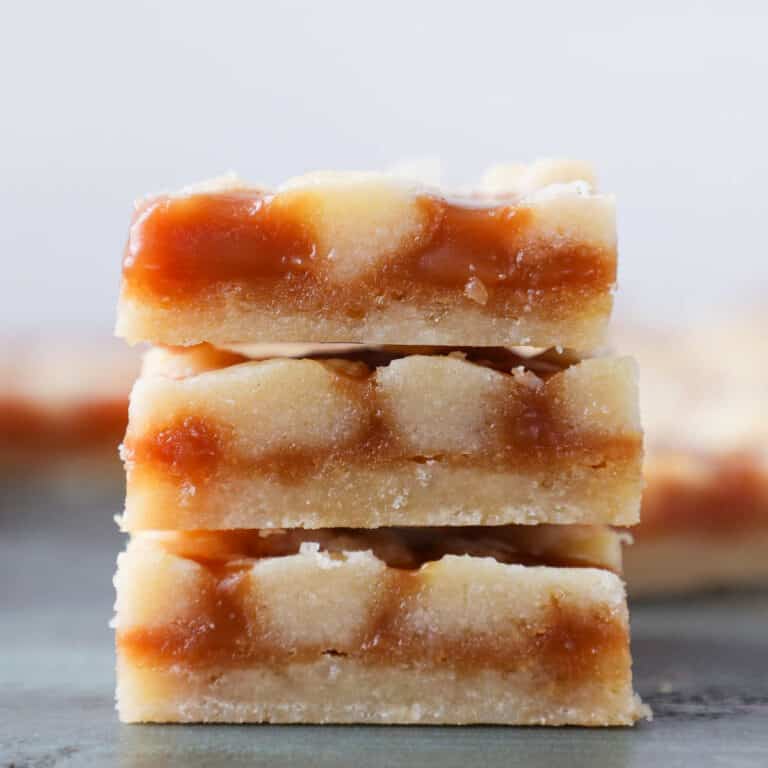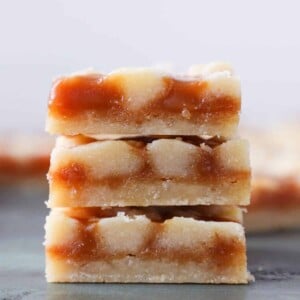 Salted Caramel Butter Bars
These Salted Caramel Butter Bars are incredibly easy! A buttery shortbread crumble surrounds a salted caramel filling for the perfect salty-sweet dessert!
Ingredients
For the Crust and crumble:
For the Filling:
1

14 oz bag

caramel candies

⅓

cup

milk or cream

½

teaspoon

vanilla

1

tablespoon

coarse sea salt
Instructions
Preheat the oven to 325°. Butter or line with parchment paper a 9×13 baking dish.

In a large bowl combine butter and sugars, mix on medium speed until creamy. Add the vanilla and beat until combined.

Slowly add the flour to the butter mixture on low speed and mix until a smooth, soft dough forms.

Press 1/3 of the dough into the prepared baking pan, and bake in preheated oven for 20 minutes or until the edges are a pale golden brown. Refrigerate the remaining 2/3 of the dough.

If you are going to make your caramel from candies, do that while the crust bakes.

Place the unwrapped caramel candies and cream in a microwave safe bowl and microwave on high for 1 minutes. Stir until smooth. If the caramels are not completely melted, continue microwaving on high heat for 30 second intervals, stirring after each one.

Once the caramels are melted, stir in the vanilla. Set aside until the bottom crust is done baking.

Pour the caramel filling over the crust, sprinkle with salt and crumble the remaining dough over top.

Continue baking until the filling is bubbly and the topping is firm and lightly golden, about 25-30 minutes.

Let cool before cutting into squares. (I know, I know…go ahead and cut a corner out for quality control…the things we must do as bakers…)
Notes
Yield: 24 Bars
Can use 1 cup homemade salted caramel sauce instead of the filling ingredients. 
*I halved this recipe and made 16 squares in an 8×8 baking dish, because I am only one person and I have no willpower where butter and caramel are concerned. They will keep in the refrigerator for up to 1 week wrapped tightly in plastic wrap.
Recipe adapted from Cookies and Cups
Nutrition
Calories:
287
kcal
|
Carbohydrates:
32
g
|
Protein:
2
g
|
Fat:
17
g
|
Saturated Fat:
11
g
|
Polyunsaturated Fat:
1
g
|
Monounsaturated Fat:
4
g
|
Trans Fat:
1
g
|
Cholesterol:
44
mg
|
Sodium:
414
mg
|
Potassium:
32
mg
|
Fiber:
1
g
|
Sugar:
16
g
|
Vitamin A:
521
IU
|
Vitamin C:
1
mg
|
Calcium:
10
mg
|
Iron:
1
mg
Like this? Leave a comment below!